Looking for a fun and engaging way to help your child learn new words? Try our Halloween Mad Lib Printable!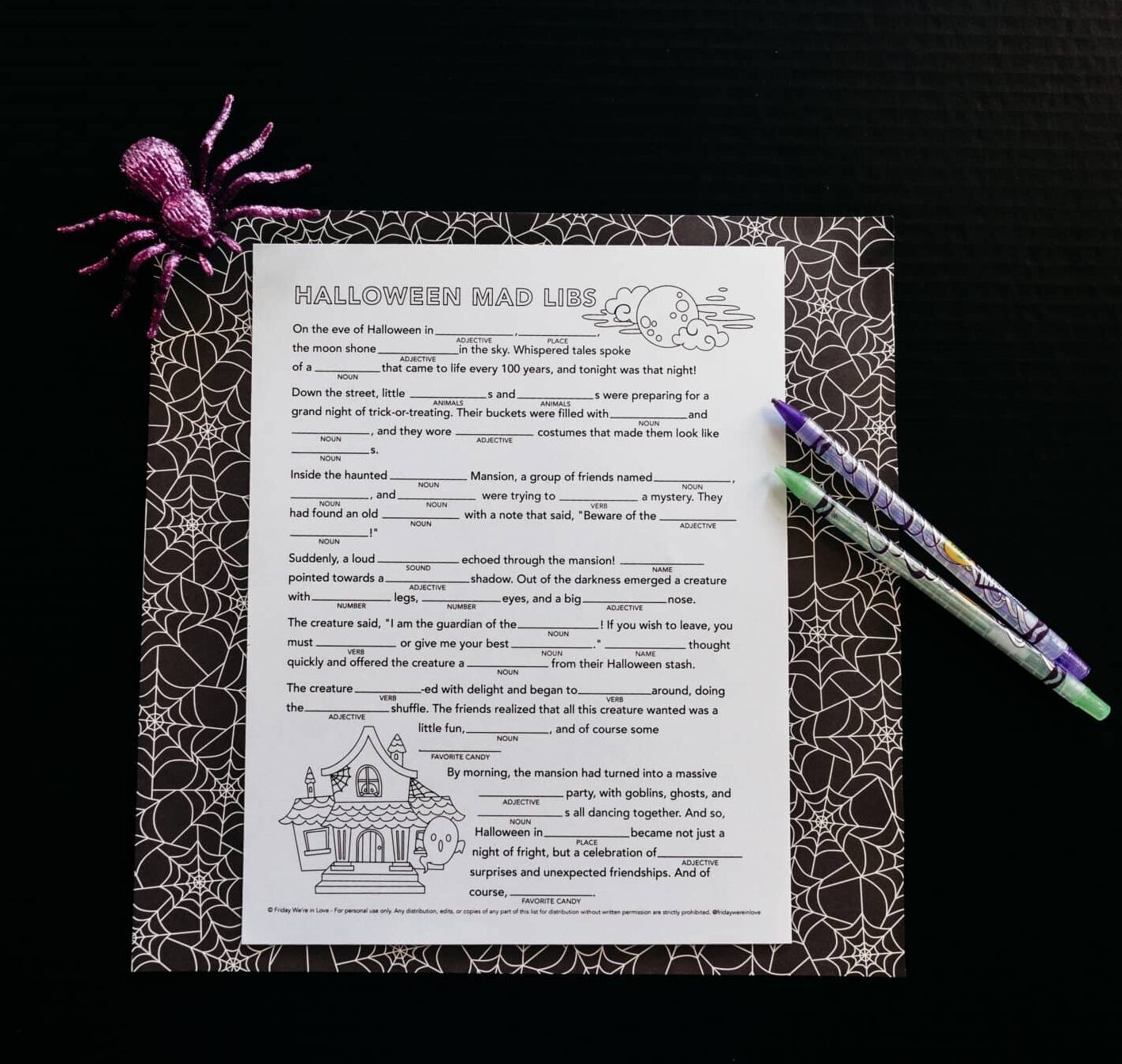 In honor of Halloween, here's a fun fun free printable Halloween-themed activity for kids! And nothing gets you in the Halloween spirit quite like a Halloween Mad Libs printable!
Learning parts of speech and grammar can be a challenge for kids, especially when they find traditional methods of vocabulary-building boring or tedious. But what if learning new words could be fun and exciting? A fantastic way to pratice and have some spooky fun is playing Mad libs game. With a blend of humor, creativity, and some Halloween fun, these printable mad libs are the perfect family fun activity!
What are Mad Libs?
Mad Libs are a type of word game that involves fill in the blank stories. Blanks are elft with guidelines to fill in the words of a certain type, such as nouns, verbs, or adjectives, a past tense verb, a plural noun, an adverb, etc. without knowing the context of the story. Once the blanks are filled, the story is read aloud, and hilarity typically ensues! You can expect the story to take on a ridiculous or unexpected meaning due to the unconventional word choices.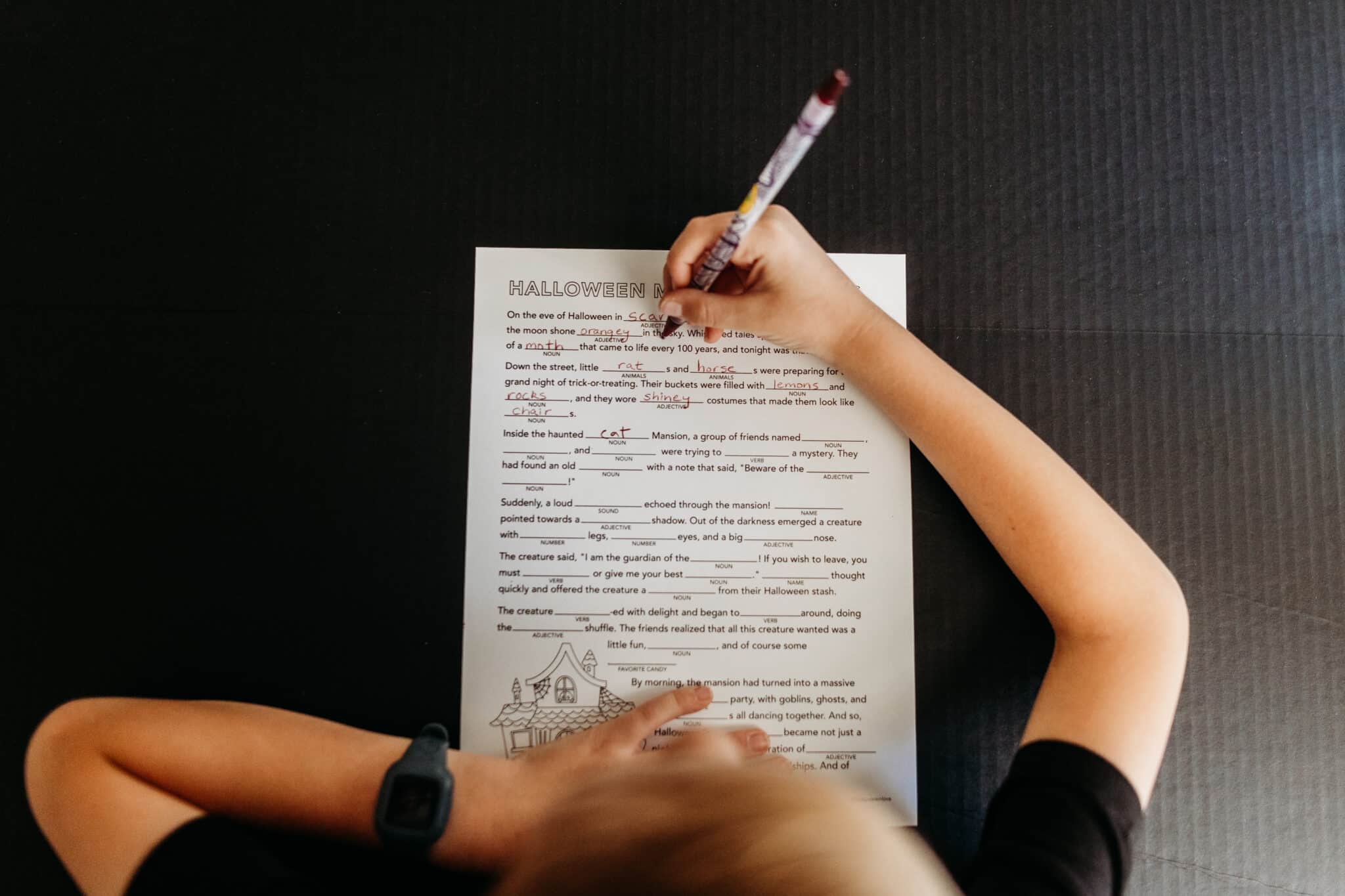 Benefits of using Mad Libs
Mad Libs have been a beloved pastime for generations because they are not only fun but also educational. By prompting participants to come up with words that fit specific parts of speech, Mad Libs helps to build vocabulary and improve language skills. They also encourage creativity and imagination, as players can make the story as silly or serious as they like.

They are great for younger readers, but kiddos of all ages including older kids and even middle school kids love a hilarious fill-in word to show their wit and test their own creativity.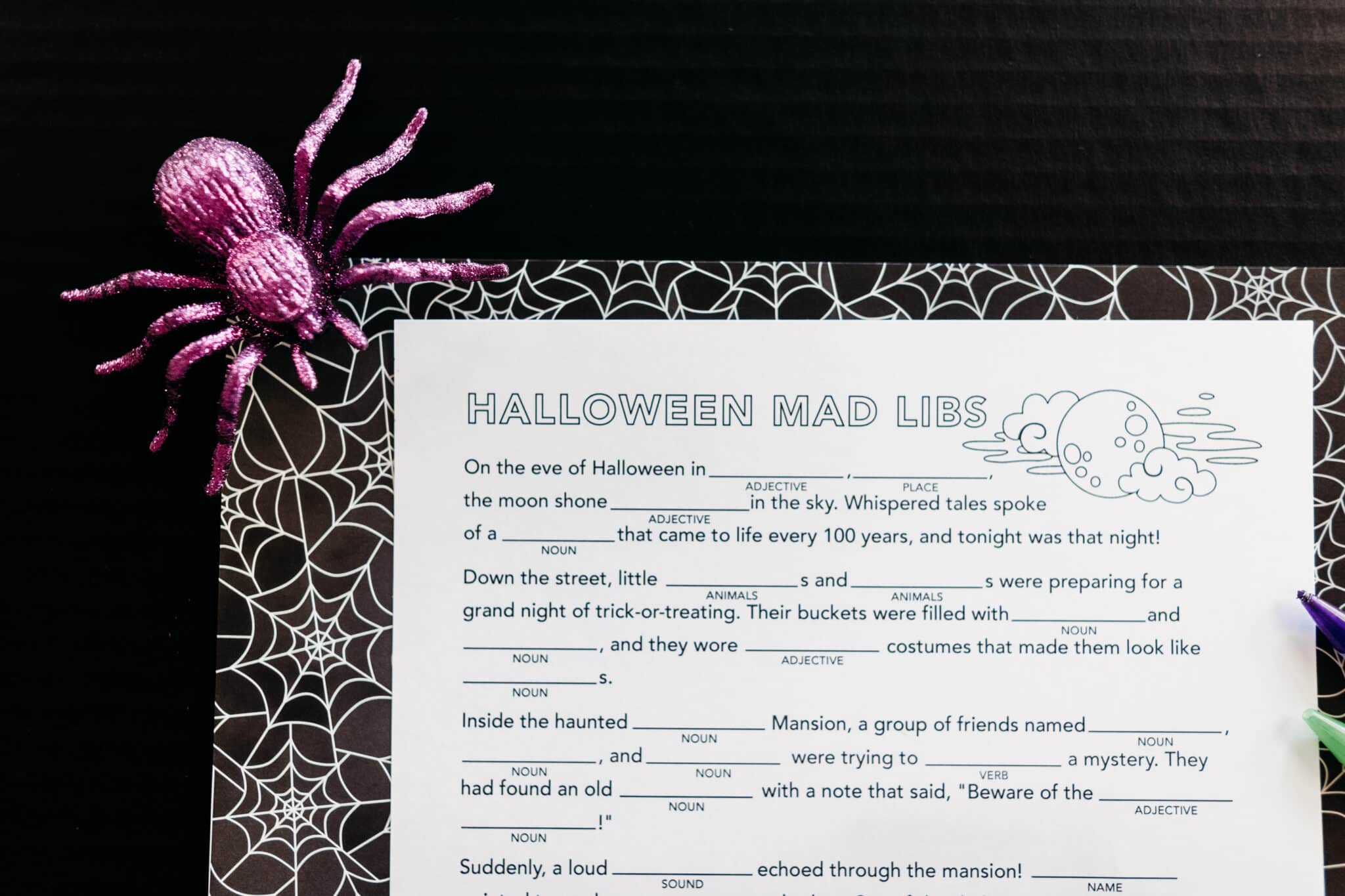 Halloween MadLibs Printable
Our Halloween Mad Libs Printable takes the classic Mad Lib game and adds a fun Halloween season twist. It makes for favorite Halloween games, and a great pre-trick-or-treat activity for kids! Your child will love filling in the blanks with their favorite spooky words, terms and phrases.
Grab the Mad Libs Free Halloween Printables Here
*Many email clients auto-download the file. Please check your DOWNLOADS folder on your computer after you confirm your email.
How to use the Printable
To use the printable, simply print out the free Halloween Mad Libs printable. Then, have your child fill in the blanks with the appropriate type of word, such as a noun or an adjective. Once all the blanks are filled, read the story aloud and enjoy the laughter and hilarity that ensues.
Adapting Mad Libs for Different Ages
Our Mad Libs Printable is perfect for kids aged 7-12 (more of a Halloween Mad Libs junior), but Mad Libs can be adapted for different age groups. For younger kids, you can use simpler language and fewer blanks. Curated word banks also help younger kids enjoy these Halloween printable activities.
You can also pair them with an adult or older sibling to help them write the words and understand the parts of speech.
For older kids, you can use more complex language and more challenging word types. Additionally, try a time limit or a contest where you offer treats for whoever gets the most laughs!
Combining Mad Libs with Other Learning Activities
Mad Libs can be a fun addition to other learning activities as well. For example, you could use Mad Libs as a way to teach grammar or parts of speech.
You could also use Mad Libs to practice reading comprehension by having your child read the story aloud after it is completed.
Don't miss these other Halloween-themed ideas!
Halloween Bucket List + FREE Printable!
Color By Number Halloween Activities