Scary Pumpkin Stencils: Free Printable!
Carve the perfect pumpkin with these FREE pumpkin stencils! Grab these cute and scary pumpkin stencils with classic pumpkin faces ready for you to download completely free!
One of our favorite Halloween activities we do for a quintessential fall date night is carving pumpkins. In fact, a Pumpkin Carving Date Night is at the top of our Halloween date ideas for good reason!
Sometimes we do these Halloween traditions with a pumpkin from a pumpkin patch or grocery store, complete with cleaning and scooping pumpkin seeds and pumpkin guts. But we equally love grabbing a carve-able craft pumpkin we can put on the front porch year after year. And particularly when we do these reusable pumpkins, we love using classic Halloween pumpkin stencils to get those perfect lantern faces. That's where scary pumpkin carving patterns come into play: sometimes you just need Halloween stencils to create the perfect pumpkin.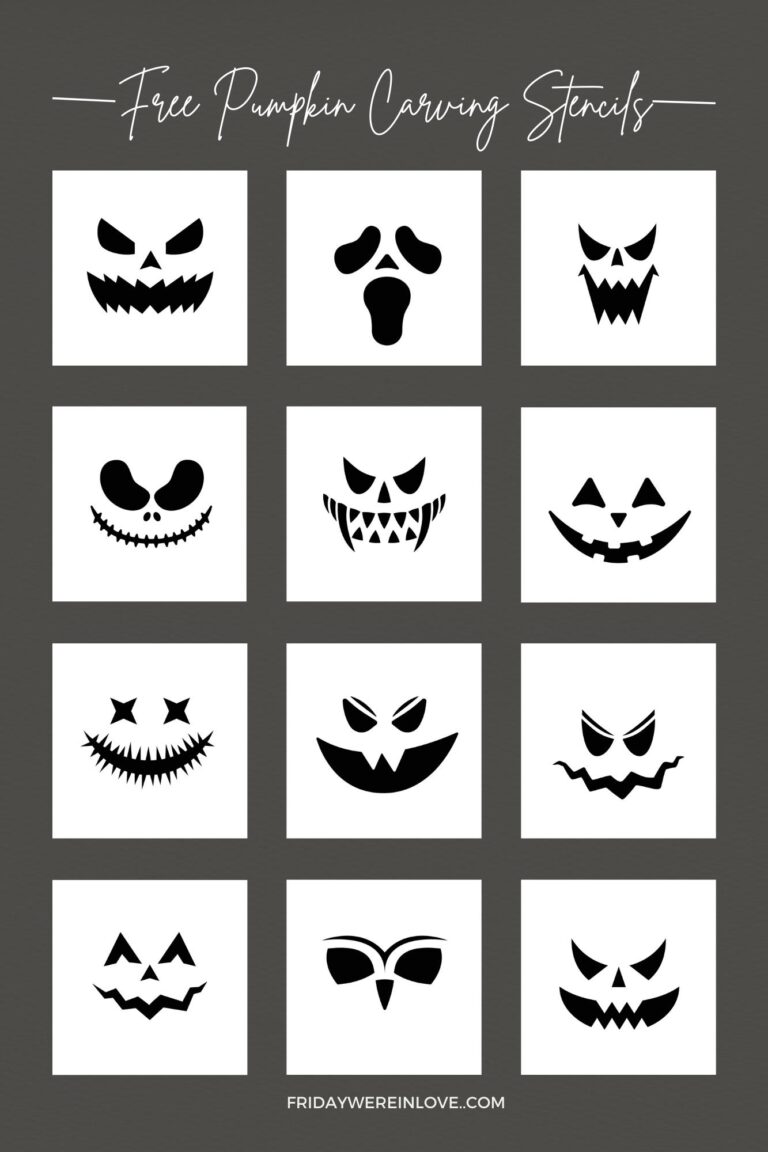 Every year I look for free pumpkin patterns and honestly get a little worried I'm about to download a virus with a free pattern. It's been on my list for years to create our own free pumpkin carving patterns you can have sent directly to your inbox and set yourself up with free printable pumpkin stencils to use at home.
Grab Your FREE Pumpkin Carving Templates Here!
We have 12 free pumpkin carving stencils that lean into the classic jack-o-lantern carved pumpkin look. These are classic designs with slightly scary pumpkin stencils ready for classic pumpkin face pumpkins ready to create some Halloween fun!
Here's everything you need and a few easy steps to create an awesome pumpkin with our free pumpkin design downloads.
Pumpkin Carving Step-by-Step Instructions
Step 1: Download the Scary Pumpkin Stencils
Grab our complete free stencils in the form above.
One note: Many email clients auto-download when you confirm your email address. Check your downloads folder for the PDF file for the printable pumpkin craving templates in one file.
Choose your Favorite Design to Print from the Printable Pumpkin Carving Templates
We tried hard to hook you up with the perfect slightly creepy pumpkin with tons of easy pumpkin face designs! Go with what you love! But you may also want to consider the skill level of your carver. We included several simple design options and easy pumpkin carving ideas for beginners. But a few may need a pumpkin carving kit with a few smaller and specialty pumpkin carving tool options. Just keep in mind what type you'd like and if you have a more advanced or beginner carver.
Whatever you go with, choose your favorite options from the free printables, and print what you need on regular copy paper.
Prepare Your Pumpkin
If you ordered a craft pumpkin from the craft store, your prep work is done! If you're carving a classic pumpkin picked from the patch. be sure to clean, scoop, and prepare your pumpkin for carving.
Tape your Pumpkin Face Stencils to Your Pumpkins
A great way to keep your design in place is with simple tape! It's a good idea to place your design perfectly in place and avoid the common mistakes of letting it slip all over your pumpkin. Grab that roll and get it firmly set exactly where you want it.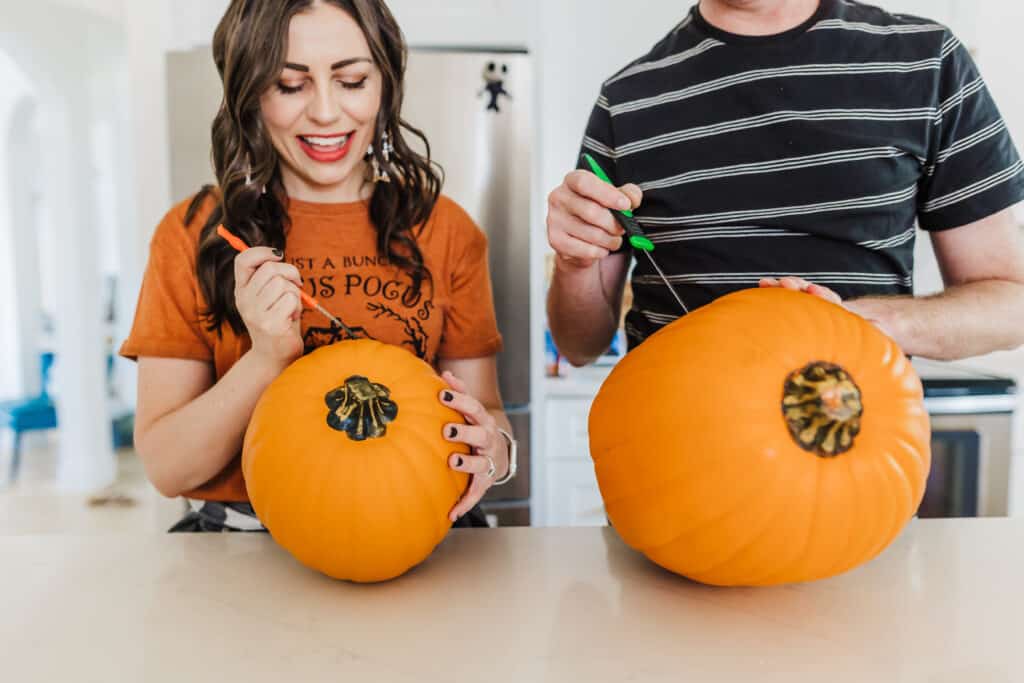 (Optional) Use a Toothpick to Imprint Your Design
This is one of my favorite ways to make carving even easier and more precise! This trick works particularly well with real pumpkins! We've found the best way to make easy pumpkin carving patterns even easier is to imprint them on the pumpkin. Poke several tiny holes with a pumpkin over the design. That way you have it imprinted on your pumpkin and it makes carving even easier. From here, you're set with your pumpkin's design and you can remove the paper.
Carve Your Favorite Halloween Image!
Use a sharp knife if you're an adult, or a kid-friendly safe knife if you're having a Halloween party with the entire family. If you like to get fancy, grab one of your favorite best pumpkin carving tools you have on hand. Follow the imprints, or the taped paper if you skipped this step, and carve your design.
Don't forget to carve a small hole on the bottom that's just big enough to add your light and light up the inside of the pumpkin.
Add Your Light
A simple battery-powered tea light keeps things safe and well-lit to show off your cool design!
We hope our free pumpkin carving templates help you choose the perfect design to create the perfect pumpkins! We went with angry Jack, errr, make that random pumpkin kind so we're not stepping on any copyright here.
Happy Halloween! And Happy pumpkin carving!
And if you're up for pumpkin painting, but sure to try our Easy Pumpkin Painting Ideas for Kids with FREE Pumpkin Stencils(Opens in a new browser tab)
And if you're up for pumpkin painting, but sure to try
Like these fun Halloween freebies? Be sure to check out these posts too:
Halloween Activities: 50 Ways to Celebrate and Have a Fun Halloween
Q Tip Skeleton: An Easy Halloween Craft for Kids
Halloween Bucket List + FREE Printable!