We're so glad you grabbed your Year of Dates Printable and are ready to plan your date night gift! Hooray for keeping the fun alive all year with the perfect gift for couples!
Year of Date Resources and Ideas
We're here to help you plan your gift with a ton of resources and ideas! Let's make this even easier for you to plan the perfect year of dates!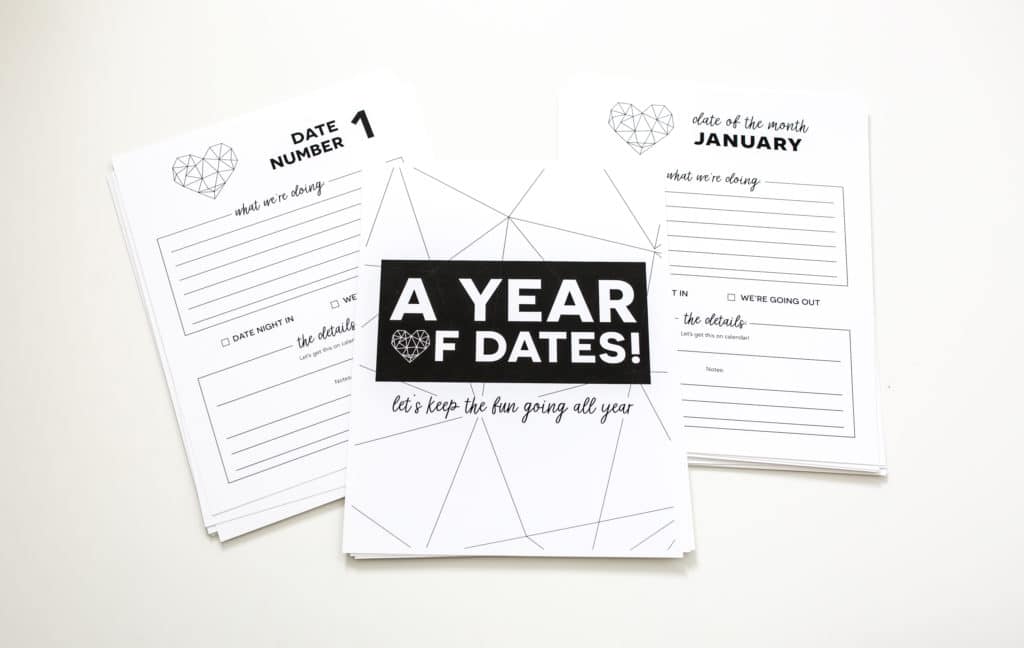 Year of Dates Printable
We have a complete tutorial with a video to walk you through the year of dates printable and how we recommend putting the gift together.
Head to THIS POST sharing the date night gift + free printable to grab your own!
Planning Your Year of Dates
It can feel a bit overwhelming to plan 12 dates to do this year all at once. Don't worry, once you get the groove it's going to be easy!
Check out our guide to planning a year of dates to get started!
Date Ideas for the Year of Dates Gift
If you're looking for date night ideas to include in your year of dates gift, we've shared thousands and have several date ideas lists to help you prepare.
You can also use the Date Ideas tab to search for dates by price, location, type, season, etc. Use the menu to drill down to find the perfect date for each month that fits your needs and sounds like the most fun for you!
Also, be sure to opt into our Beyond Dinner and a Movie email series. We share our best date ideas lists right to your inbox weekly, so you're never stuck without a great date night idea again!
Year of Dates Examples:
I've shared several year of dates blog posts. Here are a few examples of the gifts, dates we've done, and how we've pulled together this date in the past. There are so many ways to present the gift, and these posts should help!
A Year of Dates Gift: 12 Months of Pre-Planned Pre-Paid Date Ideas
12 Months of Date Gift: Date Night Folder
Planning/Budgeting/Preparing for a Year of Dates
Need some help planning the budget? We have a ton of tips to make sure you can work your budget (no matter how big or small) and create a plan for a full year of date night fun.
Check out how: Year of Dates Gift Budgeting (and Date Night Budget) Tips
Be sure to follow us on Instagram for weekly date night inspiration!
Get 365 Date Ideas!
We want to help you have the best date nights ever! Grab this FREE printable with 365 date ideas, a date for every day of the year so you never run out of ideas!