How to Plan a Year of Dates Gift: Tips for Planning Your Own Date Night Gift
Do you want to give a year of dates, but you're wondering how to plan a year of dates gift and make it work for you? Here are our top tips for planning your own date night gift!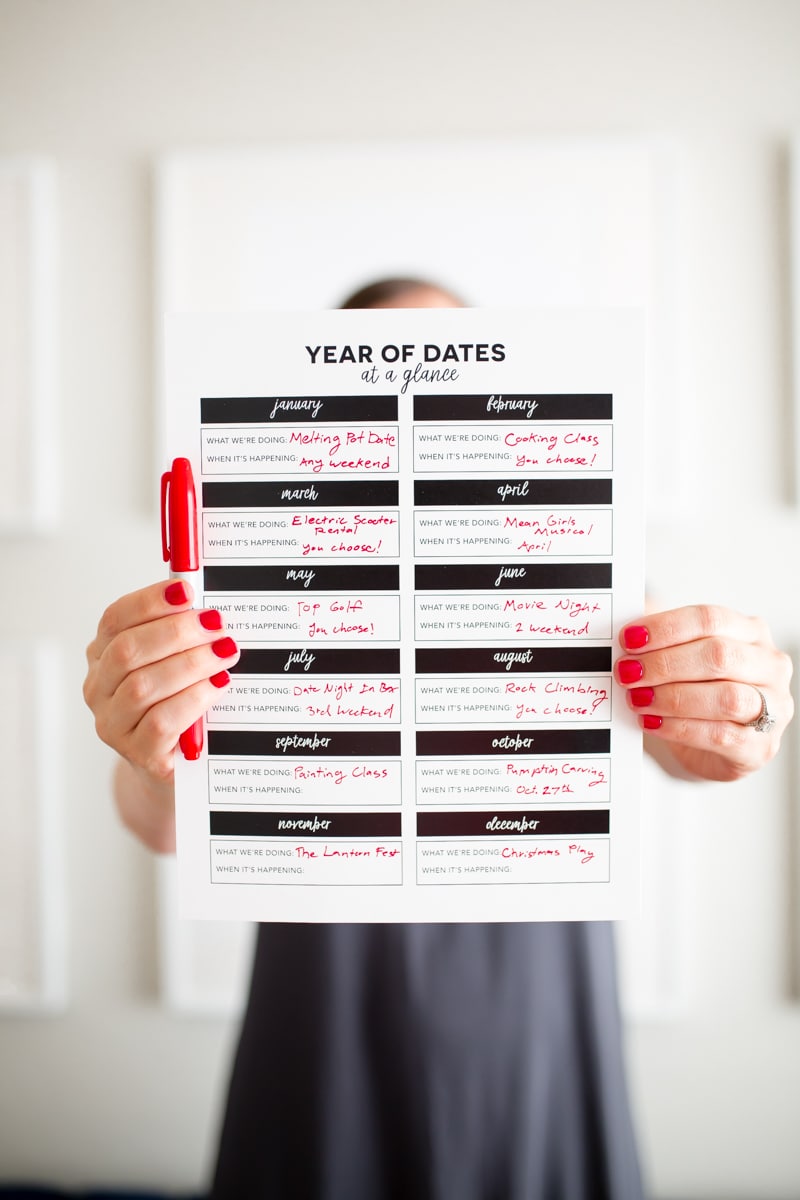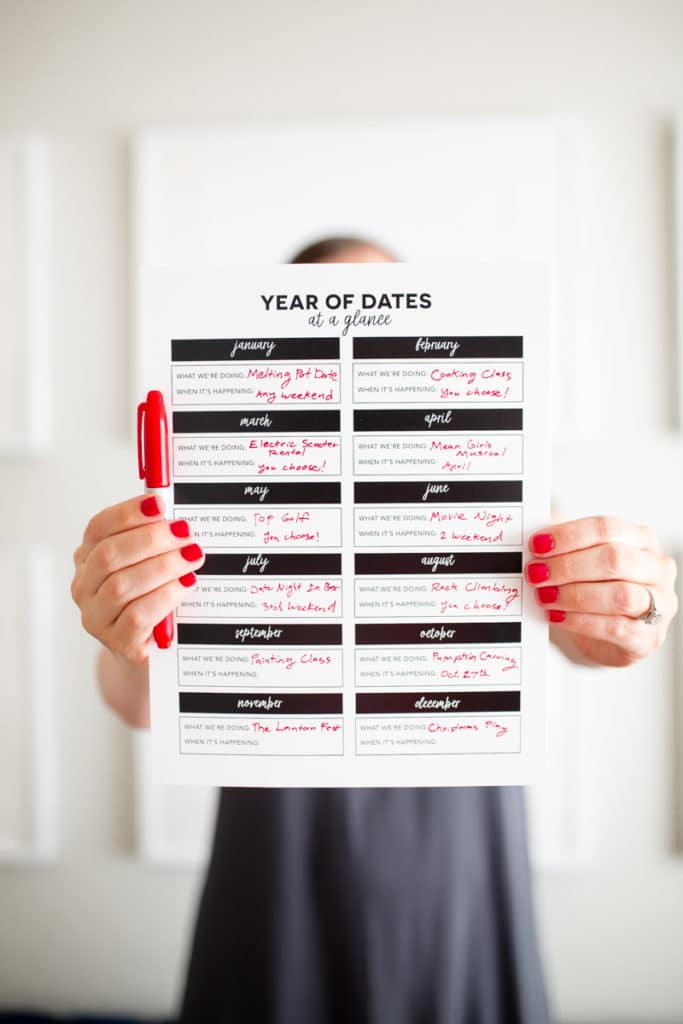 I am so excited about the free Year of Dates Printable we shared last week as a resource to help couples and families give the gift of dates this year!
Preplanned Date Night Gift
We've been doing this preplanned date night gift for over eight years now, and every single Christmas, birthday, anniversary, etc. we always tell each other we really just want dates for presents. Giving each other dates has become so fun for us! We have had the opportunity to make memories together and to gift a few extra special dates we might not have fit in our normal budget.
I love that several posts I've shared about this have gone viral getting people out dating! Also, I've heard from hundreds of people who gift a year of dates who tell me it's been the biggest hit. I can't advocate for it enough! The joy of opening such a thoughtful gift that you get to enjoy all year together is just about the best thing! It builds anticipation and makes the whole upcoming year seem amazing.
How to Plan a Year of Dates Gift
The one thing I get an overwhelming amount of questions about is how do you actually plan something like this? So I thought I'd write the post people have been asking me to create for years, and share how to plan your year of dates. We've done it enough to have some tried and true things that work and we highly recommend. In risk of sounding like a Bachelor episode, here's the Camille tells all!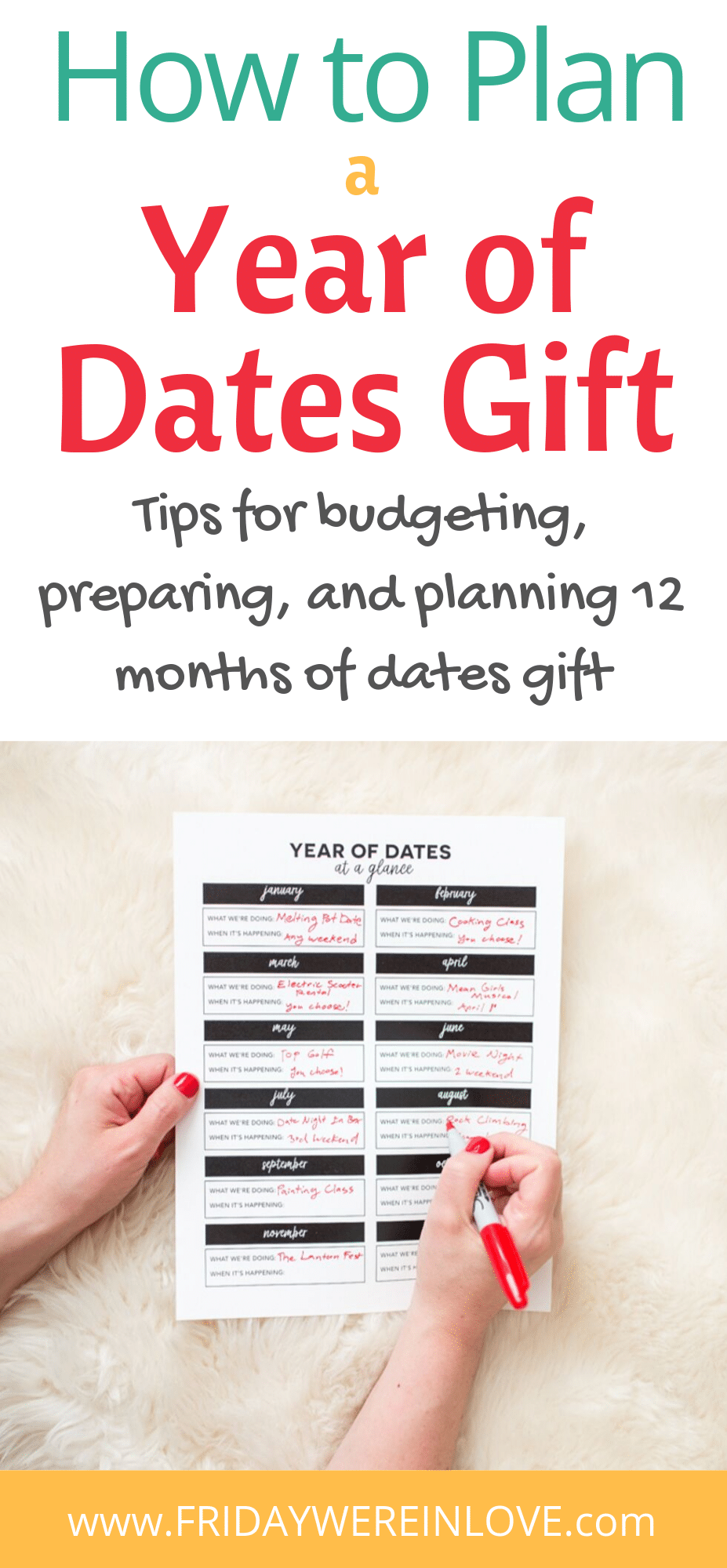 Start early!
If you're gifting for Christmas, you may need a month or two to pull it together. That's not to deter anyone who wants to do this last-minute. But it's a lot easier to have a little time to compile all the things.
Decide if you're going to do a full year or a smaller commitment
We've had years I couldn't pull together 12 dates. They are times I couldn't afford that many. It doesn't matter if you do this monthly, that's why we carefully designed a number version for those who aren't ready to tackle an entire year. It's okay to do every other month, once a quarter, or a 6-months of dates commitment. Choose what works for you, and lock in the plan! Speaking of planning…
Get a Budget
I have a whole post going live about this one next week, with tips and tricks to stretch it further. But know that it's a good idea to get real about what you can afford. Even if it's not a lot, you can still gift this!


Tips for Planning A Year of Dates Gift

Make a Formal Plan, and Write it Out
First of all, everything I start dreaming up I include in a planning sheet. I list out the month, the exact date (or if we just need to choose one), and the budget. A simple planning sheet helps me put it all together in my head, and list what I need to acquire to make it happen.
Grab the Planning Sheet In the Printable Downloads Here
Reference Date Night Lists 
We have shared so many date ideas lists, there are literally thousands of date ideas on our site! You can drop down the date ideas menu, or you can head to the date night lists category to gather tons of ideas. I'd recommend starting with the 52 Dates to Do This Year post. That post is done in chronological order with one free date each month, and one at-home date idea each month, plus two fun seasonal dates each month. It will really hook you up with dates perfect for each month of your gift! Additionally, I would print that post out for a visual reference and so you can write your own notes. You may realize you have more than 12 dates you'd love to do, and that's a good problem!
See 101 Date Ideas
Begin with the Big Things
I started my first year buying tickets to a Broadway show we wanted to see. This date sets you up on a specific night, and just like that, one month is covered! I usually buy 2-3 bigger dates like this and include them in a planning sheet. If you're planning to splurge on a few big things, choose concert venues, playhouses, sporting events, etc. and choose specific dates of tickets for the big-ticket items. Also, I'll be sharing tons of our favorite big-ticket date ideas that really wow in two weeks, so stay tuned if you need more ideas!
See Our Splurge Dates Worth Every Penny Post for ideas!


Finalizing Your 12 Months of Dates Gift

Fill in the Gaps
Often, after I drop $100 on a concert ticket, I'm ready for some cheap date ideas to keep the budget in check. I know some people are lucky to have no budget constraint and some have to really watch every penny. This will vary for each couple or family. But start big and then look to fill in the gaps with more simple items.
See 52 Completely Free Date Ideas and a crowd favorite Cheap Date Ideas
Think Seasonal
I also like to think about seasonal dates. I've shared winter date ideas, spring date ideas, summer date ideas, and fall dates just for this purpose!
But oh we have so many more fun date ideas beyond those! For instance, we're big fans of Christmas Date ideas, and you know Halloween Date Ideas are my favorite. Be sure to check out our dates by season category, there's something for everyone!
Add in a Repeat Date You've Loved
I know people can start to feel stumped after they plan a handful of dates to give. You know your relationship best, and what your partner will love. For example, grab a gift card to their favorite restaurant, or do a walk through a significant place in your relationship. It's sweet, it's romantic, and therefore it's something you both know you'll love.
We've included a movie gift card with each gift because it's easy, and always a hit! It's the one date included in every year of dates gift I've given!
I can't wait to share even more posts about budgeting, date ideas, and ideas to pull it all together in the coming weeks- so stay tuned! They'll all help you figure out how to plan a year of dates that works the best for you!
If you are looking to get started, now is a perfect time! And don't let it overwhelm you, a few plans, some great date ideas lists, and a little time to start compiling are all it takes!
Like this post? You may like these too:
Splurge Dates Worth Every Penny
Get 365 Date Ideas!
We want to help you have the best date nights ever! Grab this FREE printable with 365 date ideas, a date for every day of the year so you never run out of ideas!