Date night doesn't have to be expensive, you just need great cheap date ideas to make the date night feel amazing! Here are 30 no Netflix involved cheap date nights to rock dating on a budget.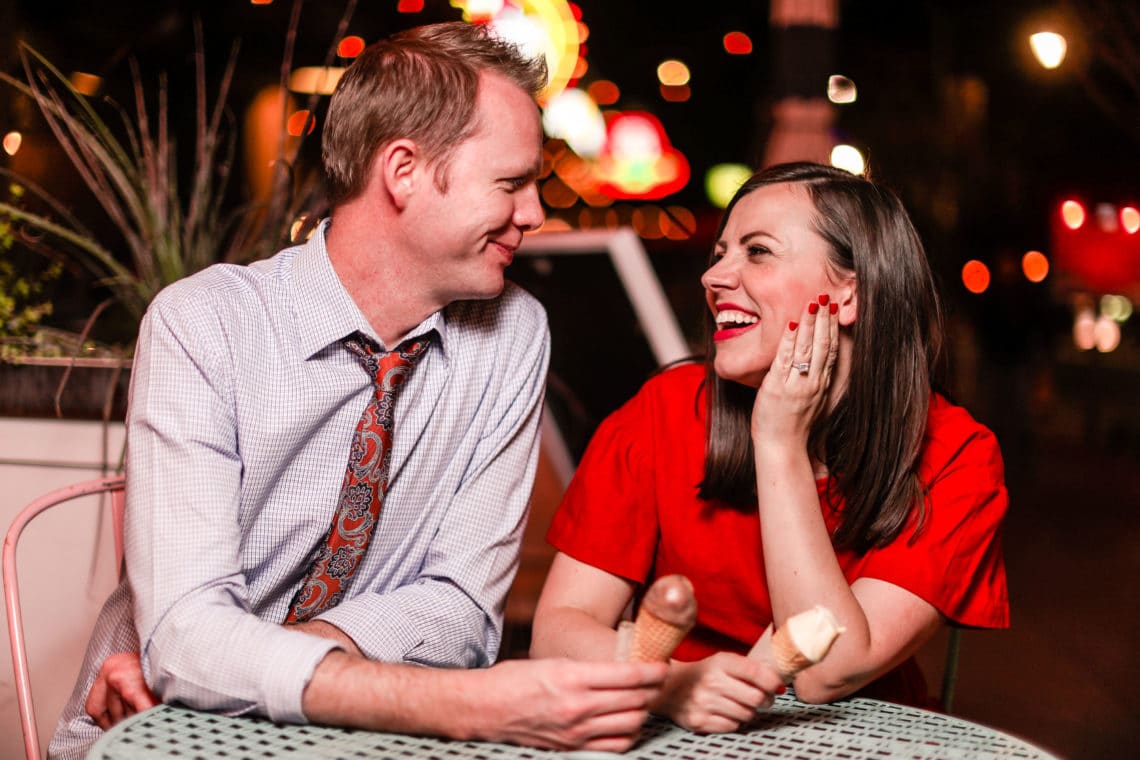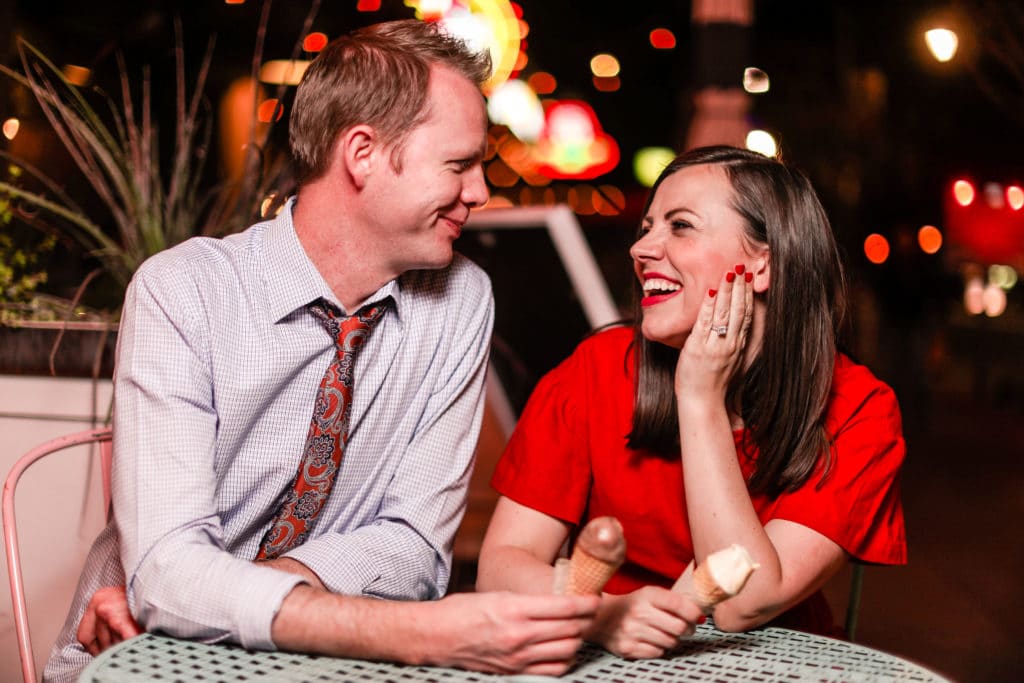 Cheap Date Night
I love a splurge date night as much as the next person, but in order to have those, I know we have to watch the budget and balance our date night spending. Sometimes that means completely free date ideas. But often it means cheap date ideas are in order!
Fun, Cheap Date Ideas
Consequently, many nights that means something cheap. A cheap, fun date idea that won't break the bank but still feels like an intentional spend for the night out.
Lots of cheap date ideas feel like just that: cheap. But if you're willing to get a little creative and think outside the box, I promise you can make any cheap date night feel like a million bucks!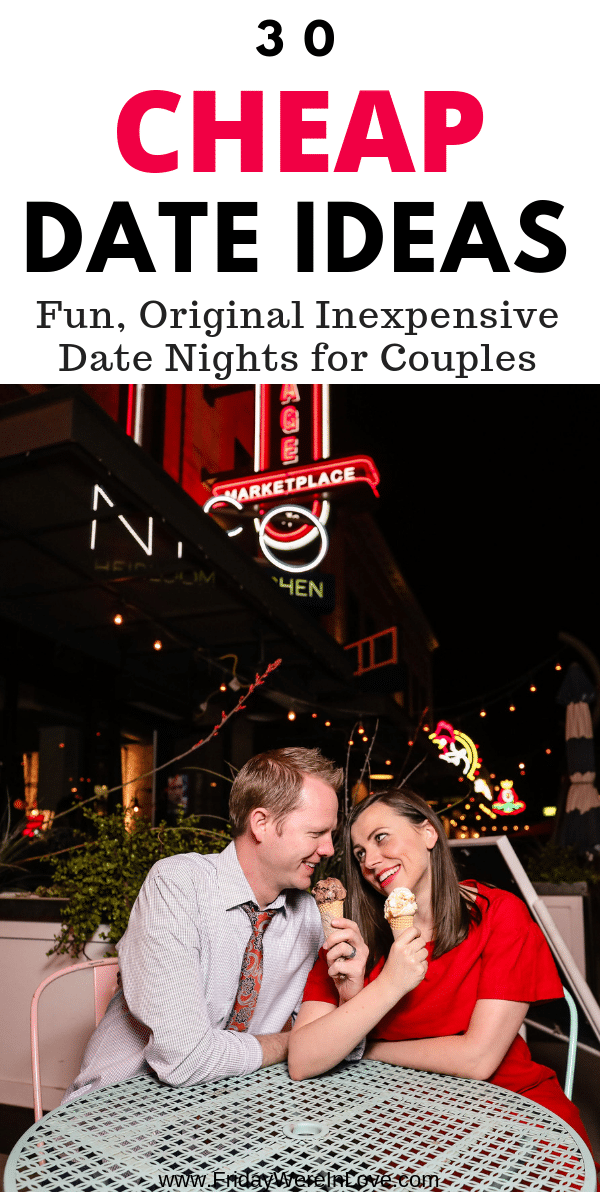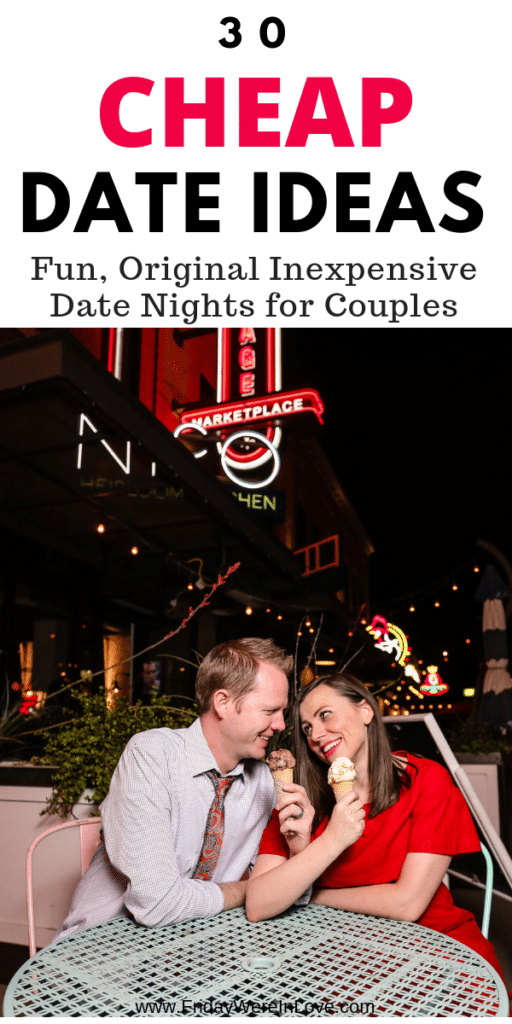 30 Cheap Date Ideas
Go get ice cream. Even fancy ice cream isn't ever terribly expensive. You can enjoy this treat at a cute location and feel like you're going out to eat only you're doing it inexpensively.
Discount movie night. Check your local theater, find the night they do discount tickets. This is often half the price. It turns an often pricey date into a super affordable one.
Visit a high school or college arts performance. Theater products can be really well done. In fact, we even have a trick for finding the best ones in your area that will make you feel like you splurged.Consequently, it's a fun theater date they are a small fraction of the cost.
High school sporting events. I love a tense basketball game, it's one of my favorite spectator sports to enjoy! I've found a rival high school basketball game get the same thrill as an expensive NBA game.
Concert performances at a high school or college. These often go unnoticed and can really be amazing! Find an orchestra, band, or choral performance locally to support and attend.
Play cheap arcade games. There are old-school and discount arcades in most cities and towns. Hit of one of these and enjoy how far a few dollars can take you.
Go to a coffee shop and play games. There are usually board games at coffee shops for just this reason. Or you can bring your own; we have a huge list of couple games if you need some ideas. You'll only need to purchase drinks and snacks and you're all set!
Visit a local museum on the discount night. There are often discount times to head to a museum, such as weeknights or early mornings. Check the times and plan the free night or cheap entry time.
Sunset Picnic. For only the cost of food, you can have one of the most romantic dates of your life! We love putting together a gourmet style picnic basket on the cheap and enjoying a night of breathtaking views.


Cheap Dates At Home

Make pizza at home. It takes enough time to really make it feel like a fun date activity. It's also an amazingly cheap date that facilitates all kinds of conversation. Plus our homemade pizza dough recipe is foolproof and easy to make together.
Do You Know Your Husband/Do You Know Your Wife quiz. We love these little booklets you order on Amazon and ask a bunch of questions that you've probably never asked before. It's fun, it's hilarious, and it's going to cost you less than fast food for two.
Make ice cream at home. Even if you don't have a fancy ice cream maker, the can-in-can method works just fine. Roll around and enjoy plenty of time to talk and connect while you make the most amazing fresh ice cream.
Chocolate Taste testing. We found a chocolate box all ready for this at Trader Joe's around Christmas. But even when it's not in season, you can still make this date work! Check out this chocolate taste testing date post for all the details.
Head to a cat café. These are a fun trend popping up in most major cities. Grab some food, pet some cats. There are also puppy and goat cafes if cats aren't your jam.
Visit your favorite bakery and snag something sweet. The best cookie in town? Likewise, what's the cupcake people stand in line for? Whatever sounds amazing to you, go spend the time and small amount of money it takes to make this night happen.


Inexpensive Date Ideas

Head to the farmer's market and explore the offerings. You'll likely spend a little money on food or some fresh flowers to woo your date. But overall, it's a really sweet and really easy cheap date.
Attend a DIY class at your local hardware store or craft store. You'll just be in charge of buying supplies. Usually, these are small projects you can enjoy with a teacher for a fraction of the price.
Rent scooters and drive around downtown. Rentable scooters are popping up everywhere, and they are so fun! You pay a few dollars for a set amount of time, and you can drive all over exploring in a fun new way.
Have a Happy Hour date. Just one drink doesn't add up too quickly. Also, if you're like us and don't drink, there's always delicious mocktails and bartender concoctions to enjoy.
Random Act of Kindness Date Night. We love this easy and fun way to do some good and serve others. A few dollars is all it takes to prepare a few notes and presents to spread some kindness.
Play a game of racquetball. It's fun for even beginners, and it's only a few dollars at most locations.
Build a romantic fort. Splurge on a new movie to stream for the occasion.
Go to dinner at a restaurant notorious for large portions. Split a meal and enjoy a cheap date night.
Host a potluck group date. Have every couple bring one dish to share. First of all, It's cheap to pay for one item. Finally, you'll eat like kings while you enjoy an amazing company.


Cheap Dates

Hit up a BINGO night. These are often fundraisers for certain organizations, and they only cost a few dollars to buy in.
Go roller skating. You can usually drum up a buy-one-get-one-free coupon. Likewise, it's a cheap date to rent skates and only pay admission for one.
Hike and only splurge on beverages for the outing.
Go antiquing. It's a lot of time to find that one item that fits your home or life. Usually, you can find amazing deals. Also, it's super interesting for a date!
Rent paddleboats for a paddleboat date night. Crazy romantic and one of my favorite dates we've ever done. It's also a cheap boat rental making it an inexpensive date idea you'll love!
photos: Andrew Millet
Like these inexpensive date ideas? You may like these posts too:
52 Completely Free Date Ideas to Do This Year
Valentine's Day Date Ideas for any Budget
Get 365 Date Ideas!
We want to help you have the best date nights ever! Grab this FREE printable with 365 date ideas, a date for every day of the year so you never run out of ideas!