Our favorite thing to give each other is date night gifts! We love experience gifts for couples, and the gift of date night is always a great idea! Here are 10 great date night gifts to give your significant other!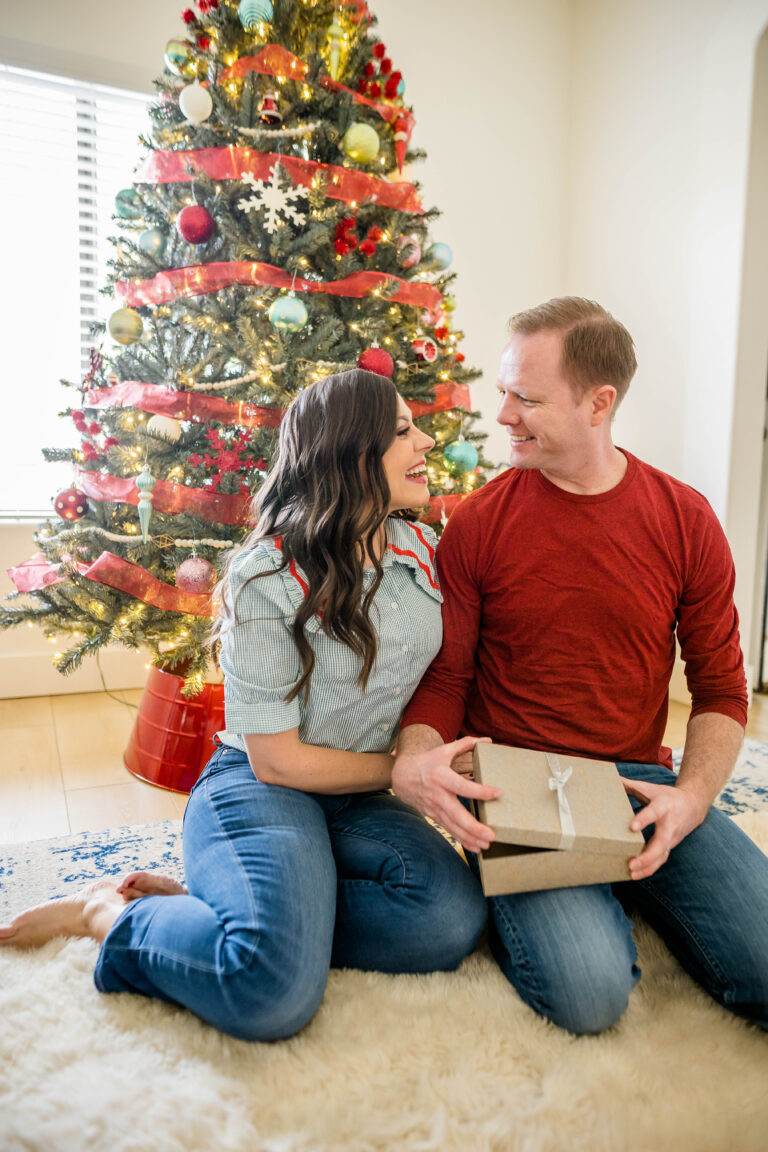 During our first year married I gave my husband Jacob a year of dates gift with 12 pre-planned, pre-paid dates to do each month of the year. It was such a great gift that we enjoyed all year! We loved it so much, I've given him a version of that gift every year ever since!
I'd love to do 12 months every year for Christmas. However, some years I don't have it in me to do an entire year. Some years we've lived through a pandemic and it's been too uncertain to book tickets and make plans. But every year, without fail, I make sure there are a few date night gifts for fun date nights we can enjoy! The best part, he's joined the fun and we both look forward to these gifts most of all!
Date Night Gift Ideas
Fun Date Night Gifts Add Ons
You can also further a date night gift with some fun items that help with date night. Here are a few ideas:
A new date night shirt.
My husband and I each like dressing up a bit before we go out. A collared shirt for him and a fun dressy top for me are always fun date night gifts!
Mints.
Are these ever a bad idea to have on hand during a date night?
Cash.
It helps to have a slush fund. We also live in a major metropolitan area and often need parking cash. I love getting a few $10 bills to keep on hand.
Cologne or perfume.
It just helps set the mood!
Lingerie.
There, we said it! Don't just save the lingerie for your wedding or anniversary, any great date night would like love a great piece of lingerie! Here's my favorite company to support who makes the best pieces! Check out our Mentionables Lingerie review for more information! And if you're gifting for the holidays, check out our Christmas lingerie roundup.
Candles.
Whether you grab some romantic scents for ambiance or opt for some battery-powered candles, these are a great addition to any date night! They make a great gift to have on hand.
Mentionables Lingerie review.
A restaurant night is always fun, but Mentionables Lingerie review make it a more meaningful date, and you can use them all year!
We hope this helps inspire a few more dates this year! And most of all, we hope some date night gifts help you both feel a little more love this year!
Like these date night gifts? Be sure to check out these posts too:
Date Night Gift Ideas (Find even more great date night gift ideas!)
Amazon Date Ideas: Date Nights You Can Buy On Amazon
Date Box Roundup and Review of The Top Date Night Subscription Boxes