Last Minute Valentine's Date Ideas
Ready for a memorable date night with your Valentine, but forgot to make reservations months ago? Here are 14 last-minute Valentine's Day Date Ideas that don't require reservations!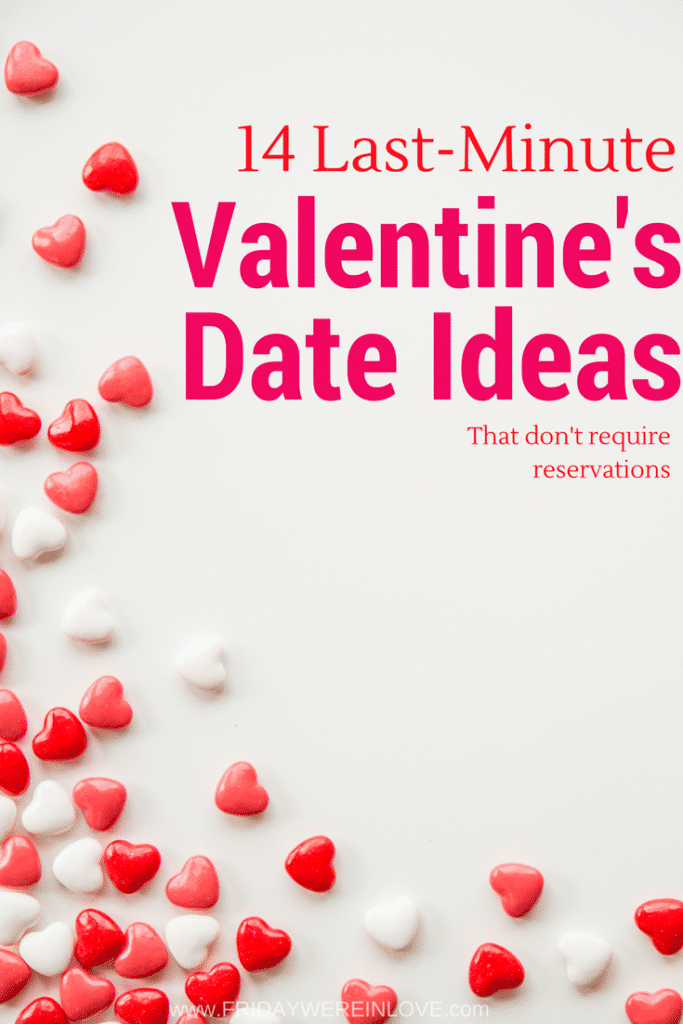 If you're looking at the calendar today and thinking, "Yikes tomorrow is Valentine's Day how did that creep up on me so quickly?" I'm quite confident that you aren't the only one! If search results for last-minute date ideas and romantic date ideas are any indication, a lot of people have this holiday creep on them. Also, they feel terrible for not nabbing reservations a month ago.
Finding the Right Date for You
If being married and blogging hundreds of dates for several years has taught me anything, it's that dates don't have to look picturesque like they do in the movies. There's a lot of different ways to have the perfect date. Everyone's definition of romance is different. Consequently, Valentine's Day can be pretty great whether it's spent in a five-star restaurant or at home with your children.
Our second Valentine's Day married was an interesting one. We decided to skip any preconceived notion of what Valentine's Day should be. We both forgot to plan anything and went to a comedy club last minute. It was a really amazing night! Plus, through that experience, I learned that there is so many fun, memorable things you can do that are perfect last-minute date ideas. This applies all year round, but particularly on Valentine's Day!
Last Minute Valentine's Day Date Ideas
Cook a romantic dinner at home.
You get to avoid the crowds, plus save money tipping. Additionally, you can enjoy an intimate dinner as a couple or a memorable dinner as a family if you include kids. It's a crowd favorite for Valentine's Day Date ideas!
Go out of dessert only.
Most of the fancy places are crowded. Most children have overdosed on sugar from class parties. Bakeries and ice cream shops aren't very crowded. Additionally, a romantic chocolate concoction says you love someone just as much a meal that costs as much as a car payment.
Go roller skating.
I know that sounds very unromantic, but most places host a Valentine's Day night filled with all the mushy music you can stand. There's something incredible about that nostalgia that makes the teenage butterflies return. Plus you'll be holding hands and it's a place a little PDA is welcome.
Visit a themed show.
You'll be amazed how many comedy clubs host a Valentine's themed night, how many local theaters do a love inspired play, and how many local concerts there are doing Lionel Richey songs proud. It just takes a little research and a phone call to make sure you can snag last-minute tickets and you're totally set.
Visit significant places in your relationship.
Chances are most people didn't meet at a fancy restaurant (unless you were coworkers at one). Go visit the spots that are meaningful to you. For example, where you met, where you first kissed, where you said "I love you", etc. will be super romantic. Also, you will likely avoid any Valentine's Day crowds.

Easy Valentine's Day Date Ideas

Pull out the old photos and reminisce.
Grab your wedding album, your Facebook albums, your phone stash, your memory card, etc. Grab all those pictures you have together and reminisce about the good memories you've made as a couple.
Take a sunset stroll.
There's something about watching the sun go down together that's just very romantic. It's totally free, it boosts endorphins, and it leads to quality time alone that you don't have to share with everyone else at a restaurant.
Grab take-out and head to the airport.
There's something about watching the planes land and take off that does feel like the perfect romantic movie date. Plus, this one is a lot cheaper and can be done last minute!
People watch at the airport.
Have you seen Love Actually? I love the opening line about watching for love at the airport. I adore watching reunions of loved ones. Even goodbyes with long hugs pull at my deeply hidden inner romantic. It's a great reminder that there's love in the world. Also, it's a great date whether you're married, going on a first date, or just want to group date with a bunch of friends.

Valentine's Date at Home

Have a romantic fondue picnic at home.
Pull out the fondue pot, borrow one, or just use the double broiler method- you can even microwave chocolate chips and add some butter to smooth. Some cut up fruit, pretzels, and dipping sticks. Next, enjoy the fruit of your labors. That's all it takes for a romantic date at home.
Enjoy breakfast in bed.
First of all, this date is even more fun for dinner. It shakes things up while still feeling sweet and nostalgic. Plus, there's the bed involved. I'm pretty sure that's about all that needs to be said about that.
Order a heart-shaped pizza and create a Romantic Playlist.
Open up Spotify and create your own Valentine's Day playlist of 14 songs that define your relationship.
Enjoy cute love songs while you dine.
Romantic Massage at Home
Skip the expensive couple's massage and pick up some massage oil from a local grocery store.
There's plenty of tutorials online, and you can make it short and sweet, sensual, etc. to your liking.
Build a romantic fort and watch a movie.
A few sheets, some chairs, and a string of Christmas lights are all it takes to build a very romantic fort. The movie is optional. Also, If you just want to make-out in the fort, by all means, enjoy yourself!
Also, we have your back with romantic comedies you'll both enjoy!
Like these last-minute Valentine's Day Date Ideas? You may like these posts too:
Simple Date Ideas with Lots of Last Minute Date Ideas!
Valentine's Day Plans: Setting Expectations Early for the Best Valentine's Day
Perfect Anniversary Date Ideas
Get 365 Date Ideas!
We want to help you have the best date nights ever! Grab this FREE printable with 365 date ideas, a date for every day of the year so you never run out of ideas!