Create your own paper bag puppets with these free paper bag puppet templates!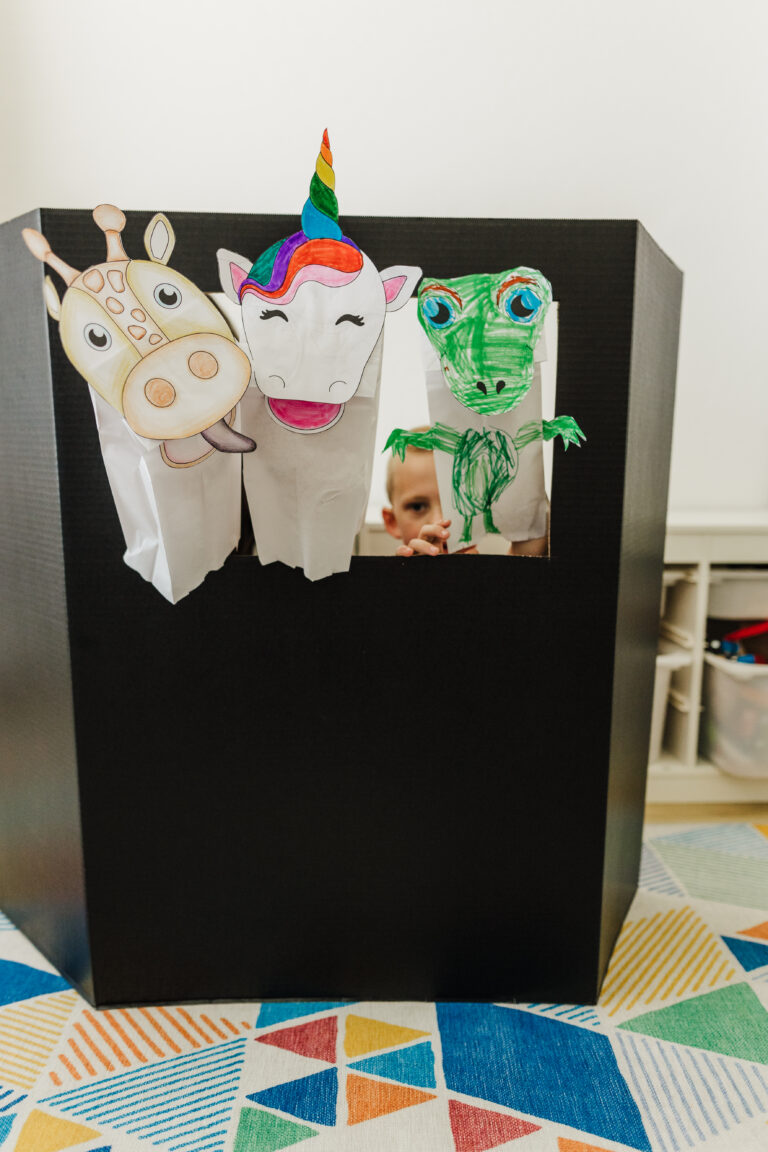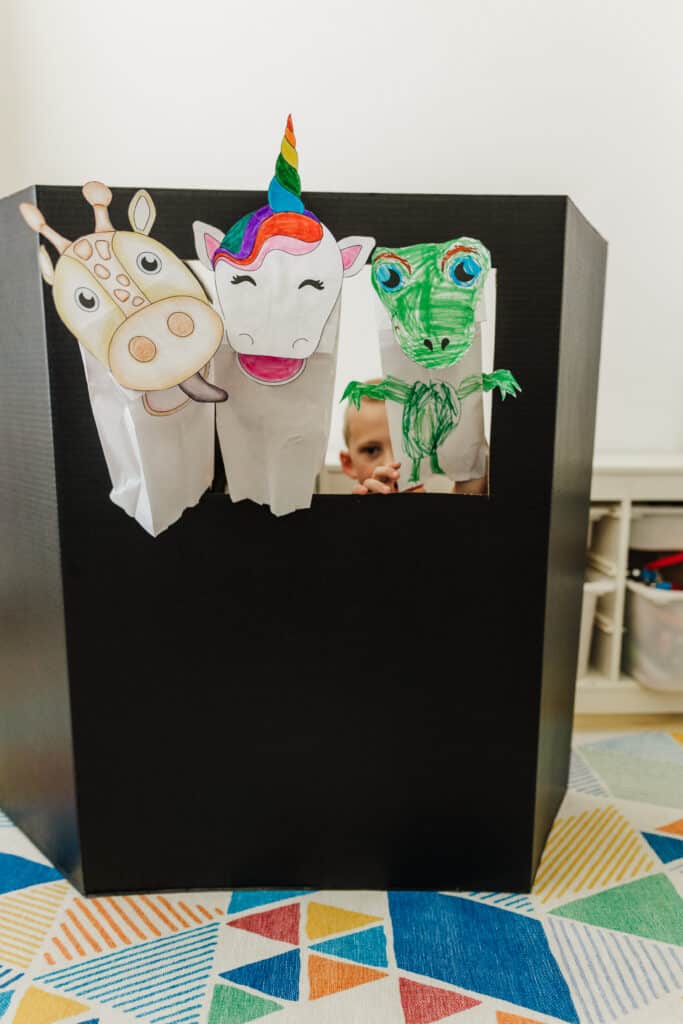 One of the best parts of children is their ability to process life through play. Once they're preschoolers, they can act out full story plots, and it's quite impressive!
An easy and fun way to help them do this is by making some paper bag puppets. It doesn't take much, and you're setting kids up with hours of creative play!
Best of all, you probably have all the supplies on hand, and our FREE paper bag puppet templates make it super easy!
And while you're grabbing supplies, we highly recommend making our DIY Puppet Theater: Create Your Own Puppet Show Stage to use with your creations!
Paper Bag Puppet Ideas 
The sky is the limit! You can draw any creature or person or object on a paper bag! But here are a few fun ideas kids can really fun with!
Animal paper bag puppets.
Make a farm, make a zoo, make a Rainforest- animal play is always a hit with the younger crowd!
Create your family
Have kids create themself! Then have them create family members and friends.
Create people in your neighborhood.
Why now give your mailwoman, trash collector, or create a police officer paper bag puppet? Kids can act out everyday scenes and stories with people and faces.
Magical creatures.
Hello, unicorn puppets out of paper bags. Dragon paper bag puppets, and even if they aren't technically magical, Dinosaur paper bag puppets are always a win!
Favorite book characters.
My son is so obsessed with Dog Man at the moment, that the idea of recreating the characters and acting out a book is just about the most exciting idea! Choose a favorite book and have them create what they think the characters look like. Plus, they have a built-in plot to act out for a puppet show!
Favorites movie characters.
They may know every song and every line from their favorite Disney movie. Why not let them create and use some imaginative play to spend an afternoon of fun.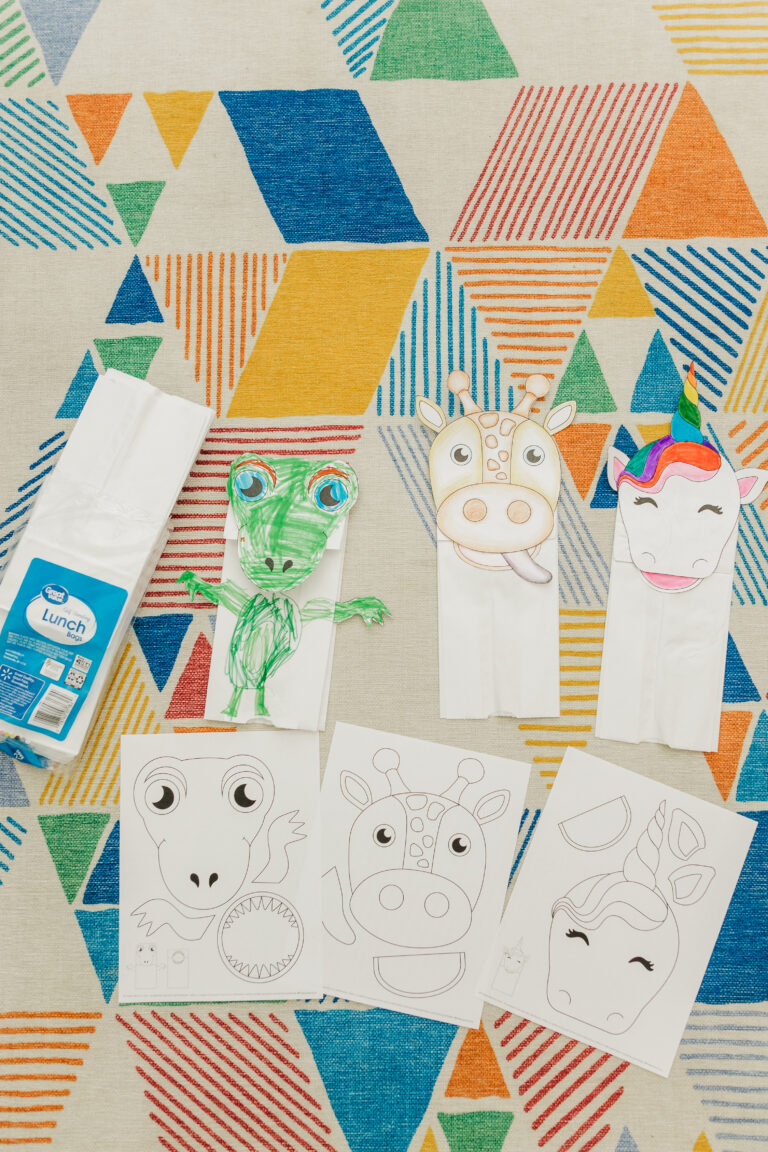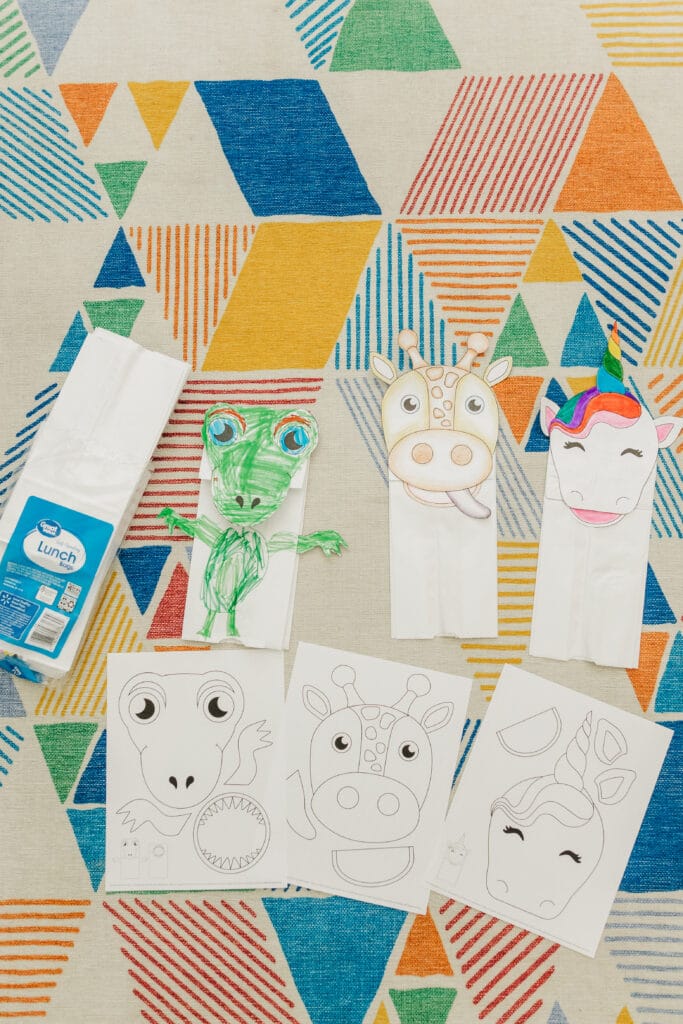 Paper Bag Puppet Templates
Sometimes the creativity is just in practicing coloring, cutting, and gluing. These are all essential school skills that studies are finding kids don't get enough practice in prior to school. An easy and fun way to help practice is to grab paper bag puppet templates and let kids create based on the template!
And you know we have you covered with several fun FREE paper bag puppet templates ready to download and use!
Yield: 1-3 Puppets
Paper Bag Puppets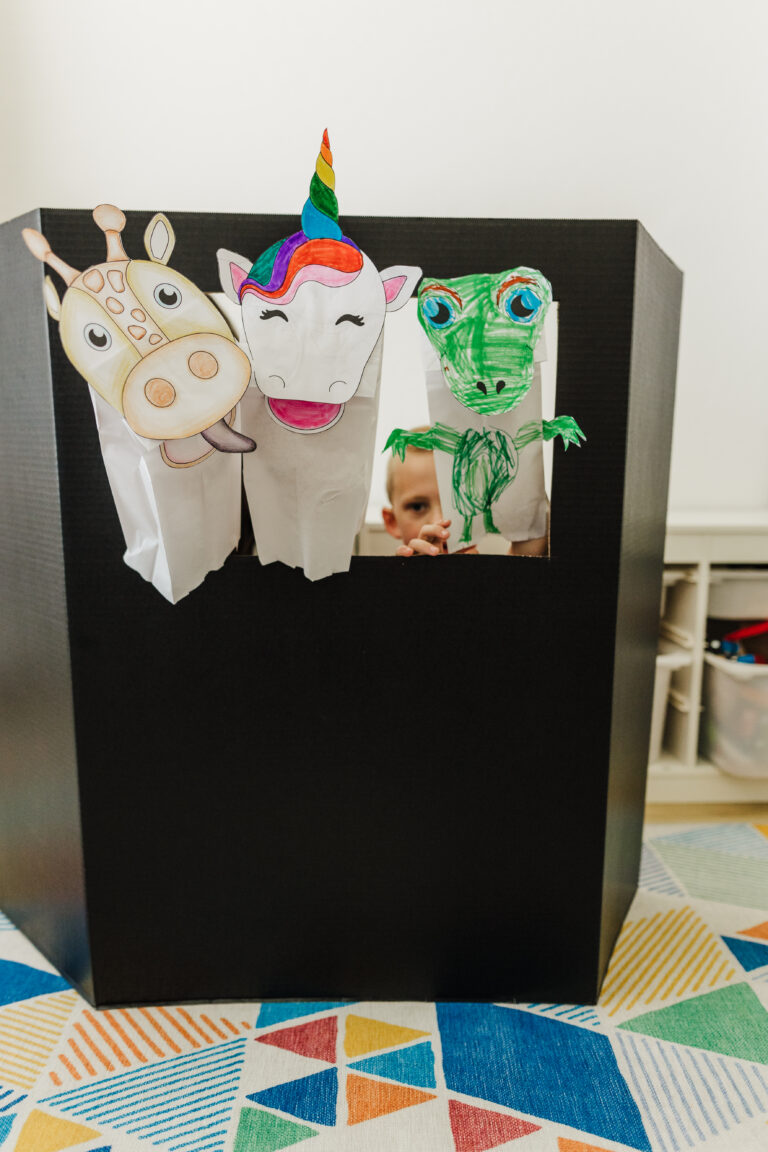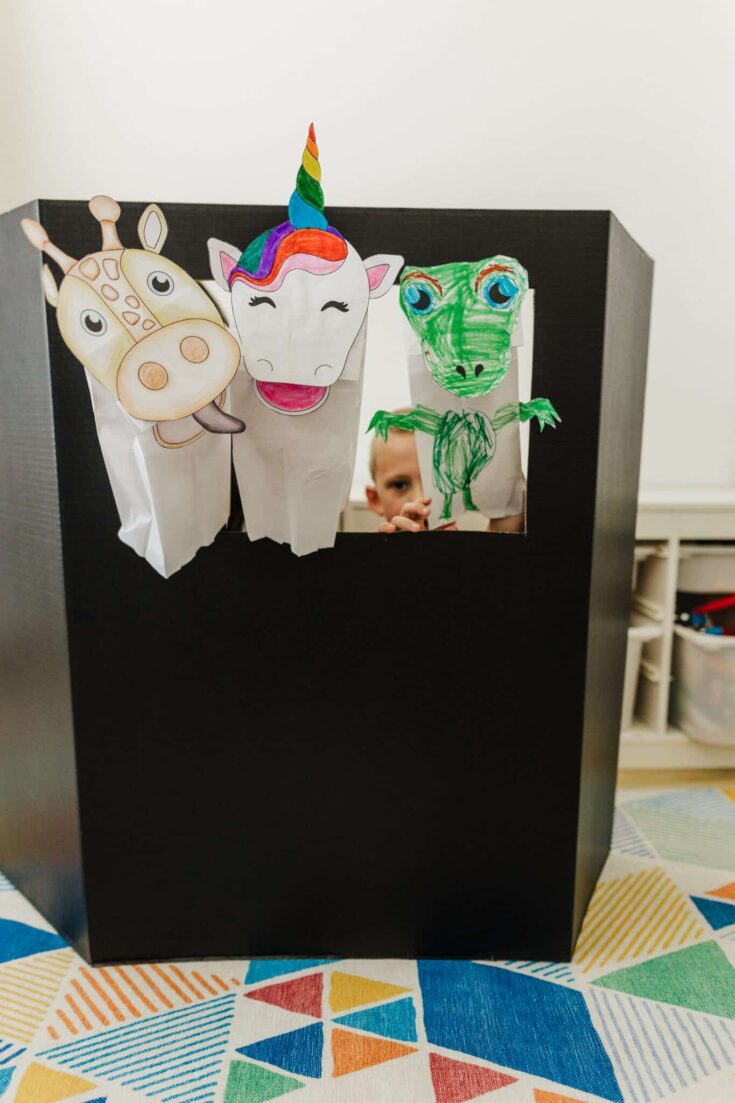 How to create your own paper bag puppets with free paper bag puppet templates! 
Materials
Paper Bag Puppets Templates/Design Ideas
Instructions
Print out paper bag puppet printable.
Color the desired character either on the template, or draw your own directly on the paper bag
Cut out the template.
Glue the head to the top flap of the paper bag.
Glue the mouth to the top of the bag under the flap. It shouldn't show much when the flap is down, but be exposed when it's opened. This makes the paper bag puppet look like it's talking.
Have fun creating a puppet show!
Recommended Products
As an Amazon Associate and member of other affiliate programs, I earn from qualifying purchases.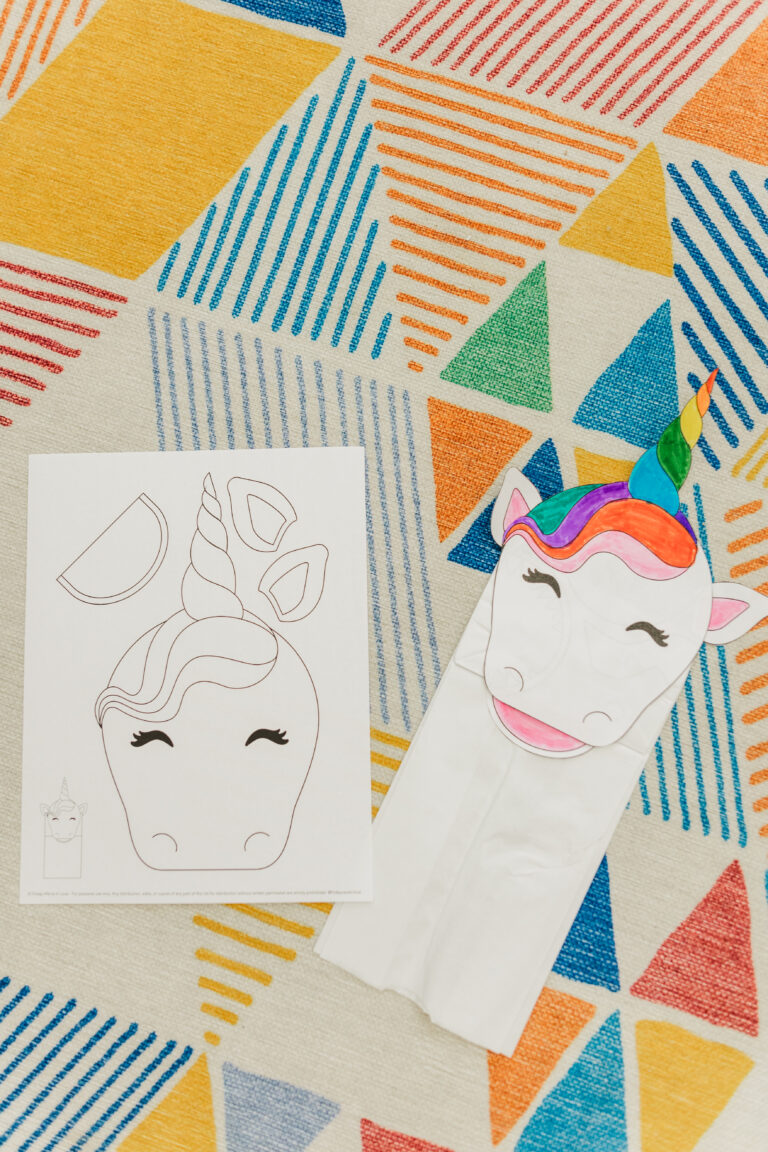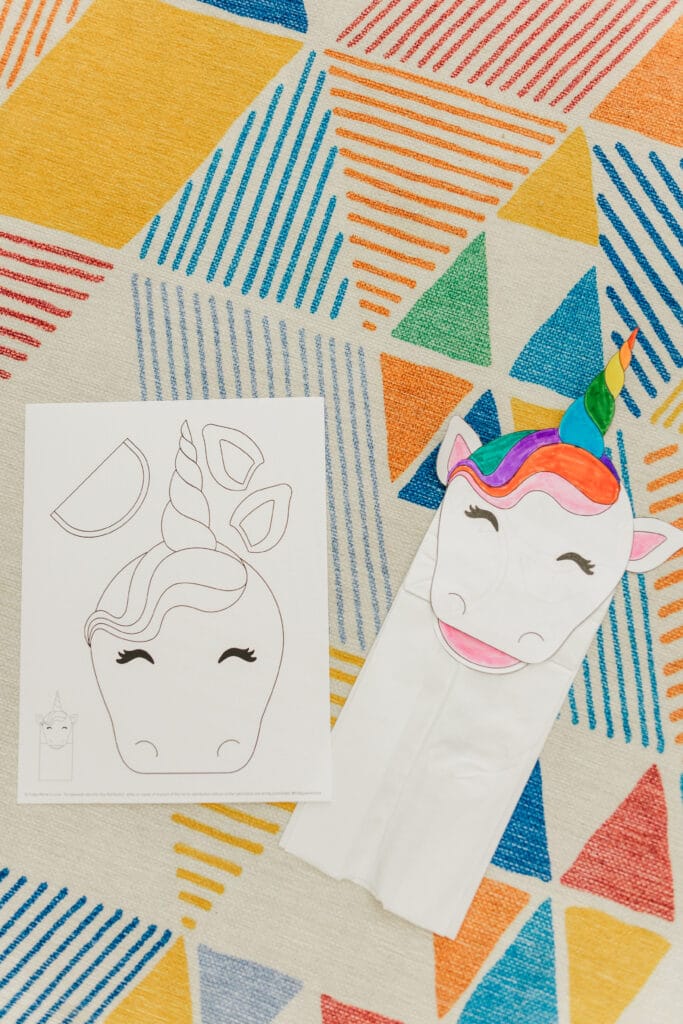 Grab Your Free Downloadable Templates Here!
Free Unicorn Paper Bag Puppet Template
Of all the favorite paper bag creatures, a unicorn paper bag puppet is tops! There are so many fun ways for boys and girls to use a unicorn in a storyline!
Grab the FREE Unicorn Paper Bag Puppet Template in the form above!
Dinosaur Puppet Paper Bag Template
Make your own T-rex with this free dinosaur paper bag puppet template! It's fun to make several of them and make them all different colors!
Grab the FREE Dinosaur Paper Bag Puppet Template in the form above!
Giraffe Paper Bag Puppet
We couldn't leave you without at least one animal paper bag puppet template! And isn't there something extra fun about a purple/black tongue hanging out of a giraffe's mouth!
Grab the FREE Giraffe Paper Bag Puppet Template in the form above!
And feel free to modify these templates to any similar animal or character (for personal use only).
We hope these paper bag puppets help inspire some easy and free (or really cheap) activities for kids to do at home! May their imagination and play time soar!
And stay tuned for tomorrow, we'll share our easy puppet show theater DIY you can make in a few minutes or only a few dollars!
Like this fun activity for kids? Be sure to check out these posts too:
Nature Scavenger Hunt + Free Printable!
Board Games for Kids: The best board games for 5-10 Years Old
Playdough Mats: Free Printable Play doh Mat Templates
Get 365 Date Ideas!
We want to help you have the best date nights ever! Grab this FREE printable with 365 date ideas, a date for every day of the year so you never run out of ideas!