Nerf Target Practice + Free Target Printable
Here's a fun way to help kids burn off some energy on days you're stuck inside! Have kids work on Nerf target practice with this Nerf gun target game + free printable!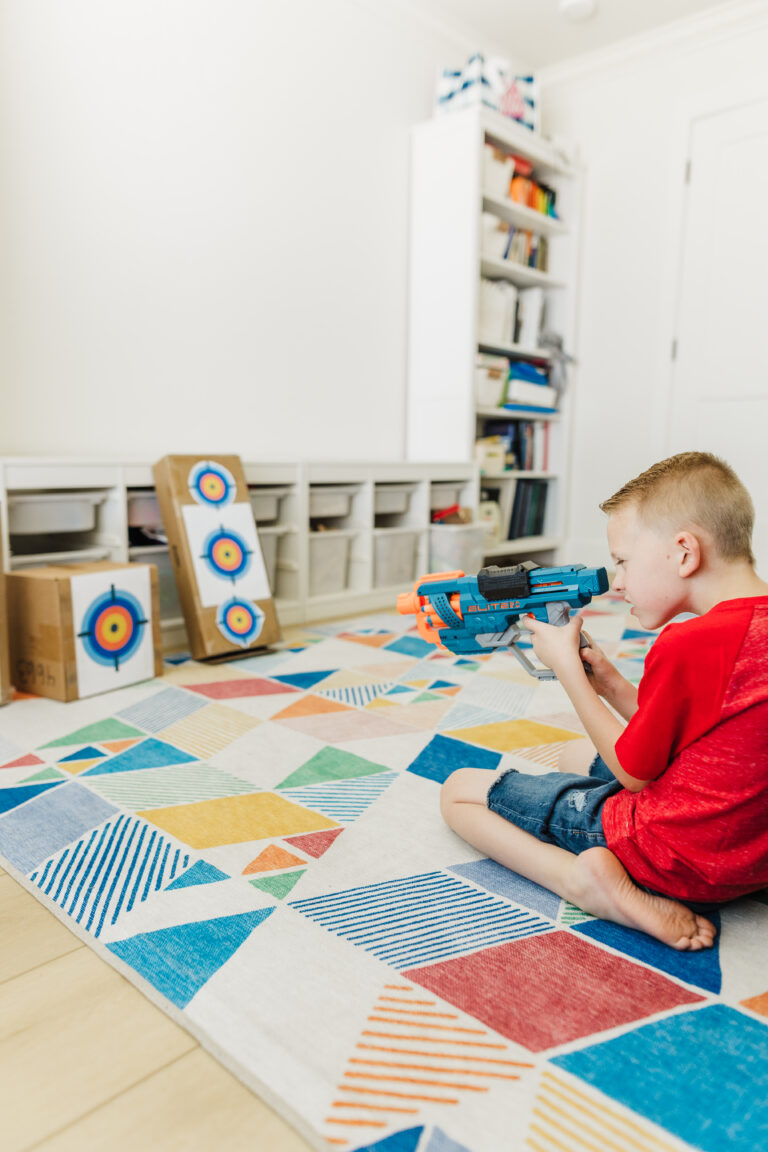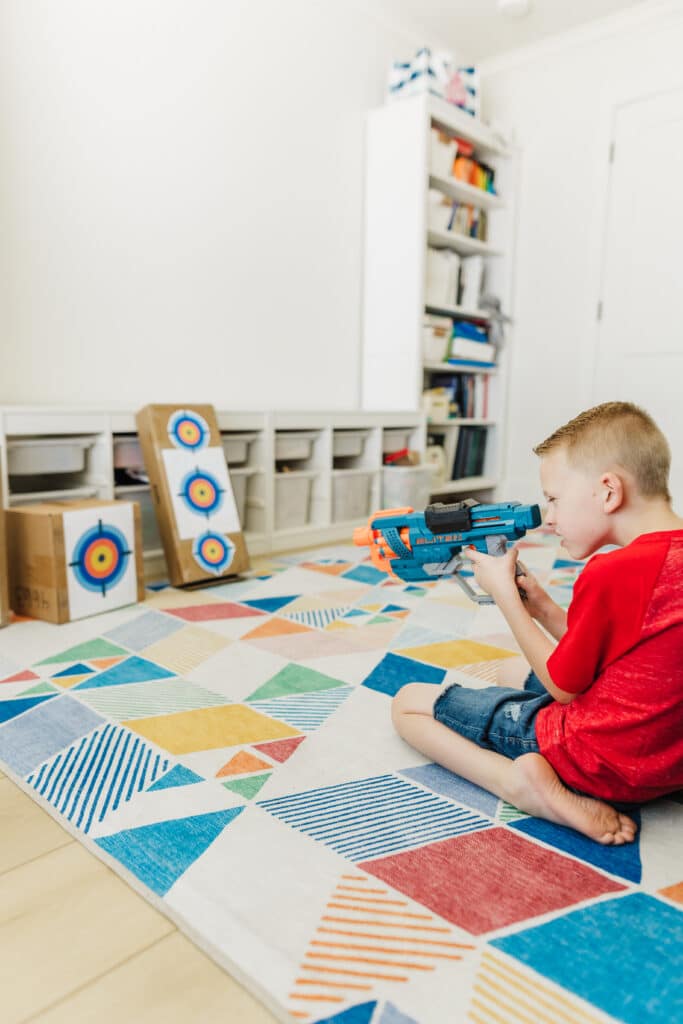 Nerf Party
A few months ago my oldest son received an invite to a Nerf-themed birthday party. It sounded really fun, really active, and perfect for a 7-year-old birthday party.
But we had a major problem; it was a bring your own Nerf gun party. That's not a toy we've ever owned.
I took a deep breath and realized my little toddler is now a full-blown little boy. He's growing up and being invited to big kid birthday parties. Honestly, I felt a little hesitant to enter the Nerf gun world. Inversely, I knew it was a game that would really help him burn some energy and make some new friends.
Nerf Target Practice
We went to Target and found a good deal on a Nerf gun. But the moment we got home, I realized we couldn't send our kid off to a birthday party with zero knowledge about how the game works. And thus we spent a day helping him figure out how the physics and mechanics of foam darts work.
It only took a few minutes in to realize we needed to talk about why we were not comfortable with him shooting at his little brother. I felt responsible to help him see why we were a little hesitant about this toy in the first place. I'm glad we did! I think that's an important thing for parents to do! But we still needed to help him practice so he could play responsibly at the party.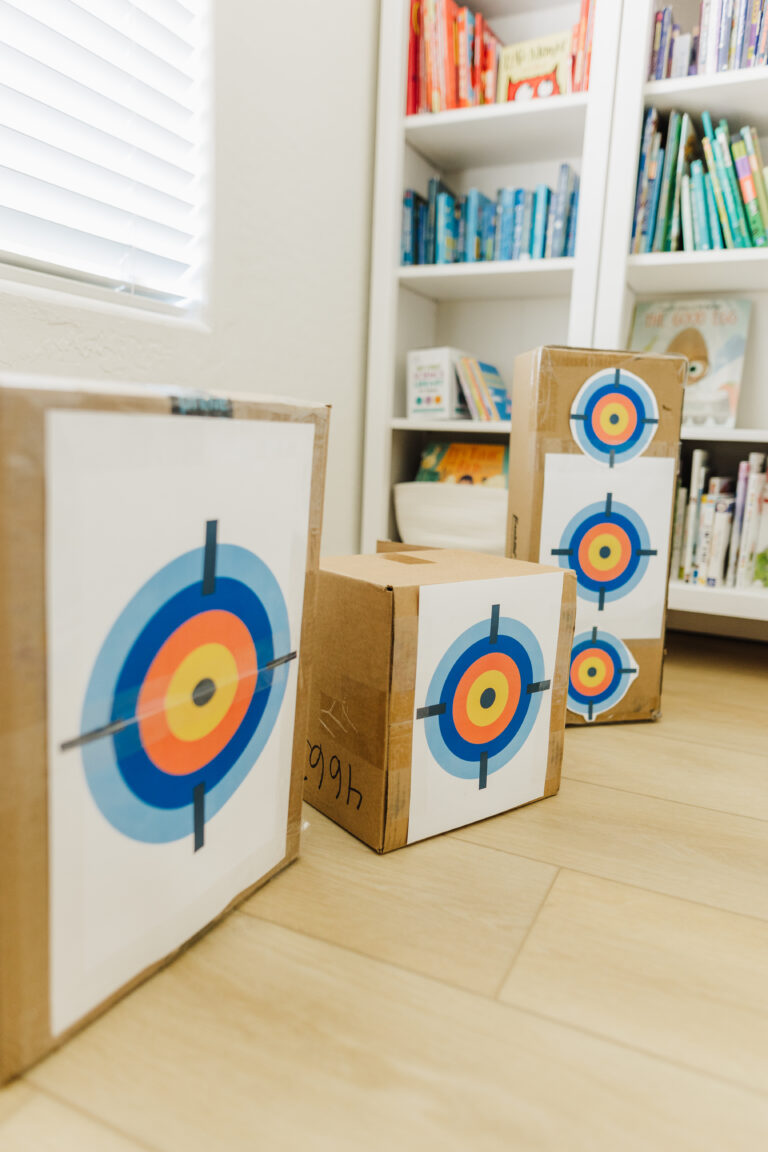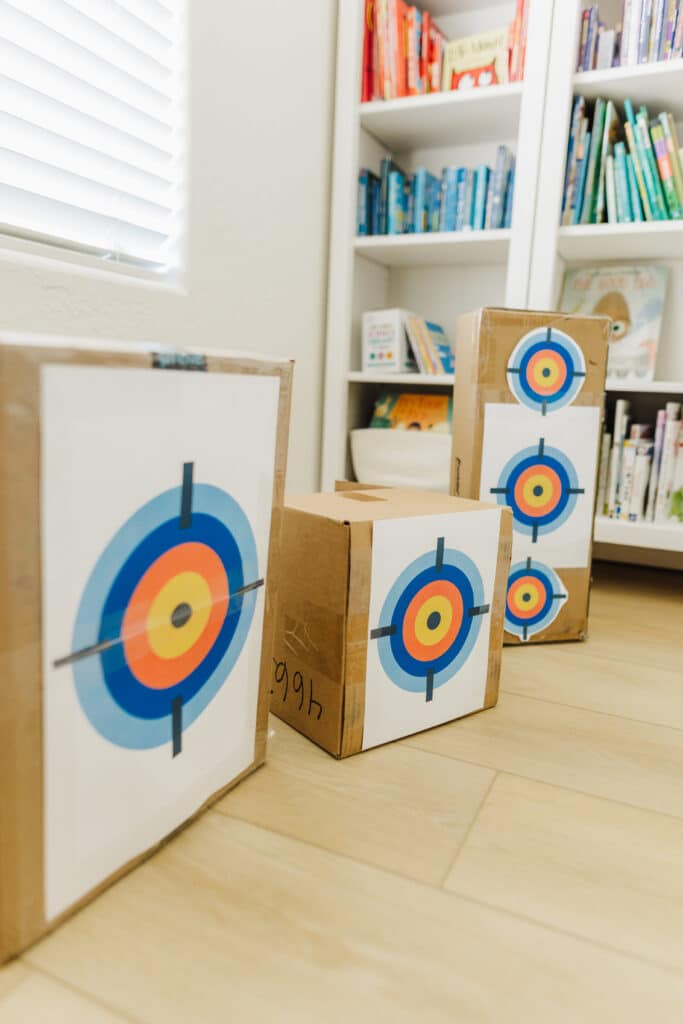 Nerf Shooting Targets
We decided setting up some Nerf shooting targets was going to be the best option to help him practice and have fun. First of all, Nerf does make its own Nerf gun targets. These are definitely fun, but pricey and can also take away the educational twist we're going to add to a target practice game.
I immediately set out to design a target we could print at variable sizes. I am a STEM mom through and through. As I designed targets, I decided we needed to incorporate math and physics into the game.
If you already own Nerf products, you'll love these FREE target printables and FREE game options that are perfect to help kids practice math and science skills.
Grab the FREE Printable Targets HERE
There are three sizes, all included in this FREE download!
Yield: 4 Targets
STEM Nerf Gun Target Game
Nerf gun target STEM game: how to set up Nerf target practice with a FREE printable.
How to create a STEM game out of Nerf targets.
Materials
Free Printable Nerf Gun Targets
Boxes of various sizes from your recycle bin
Nerf gun and darts
A piece of paper to keep scores
Tools
Scissors to cut out Nerf gun targets
Tape/glue to attach targets to boxes
Instructions
Set Up The Nerf Target Practice Game
Download our FREE Nerf target practice printable. Print out as many targets as you have boxes.
Cut out targets and attach them to boxes with glue or tape. Use a variety of shapes and sizes if possible.
Set up boxes at designated locations. You'll want to make sure they have various distances and sizes of boxes to target practice with.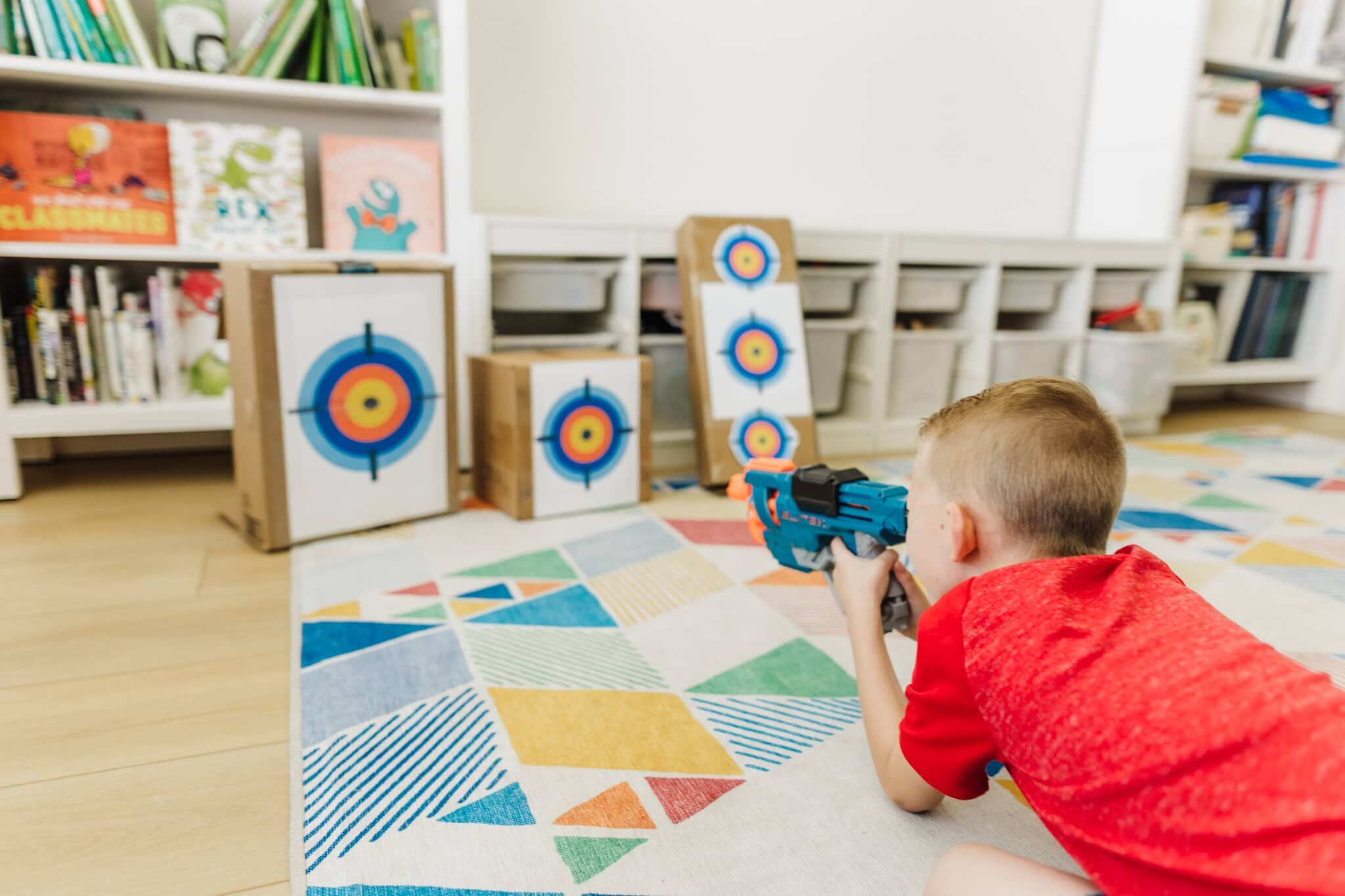 Incorporating STEM into Nerf Target Practice
Stem Target Practice Math Game
Assign different point values to each ring on the target. I'd recommend going by 10/20/30 so it's easier for kids to play and still count up points.
As kids incorporate target practice, have them keep track of the numbers and write them down.
Have them add up the totals after each round.
They can compete against their own personal high score, or play with a sibling or friend and compete together.
2. STEM Target Practice Physics and Math Game
Incorporate distance and physics by placing Nerf targets at various distances. Set one spot to sit, stand, or crouch down at. The rule is, no moving your body! Have kids measure the distance from the spot they'll sit to each target. Make the target worth double the points if it's more than 6 feet away.
You can get creative with math and let them practice times tables making different targets worth double, triple, or quadruple the points. Also, take the opportunity to talk about lift and drag and what happens to darts as distance changes.

Recommended Products
As an Amazon Associate and member of other affiliate programs, I earn from qualifying purchases.
Target practice fun
I have to admit, I was surprised just how long this activity kept my son busy! In fact, it turned out to be a game my boys love to play together. We're talking a few minutes of setup for hours of fun!
In Arizona, we spend a few months where it's just too hot to be outside at all. I made a mental note that this is one of those games perfect for a rainy day, a very hot day, or a snow day. If you're stuck inside with busy-body kids who could use a little math skills practice, this Nerf target practice game may be perfect for you!
If you need more inside activities for kids, be sure to check out these resources too:
Activities for Kids at Home (Quiet Time Activities so You Can Get Some Work Done!)
GoNoodle: Free Indoor Active Time and Brain Breaks for Kids
Gel Crayons: Why We Love Them and Think You Will Too!
Printable Summer Activities: Summer I Spy
Get 365 Date Ideas!
We want to help you have the best date nights ever! Grab this FREE printable with 365 date ideas, a date for every day of the year so you never run out of ideas!