Make back to school fun with this free I Spy Back to School printable kids of all ages love!
We start school pretty early in Arizona. The idea is to enjoy longer fall and spring breaks while the weather is nice and send kids to school while it's not. Believe it or not, we started last week!
We have loved doing I Spy Printables this year, and we know so many families love them too! During back to school week an I Spy Back to School printable just felt so appropriate!
Here are a bunch of fun ways to use them:
To help get the jitters out before the first day of school
During a family or friends back to school dinner
As an after-school activity to celebrate the first week
As a gift for a teacher to use (yep teachers, use away!)
To help kids feel engaged the first week when they're learning a lot of rules and procedures
When you need a minute of quiet time!
Truly there's no bad time! They help sharpen a bunch of school-related skills in a fun way. Hello counting, math, sequencing, eye-hand coordination, coloring, and creative skills! It's a fun way to ease kids back into learning and concentration. Particularly the week before school, or the first week when they've spent a lot of time listening and learning rules.
Can Teachers Use This Free Printable?
Absolutely! As a former teacher I know sometimes you just need an icebreaker or activity to help kids stay busy while you take roles and solve other issues. I think an I Spy Back to School printable is a fantastic way to do that. And we're thrilled to have you download and print them for personal use in your classroom. Feel free to share with your other teacher friends, they can download their own printable and use them for personal use as well!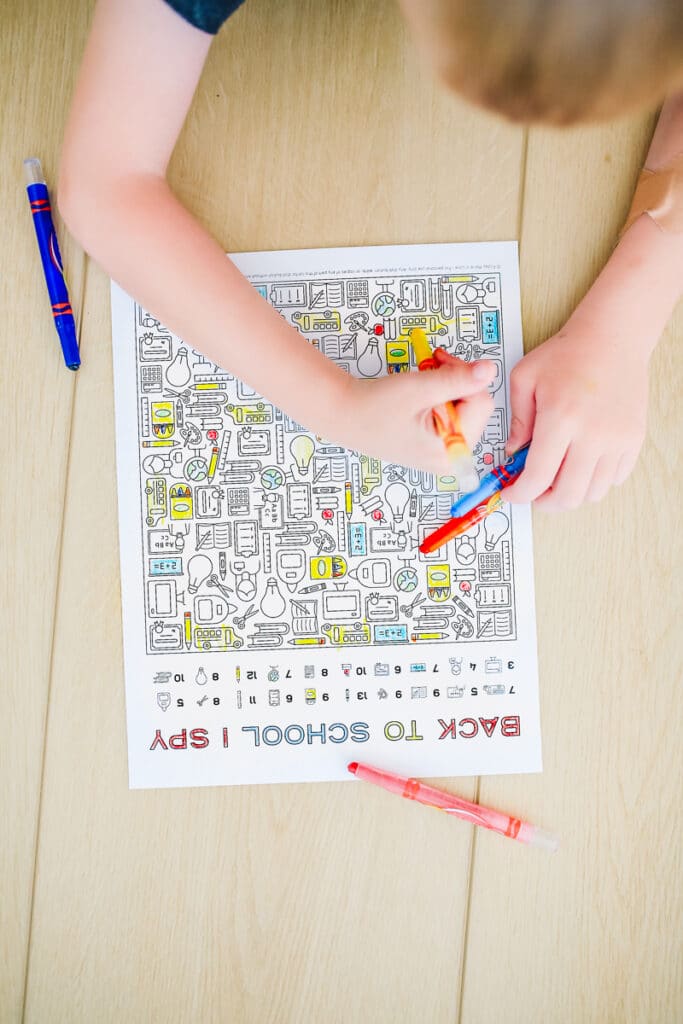 Grab Your Free Printable Here
All you need to do is enter your email and it will be sent to your inbox! If you don't see it there, check your downloads folder from your browser, it automatically downloads once you verify your email!
Happy back to school time friends! And Happy I Spy Back to School learning to you too!
Like this fun activity for kids? You may like these posts too:
I Spy Halloween: Free Halloween I Spy Printable
Random Acts of Kindness: Teacher Edition
150 Summer Activities for Kids
Get 365 Date Ideas!
We want to help you have the best date nights ever! Grab this FREE printable with 365 date ideas, a date for every day of the year so you never run out of ideas!