60 Bentgo Box Lunch Ideas 
Let's make school lunch more exciting while simultaneously making it easier to pack! Here are 60 Bentgo Box lunch ideas, perfect for Bento box lunches kids will love!
Looking for creative and nutritious lunch ideas? Discover a variety of bento box lunch ideas that are perfect for school lunches. From delicious sandwiches and fresh fruit to tasty snacks, find out how Bentgo lunchboxes can make packing lunches easy and enjoyable for both kids and parents.
Easy Lunchbox Ideas
Packing a kids lunch can feel like the biggest chore on the planet, even when you have kids pack their own! But we've learned that one lunch box changed everything in our family.
I'm not exaggerating when I say the Bentgo Kids lunch boxes completely changed what and how we pack lunches. We went from overwhelm and a lot of boring repetition to endless possibilities with less waste! I mean less food waste in our home and less waste in disposable products. It feels like the holy grail of modern parenting that helps kids eat better and saves time and money!
In fact, check out our Bentgo Lunchbox review for all the reasons it's fantastic!
The Versatility of Bento Box Lunches
Bento box lunches have gained popularity over the years due to their versatility and practicality. These lunchboxes feature different compartments, allowing you to pack a variety of foods while keeping them neatly separated. Whether you have a picky eater or a child with an adventurous palate, bento boxes provide a great way to introduce a variety of foods into their diet. With the right combination of flavors, textures, and colors, you can turn an ordinary lunch into an extraordinary culinary experience.
If you haven't already purchased a Bentgo Kids lunchbox, I can't encourage you enough! We love both the classic Bentgo Kids boxes and also the Bentgo Chill with a built-in ice pack to keep food cold.
Chances are if you're reading this you either just ordered one, or you own one and you're ready to shake up lunches with some easy lunch ideas.
Here are the foundations of a great lunch, as well as 60 excellent Bentgo Box Lunch ideas kids will love!
Essential Components of a Balanced Bento Box Lunch
To ensure your child gets a well-balanced meal, it's important to include all the essential components in their bento box lunch. Here are some key elements to consider:
1 Main Course
Sandwiches, wraps, or even homemade sushi rolls can serve as the main attraction of the lunchbox. A peanut butter and apple slice sandwich or a cheese quesadilla are both delicious and easy-to-make options.
2 Fresh Fruits and Vegetables
Include a variety of fresh fruits and veggies to add color and nutrition to the meal. Cherry tomatoes, cucumber slices, snap peas, carrot sticks, and mandarin oranges are excellent choices.
3 Protein and Dairy
Hard-boiled eggs, cheese cubes, cottage cheese, or yogurt provide essential protein and calcium. Consider using cookie cutters to create fun shapes with cheese or layering ingredients to make a protein-packed salad.
4 Snacks
Add some healthy snacks to keep your child energized throughout the day. Options like pretzel sticks, snap pea crisps, or homemade potato chips are a great way to satisfy their cravings.
School Lunch Ideas for Picky Eaters
The best part of these lunch ideas for kids is how easy it is to modify them for picky eaters. Any parent with one knows school lunch ideas for picky eaters can be a true challenge!

Bento style boxes are a great option for lunches for picky eaters since you can customize different compartments. Also, it helps prevents food from touching, which can be a big deal for picky eaters!

Our list of lunch ideas for kids also has your back to help with picky eaters lunch ideas. With so much variety and options, you're sure to find something they like!
Free Lunch Ideas Printable
Want the 60 Bentgo Lunchbox Ideas as a free printable you can download and reference? Grab it right here!
60 Bentgo Box Lunch Ideas: Lunch Ideas for Kids
A complete list of excellent lunch ideas for kids!
1. Classic PB &J
This classic lunch works so well in bento lunch boxes! We like to use a crust cutter in fun shapes on our simple sandwiches to jazz them up! We fill the rest of the Bentgo Kids with produce and crackers we need to use up from our fridge and pantry.  
2. Mini Quiche
Make a batch of mini quiches and serve with cherry tomatoes and cucumber slices.
3. Caprese Skewers
Mozzarella balls, cherry tomatoes, and basil leaves, drizzled with balsamic reduction (we love Trader Joe's). Kids feel a little fancy with this fun shakeup delicious idea!
4. Pancakes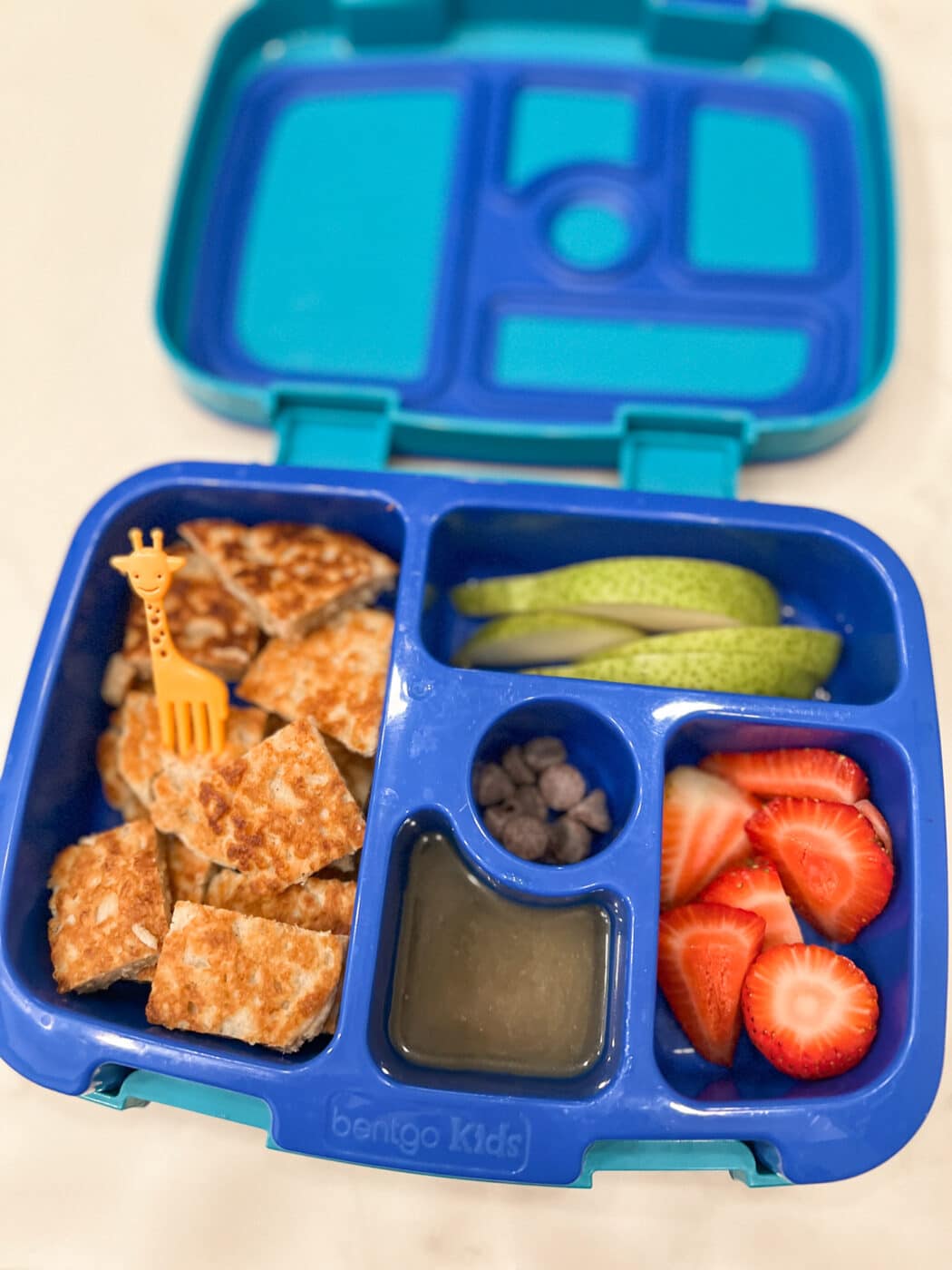 I love to make our favorite buttermilk oatmeal pancakes and keep leftovers for our Bentgo kids' bento boxes. Cut them into squares with a pizza cutter and serve with syrup in the sauce container. Add a little bit of fruit and include some picks for a fun way to prevent mess.
5. Pasta Salad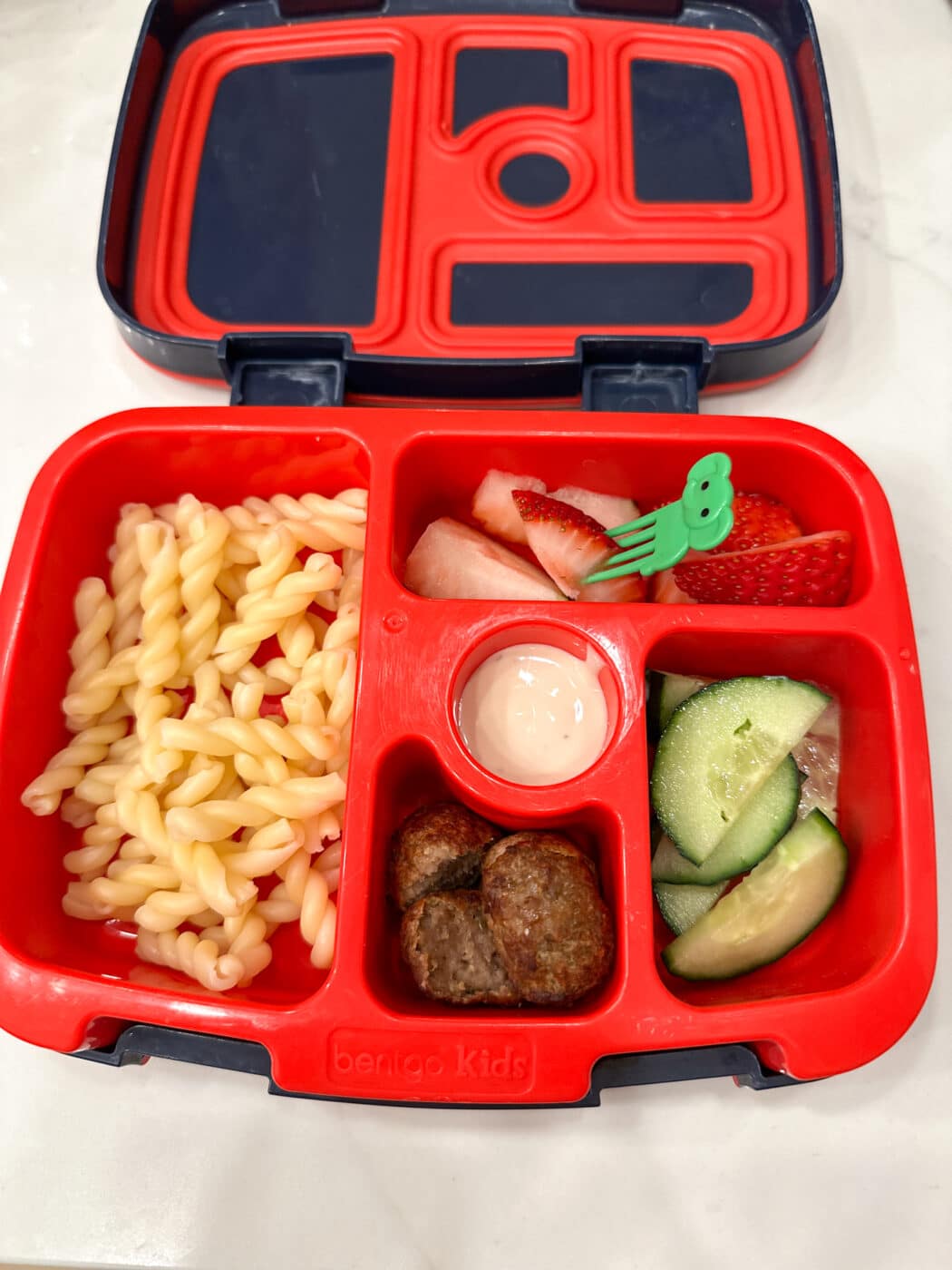 Cooked pasta, diced vegetables, shredded chicken, and Italian dressing. Pasta plus salad dressing is a great option for a cold school lunch.
6. Hummus Plate
Fill a box with a variety of things that go with hummus. Try pita bread, carrot sticks (or baby carrots), bell pepper strips, and crackers.
7. Sweet and Sour Meatballs
A few pre-cooked meatballs with sweet and sour sauce make with rice make a delicious lunch kids love.
8. Chicken Protein Box
Kids love chopped grilled chicken or shredded rotisserie chicken. Add some ranch for dipping and include protein-rich items like a hard-boiled egg, and string cheese, and pair them with a fruit or veggie. This is our favorite easy bento box idea when we have leftover shredded chicken.
9. Taco Tuesday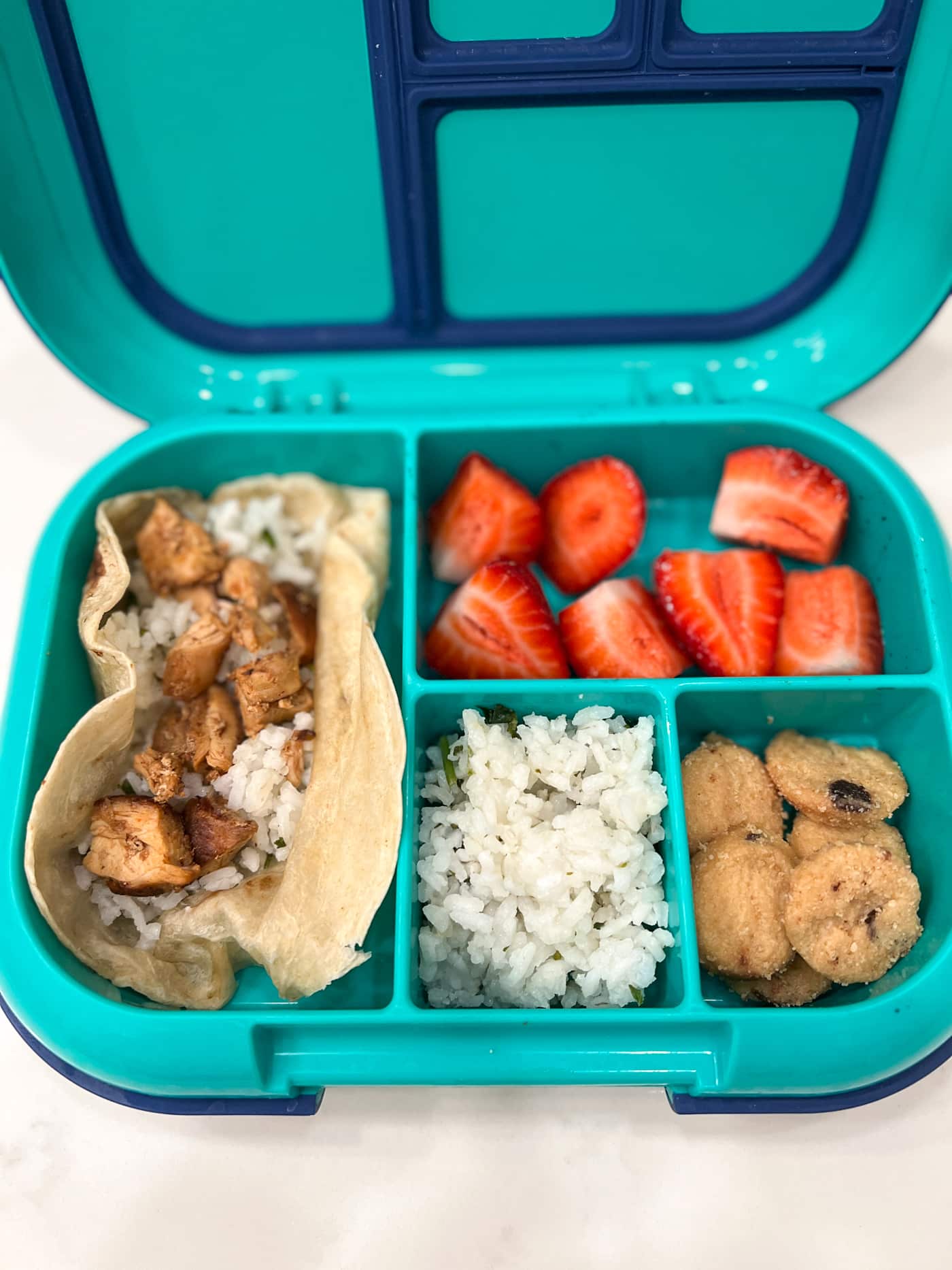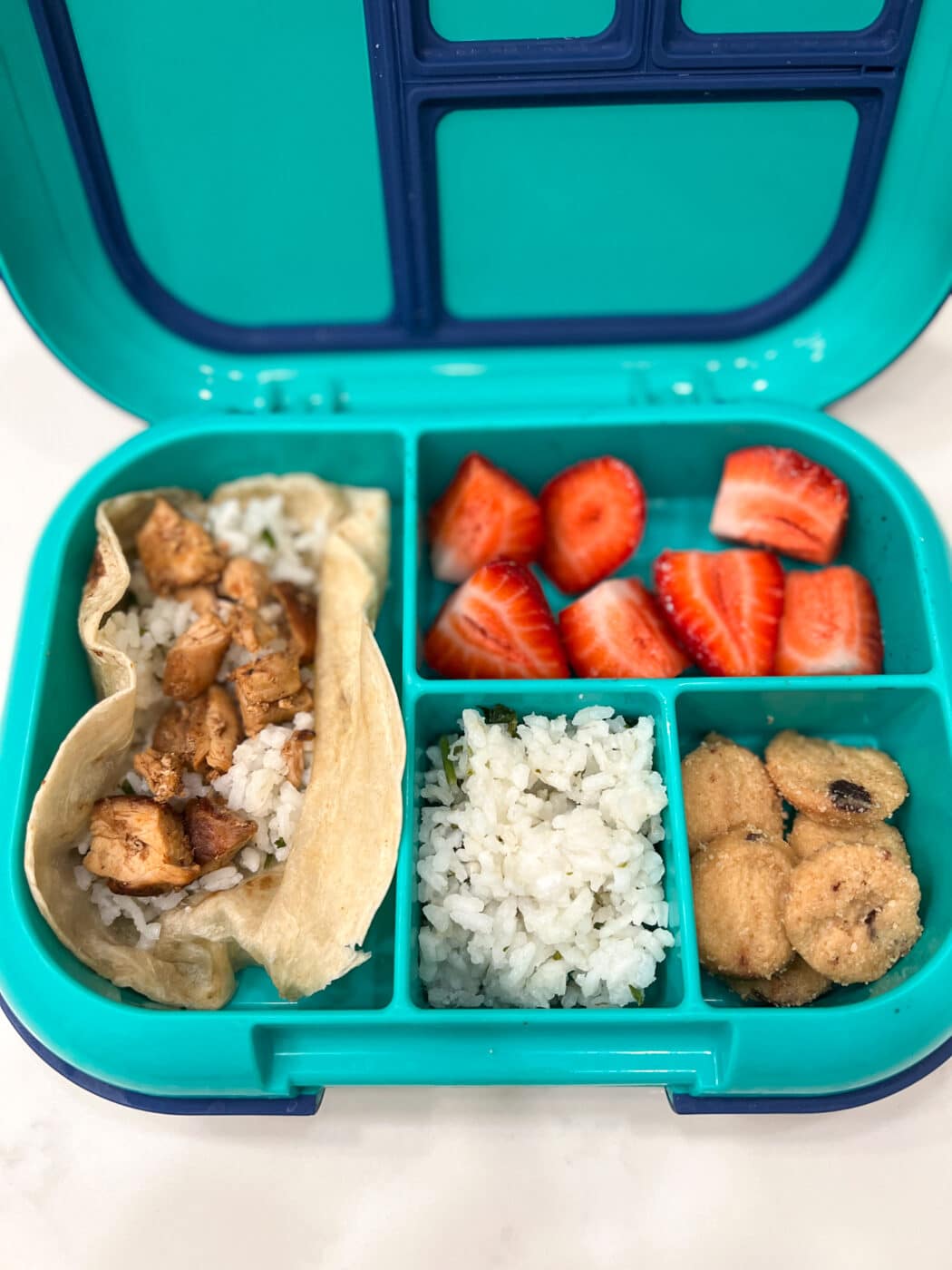 After a Taco Tuesday, we love to extend the leftovers to a taco lunchbox. Get leftover ground turkey or beef, shredded cheese, lettuce, diced tomatoes, beans, etc., and stuff a taco shell. Last year this was a heavily requested bento lunch box idea in our house!
10. Rainbow Fruit Salad
Get a protein base like a hard-boiled egg or rolled-up lunch meat. Then fill the rest of the box with a rainbow of fruit like chopped strawberries, oranges, pineapple, kiwi, blueberries, and grapes.
11. Quesadilla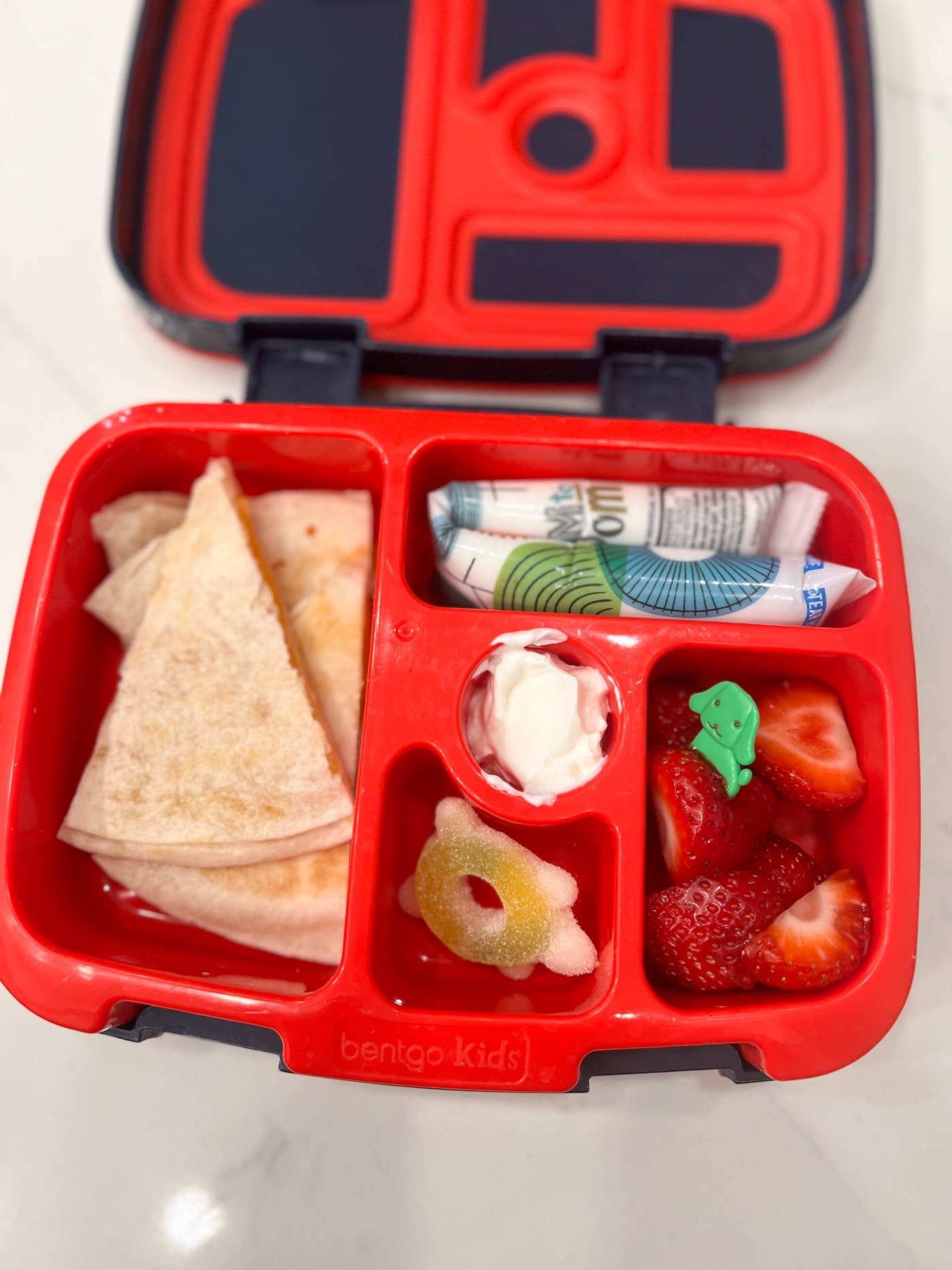 Grill up tortillas, shredded chicken, and cheese, with a side of salsa and sour cream. The Bentgo kids' boxes fit all the different dipping items perfectly. And the best part is they keep it all sealed so sauces don't leak or make a mess.
12. Sushi Roll
Sushi rice, cucumber, carrot, and avocado rolled in seaweed sheets, with a side of soy sauce make for easy healthy lunch box ideas. We also love to get leftover sushi or grocery store sushi and make sure to use our Bentgo Kids Chill lunchbox to keep it cold until lunchtime.
13. Turkey and Cheese Roll-ups
Whole wheat tortillas, sliced turkey, cheese, and a side of raw veggies with hummus.
14. Cheese & Crackers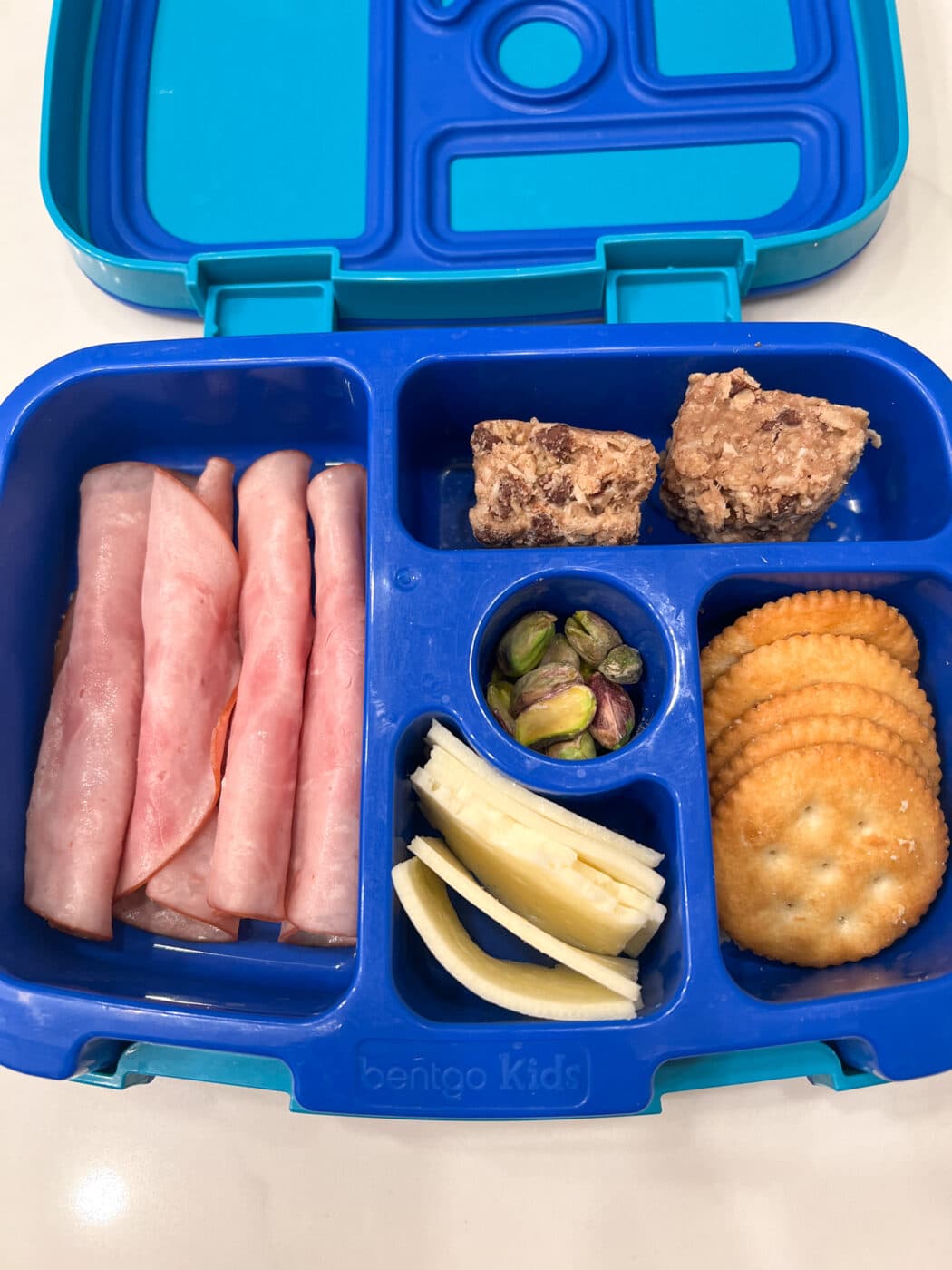 Make your own Lunchables lunchbox ideas: include assorted cheeses, lunch meat cut in square, whole grain crackers, and a side of produce. These are always my kids' favorite bento boxes.
15. Mini Pizzas
Start with naan or pita bread, pizza sauce, mozzarella cheese, and your kid's favorite toppings. Air fry them for about a minute, and then add them to the lunch box. Even picky eaters tend to love this lunch.
16. Bean and Cheese Burrito
Roll up a tortilla shell with beans and rice. Include a side of salsa and sour cream and a handful of cherry tomatoes.
17. Macaroni & Cheese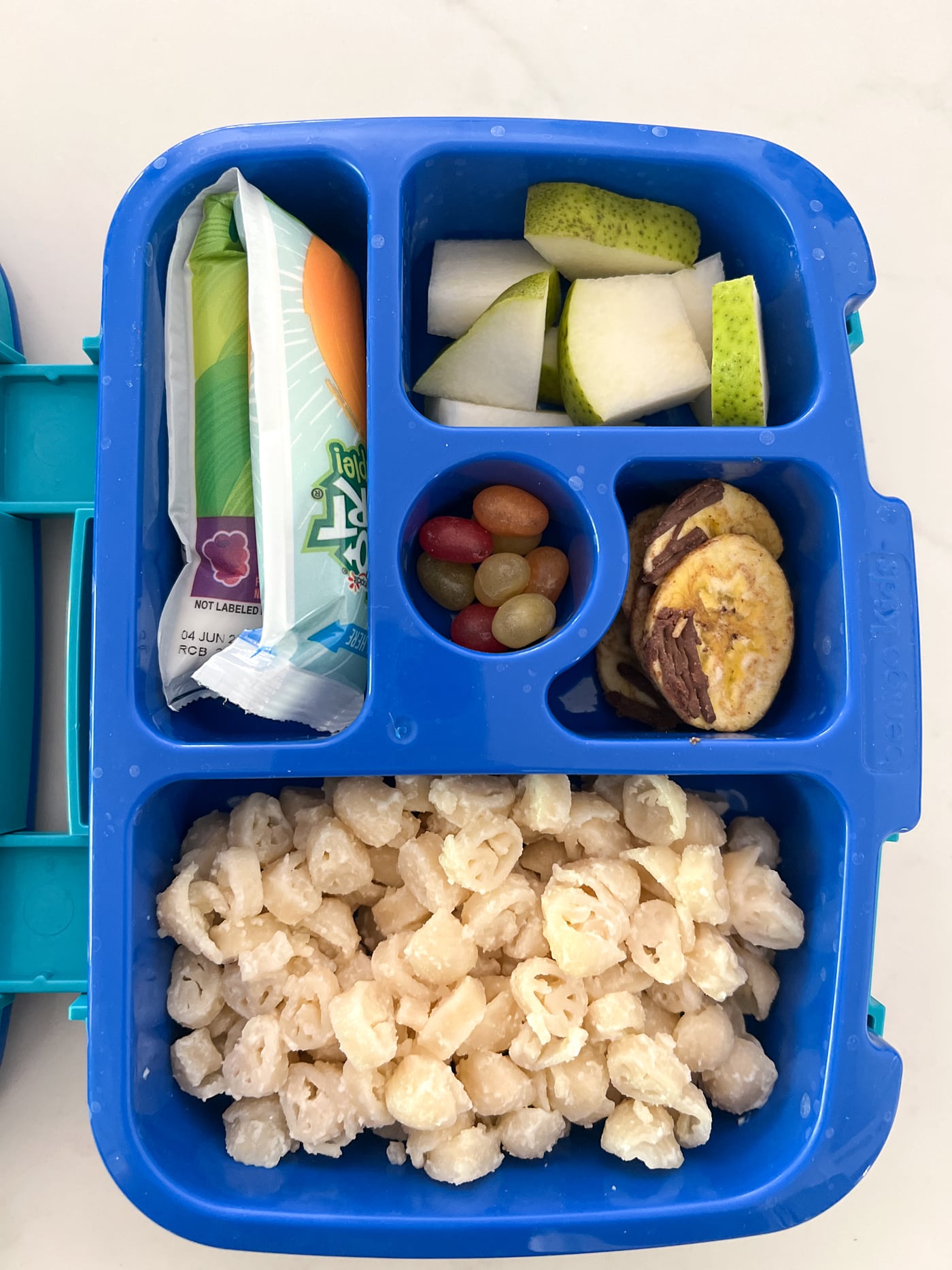 This classic makes a great everyday lunch kids love. We like to add some picks or a plastic spoon for easy eating. Also, you can make this a little more balanced with steamed broccoli on the side.
18. Tuna Salad
You can mix it with mayo or with Greek yogurt, and celery, and serve it on bread or with crackers.
19. Chicken Salad
Mix cooked chicken with Greek yogurt, and grapes, and served on bread, crackers, or a pita. A mini pita is the perfect size for their lunch box!
20. Ham & Cheese Sandwich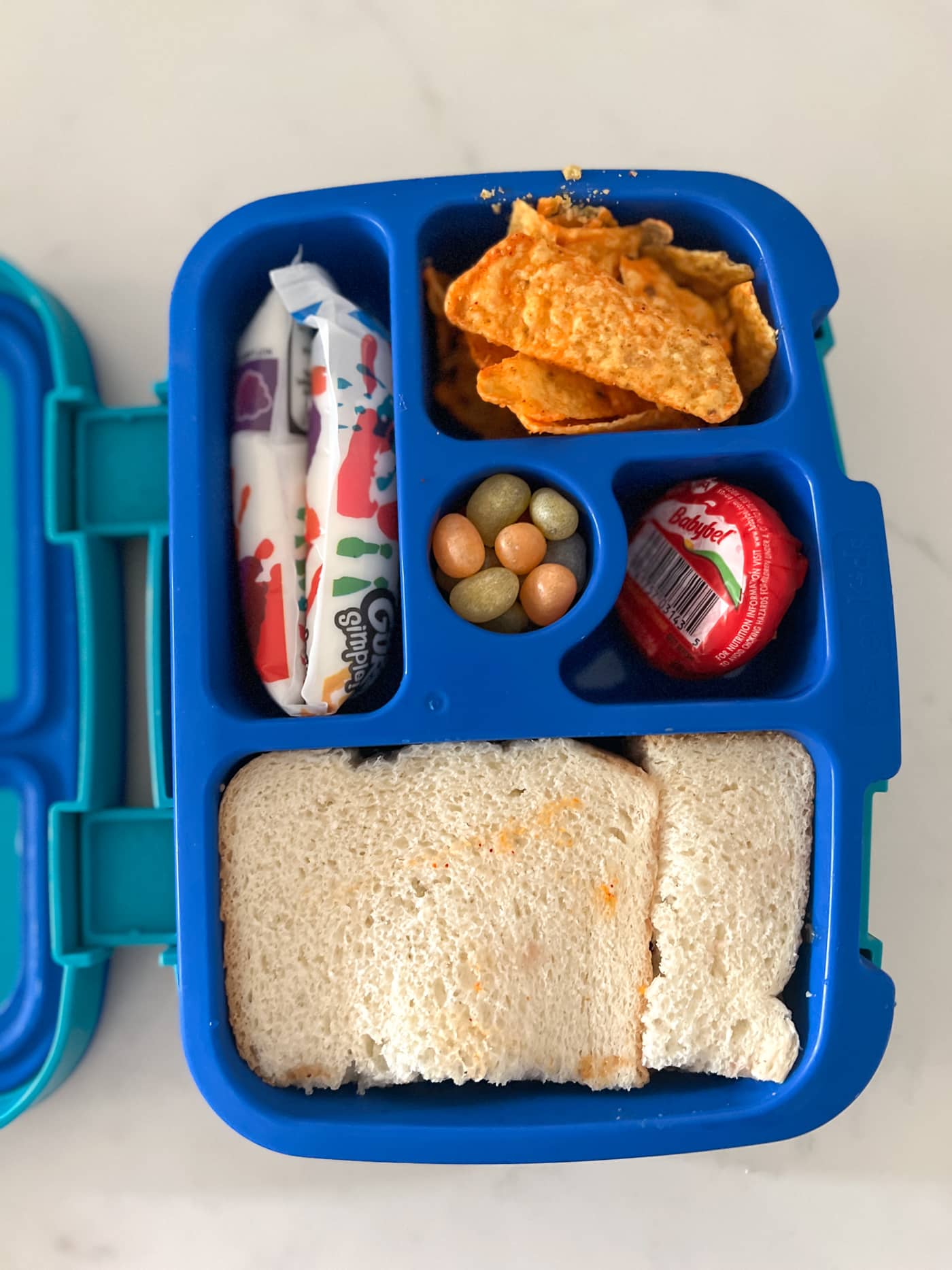 Most kids love bread, ham, cheese, and mustard in their lunch bag. It's a great option for a sandwich lunchbox idea. Add a fruit and vegetable for a balanced meal!
21. Egg Salad
Start with hard-boiled eggs, Greek yogurt, and mustard. We like to include celery sticks and crackers for a little crunch texture in their lunch.
22. BBQ Chicken
One of our son's favorite delicious meal ideas is to make lunch feel like a cookout. Add some shredded BBQ chicken, coleslaw, and a whole-grain roll or cornbread. You could even include some extra BBQ sauce for dipping.
23. Slider Sandwich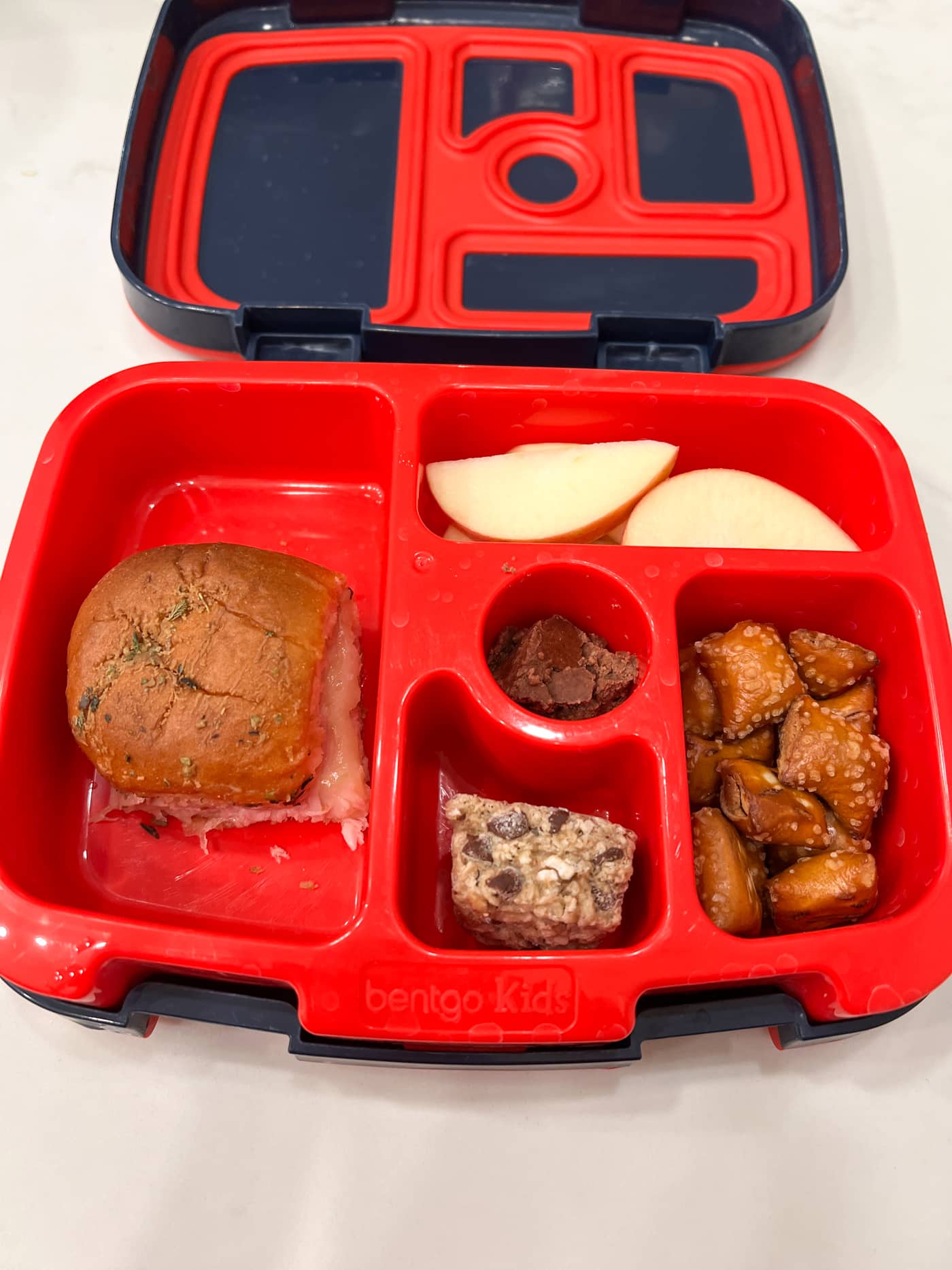 Grab Hawaiian sweet rolls and make some sliders in the oven. It's an easy way to get dinner on the table, and a slider fits perfectly in the lunchbox tray.
24. English Muffin
Toast the English muffin and their favorite spread. Balance it with a protein option like a hard-boiled egg. You could even combine the two and make an egg muffin sandwich.
25. Bagel & Cream Cheese
Mini bagel, cream cheese, with a side of fresh fruit. It's our go-to sandwich alternative throughout the school year.
26. Peanut Butter & Jelly Roll-ups
Whole wheat tortillas, peanut butter, jelly, and sometimes even a banana make this fun sandwich alternative. Many kids love this cut-up like a sushi roll.
27. Baked Ziti
Whole wheat pasta, marinara sauce, ricotta, and mozzarella cheese are great warm or cold. Add a fork, and some fruit and veggies for the side dishes and you're set!
28. Cold Pasta
We add plain cooked cold pasta, marinara sauce, and mixed vegetables. Penne works extra well as an easy pasta to dip!
29. Chicken Fried Rice
With mixed vegetables and a side of mandarin oranges.
30. BLT Wraps
Grab whole wheat tortillas, turkey bacon, lettuce, tomato, and mayo. Wrap it up for an easy kid-friendly BLT.
31. Chicken & Rice
This popular dinner combo also goes great in a Bentgo box! Add your leftovers and a fork plus your favorite sides for an easy healthy lunch idea that will keep them full!
32. Tortellini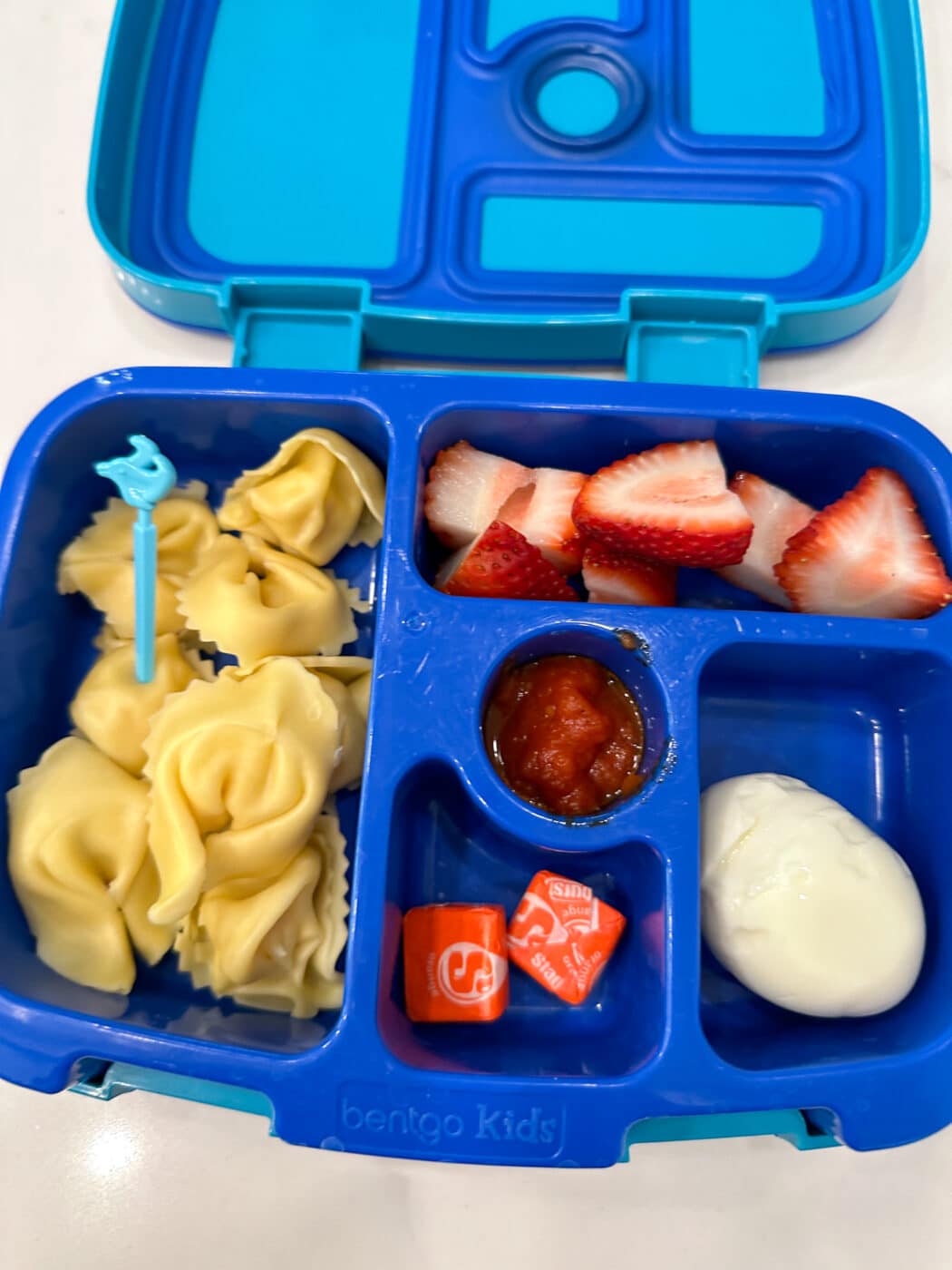 Cheese tortellini plus some sauce to dip in are always a hit! You could even sneak in some spinach with spinach tortellini.
33. Ants on a Log
Fill their tray with apple slices, celery sticks, peanut butter or almond butter, and raisins. They can build their own ants on a log as one of those extra fun things kids usually love to eat.

34. Chicken Nuggets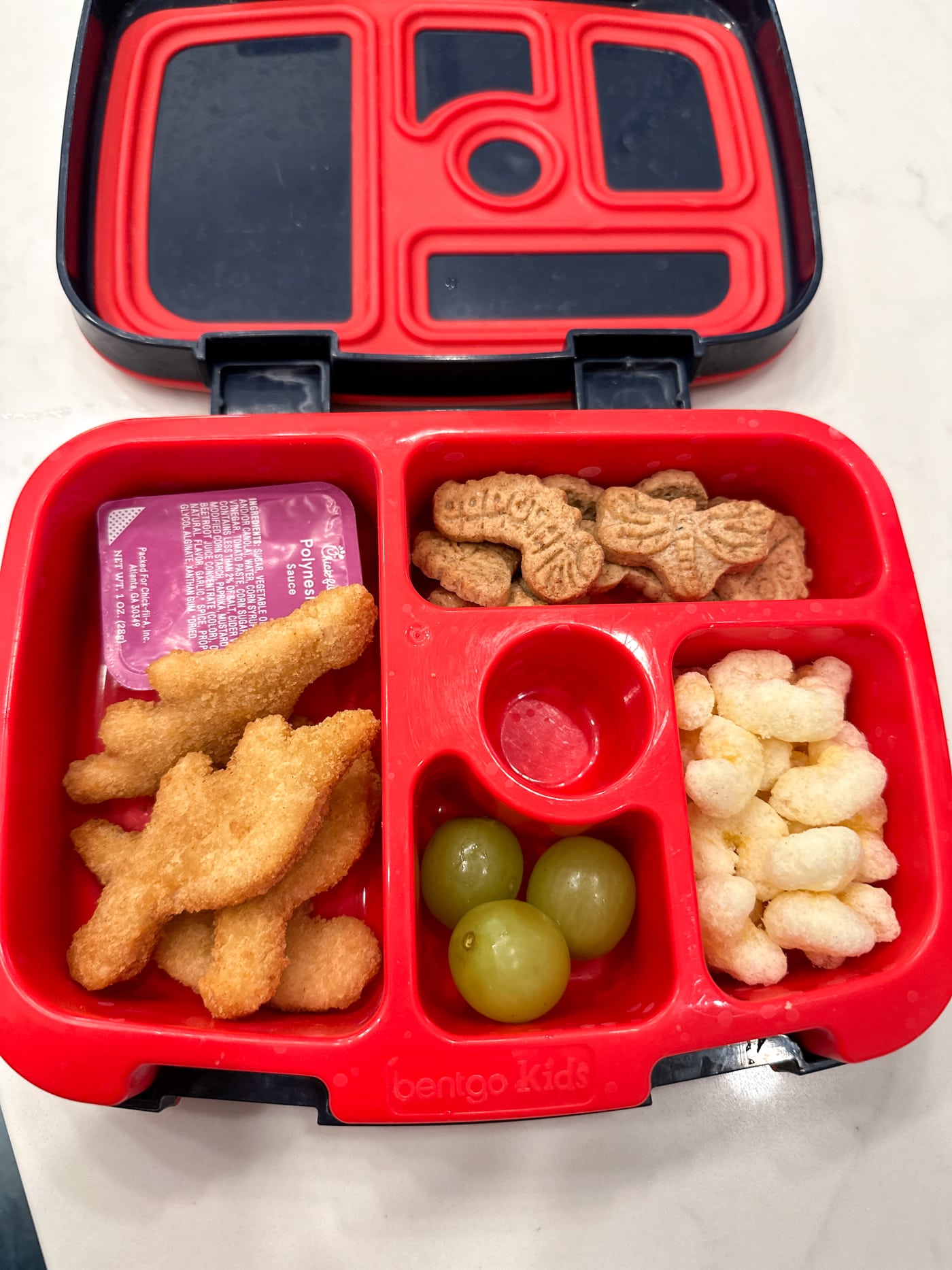 We've found air frying a few nuggets keeps them a good texture without getting mushy in the box. Serve with ketchup, ranch dressing, (or their favorite dipping sauce), and a side of raw veggies.
35. Quinoa Salad
Quinoa is one of those grains that's full of protein and keeps kids full! We love to cook some in the instant pot and combine it with beans, veggies, and salad dressing for an easy quinoa salad.
36. Leftover Pizza
Kids love cold pizza. If you have an extra slice after a pizza night or takeout night, it works for one of the fastest school lunches!
37. Perfect Bar Bento Box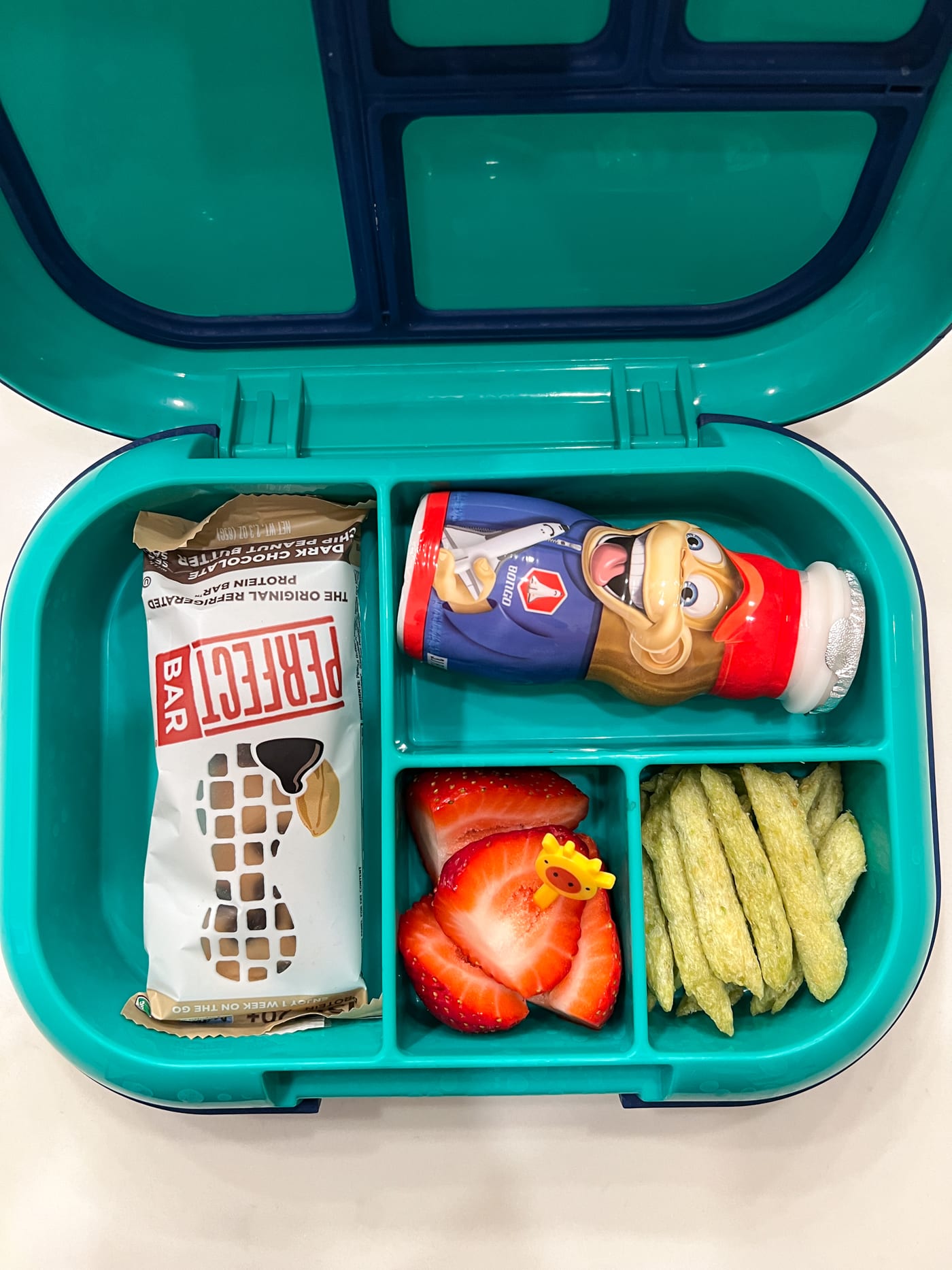 Ready for another fast one? When my kids need a break from sandwiches, we get a box of Perfect Bars. It's essentially a natural peanut butter in bar form with some chocolate chips on top. My kids devour these, and it's a great source of protein and healthy fats! Add some other sides to balance the bar and you'll be set with a fun way to make a quick and easy lunch during the busy school season.
38. Rice & Beans
Keep it basic with a family favorite. Serve with a side of avocado and tortilla chips for some great pairings.
39. Swedish Meatballs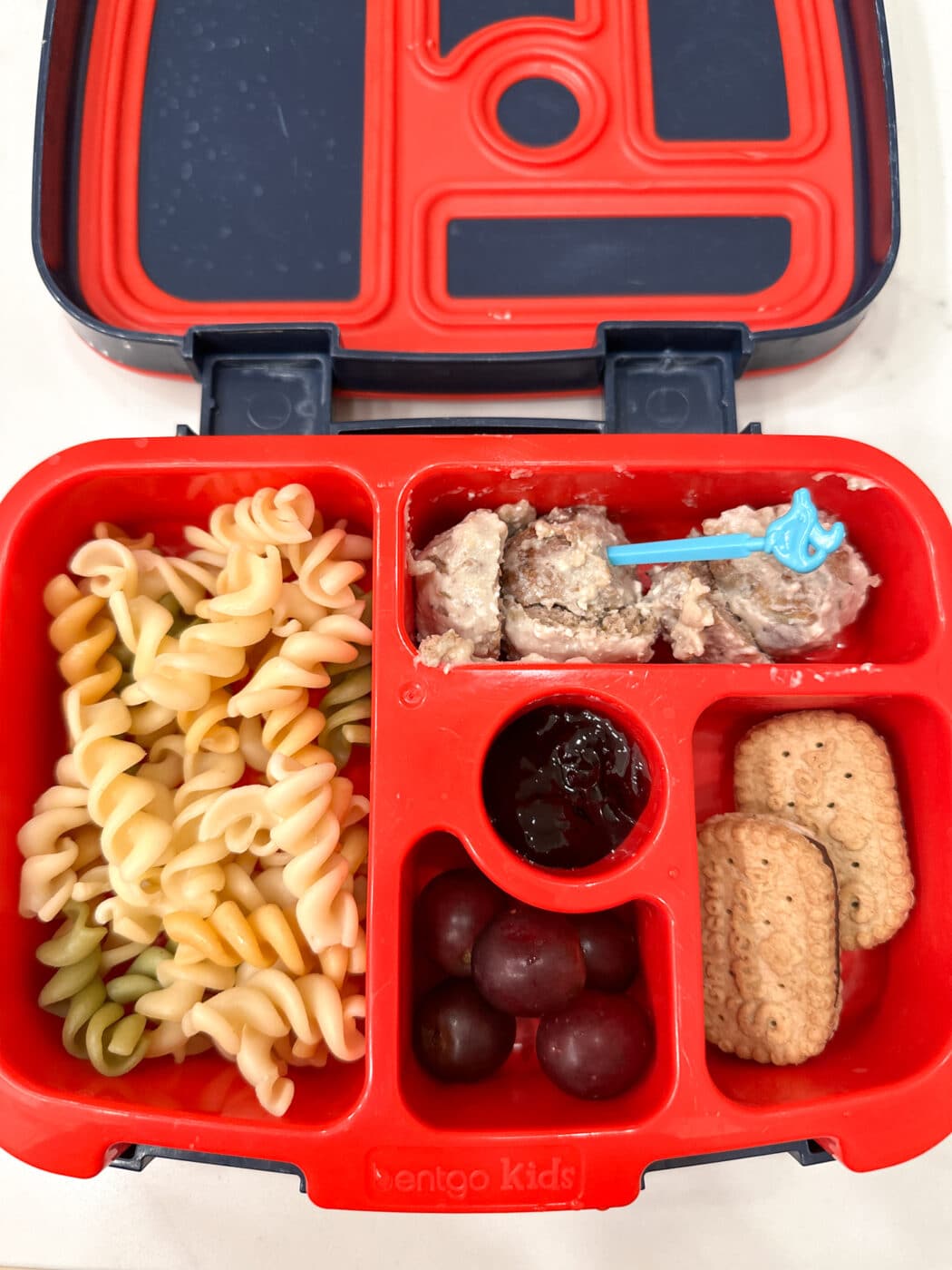 This is my son's favorite meal, and he goes bananas for it in his lunch! We cut the meatballs in half and add a pick/toothpick to help him eat them. Add a little lingonberry jam for dipping, plus a few noodles, and they're all set for a hearty lunch!
40. Rice Cakes & Almond Butter
Spread the nut butter right on the plain rice cake for a fun texture mix-up. Add sliced bananas as a great topping option.
41. Hard-Boiled Egg & Avocado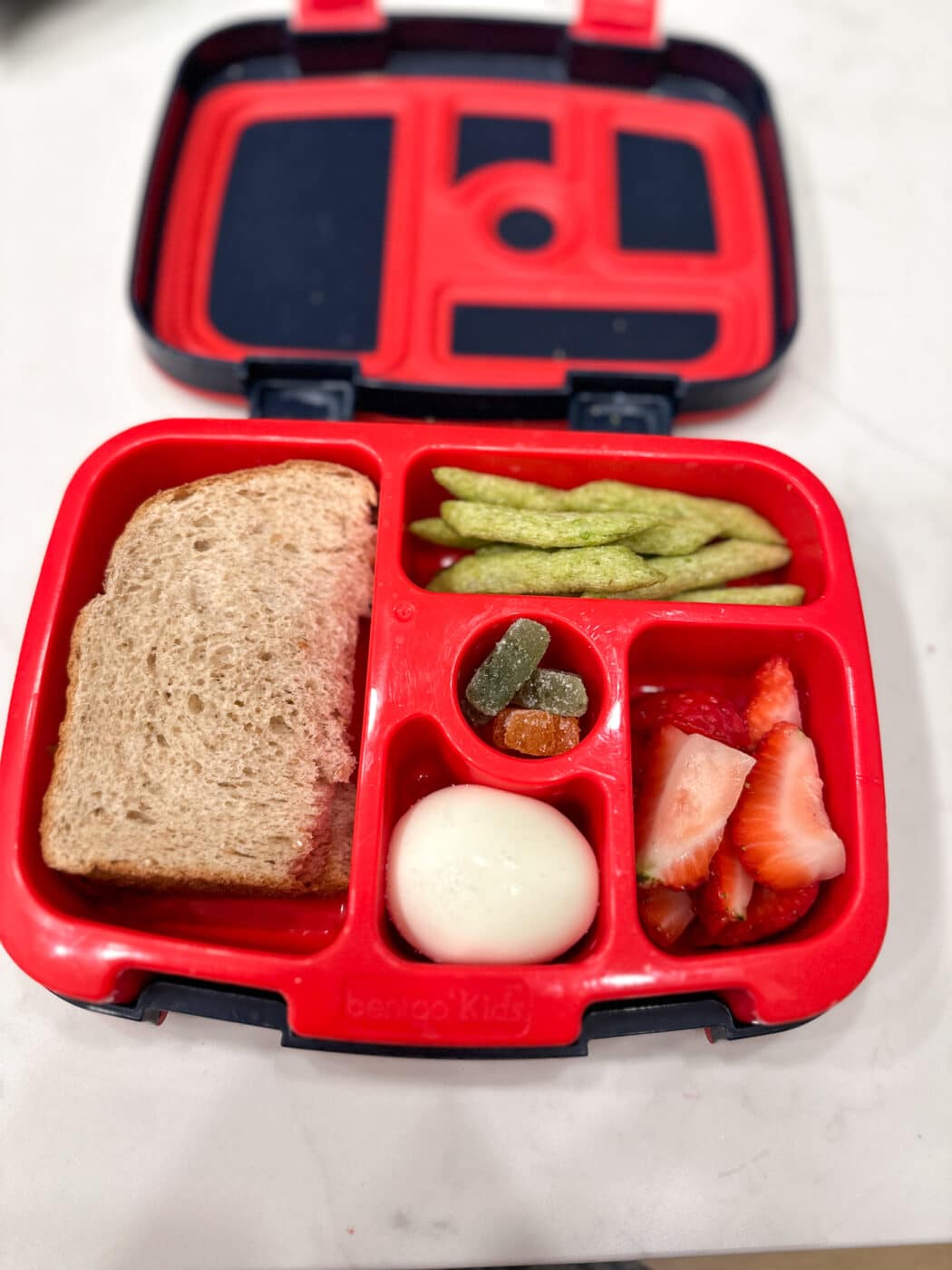 Serve with a side of whole-grain crackers or your favorite starch to help balance this meal out.
42. Hot Dogs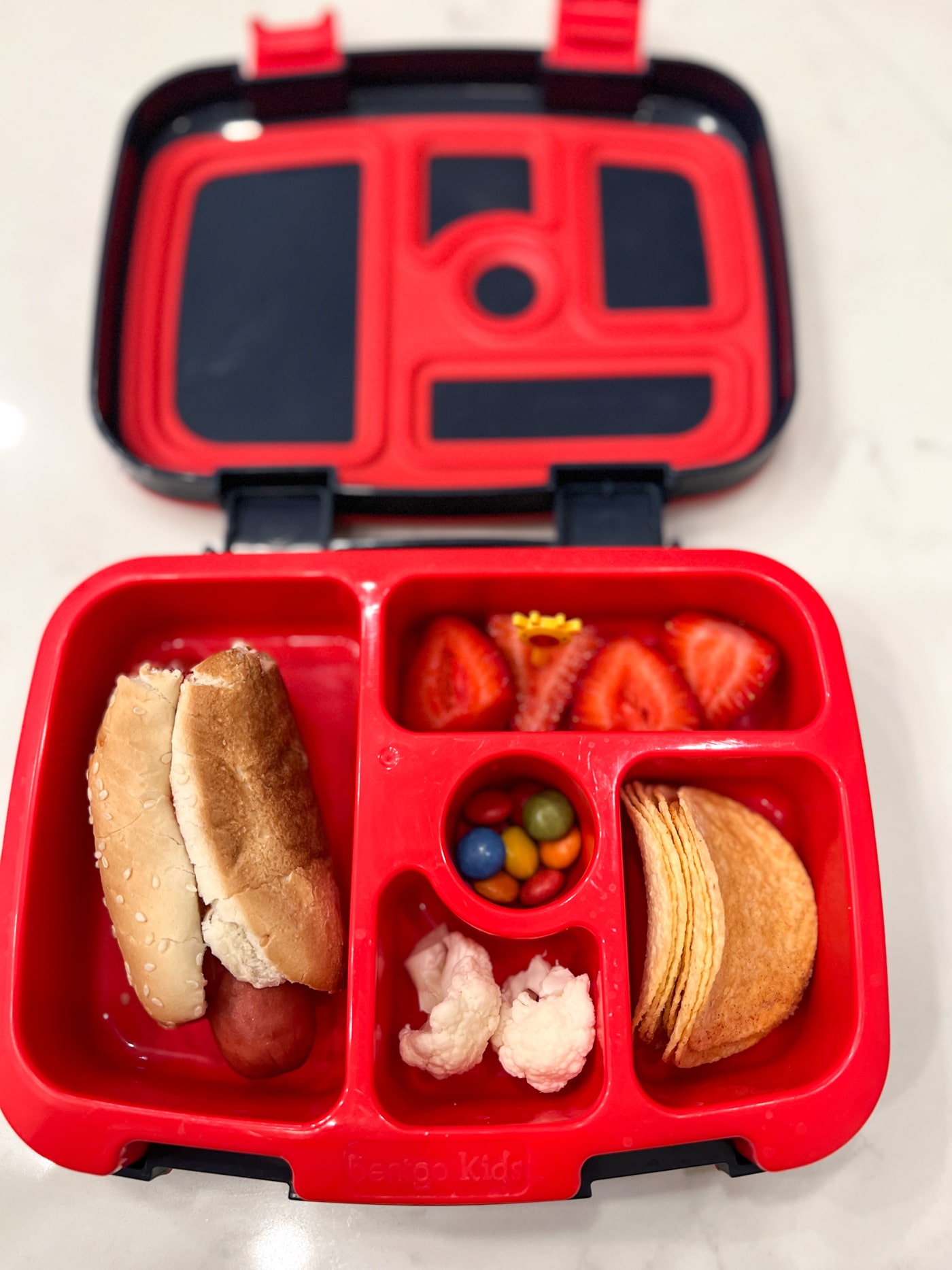 My biggest hack is buying a cheap hot dog at the food court on a Costco run, and cutting it in half for two easy lunches. You can also do pigs in a blanket (or mummy hot dogs for Halloween), cut up slices, or cut a fully prepared ballgame-style dog in half for an easy lunch.
43. Falafel & Pita
Serve with a side of tzatziki sauce and cucumber slices.
44. Yogurt & Granola
Let them make their version of a yogurt parfait. Serve protein-filled yogurt in the main tray area, and then granola, a side of mixed berries, and their other favorite toppings in the other compartments. Don't forget the spoon!
45. Grilled Cheese
Whole grain bread, cheese, and a winning sandwich they'll love! You can even serve it with a side of tomato soup right in the container!
46. Tikka Masala Tacos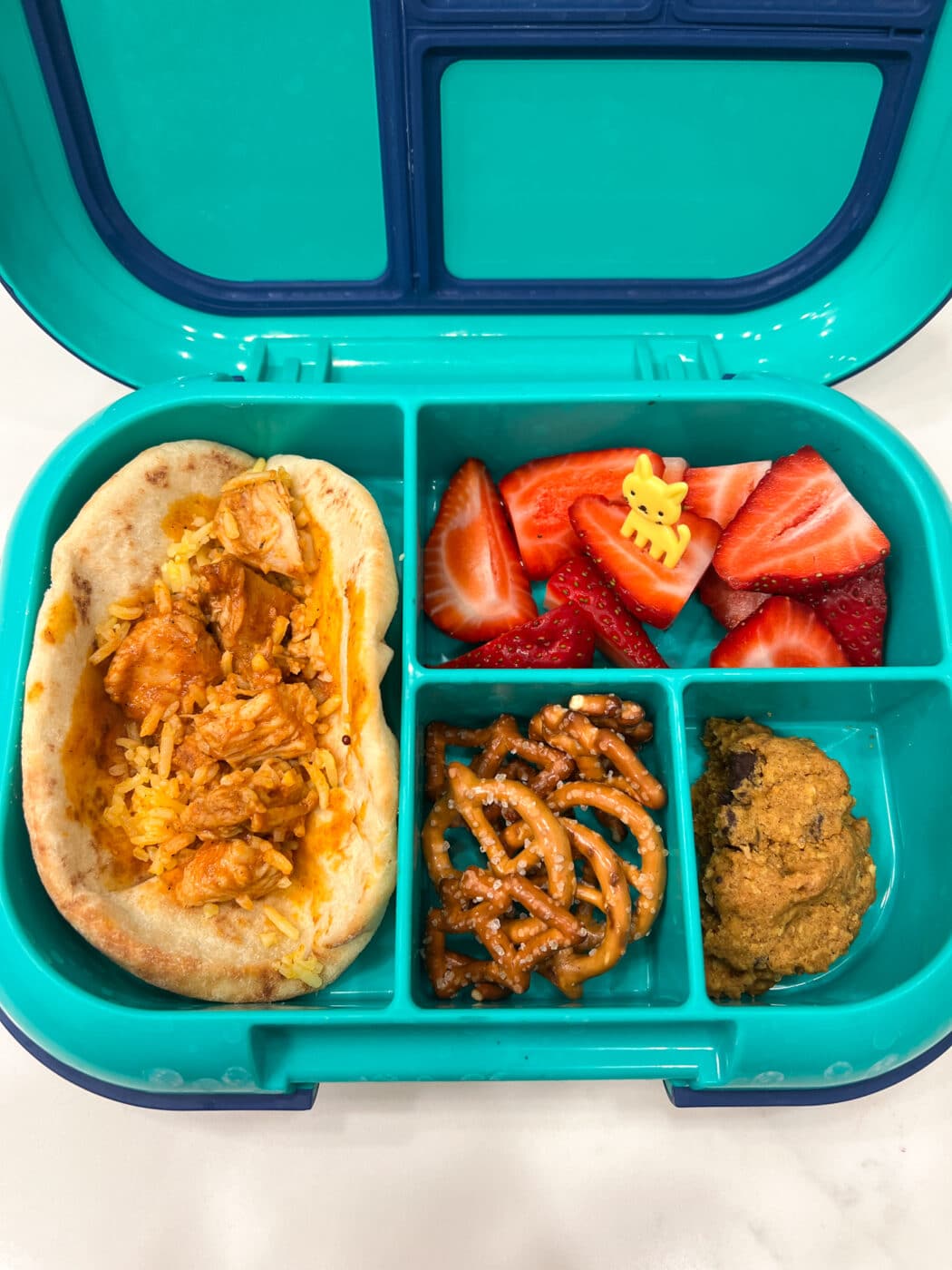 When we have leftover chicken tikka masala, we scoop some into a mini naan bread that kids can eat taco style without much mess.
47. Tofu Protein Bowl
Tofu is fantastic in the air fryer! We love to include it with some mixed vegetables, a side of brown rice, and some sauce for extra flavor.
48. Peanut Butter & Banana Sandwich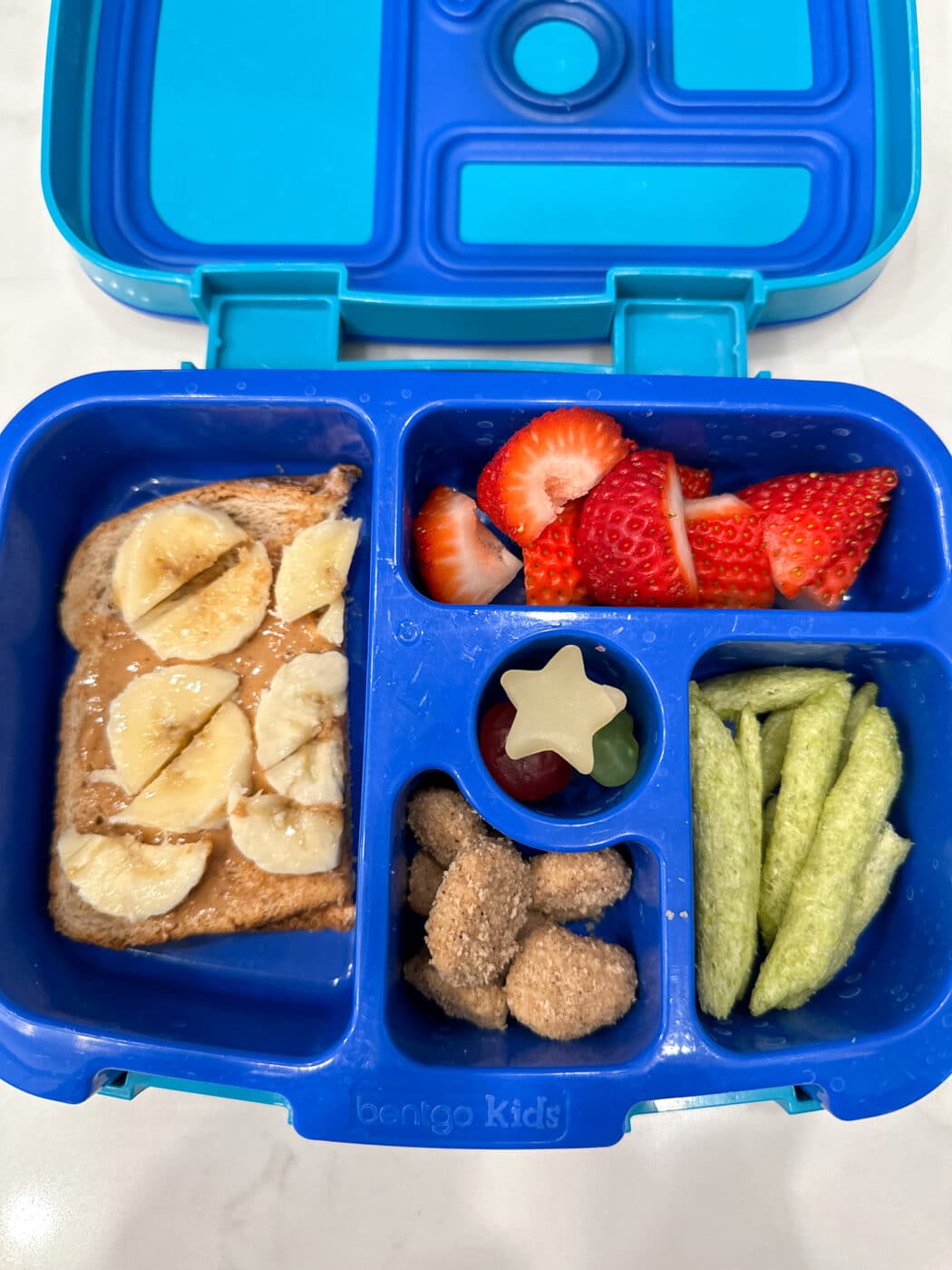 This is such a kid favorite! Get a piece of bread, spread peanut butter, and top with banana slices. We like to toast the bread and drizzle a little honey on top. You can serve these opened face
49. French Toast Sticks
You can buy these pre-made, but they're so easy to make yourself! Cut bread into 1″ strips and then prepare as you normally would. Add some maple syrup and fruit for a fun variation of "breakfast for lunch".
50. Nachos
Fill the large tray with tortilla chips, including some nacho cheese or shredded cheddar cheese. Add in some avocado, tomato, olives, or any other topping they'll enjoy including in their DIY nacho lunch.
51. Apples and Almond Butter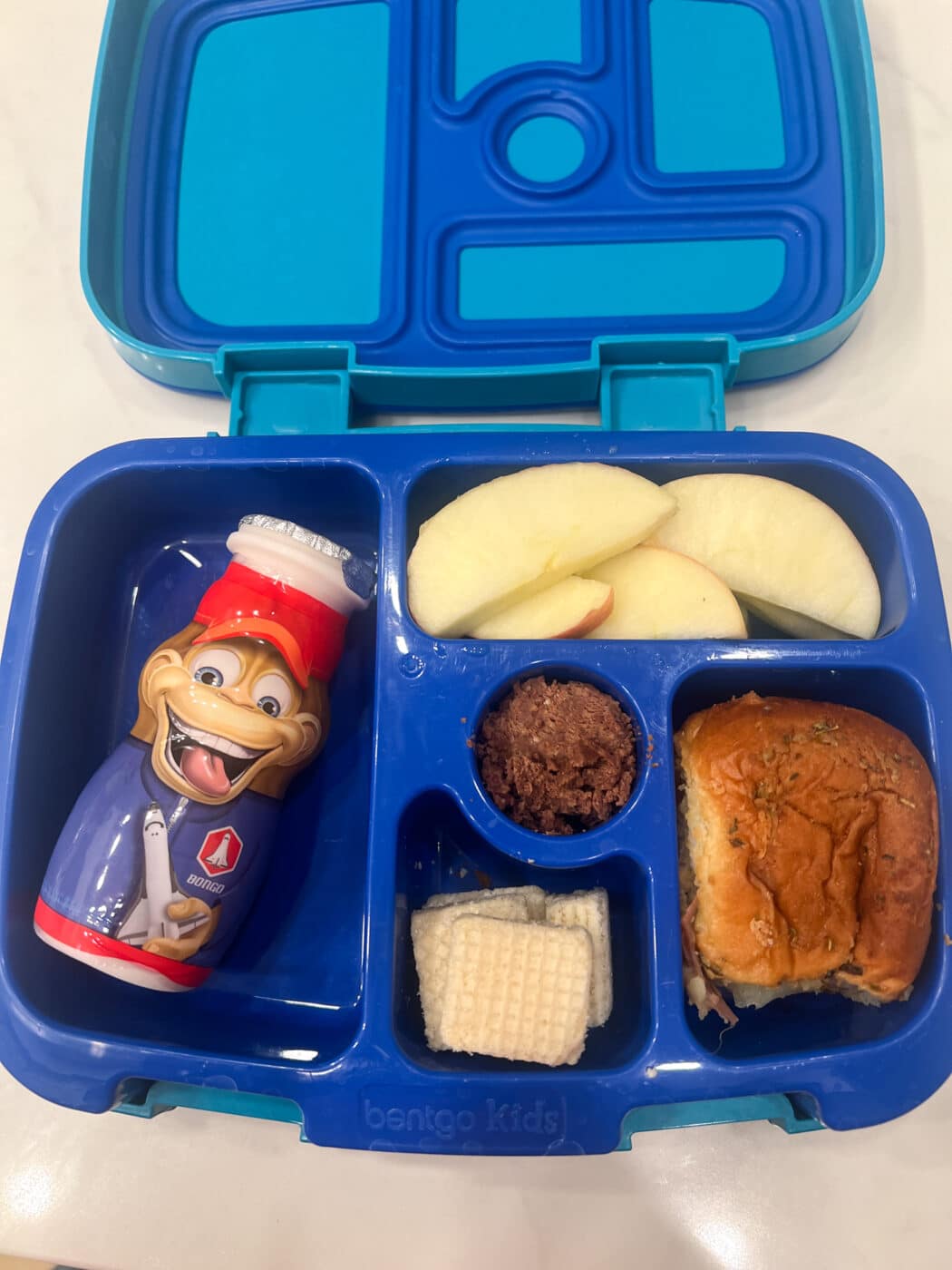 We slice up a large apple and include several Tablespoons of chocolate almond butter to dip it in. It's a surprisingly filling lunch and a great more natural lunch for a kid with a sweet tooth.
52. Mini Corn Dogs
These are so easy to prepare in the air fryer and include in a lunchbox with ketchup for dipping. Be sure to add some fruit and veggies as sides.
53. Orange Chicken
Hello, another great leftover dinner turned easy lunch! Cut orange chicken pieces into bite-sized bites, and don't forget a fork or pick for easy eating! This works great with vegetable fried rice and some sliced veggies.
54. Protein Bites/Energy Balls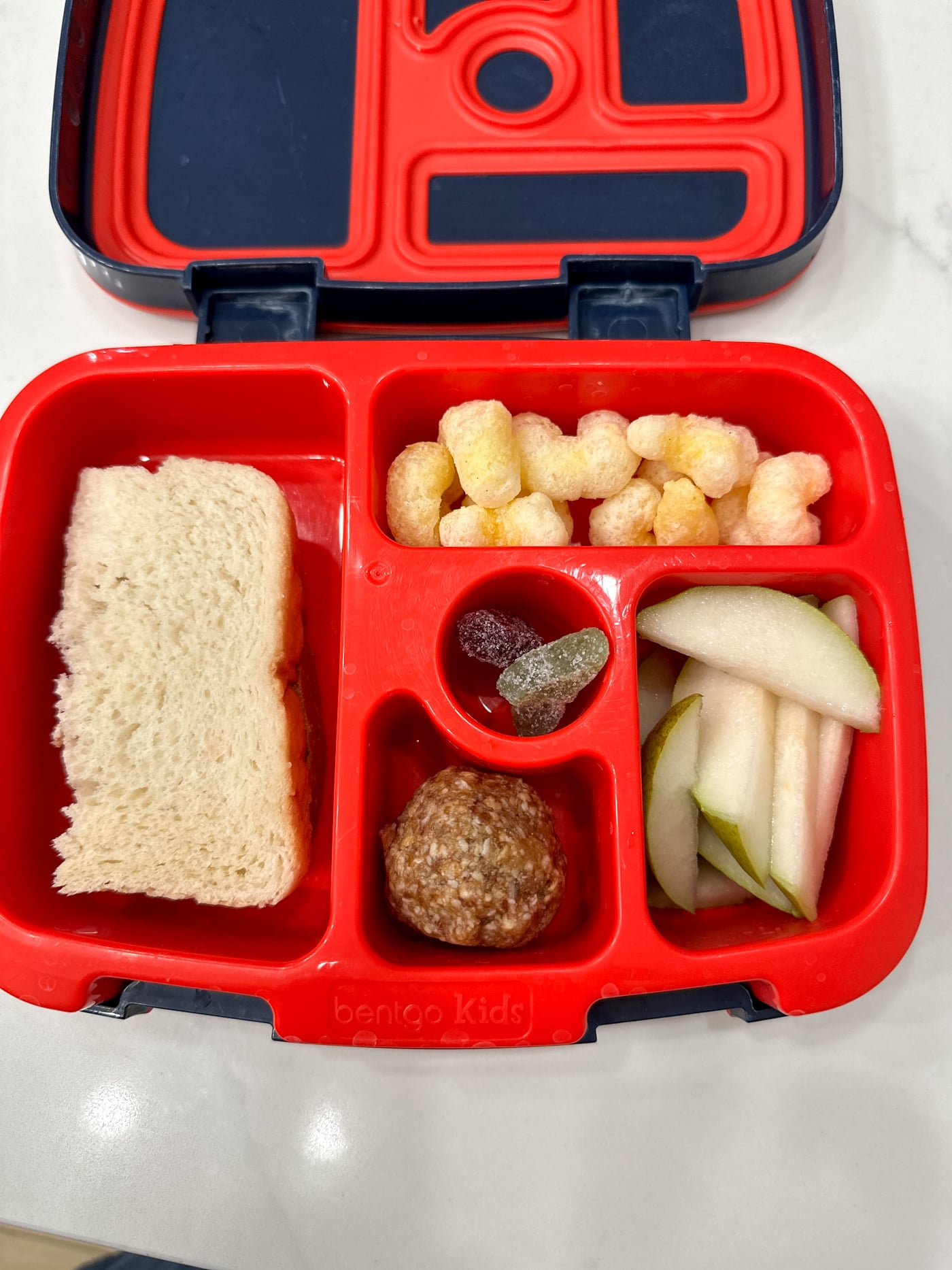 There are so many variations of protein bites/energy ball recipes online, you might not even know where to start! These nut butter protein powder and oat combos often taste like a cookie while they provide a lot of nutrients. We love to pair them with snap peas, some sliced fruit, and some favorite chips or crackers.
55. Smoothie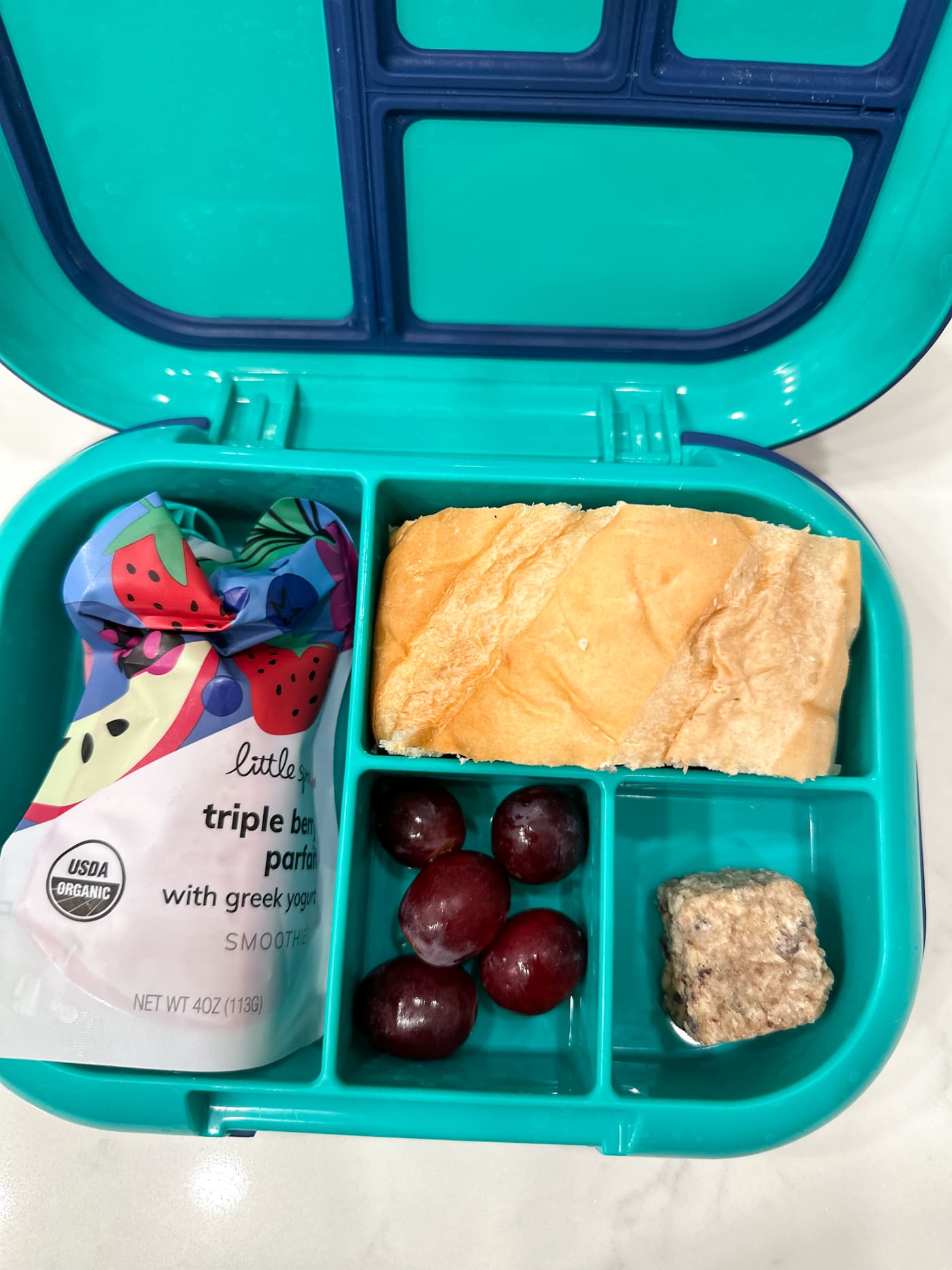 If you head to your local health food store, you can easily find a cold pressed smoothie in a pouch. You can also buy reusable pouches and make your own. Stuff them full of chia seeds and fruits and veggies. We like to add some carbohydrates (like oatmeal energy bites) and a solid protein to the side.
56. Quiona Pizza Bites
If you have leftover quinoa, these are so easy to make! They work perfectly in the mini muffin tin size, and kids love dipping them in marinara sauce for lunch.
57. Muffins
Chances are you have a family muffin recipe with a healthier muffin your kids love and eat well. Or, maybe you have a local baker you love to support! These are great for breakfast, but also great for lunch! We love to pair them with a hard-boiled egg and some fruit.
58. Crepes
While we're on a breakfast-for-lunch kick, try adding a crepe for lunch. You can go savory with meat and cheese, or eggs. But you could also go a little sweet with bananas and Nutella or strawberries and Nutella. Add in some sliced veggies and some kid-approved nuts for a good mix.
59. Egg Bites
Many low-carb diets recommend baked egg bites as an easy and quick breakfast. If you make these in mini-muffin tins, they work perfectly for kids! Add in some fruit and crackers, or even a fig bar, and they have a quick meal packed with protein.
60. Pepperoni Pizza Bites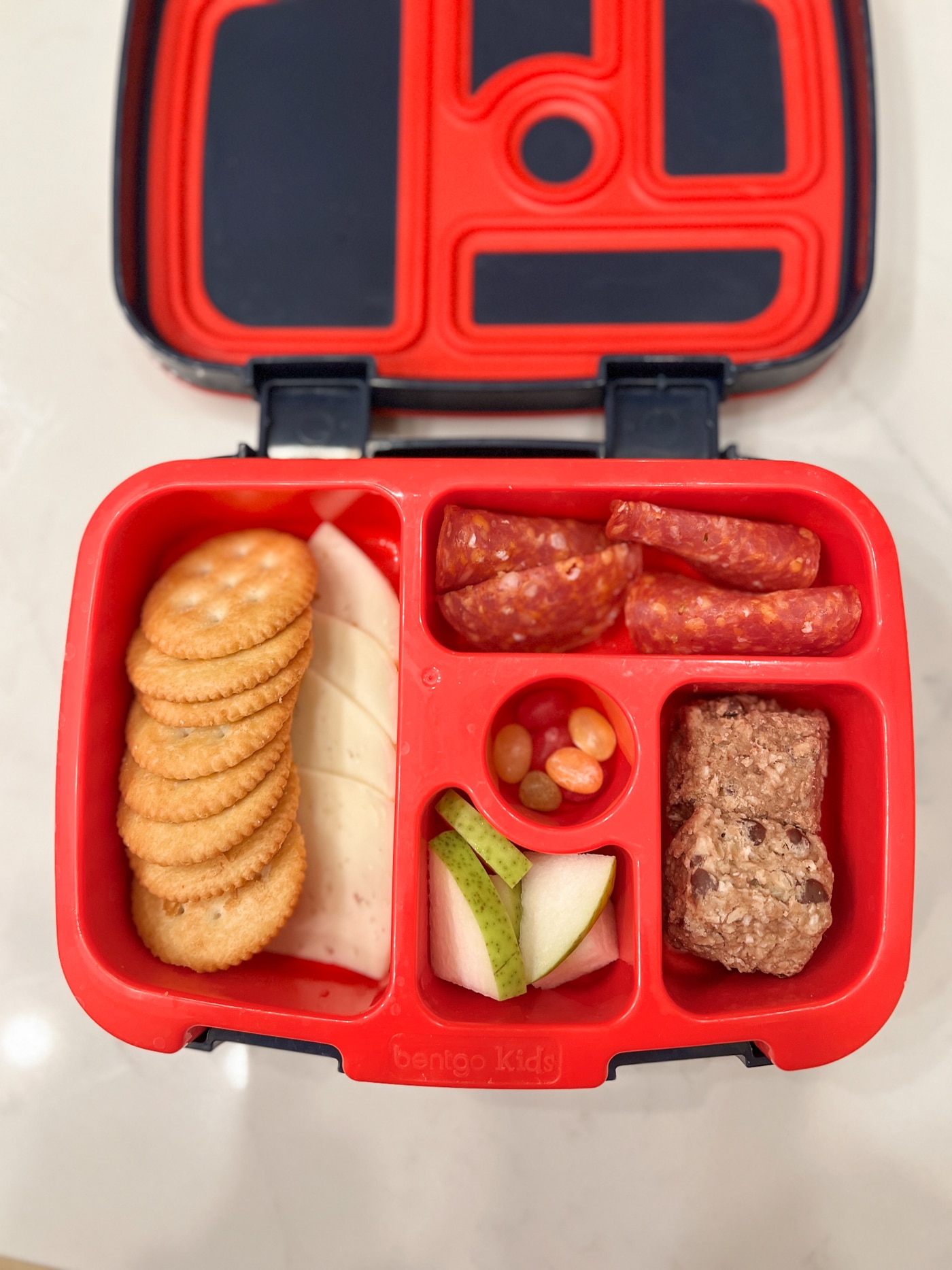 Load them up with pepperoni, sliced or shredded mozzarella cheese, sauce, and large round crackers. Kids love building their own mini pizzas!
Tips for Packing Bento Box Lunches
1. Meal Prep Made Easy
Dedicate some time on the weekends to prepping ingredients for the week ahead. Wash and slice fruits and veggies, cook proteins, and portion snacks into small containers. This will save you time during busy mornings.
2. Consider Temperature
Use an ice pack or insulated container to keep perishable items fresh and safe to eat. Some bento boxes even come with compartments designed to hold ice packs, ensuring food stays at the proper temperature until lunchtime.
3. Make Lunches While You Clean Up Dinner
This is our biggest time-saving tip! While the food is out, we put our son to work packing. Sometimes we help do it, but either way, it saves us so much time to pack food while it's there and out. Our kids can chime in if they enjoyed dinner and would like it as part of their lunch tomorrow. Even if they say no, we can usually grab some of the fruit or veggies prepped at dinner while they make a sandwich.
We're whirlwind cleaning anyway, it's so easy to wipe crumbs of counters and supervise what kids are packing.
Use this hack to save so much time and mess when prepping lunches!
4. Get Creative with Presentation
This one is optional, but we've found actually works. Use different colors and shapes to make the lunch visually appealing. Arrange food items in an organized and aesthetically pleasing manner. This not only makes the meal more enjoyable but also encourages your child to try new things.
Yes, as much as I hate to admit it, buying the train-shaped sandwich cutter does actually yield more food consumed at lunch. It's worth the extra 30 seconds it takes to cut out the sandwich if you can!
5. Easy Cleaning
Look for bento boxes with removable compartments or those made of stainless steel for easy cleaning. Dishwasher-safe options are also convenient for busy parents. That's why we love having a Bentgo kids lunchbox. In fact, that's why we love having at least 2 per kid so one can always be in the dishwasher, and the other can be ready to pack.
FAQ Section
Q1: Are Bentgo lunch boxes suitable for young children?
A1: Absolutely! Bentgo boxes are designed with little hands in mind. They come in different sizes and have small compartments that are perfect for portioning food for young children.
Q2: What do you put in a bento lunch box?
A2: A starch, a protein, fresh fruits and veggies, often go together to forma. great bento lunch box lunch.
Q3: Can I pack hot food in a Bentgo lunchbox?
A3: Bentgo boxes are not recommended for packing hot food directly. However, you can use the compartments to pack cold or room-temperature components of a meal, while using an insulated thermos for hot soups, stews, or casseroles.
Q4: Do you use an ice pack with a Bentgo box?
You don't have to, but a slim ice pack can be a great addition to keeping food cool and safe. You can even use a Bentgo Chill box with a built-in freezer pack included in the lunchbox.
School Lunch Made Easy
Packing school lunches doesn't have to be a daunting task. With Bentgo box lunch ideas, you can transform your child's lunchtime experience into a more delicious and healthy adventure. From tasty sandwiches and fresh fruits to creative snacks and colorful presentations, the possibilities are endless.
By incorporating these ideas and following our simple tips, you'll be well on your way to creating delicious, balanced, and exciting bento box lunches that your child will love. And you'll love saving time and money too!
Like these kids school lunch ideas? Be sure to check out these posts too:
Kids School Lunch Ideas You'll Both Love
Get 365 Date Ideas!
We want to help you have the best date nights ever! Grab this FREE printable with 365 date ideas, a date for every day of the year so you never run out of ideas!