This Chia Seed Pudding Recipe is so easy, so delicious, and perfect for a paleo or vegan chia seed pudding recipe too! Plus lots of variations and options to make easy chia seed pudding at home!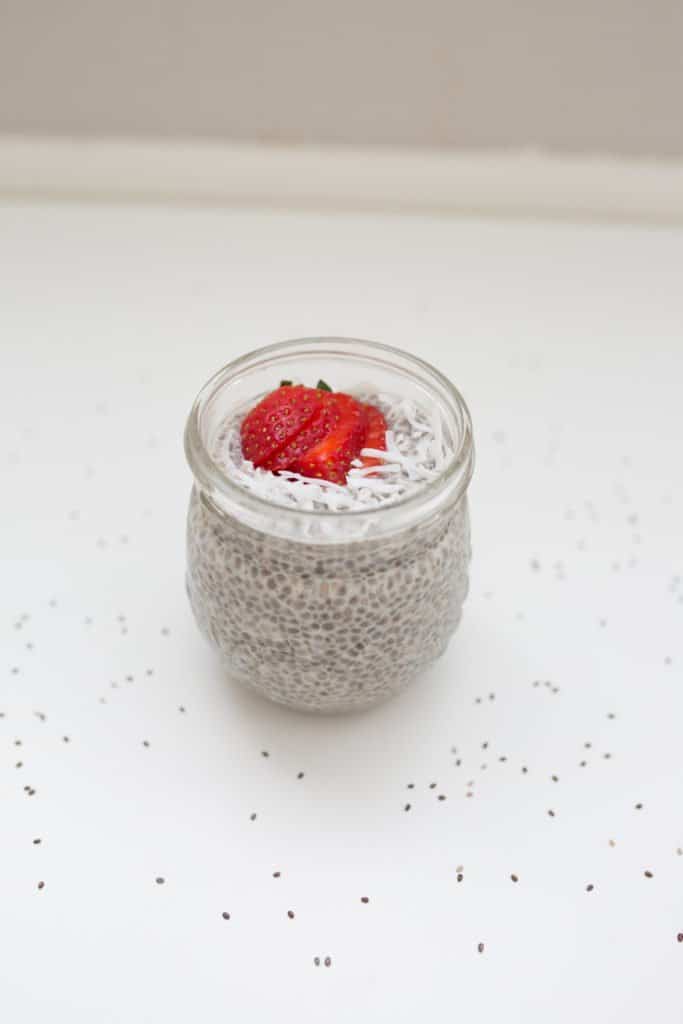 Do you know what's a little crazy about pregnancy? My sweet tooth almost completely disappears and I choose more savory items than sweet. That is not my norm! But after baby comes my sweet tooth returns with a vengeance ready for every sweet item it can get! However, with endocrine issues, and PCOS, it's always a wise idea for me to lean on natural sweeteners and vegan dessert options that cut the sugar. I've loved chia see pudding since I first tried it years ago, and with trying to balance my sweet tooth and need for healthier choices, my favorite chia seed pudding recipe is making a comeback in my life!
Chia Seed Pudding
I love chia seed pudding because it's simple, and it's easy to justify as a treat or a breakfast. I've even added nuts, fruit, and granola and called it lunch before. It takes a little planning ahead since it's basically an overnight chia seed pudding recipe and that's just how it's made, but it's so worth it!
There's a lot of tweaks that are easy to make when you're making Chia Seed Pudding. With all I've experimented with and tried, this is my favorite easy Chia Seed Pudding Recipe, and I love that it happens to have a vegan chia seed pudding recipe option with it too!
Chia Seed Pudding Recipe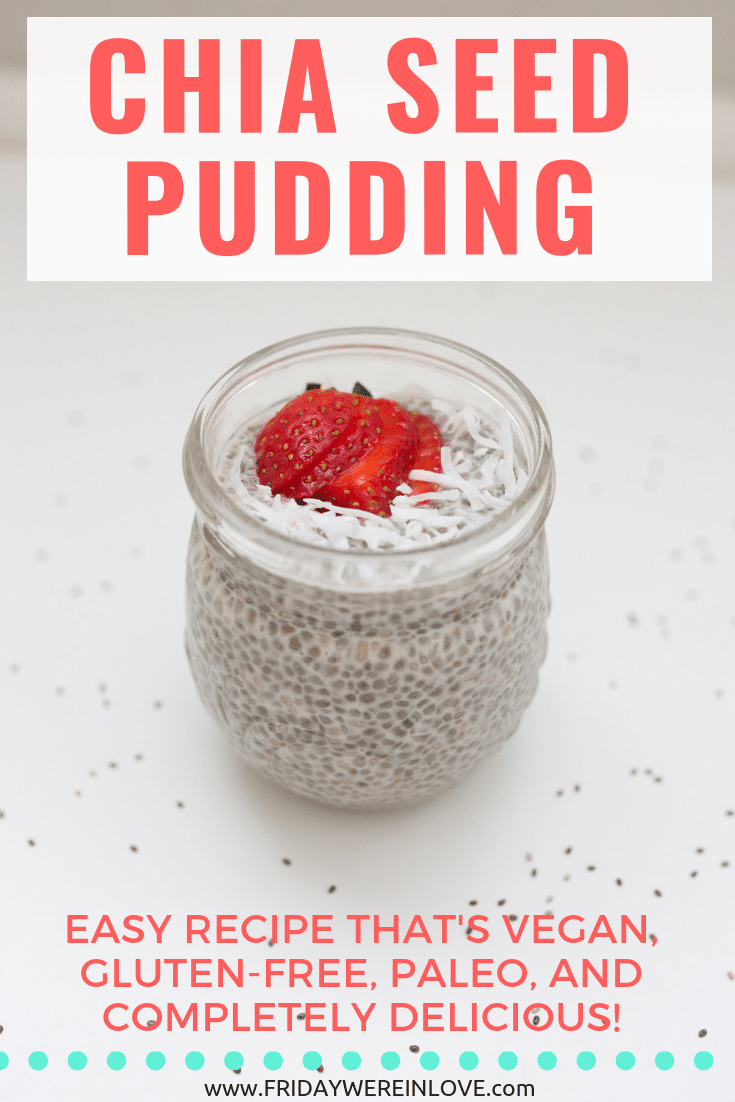 Chia Seed Pudding Ingredients
– 2 1/4 cups vanilla almond milk (You can also use coconut, soy, or regular milk)
– 1/2 cup raw chia seeds
– 1 1/2 teaspoons pure vanilla extract
– 2 tablespoons organic maple syrup
One note on the milk/liquid used: it's easy to substitute and replace! If you want to make a paleo chia seed pudding you can go right ahead with the best milk alternative for you. For a creamier option you can use whole milk. If you're in the market for some fruit flavoring, add some juice to the milk.

How to Make Chia Seed Pudding
This is the easy part that even the most novel of cooks can do! All you need to do is dump all the ingredients into a refrigerator safe bowl that you can cover and stir. Okay, it may take a bit more than that.
I like to start with the milk base and stir in the chia seeds. Make sure everyone is coated and none are floating to the top of the bottom. It takes a few minutes of stirring to get it just right. I then love to add in the vanilla and maple syrup and stir for a few more minutes. This makes sure everything is mixed right and the chia seeds are fully coated.
From there, cover your bowl, put in the fridge, and give it overnight to plump up. I'd say at least six hours total, but overnight is an easy rule to live by.
The chia seeds get this gelatinous film around them soaking in the milk, and when the two combine it ends up being a thick, creamy pudding texture.
The Best Chia Seed Pudding Toppings
From here you can serve however you'd like- it's even delicious plain! But I'm all about the toppings, and these are a few of the best chia seed pudding toppings (IMO).
Fresh fruit: strawberries, mangos, bananas, blueberries, mixed berries- pick your favorite!
Fruit puree: a little blender action and a layer on the bottom or top of the pudding makes for a great flavor!
Coconut: shredded coconut just enhances the flavor and texture, it's always a must!
Granola: I've tried lots of different types and I love them all! Even nut-based paleo granola adds a great crunch and mix
Nuts: choose your favorite, roughly chop or slice, and top for some added protein
Greek yogurt: many people love to top, or layer, or mix their pudding with some Greek yogurt for more protein and a creamier texture
Honey, agave, or maple syrup: If you really want a sweet pudding, a little more drizzled on top does the trick!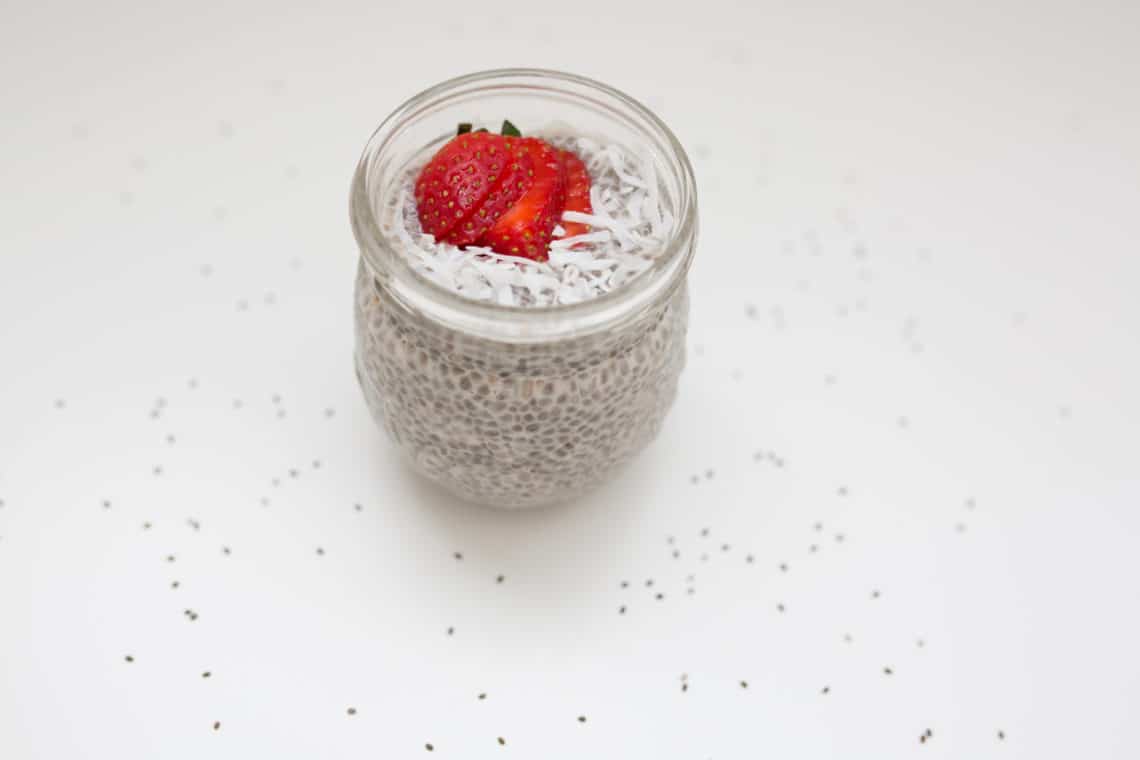 How Long Does Chia Seed Pudding Last?
Covered and refrigerated it should be good for about a week! Feel free to make it and place in jars for easy breakfasts all week. Or it's excellent for a make-ahead dessert you can serve your friends- if you can stand to share!
Like this overnight chia seed pudding recipe? You may like these recipes too:
Protein Packed Savory and Sweet Breakfast Bowl Recipe
Make Your Own Acai Bowls at Home Recipe
Healthy Breakfast Cookie Recipe
Get 365 Date Ideas!
We want to help you have the best date nights ever! Grab this FREE printable with 365 date ideas, a date for every day of the year so you never run out of ideas!