What to Eat in Switzerland


Okay guys, it's time for the best part of travel sharing, the food! I can hardly wait to talk about what to eat in Switzerland! A huge part of travel for us is enjoying the food. Okay, a huge part of every day is enjoying food. But honestly, finding the best foods of each city/country/travel location is one of the things we live for and we strive to go to at least one amazing place and eat at least one food an area is known to do best wherever we go. So when it came to what to eat in Switzerland, I knew we'd do a little research and we'd likely come home with some recommendations. I'm so glad we loved the food and get to share with you our favorites!
Let me tell you I was blown away by the entire country! I'm sorry this is my last Switzerland post (but hello Germany coming soon!). It was truly the most beautiful country, so safe, you could set your watch to "Swiss time" and punctuality, and the food and markets just seemed to match everything else so clean and precise about this county.
So here are the things we found that you must eat, and what to eat in Switzerland: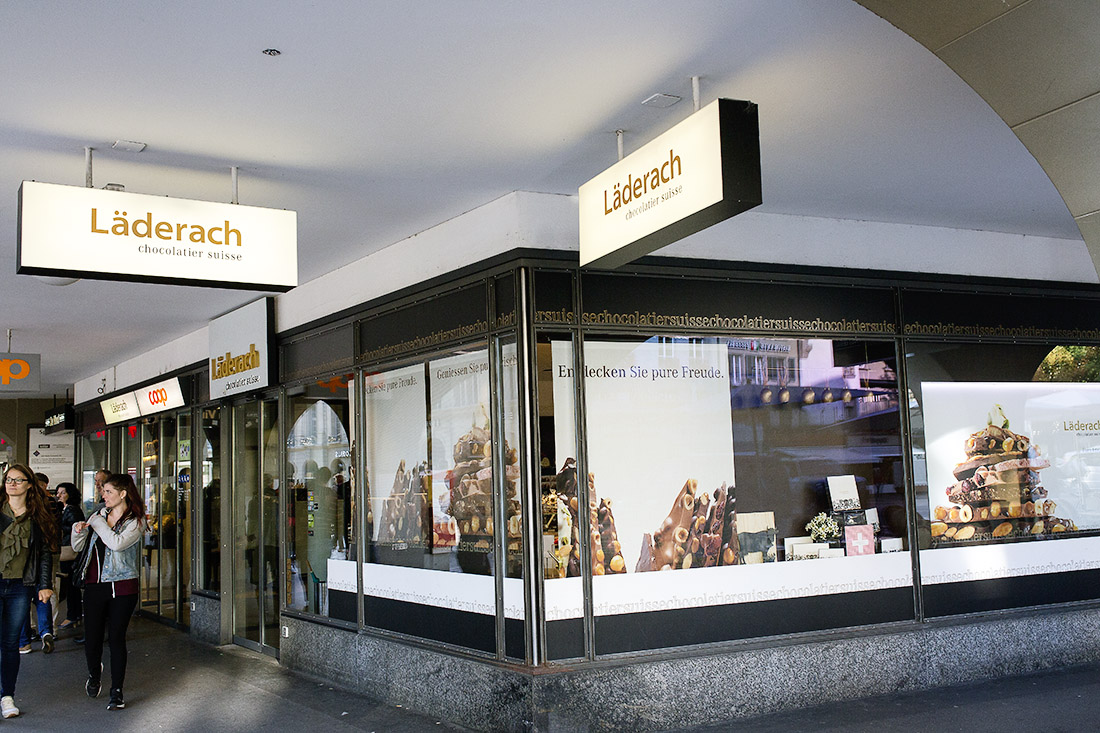 Chocolate. It's going at the top for a reason here friends! We're pretty big chocolate fans in our family, and although it's hard to find a chocolate we haven't liked, we've learned that there is chocolate, and then there is chocolate. I'm going to hang my head in shame and admit I was wrong with a presumption about Swiss chocolate. After visiting Peru and having a date night making chocolate straight from the largest organic cocoa farm, I went to Switzerland judgmental thinking the chocolate would not compare. And then I had it and ate my words, I ate all the chocolate, and I tried to see if I could get my words dipped in Swiss chocolate since it truly is the greatest thing I've ever tried! Melt in your mouth amazing, rich flavors, amazing ingredients, and perhaps some sort of drug that makes it more addictive?We fell in love with Laderach chocolate, and my biggest trip regret is not heading back to buy more.
French food. It may not be France, but it is its wealthier neighbor who has attracted some of the best French chefs to come set up shop and cater to tourists and the very wealthy Europeans who vacation in Switzerland. Oh, my word, the crepes we had at one French restaurant seriously rivaled Paris, and I'm still dreaming of dessert crepes. If you're in Bern, we can't recommend Bienenue au Carrousel enough!

Soup and hot chocolate. We had some of the most amazing soup at the cafe at the top of Gimmelwald, and I'll forever think their unique concoctions of hearty soup while it's freezing outside is one of the most delicious things I've ever tasted! And once again, chocolate in any form seems to have magic powers in Switzerland. Plus, Swiss Miss did it's branding for a good reason!
Swiss cheese.
Yep, just the cheese alone had me at hello, but baked in creped or sandwiches was just pure delight! The cows must be happier in the Alps, because the dairy products were all amazing, but the cheese just won us over and made it a must-eat on the list!
Gelato. Being by Italy has its perks, and we found the gelato to be just as good as most of the places we enjoyed it in Italy. If you're in the area but not heading to Italy, make sure you get at least one gelato stop in!
Get 365 Date Ideas!
We want to help you have the best date nights ever! Grab this FREE printable with 365 date ideas, a date for every day of the year so you never run out of ideas!