From Mom Life to Date Night Versatile Pieces
This post is sponsored by Marks & Spencer, but all styling, outfit choices, and opinions are my own.
It's amazing how much your clothing purchasing habits and choices evolve after you've become a mother. You go from buying whatever you like to analyzing every piece: could this be worn on the playground? Would this transition to date night? How easy is it to wash this piece? I've never looked at so many care instructions and thought about styling options in my life! Truly moms wear so many hats that finding those staples that work for mom life, date night, work meetings, and everything in between is the way of mom life!
When we went to London for the first time several years ago I absolutely fell in love with Marks & Spencer stores! We ran in to get a feel for what was trending in London style, and we left swinging by a grab-and-go food stop leaving with an affordable and healthy lunch, I knew this company had it together immediately and was so impressed! Fashion, food, and affordability, they had me swooning quickly!
Imagine our excitement to learn how easy it is to shop online and have clothing delivered to our door quickly without having to cross the pond! I honestly spent hours searching the site falling in love with piece after piece when looking through the Marks & Spencer fall line. There are so many on-trend styles, but their pieces are even more perfect for the stylish moms of the world- versatile pieces you'll get a lot of wear out of. I found it so easy to fall in love with a great piece, like this skirt, and find five tops I could pair it with for playdates and fancy dinner dates. I can think of so many ways to style it, and I love how well it works for all pieces of my life.
Can I tell you what else made my heart swell? The children's section! I'm typically a fan of classic children's clothes without sayings or graphics, and any modern mom can tell you looking for these pieces is often a chore. But not anymore, I couldn't believe this red shirt came as part of a set of four classic stripes and solid t-shirts for less than I'd pay for these anywhere else I have found them! They are high quality, a great fit for taller kids, and I love that it was so easy to find bundle deals in children's pants, jeans, tops, and essentials. They curate great stuff for kids and make shopping for a building a child's wardrobe so easy! And he really loves that pants can come with suspenders and he can play with them while we walk, so we all won on this outfit.
Ode to those outfits that can mix and match so effortlessly, that have high-quality pieces that will hold up to the wear and tear of being a toddler parent, and that clean up for a nice date night out looking and feeling so intentional!
We've both fallen head over heels for Marks & Spencer, and you'd better believe this won't be our last fashion post shouting their name in joy and excitement from the rooftops!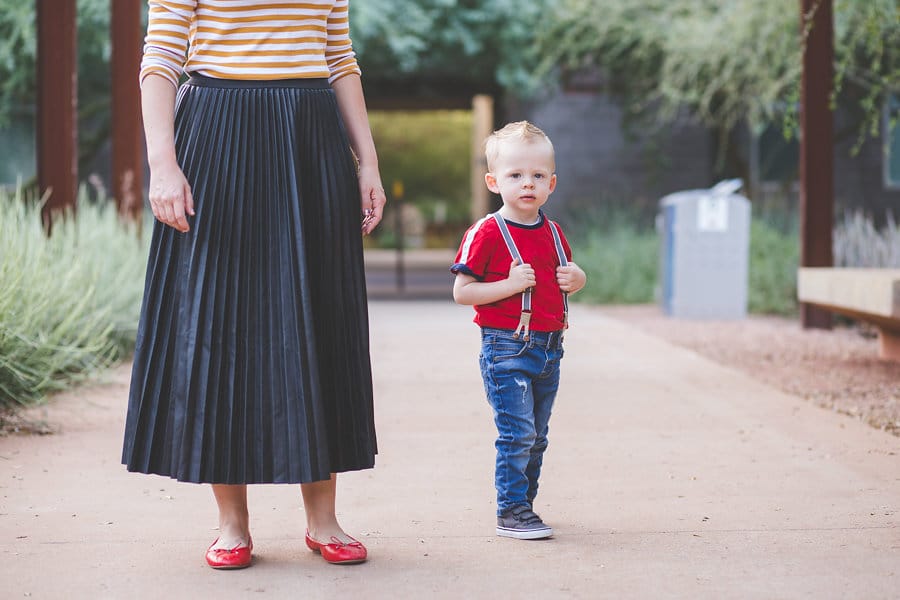 Get 365 Date Ideas!
We want to help you have the best date nights ever! Grab this FREE printable with 365 date ideas, a date for every day of the year so you never run out of ideas!