Easy, Unique, and Fully Customizable Holiday Cards in a Hurry!
Easy, unique, and fully customizable holiday cards in a hurry! The best designs you can change and customize for your perfect Christmas card!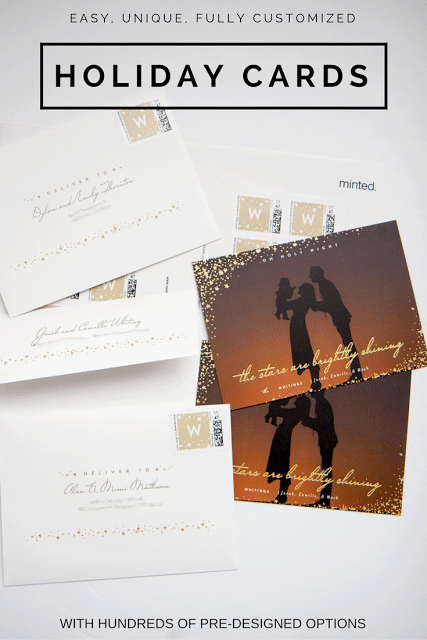 You know that family picture that just brings a smile to you face every time you look at it? You can be having the roughest day, even with a family member (ahem, toddler), and that picture puts an instant smile on your face and reminds you how much you love those people you share a residence with! I hoarded our favorite picture from our anniversary photoshoot because it just was so special. But when Thanksgiving came I decided it was time to share it.
Around the same time I started thinking about holiday cards and even though it's a few months old and my baby is a lot bigger, I just knew it was the one I wanted to share to convey my love and feelings during the holiday season.
One of a Kind Holiday Cards
I wish I was a better designer, better at crafts, and DIYs were more my forte, but I am one that usually needs to outsource and my hopes for one-of-kind items don't always come to fruition. I'm good at having visions and hopes, and I feel like my career has helped me to recognize good design, but it's still something I leave to the professionals. So this year when I had that unique silhouette image with coloring that's different than your traditional holiday card, I knew I needed to turn to a place with really amazing designs to do the image and my photographer justice!
Last year we teamed up with Minted for holiday cards, and I'm so happy that we did again this year! Their unique offerings and gorgeous glitter foil was just the perfect thing to showcase my favorite image from 2016 in a Christmas greeting card.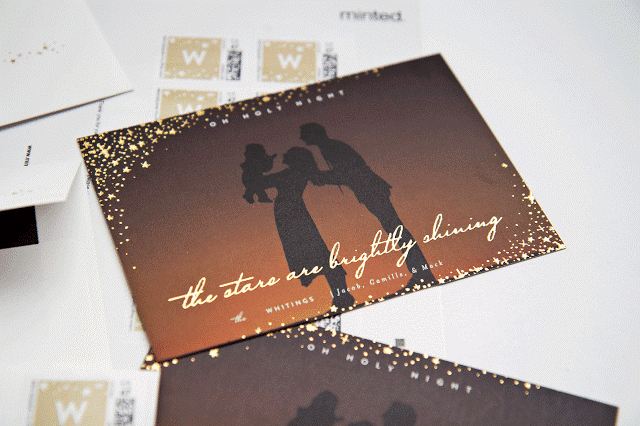 Customizable Holiday Cards
They have the coolest tool on their website where you can upload the image you're thinking of using. Then, you can preview every design with your image in it while browsing. I mean we're talking time saver of the year! Also, they literally have thousands of choices and color combinations to create your perfect card. This unique web tool made my former web development project manager geek out big time! It is honestly one of the greatest things I've ever seen on a website!
And on top of that, once you've made your perfect card there are so many options to really make your cards stand out. Foil, glitter, color updates: all ready for customizable holiday cards. They are unique and beautiful while saving you time and hassle!
I love that you can get postage that's customized and matches your cards. You can even put in an image of your own if you want to! I was a sucker for glitter foil this year, which barely won out of rose gold foil. It just accented the darker image so well.
As someone with terrible hand-writing, I love that I can get printed addresses for free! Of course, I also love that my return address beautifully printed to look like writing too. And once again, it matches the theme of my card. Thus, creating an overall really unique and really pretty way to send a modern greeting card.
Easy Holiday Cards
So even someone like me with a vision of what they want, and even on those years I'm without a vision, Minted has so many amazing designs and high-quality paper options to choose from that they can I find my perfect card in no time! And speaking of no time, from start to finish it was only about five days to get our cards without any express selections. They even have an awesome selection of New Year's cards if you want to go that route! And cards are 10%-15% right now, depending on how many you order, so you can get cheap holiday cards that look amazing without compromising quality! So if you're on the fence and realizing you may need your cards quickly, I can't recommend Minted enough!
*We received product in exchange for this post. But our love of their cards and my obsession with their website is all my own!"
Like this customizable holiday cards tip? You may like these posts too:
Christmas on a Budget: Plus a Free Christmas Budgeting Worksheet
Husband Gift Guide: What to Get Your Husband for Christmas
Christmas Eve Family Activities
Get 365 Date Ideas!
We want to help you have the best date nights ever! Grab this FREE printable with 365 date ideas, a date for every day of the year so you never run out of ideas!