Easter Basket Ideas for 7-Year-Olds
A roundup of 50 excellent Easter basket ideas for 7-year-olds that they'll love and use this spring!
There's something about 7-year-olds who are almost older kids, but still a little boy / little girl who typically love love clever toys and things that keep their minds and busy bodies occupied. It's a great age to find a few favorites for Easter basket gifts.
If you're in the market to help out the Easter bunny, here are a bunch of favorite Easter basket ideas, perfect for 7-year-olds!
Brain Building Easter Basket Fillers Perfect for 7-Year-Olds
Why not use Easter basket goodies as a fun way to give a few brain-building small gifts for a child's Easter basket? If you need a great quiet-time independent activity that builds STEAM skills, these are some of our 7-year-old's favorite things!
Sticker Books
You can never go wrong with Paint by Sticker books, and they're even on top of the easter-themed gifts with their Paint by Sticker Easter book.
Doodle Book Coloring Book
This Doodle Book for Boys and Doodle Book for Girls is about the best activity book to keep kids occupied during quiet time and road trips. It's a fun gift that boosts creativity with prompts and partial drawings for kids to complete.
I have a set of these pens I use for my planner, and my 7-year-old son fell in love with them instantly. The idea that a pen can erase feels like magic to little kids. And the different colors encourage a lot of creativity for doodles and a sketchpad. I'd recommend grabbing this bright colors pack of erasable pens. They're the perfect size as Easter basket fillers.
Think basic school supplies: crayons, markers, colored pencils, or watercolor paints all make fantastic gifts! They may need a refresher for school, or just some fresh supplies to get excited about art or craft projects.
It doesn't matter if they're out of the younger kids toys, sidewalk chalk is always a fun gift for spring. Older kids can draw street art and murals, or write positive messages for others. There are fun YouTube tutorials for chalk art, and they're a great addition to get kids outdoors.
Scratch Art Pad
Grab a notepad with scratch art paper for a great time with a twist on doodling. Another great idea is grabbing a Melissa & Doug scratch art pad. Kids scratch off small boxes and shapes to slowly reveal a bigger picture. They really are so much fun!
Graphic Novel
Age 7 is the perfect age for graphic novels! Most are gaining a lot of confidence in their ability to read, and a graphic novel is a great way to keep them reading and entertained! They're so popular they've kind of exploded with their own ever-growing section in bookstores and libraries.
If they haven't read the Dog-Man series, most kids adore it and laugh out loud the entire time they read them. In fact, check out our Dog Man Costume tutorial for living proof of the fandom! The Babysitters Club Graphic Novels are another super popular choice. My 7-year-old also loves Investigators, The Jedi Academy, and the Narwhal and Jelly Series. They're all great options, and in my opinion, the perfect Easter basket filler.
Related: Star Wars Books for Kids
A Great Book
Beyond a great graphic novel, it's chapter book season for most 7-year-olds. There are so many great stand-alone books and fun chapter books for early readers to help get them hooked on reading! If you need a few recommendations, these are super popular series for 7-year-olds: Dragon Masters, Magic Treehouse, or the Junie B. Jones series.
Audiobook Credit
You may be surprised how much kids enjoy listening to a great book. And if you're thinking they would never sit through it, you should check out this post on how to get your kids addicted to audiobooks. You can easily start with Harry Potter, or grab a Magic Treehouse series. Check out our list of 20 Excellent Audiobooks for kids for some ideas!
Plus, you can always find a great deal to do an Audible membership with credits, which you can cancel at any time.
STEM Kit.
You can get a Kiwi Crate subscription with the first box delivered and part of the basket. Or, you can do Discovery or National Geographic science kits for a fun experiment or build a cool project with everything you need in a kit.
This was a Prime Day deal I couldn't pass up for only a few dollars. But it's still a great deal right now! My son is obsessed with Star Wars right now. We also want him to learn to code early. It felt like a no-brainer to start with this cool Star Wars coding kit!
Secret Decoder/Spy Games
These Melissa & Doug activity books are perfect little mystery-style activities for kids to solve. They're designed for this age, and they're perfect for on-the-go activities.
Perler Bead Set
It's a pretty amazing thing to watch your kid practice math skills and spatial awareness while they create a project they're excited about. Perler bead sets help do just that! Kids can create designs one melty bead at a time on a pegboard until it's done and ready to iron and melt together. We often have our teenage babysitters join in doing these with our kids, so I think it's safe to say kids of all ages really enjoy them. They're also just a great thing to have on hand when the weather is bad and kids can't play outside.
Diamond Painting Kit
Diamond painting kits are great for eye-hand coordination, and keep little hands busy for hours. They make a ton of different designs and options, and they're pretty easy to follow if you use the age recommendation when buying a kit.
Jigsaw Puzzles
My kids love a good jigsaw puzzle, and a 100-count to 300-count is just about perfect for this age. How cool is this Star Wars puzzle, or Dog Man puzzle for a great option?
Osmo Kit
I'd heard about these for years but was so hesitant to use an iPad or Fire Tablet to practice educational concepts. Even though they've won so many educational toy awards, I was hesitant. And then someone gave one as a gift, and my kids have played with it nonstop!
It's so well done, and the educational games are so cool and work so well! My 7-year-old is mastering his multiplication skills and physics with a few games. I'm on the hunt for Osmo expansion packs for an Easter basket, and for upcoming holidays and birthdays. It's the perfect gift to boost education skills in a way kids love!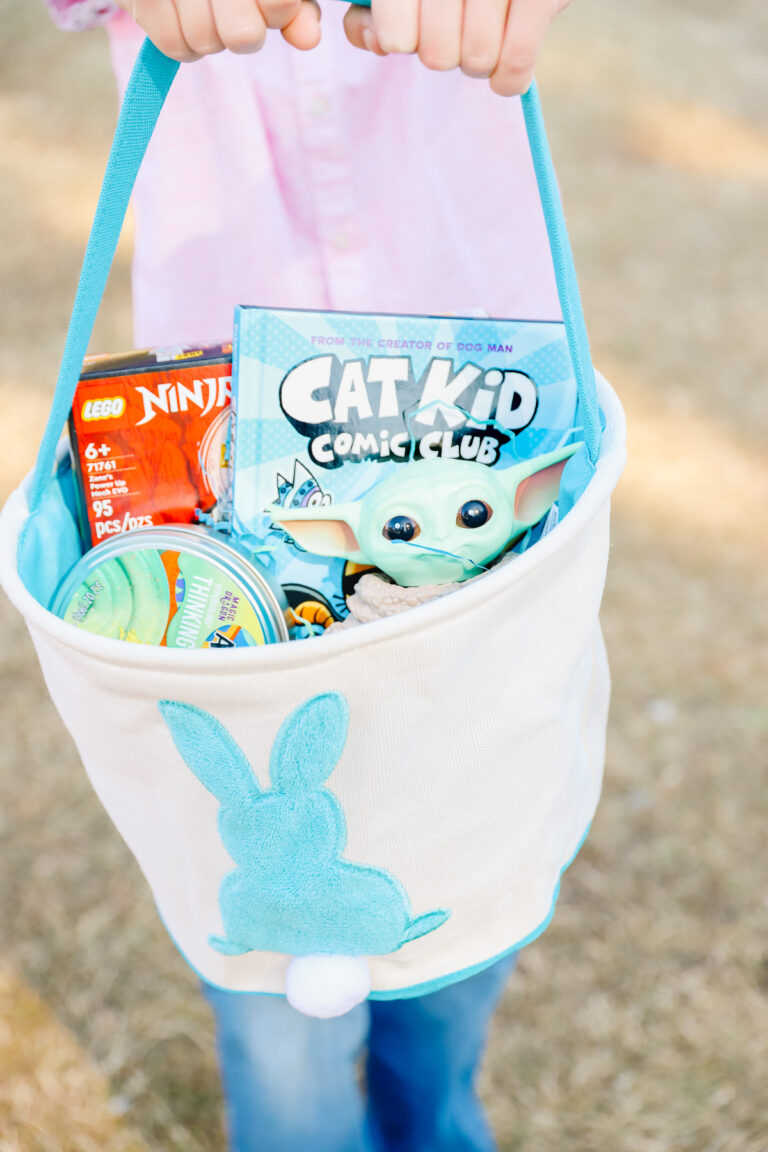 Small Toys Perfect for a 7-Year-Old Easter Basket
Small, fun things are always a good choice! And here are some toys that make a fun Easter basket filler!
Fidget Toys
A classic fidget spinner is always a good idea. However, there are a lot of good options to help keep wiggles at bay. Try a Pop-It toy, or grab our current favorite item that deserves it's only dedicated spot on the list of Easter Basket ideas for 7-year-olds…
Aaron's Thinking Putty
My nieces and nephews introduced our family to this magical toy, and it's one of the best things for young kids and big kids alike! This is a fun fidget toy putty that comes in wild colors and effects. It's almost solid state until it heats up, and then it becomes moldable to manipulate into shapes and molds. We have one that changes color as it warms up in hands, and a clear one with sparkle fish. We keep these in a church bag and pull it out for some easy quiet fun. Our kids love this stuff, and fair warning, many adults do too!
*Since recommending this on Instagram, I've had a handful of moms thank me for sharing this product! They told me it's been a game-changing toy for their busy ADHD kids. It really is a great gift and a fun Easter basket idea we think kids will love!
Lego Sets
I've yet to meet a 7-year-old who isn't crazy about Legos. It's one of those great things kids enjoy building and creating. There are so many varieties and even a bunch of smaller more affordable sets that make the best Easter gifts.
Rubik's Cube
There's a good chance Santa added a Rubix cube to my 7-year-old's stocking, and it's truly the perfect time to introduce this fun game! Over the last year, he's enjoyed them everywhere he's seen one, and it's so fun to have your own to practice with.
We took our kids Christmas shopping, and they both discovered Bop-it for the first time. My kids fell in love with this game that makes sound effects instructing which part of the toy to bop, twist, pull, etc. It's so fun, and a great toy to play with alone or with friends. And if you didn't know, they make fun character versions. My Star Wars-loving boys are about to unwrap this version, and I know they'll love it!
Kanoodle Brain Teasers
These award-winning toys are TikTok famous for good reason! All the Kanoodle Brain games are excellent. But I'd highly recommend the Kanoodle Gravity for a 7-year-old. It's a fantastic game to play alone, or a fun game to play with a friend too.
Walkie Talkies
These are always a fun gift, but particularly for a kid who may be interested in phones, but isn't quite ready for one. Don't forget to include some batteries. Oh and walkie-talkies are extra fun for an Easter egg hunt in a large space. You can keep track of your kid and let them have fun narrating their experiences.
This is a fun memory game that uses lights to share patterns that the player tries to remember and repeat.
Pokemon cards are all the rage in elementary schools right now. Do we get a weekly email from the school asking us to make sure kids don't bring them to school? Yes, yes we do. Even if your kid doesn't own any, they're likely talked about enough that they'll be a welcome surprise in any kids' Easter baskets at this time. And best of all, they're an inexpensive gift your kid will likely pour over for weeks!
Experience Gifts
We're always here to advocate giving experience gifts whenever possible. In fact, be sure to check out our post on experience gifts for kids with tons of ideas.
But if you're in the conundrum where the Easter Bunny needs to look like the gift hero, here are some excellent ideas to pass that little bunny's way!
Wanna know the number one thing most 7-year-olds love to do? Play games! They're old enough to understand the rules and legitimately play most games, and it's such an exciting and fun stage to arrive at! That's one reason a great board game is one of the truly great Easter basket ideas for kids. And there are a lot of modern games if you think you already own all the classics. If you need some recommendations, be sure to check out our complete guide to the best games for kids.
Card Game
A deck of cards with favorite characters is always a hit (we own these Star Wars Uno cards). There are about a hundred party games you can play with a deck of cards. Uno cards are a fantastic choice, and we love all of Grandpa Beck's games! Cover Your Assets is our favorite to play with 7-year-olds. And with almost 15,000 5-Star reviews on Amazon, it's easy to see why it's such an excellent choice!
GetOut Pass
If you want to set your kid up for a lot of summer fun, and truly fun that will last all year, check out the Get Out Pass.
These are popping up in most states, and they offer the best deal for so many fun experience gifts! Check out fun centers, museums, special activities, and sporting events in your area. Plus, we can save you a lot of money with our GetOut Pass Promo Code: FridayLove.
Check out our Get Out Pass Review for more details!
Museum Pass
If you have a local museum they love, grab a pass so you can go whenever you have spare time this year! I'm amazed at how often we visit our science center, The Phoenix Children's Museum, and our local aquarium because of annual passes.
And if you need more convincing, check out the 10 reasons to get a family pass and a bunch of places that offer them.
Disney Gift Cards
If you have any Disney trips planned for the next year, a Disney gift card is a great idea! you can use them to buy Disney tickets (but check out our hack to get Discount Disneyland tickets). But the good news is, they work everywhere in a Disney theme park or on a Disney Cruise.
We try to include them as gift ideas for every holiday so our kids have a little stash ready for our annual Disneyland trip. It helps cut down the costs of the trip, and our kids love having their own spending money for extra treats or a souvenir.
Easter is such an unassuming time to get a Disney gift card, and it's one of those fun ideas we know kids will love!
Gift Card to a Fun Center
I mean why not gift them an experience at their favorite fun center? I don't think my son could come up with a better gift if he tried!
New Swim Suit
This goes in the fun and practical gift categories too! With summer right around the corner, a new swimsuit is sure to get plenty of use! But you're truly giving an experience of some summer fun, perhaps a family vacation, and potential memories for vacation or swim lessons. It's the perfect gift to help usher in summer fun!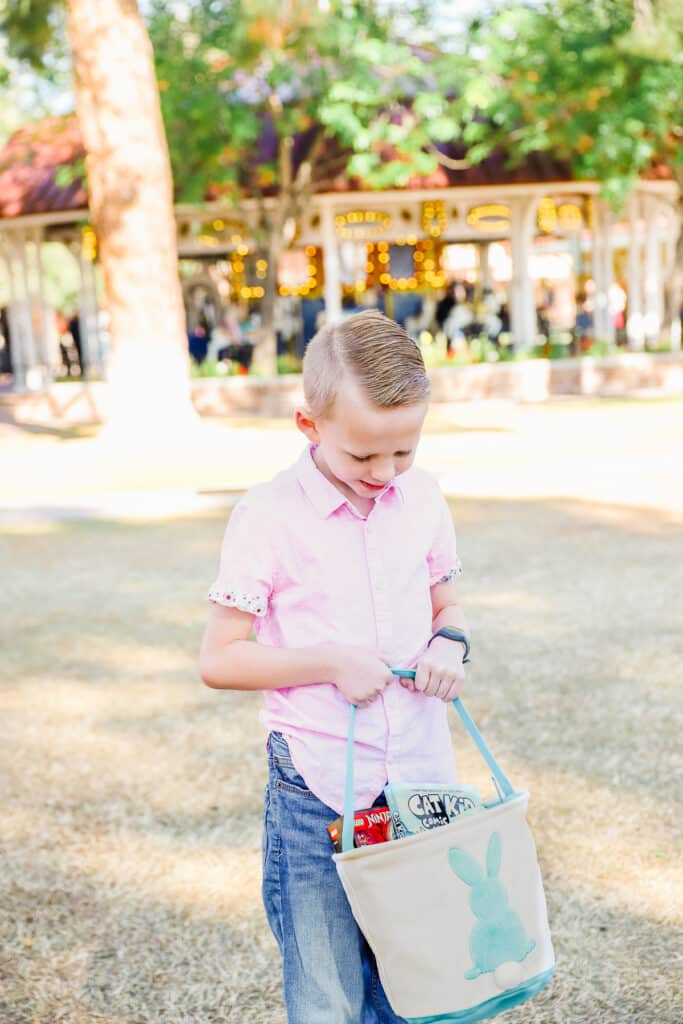 Practical Easter Basket Fillers for Kids
Chances are, they've lost their back-to-school water bottle, or at least could use a refresher! A solid water bottle is one of those things they'll use daily. I'd recommend getting a stainless steel insulated water bottle. We love the larger-sized Funtainer water bottles and the 20 oz flip-top Stanley water bottles. They both do a great job keeping leaks at bay, and a phenomenal job at keeping water cold even in the hottest months in Phoenix.
If they're stealing your lip balm, it's a great time to give them their own! The class Lip Smackers from junior high (or high school) are back with a lot of fun flavors and packaging. But a classic lip balm tube with natural ingredients and essential oils is always a great choice too!
Hair Brush
The small-sized Wet Brushes work great for boys and girls, and they're something you can always use!
Hair Accessories
It's a great time to update the hair accessories with a few fresh clips, bows, or a headband. Even as a boy mom, we still love to get some pomade or gel to help with hair styling.
If you dress up for Easter Sunday, attend an Easter egg hunt, or go to brunch on Easter morning, an Easter outfit for kids is always fun to wear to these events. Why not double up with the gift and include it in an Easter basket?
With the season change, many kids are ready for the next size up in t-shirts. It's a practical item they'll get plenty of use out of. As a family that goes to Disneyland every year, I love to use an Easter basket as an excuse to gift a new Disney shirt. We often do a family coordinating shirt and spend some of the Easter basket budget on that. Then, when we have our trip in a few months, we spaced out the expenses and still made Easter feel fun. So if you have a trip or event, it's a practical time to grab a shirt and gift it! I love the Jumping Bean line of Disney shirts, and can always find something cute for a great deal!
But even if you don't have a trip planned, it's still a great time to use a fun holiday basket as an excuse to grab this practical gift. and with the ability to fold so many ways, they have perfect additions to an Easter basket filler!
Fun Outdoor Toys for 7-Year-Olds
Basketball
A simple basketball makes a great gift! They can take these to the local park, practice dribbling outside, and work on their eye-hand coordination.
Jump Rope
We're at the age where playground games are in full effect, and that means jump ropes! Grab an individual one for tons of great activity for one. Or, you can grab a double dutch jump rope perfect to use with friends.
Soccer Ball
A soccer ball is another fantastic gift to encourage active play! Kids can dribble a ball alone, and play pick-up games at the playground or the park.
Baseball Glove and Softball or Baseball
A simple game of catch is one of my son's favorite things! And trust me, girls love playing catch and practicing their coordination too! They are just out of the t-ball glove size, so a legit baseball glove and a softball or a pack of baseballs are a good choice. Whether your kid is going to play on a team or just in the backyard, a baseball and baseball glove makes a really great gift idea for a 7-year-old!
Frisbee
We're at the epitome of learning coordination, and frisbee is a great way to practice with sporty kids and non-sporty kids alike!
It's amazing how a seasonal treat or even a few pieces of candy please kids of all ages! They're classic Easter basket stuffers, and an inexpensive way to make your favorite 7-year-old smile! Here are a few seasonal favorites:
Chocolate Bunnies
Jelly Beans
Reeses Eggs
Cadbury Eggs
Cadbury Creme Eggs
Reeses Pieces Carrots
M&Ms in pastel color
Like these Easter basket ideas for 7-year-olds? Be sure to check out these posts too:
Christmas Gift Ideas for a 7-Year-Old Boy
10 Perfect Items For Your Husband's Easter Basket
Get 365 Date Ideas!
We want to help you have the best date nights ever! Grab this FREE printable with 365 date ideas, a date for every day of the year so you never run out of ideas!