One Meal Now One Meal Later (One to Eat/One to Freeze): Crock Pot Butter Chicken Recipe
This Crock Pot Butter Chicken recipe is so delicious, freezes amazingly well, and is the perfect slow cooker freezer meal that won't taste like freezer! It's just as good the second time as the first!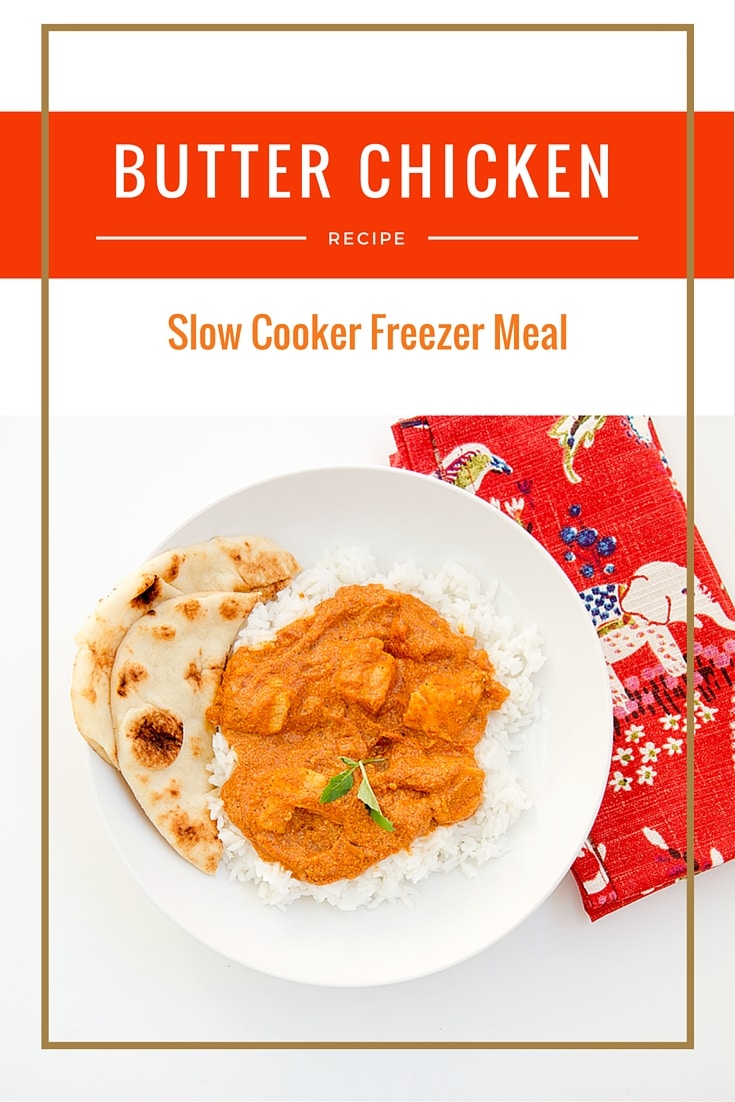 I love good food, but I hate spending all my day in the kitchen. I started trying freezer meals when I had my first child and found some are amazing time savers, and some, well, taste like the freezer.
In the One Meal Now, one Meal Later series I share my tried-and-true freezer meals that taste as good the second time around as they do the first!
Today's is a personal favorite and one that's been in the works for a while. We have two recipes we really like, one with a better flavor, one that does the slow cooker better. We've combined
this one
and
this one
and experimented until we found the best of both worlds, and one Crock Pot Butter Chicken recipe that freezes very well!
Crock Pot Butter Chicken 
INGREDIENTS
2 large chicken breasts
4 TBSP of butter, divided into 2 TBSP chunks
1 yellow onion, diced
2 tsp of garam masala
1 tsp of red curry powder
1 tsp of cumin
1 tsp of chili powder
1 tsp of ground turmeric
1/4-1/2 tsp of cayenne pepper
1 TBSP of grated ginger
2 TBSP minced garlic
1 6 oz can of tomato paste
1 can of coconut milk
1 cup of heavy cream
1/2 cup plain Greek yogurt
Rice
Instructions:
Combine tomato paste, coconut milk, heavy cream, and Greek yogurt together in a mixing bowl. Add all the spices (form masala down the the garlic). Let that sit while you prep the chicken.
Chop the onion and cut the chicken into cubes. Turn the slow cooker on high, but in your first 2 TBSP of butter and when it melts add the onions. stir them up and them add the chicken chunks on top. Pour the liquid over the top and cook on low for 6 hours or high for 4 hours. In the last few minutes add in the last of the butter and stir well. Serve over rice.
Making Crock Pot Butter Chicken into a Freezer Meal
A few notes if you're going to double and freeze:
– Make sure to buy double the ingredients!
– It's totally fine to dump everything in the freezer bag. Just reserve that last 2 TBSP of butter for the end of cooking and remember to write that on the bag. The onions and the chicken will be just fine soaking up the flavor in the bag and getting dumped into the Crock pot all at once, so go ahead and freeze it all!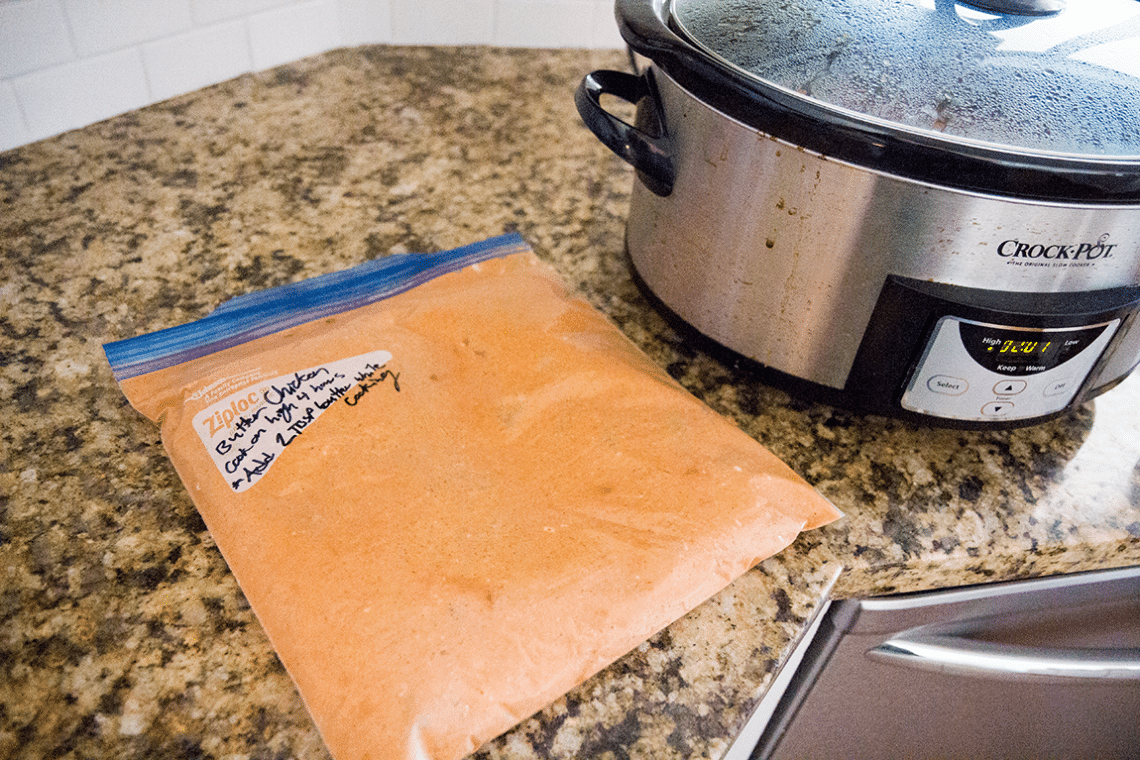 Naan also adds a lot to the meal and makes it feel more authentic. We buy pre-made, but if you have the time, your slow cooker freezer meal paired with fresh naan (or store bought heated on the grill) makes the dinner even better!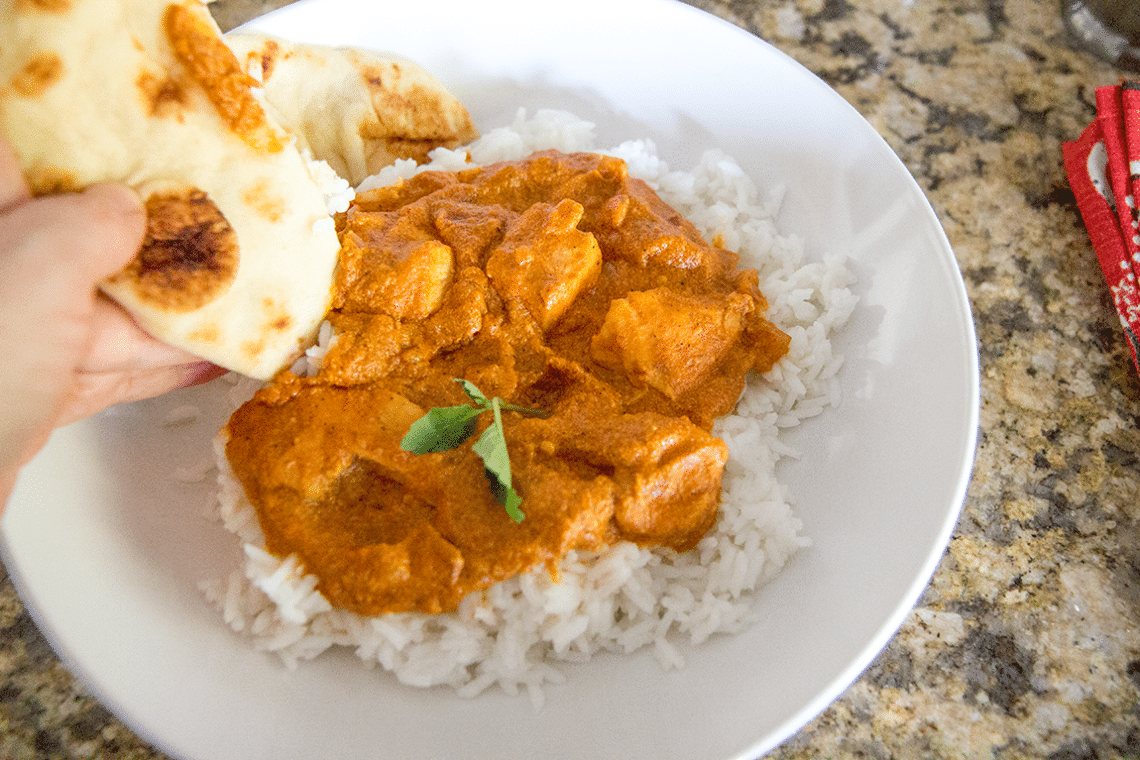 Get 365 Date Ideas!
We want to help you have the best date nights ever! Grab this FREE printable with 365 date ideas, a date for every day of the year so you never run out of ideas!