26.2: The Phoenix Marathon
My experience running the Phoenix Marathon (also known as the Mesa Marathon) and what you can expect if you run this race!
I don't even know if I can put into words what 26.2 feels like. I'm going to try my best, but this is a feeling I've never had, and one I always want to remember!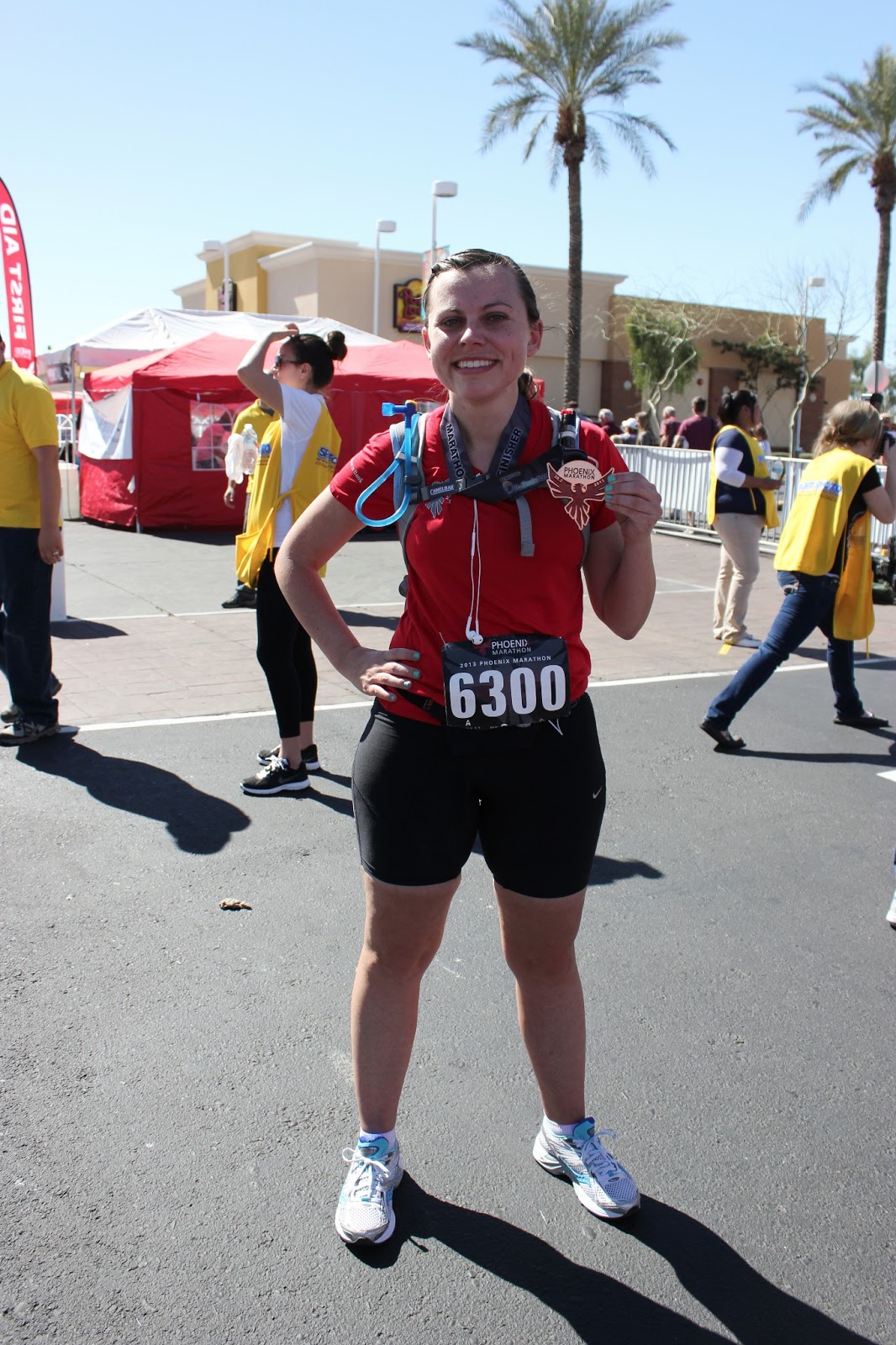 Preparing for The Phoenix Marathon
My journey started 7 months ago when I started Hal Higdon's Novice Supreme Schedule. I talked about training already, so I'll spare you the ups and downs of that part- this is all about race day!
The night before we prepped well by making our Friday date night happen early and going to one of our favorite Arizona restaurants and places to carb-load, Oreganos. We did this the night before my 20-miler and it worked great. Consequently, we repeated our menu items/experience that you can read about in this post. We then came home, laid out our clothes, prepared our equipment, and went to bed pretty darn early!
Mesa Marathon Race Day Experience
Race day began at 3:50 when my alarm went off. I was happy we both slept the night before. Luckily, I also got most of the race jitters out the day before. I had oatmeal, taped my feet, and got everything ready to go.
Jacob ran the half marathon. I ran the full. Because of this, we were forced to part ways and wish each other luck around 4:50 when we entered separate buses.
I spent the next 40 minutes being bused to the opposite side of Mesa, AZ, and up to Usery Road, which is where a beautiful state park is located. It was desert beauty at its finest! I'm grateful I ran into my coworker John who also ran the full because he made me stop to take a picture before I started.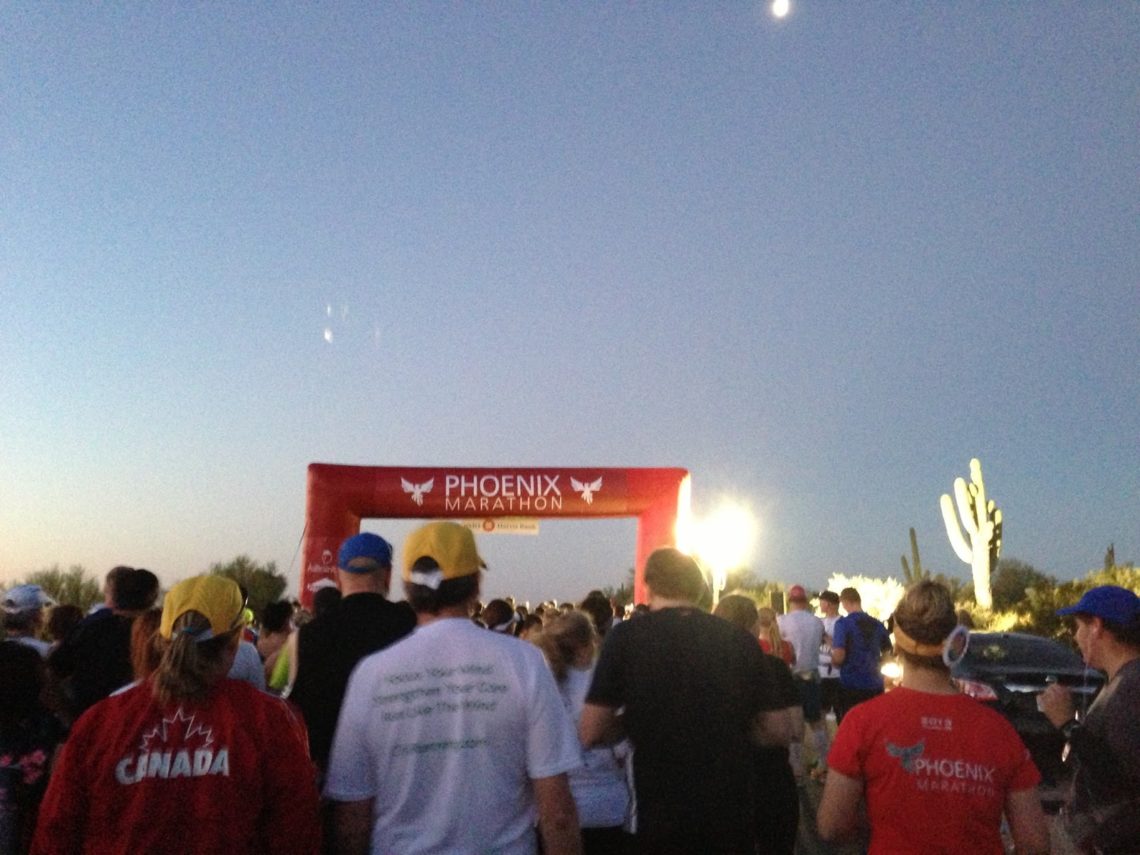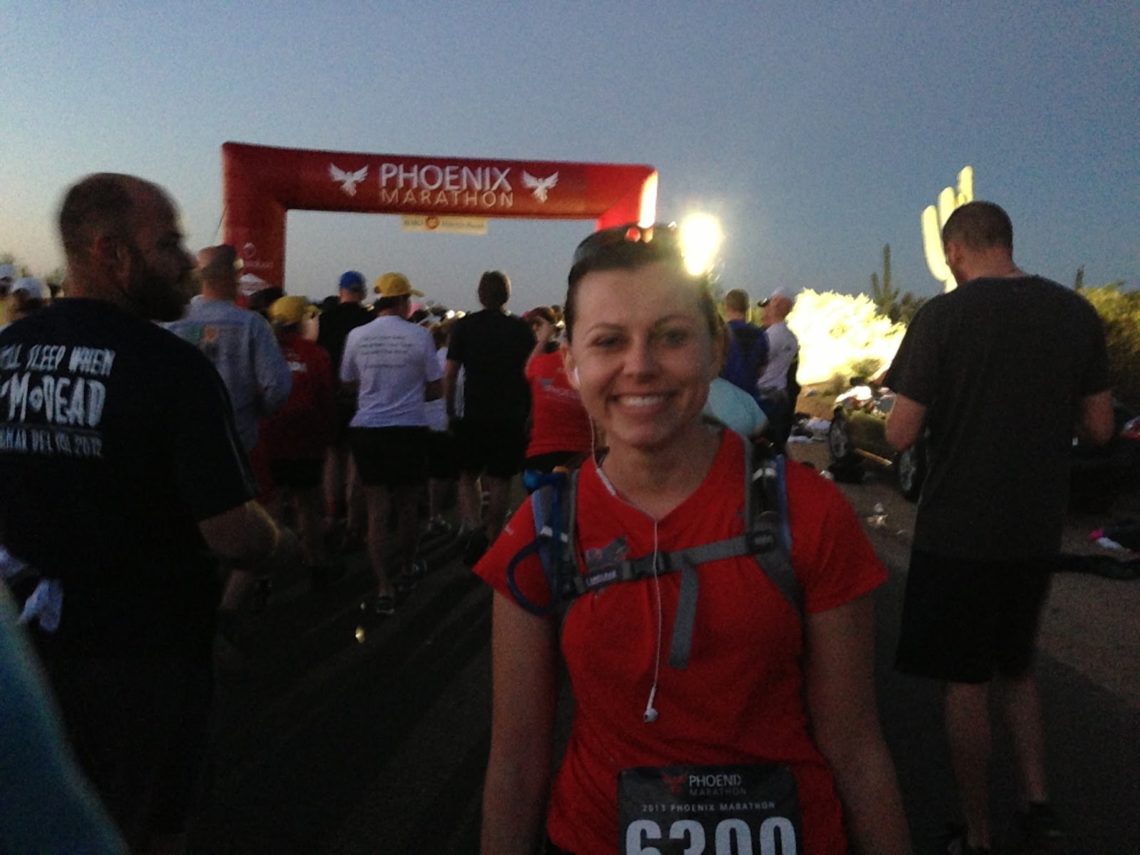 Marathon Start Line
I started a few minutes late since the bathroom line was huge, but I was grateful to still hear the cannon go off and see fireworks at the starting line on my way down the hill to the start.
As soon I did start I took off alone and started on my normal-fast pace, it felt pretty great to go downhill and pass a lot of people once I hit the ground running! I knew to conserve energy, but my legs went, the adrenaline pushed it with little effort, Imagine Dragons "It's Time" (to begin) was blaring in my earphones, and I watched the sunrise over the East Valley of the Phoenix Metro. The view was breathtakingly gorgeous. The hill was amazing!
Phoenix Marathon Course
I was at mile 4 before I knew it. At this point, I was grateful for a guy dressed up as Chewbacca jumping and dancing. I needed that laugh because the next 3 miles were uphill and I hadn't done any hill training. I'm proud that I didn't walk a step uphill. Most of the people running 10-minute miles did stop at parts. Honestly, it made me feel great that I was still going!
I plowed through and kept a pretty good pace. Luckily I did this even with my calves on fire. When I reached the top of the hill I saw a family friend who cheered me on, it was fantastic! That was the hardest part of the course. I am ecstatic that I conquered it!
Miles 7-10 rewarded me greatly with a downhill that I ran fast and made up any time lost on the uphill. Also, mile 7 had the best aid station! I had my first Poweraid and enjoyed a bunch pre-teens bouncing around a girl with a huge sousaphone bigger than she was playing us songs while we refueled. It was another great site as I went down my favorite and fastest part of the course! Those miles cruised by!
Easier Part of the Phoenix Marathon Course
10-13 entered a flatter portion and one that officially leads us into business districts in Mesa. The sun came out big time and it started getting pretty warm at this time. In all my training I've stopped at 13 and stretched, used the bathroom, and refueled. Knowing that was coming got me through! But also a friend I met along the way. We talked to me about training and family for a mile.
When I got to the bathroom I was shocked I didn't have to go much. I knew that I'd better be careful of dehydration. It was time to start drinking more than a glass of water at every aid station.
I stepped out of the port-a-potty and almost collapsed on one knee. I had no idea what was going on and rushed over the medical team to ask. They let me know my IT band was tight and pulling my knee joints.
They stretched me out. I took some salt tablets and ibuprofen and was on my way again doing much better. I was sad that this stop took a lot longer than I thought it would, but was happy to actually be running again!
Running Through Downtown Mesa
I thought 13-18 would be easy miles because I've run them before when I used to live in that area. It was pretty hot at this point and not as downhill as I hoped, in fact, it was mostly flat. I survived and poured water on my head, drank a lot more at every aid station, and walked for about a quarter-mile at miles 15 and 18. That helped!
I also loved the cheering section at this point. There were so many signs husbands, wives, and children were holding along the course. It was truly touching! Everyone who smiled at me, high-fived me, told me good job, clapped, and cheered gave me a service. Truly, I can't express enough thanks! In the roughest patch mentally (miles 17-21 in particular) I needed every cheer that came my way!
It's amazing how far a smile can go for someone in need, just one of many life lessons reaffirmed that I hope to take with me post-marathon!
Hitting The Marathon Wall
I braced myself to hit "the wall" around this time. However, surprisingly I ran most of the time and enjoyed Downtown Mesa. I walked a little and made sure to talk to people who looked injured and in pain while I did. I figured I could catch my breath and they could get some distraction- I hope it helped!
Honestly, I did run most of this part! Many stop and walk and really do hit the infamous wall that you're always warned about around mile 20. I was glad I made it through another one of the hardest parts of the marathon and that I was still making the time I hoped to make.
Running the Phoenix Marathon with a Race Injury
And then mile 22 happened. I just finished at the aid station and tried to run again. Unfortunately, I found the knee pain I had at mile 13 was back and even sharper! Honestly, I could barely move my leg and couldn't lift it at all. I was literally dragging my foot. At this point, I stopped to stretch it out again. Determined, I started running to find it hadn't done any good.
I seriously almost cried at this point. My heart was pretty broken to find I may not get to run any more of the race or possibly even finish! It was some of the sharpest pain I've ever experienced and continued as I limped the next half mile. At this time I did what I always do when I have no idea what to do, I stopped and said a prayer.
I prayed to help me finish this, I know it was a small and selfish thing to pray for, but it was really important to me after seven months of preparing. And, if divine help could heal me enough to run even a little bit of it it would mean the world to me! Truly, I have a testimony there is a God. And that he hears and answers prayers, and this experience only reaffirmed that for me!
I instantly had an inspired thought to look in my Camelback. Guess what I found? There was some ibuprofen I didn't know was there! I prayed it would work quicker than its usual 30 minutes. It did- within about 10 minutes. By mile 23.5 I was able to start running again. And really, as I type this I cry because it was nothing short of a miracle!
Running Through the pain
They had a doctor at mile 24 who I paused to go see, he told me it was indeed my IT band again and that I must be in all kinds of pain. I didn't let him know it was leaving at this point due to prayer, but I listened to what he had to say in case it returned. He told me "Unfortunately it's just going to keep hurting so you kind of have the choice to either walk it out in pain or run it out in pain." These remarks only made the fact that I ran the last 1.8 miles even more miraculous!
When I hit the last mile I knew the first half was downhill and the second half was the stretch to the finish. Many cry when they see the finish, but for me, this was the point I had to fight back those overwhelmed and excited tears! I was going to make it, even after a major unexpected setback!
When I hit that last quarter mile my amazing husband, who ran the half with an injury, ran out to finish the marathon with me.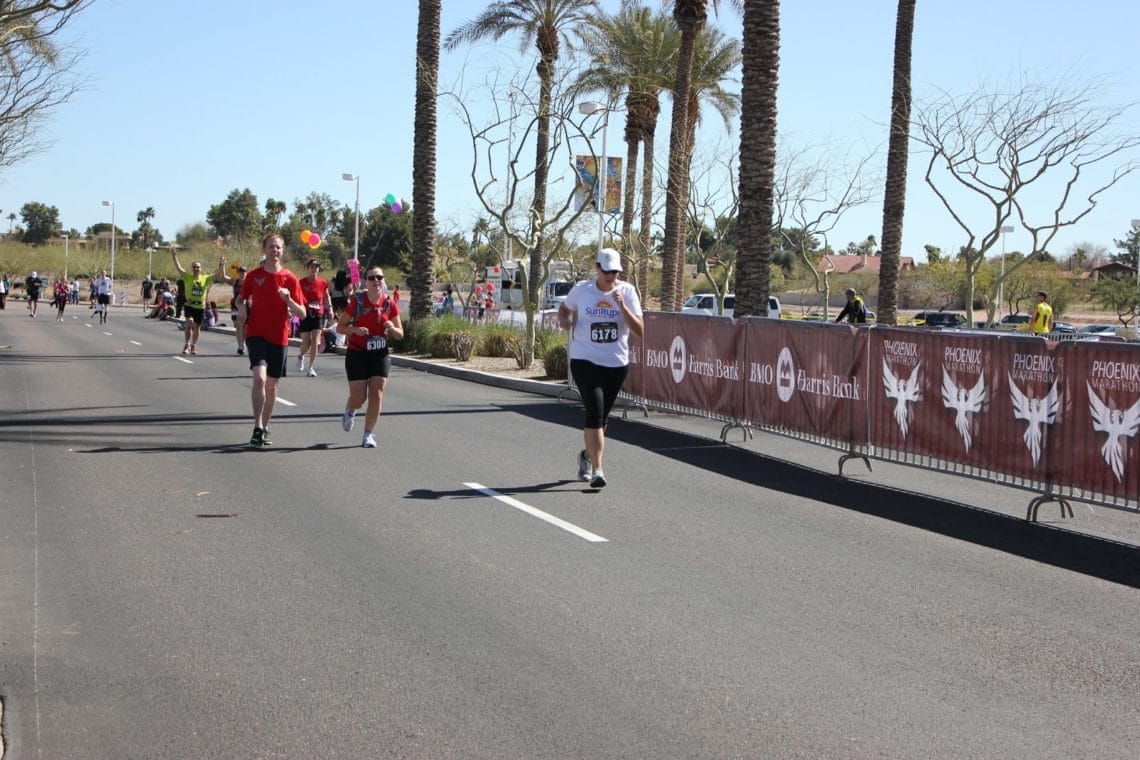 He let me know later how much this hurt him to do, but his emotions of pride and wanting to support me overcame the pain- pain you can see in his right leg in this picture my Dad took as we crossed the finish line.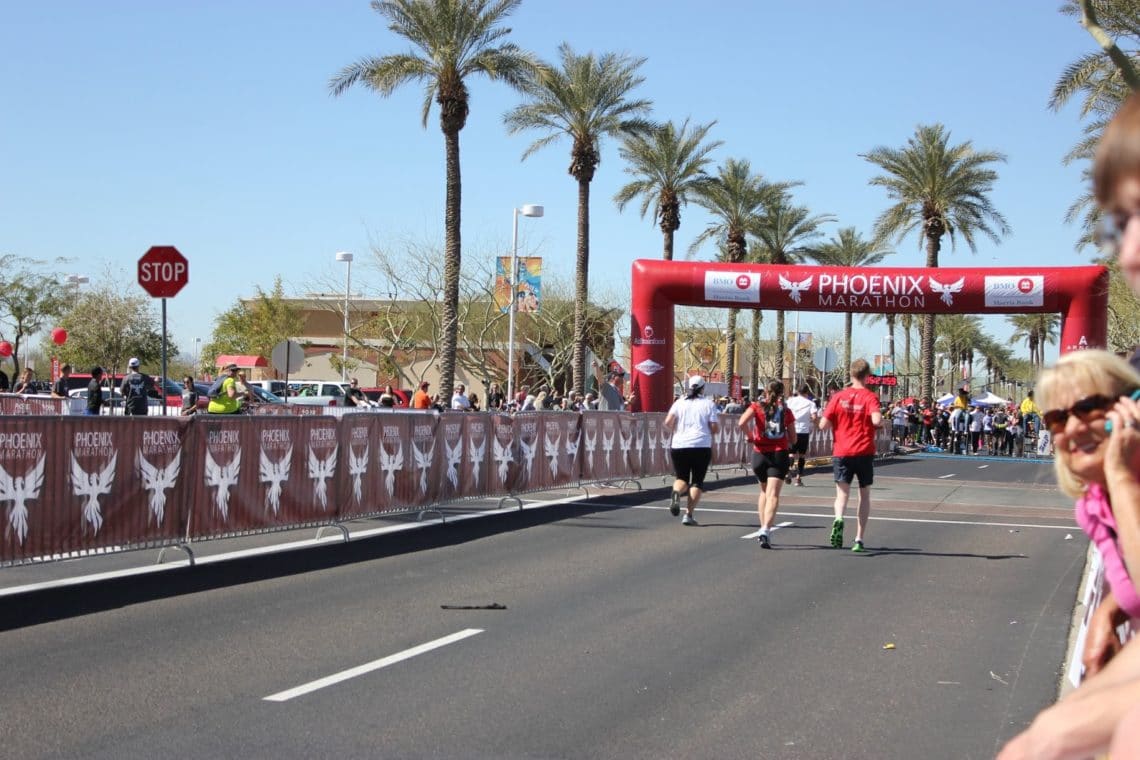 I do know I'm the luckiest girl alive, there just aren't many completely selfless people like Jacob in this world!
Suddenly I had done it! I had run a marathon and crossed the finish line!
And at that point, there were so many emotions/feelings I couldn't choose one to go with:
– Exhaustion and pain
– Disbelief it was over
– Love for a husband who saw me through to the end
– Feeling overwhelmed by another grand gesture from Jacob
– Gratitude, for parents who are very busy people, and waited all morning (plus an extra 45 min. than anticipated) just to be there when I crossed the finish line
– Pride because one of the hardest things in life to do physically just became my reality
– Thirst, because the Camelback and multiple drinks just weren't quite enough for a girl with an endocrine disorder
– Confusion because of heatstroke, 2,958 calories burnt, and complete muscle fatigue! I mean one may forget to pick up the medal that they earned (luckily Jacob grabbed me and took me back to the line to get it
But with all of these, the winners were RELIEF and JOY! The best runner's high of my life hit me pretty fast. Additionally, while I heard many say they'd never go through that again I found myself instantly saying "Wow that was fun!" I even thought instantly I'd love to do it again, crazy, I know!
Even with the injury, even with a slower time than I thought, even with some tough moments, I had one of THE BEST EXPERIENCES OF MY LIFE!
I'm grateful when we are able to see the moments in our own lives that are truly significant, life-changing, and remarkable.
March 2, 2013, running The Phoenix Marathon will always be one of those moments for me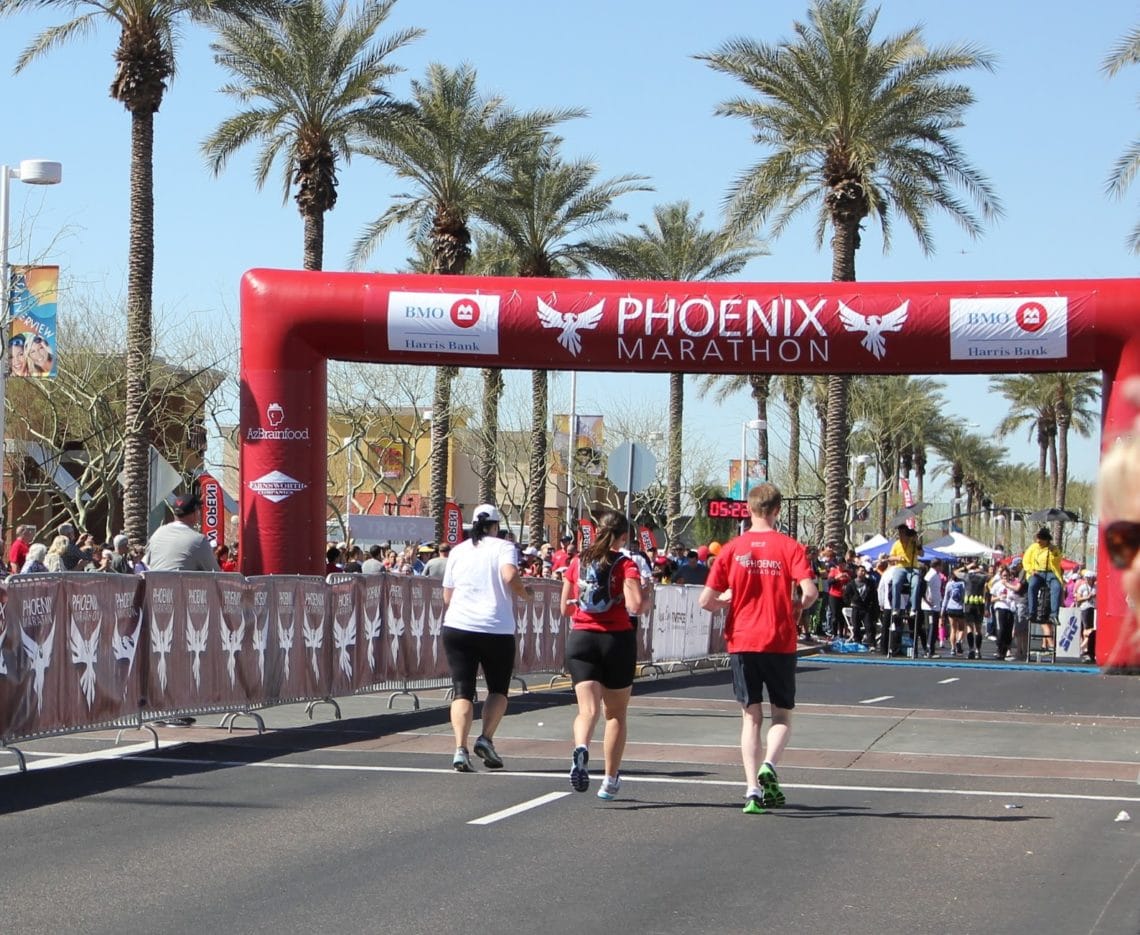 Like this review of the Phoenix Marathon? You may like these posts too:
Tips for Running Your First Marathon
The Phoenix Marathon and Phoenix Half Marathon- 2014
Today I Ran
Get 365 Date Ideas!
We want to help you have the best date nights ever! Grab this FREE printable with 365 date ideas, a date for every day of the year so you never run out of ideas!