Tips for Running Your First Marathon
Marathon training made easier! Here are 40 tips for training for a marathon and running your first marathon from a group elite Boston Marathon runners. These tips made all the difference for me and make Marathon Training for Beginners easy and successful!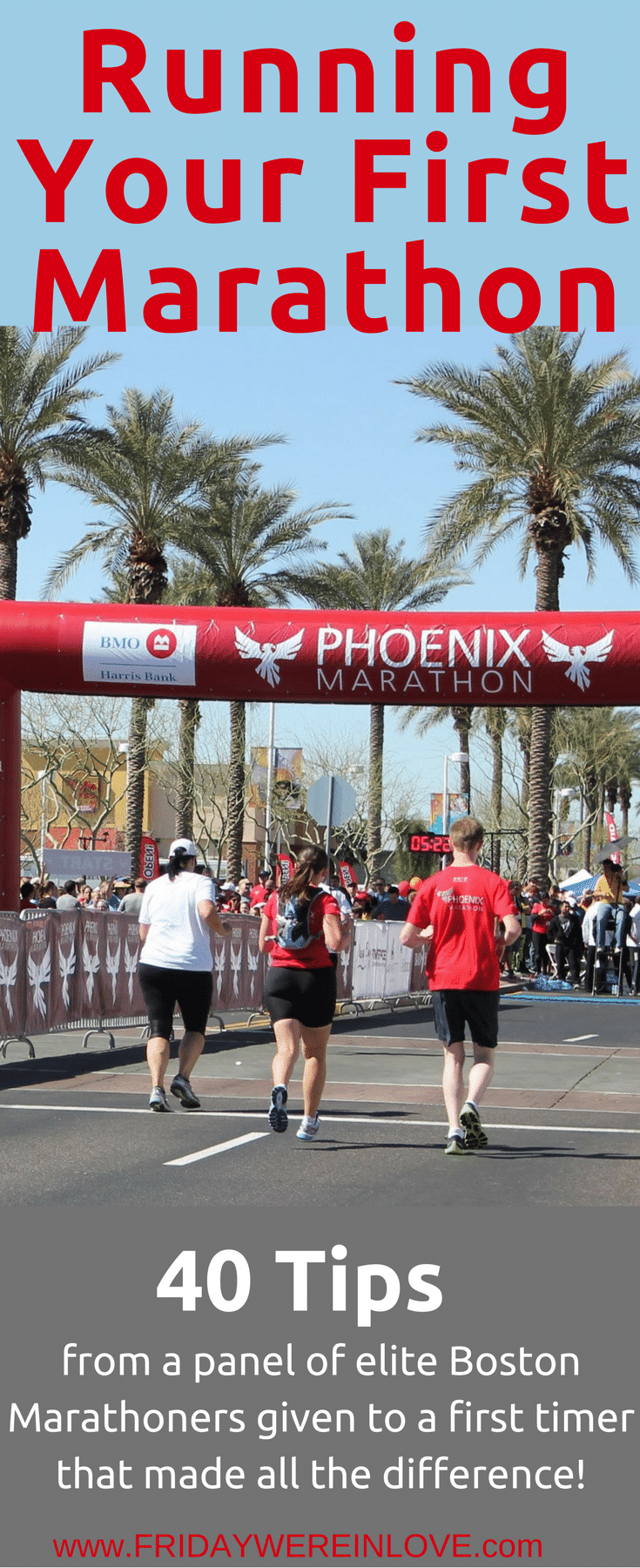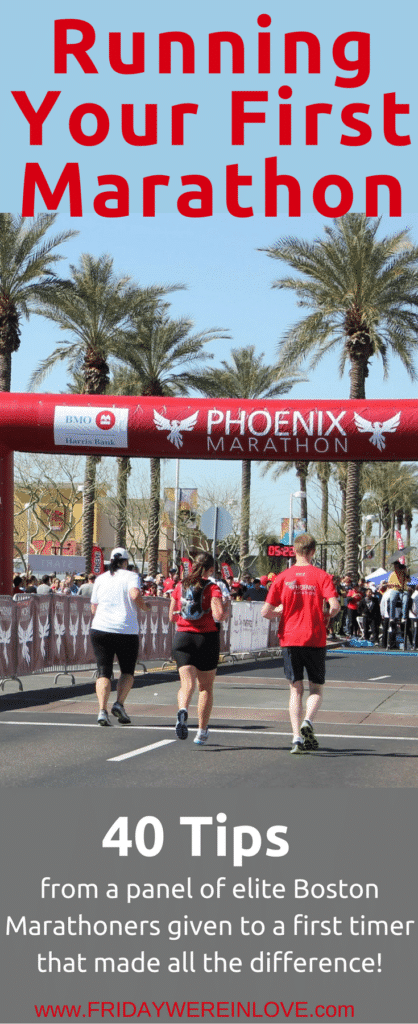 Thank You Thank You for all the love and support with my marathon! It seriously means so much!
I was so overwhelmed by how many people told me they were inspired by my blog post, social media posts, and real-life conversations. I'm so glad to know that so many people are thinking of taking up running, or training for a marathon!
I figured I can spend a whole week talking about marathon training before it gets old on this blog, so I'm going to take a couple days and talk about some things I learned along the way that I wish I'd known early in training. Talking to others made a huge difference for me and I was amazed how a few tips/tricks made all the difference!
Marathon Training Advice from Professionals
I was so lucky to be on the marathon's committee due to my job- we managed their website this year. I got to listen in on all the planning and strategy and come up with marketing ideas and website updates needed.
But maybe the best part was that the committee was full of hard-core marathoners, most of whom have run Boston several times in their life.
After each meeting, they would serve lunch and each kindly asked how my training was going. ANY issue or concern I had I brought up and got some of the most expert advice I wouldn't have ever known to do or try on my own.
The crazy thing is most worked so well it was amazing! We're talking tips for first-time marathoners that I just couldn't keep to myself!
Running a Marathon/Half Marathon
Tomorrow I'm going to talk about taking up running for those who want to. I know many hate it, and tomorrow is your day where I let you know how to convert yourself from a hater into a runner!
Today I want to talk about marathon running and give expert tips I was given, and add my own tips for first-time marathon runners, including tips for training for your first marathon as well as race day.


TIPS FOR FIRST TIME MARATHON RUNNERS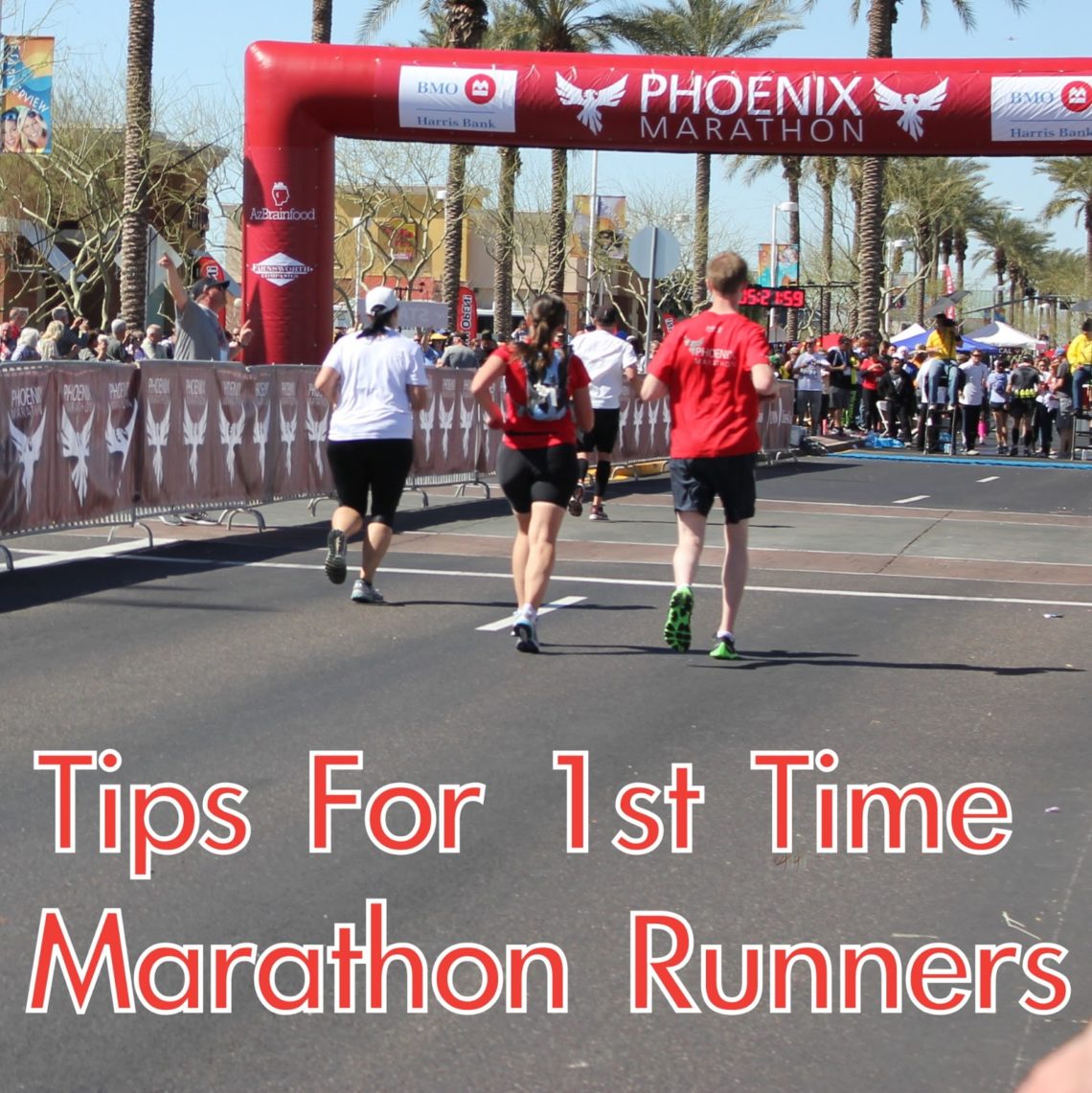 Marathon Training for Beginners
1. Get a training schedule! I used Hal Higdon's Novice Supreme and it got me through this whole madness!
2. Trust your schedule. At first I was like- seriously, only a mile or two and walking sometimes? I was already in decent running shape running about 10 miles a week, but indeed you need to go that slow and that frequently to build up and not get injured.
Also, on the 2 week taper I thought it was crazy, but trust that schedule, your body needs time to heal and ramp up in just the way it says.
3. Invest in great gear. Yeah that $42 pair of running shorts/tights stung when I bought them, but my cost-per-wear is now less than $1, and these babies are going to get some serious use after this race. In addition, they are amazing and running in sweats and a cotton t don't cut it for long.
I've heard "there's no bad weather, only bad gear." Well 110 is bad weather, and below 0  probably is too (I've run in the former, not the latter) but the right gear will make a huge difference! Not to mention feeling legit does something amazing for your psyche.
Training Tips For First Time Marathon Runners: 
4. Shoes are everything. Get fit by someone who knows what they're doing and can analyze your running style. Shoes will make or break you and the right pair is crucial! Also know you're going to go through two pairs while you train, budget for that!
5. Socks are almost equal to shoes. Cotton is fantastic when Zoey Deschanel is singing about it, but not so much on your feet when training.
6. Figure out a hydration system. I love my Camelbak, many love their belt, and others (like Jacob) enjoy stashing water along the way. Whatever it is don't sell yourself short, you'll want an option by the time you hit 6 miles.
7. Make a great playlist. I couldn't believe how much this helped improve my speed and endurance. A Spotify Premium Membership or budget for $15 a month at iTunes will make a huge difference for you if you run with music. Reward yourself with it!
8. Commit! When you decide to do it decide to never miss a big weekend run, that you're going to do it unless you lose an appendage, for real, you'll need that drive when you realize you're now spending about eight hours a week running.
How to Train for a Marathon
9. Find a support team. If you can train with someone that's awesome! I did almost all mine alone with only a couple miles of Jacob joining me in the end.
However, I had a coworker run the full on the same schedule and two do the half, it was so amazing to have the support/peer pressure at work. If you missed a run, you had to hang your head in shame. Surprisingly, that helps a lot!
10. Prioritize your life. I knew it was going to take some time to do this. I was able to plan to get up really early to run and lucky to have a cool boss that let me come in an hour late once or twice a week to finish big mid-week runs. Also, I have a husband who knew he wouldn't see me most Saturday mornings.
I had to withdraw from a book club and see less of some friends for a little while. I knew the time ahead, and I prioritized in advance how to fit it all in. It made a huge difference!
11. Buy a foam roller, stretch, and take care of yourself after.
Marathon Training Advice
12. Stop to enjoy your training. Mile 8 was a magic run for me, I saw the flowers, the sky, the people, the freeway overpass, and reflected on the gift of seeing my city in a new way.
Don't rush every run, enjoy the time you're spending and the experiences you're having.
13. Here's the formula for a great long run: eat a great dinner the night before, drink a lot of water the day before, get a good night's sleep. Go out when the temp is about 50-60 degrees. Plan your run accordingly!
14. Around mile 6-8 you're going to need some fueling stuff. I loved Shot Bloks, some people love Gu, but my current favorite is a more natural Honey Stingers. Also, try a couple of things and don't cheat yourself out of taking these, they make a huge difference!
Marathon Training Tips
15. If you lose weight, or increase in speed get fitted for shoes again! I found I hit in a different spot half way through training (because I got faster!) and I needed different support.
Most people have a shift in what they need the more they train.
16. Walk around after runs. In addition, don't just veg all day, you'll be all the more sore!
17. Announce you're running pretty soon after you decide you will. I was scared thinking I may get injured or not make it, but the support from friends, family, and social media platforms actually meant the world to me!
Furthermore, let people cheer you on and watch your progress, it makes a big difference!
18. Eat beef. This seemed strange to me, but it's something I was told this by an Olympic athlete trainer I met through a work project while I was marathon training. His words "Chicken does nothing for you, eat beef all you can!"
I didn't go crazy here, but I switched to a burger and fries the day before a big run to carb-load. As a result, it worked WAY better for me than pasta with chicken!
First Marathon Training
19. Take multi-vitamins. You won't believe how much iron you pound out of your system, and what a difference magnesium will make! Make sure you're getting enough of these.
20. If you only run on the days you feel good you won't make a big chunk or your runs! Therefore, you should rest if you're truly sick.
But running with a cold has a way of clearing you up, making your body sweat out some toxins, and it actually helps you improve and stay strong.
Race Day/Running Tips:

Done with your marathon training? Hooray for getting through all the time and effort it takes to prepare for your marathon! Now you're ready to face the big day. Here are the best tips I received from elite Boston runners about having a successful marathon race day.
How to Prepare for a Marathon
1. First of all, eat well the day before. Research what you should eat, carb-loading is a thing, but not the only thing. Many do this to lose weight but you may not actually do that since you have to fuel your body right. Know you're doing this as an athlete and eat and treat your body that way.
2. Remind yourself this is 90% mental, you can do that hill, you can run through mile 20, you can finish this thing!
3. Bring two pairs of socks, change to a thicker pair the second half of the race.
4. Walk through the aid stations, it really won't impact your time and you'll need every drop of water/sports drink provided!
5. Don't change-up anything from training, new Gu can ruin your stomach, not having your water can dehydrate you, carrying more stuff can weigh you down, a large breakfast that's out of your norm can be killer.
6. Pour water on your head if you're feeling warm at all, it will cool you off! Be careful not to get your iPod or phone wet though!
7. Take a sodium tablet halfway through as well as the night before. You're going to lose more salt than you can imagine!
8. Take ibuprofen before the race, and take a couple halfway through again. Your muscles and joints will thank you!
Running a Marathon
9. Ignore the jitters and remind yourself you got this! You trained, you prepped, you can walk some parts. Don't let them ruin you mentally!
10. Get sleep the night before- tough to do but really needed!
11. Add a little more Shot Bloks/Gu/etc. to your routine. I usually do a Shot Blok every 3 miles, I did one every 2.5 and it helped a lot!
12. Know it's going to take you longer than you think. In addition, don't beat yourself up when you're behind the time you hoped at the halfway point.
13. File your toenails down to a 45-degree angle and make sure they are short so you don't lose them!
14. Use Glide, it will make a huge difference!
15. Remember sunglasses or a hat, many hours add up fast!
Marathon Race Day Tips
16. Listen to your body, if it tells you to stop and stretch do. If it's tired but still running know you can push it. Be smart about how hard and how fast you go!
17. Go slower than you'd like to the first few miles, you'll need that energy at the end!
18. Schedule a massage for 2 days after, you will thank yourself!
19. Wear sunscreen.
20. Finally, wear your medal as long as you want to- you earned it! I suggested we wear ours out to dinner that night, Jacob (aka The Dreamkiller) told me no way. I've heard many do though, and you seriously should! (P.S. Dreamkiller is our joke whenever the other turns down a crazy idea we may have, and I can't wait for Jacob to read this and laugh!)
Like this marathon training tips post? You may like these too:
Tips For Becoming a Runner
Couple's Massage (Best Post-Marathon Date EVER!)
Running
Get 365 Date Ideas!
We want to help you have the best date nights ever! Grab this FREE printable with 365 date ideas, a date for every day of the year so you never run out of ideas!