One Year Older and Wiser Too
A reflection on the birthday song "One year older and wiser too" with a list of 7 hard-earned lessons I've learned that I can claim have made me wiser too!
It's my birthday! And I love the children's song that sings "One year older and wiser too, Happy Birthday (clap) to you!" That simple line has weighed on me this January. I'm one year older, but am I any wiser?
A Reflective Birthday
Birthdays are a time I reflect on who I am, where I've been, and if I'm living the life I hope to live. Last year I shared 20 things you might not know about me on my birthday. And this year, instead of being a little quirky and fun, I thought I'd focus on that wiser too piece.
I've had a very reflective January. My dad had two back to back grand mal seizures (he's epileptic) early in the month. It took us to the ER for a day and the hospital for half of a week. We worried about the long term impact and prayed for his mind and even his life. I'm pleased to say he's recovering and better every day. Even though there's a road ahead, this month starting out very sober.
Additionally, one of my best friends from high school lost her father the same weekend, for the same reason my dad was hospitalized. Jacob lost his sweet grandpa this week, and we have an upcoming funeral to honor the life of the kindest man in the world. It's been a sobering month reflecting on these good people in my life, full of wisdom.
One Year Older and Wiser Too
So as I strive to collect more, as I get older and hopefully wiser, I wanted to share a few things that I think I've learned in life. These are some of the hard-fought lessons that life has given me. These are the things that make me feel one year older and wiser too.
7 Hard Earned Lessons that Have Made Me Wiser
By Slow and Simple Means Great Things Come to Pass

This is one of my favorite scriptures, but the older I get, the more I learn this wisdom.
At age 30 I completed a huge bucket list item and ran a marathon. I saw a friend at the finish line who said: "I can't believe you JUST did that!" I thought, well, you didn't see the six months of waking up at 5:30 every morning to make this happen. Or the weekends I ran for four hours. It was a lot of little things that brought that great goal to fruition!
The more I live, the more I learn it's everyday little habits that yield the greatest results.

You Can Never Say I Love You Enough

When I was a teenager I had a dream that has impacted my entire life. It was a little silly, but in the dream, I was a married adult and my subconscious husband was crying. He told me he had no idea if I loved him because I never said it. I wasn't the most affectionate teenager, and in my dream, I remarked: "I married you, you should know!"
After, I woke up aa little shook by that response. I realized if I ever lost someone, I'd want them to know my last words to them were "I love you!"
I've spent almost 20 years now trying to end every conversation with "I love you" ever since. Consequently, I make sure to tell my friends I love them. I tell Jacob and my boys about 20 times a day that I love them. I want them to know. And you know what, you can never say it enough. The people in my life know I appreciate them, and my family knows I love them.
And just typing this recommits me to doing even better at expressing love.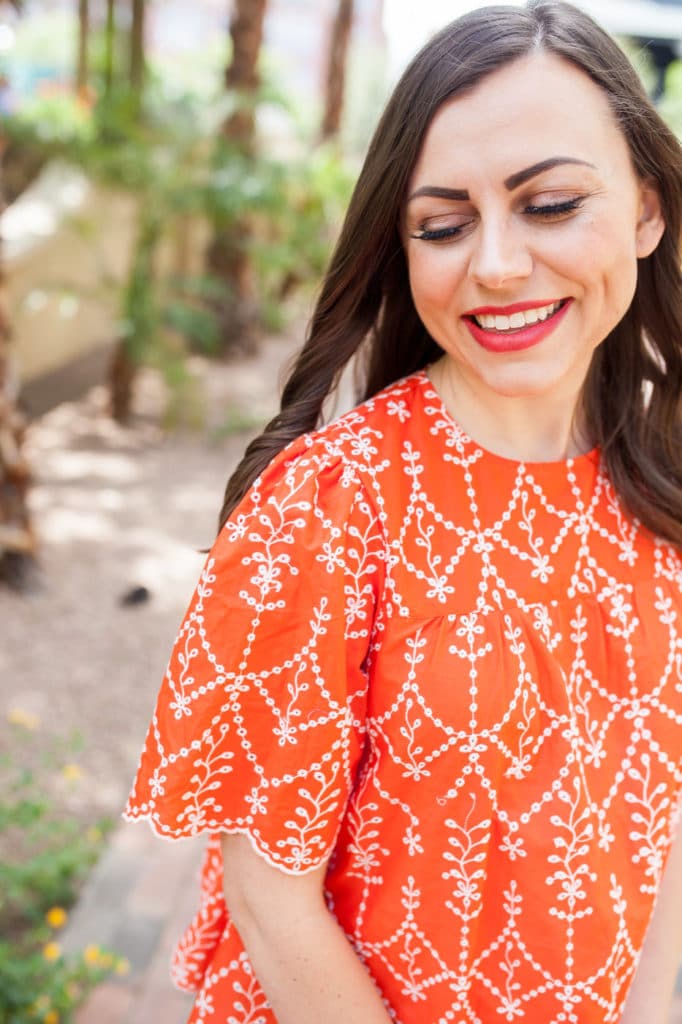 Be Unabashedly You

There's plenty of copycats in this world. There's only one you. The more I lean into who I am and my quirks and passions, the more joy I've found in life.
In an age where everyone is online and caught in a comparison trap, I can't recommend enough to just be you. More joy and happiness and success has come to me because of my strong sense of self-confidence. I'm not perfect, I have a quirky sense-of-humor, and I know a lot of other people are living amazing aspirational lives. And I'm just really grateful for mine, and really grateful to live it.

Everyone is Fighting a Hard Battle

I don't share a lot of the struggles in my life very publically until long after they are over. I've often felt like someone just needed a hug or a call, and about 100% of the time I'm right. You never know what is wearing on someone.
It's so important to be kind. The people who are the hardest to love often need it the most. And a little gentle concern for even a stranger can go such a long way.
I made a good friend after a professional phone call where a vendor had an emotional moment and shared she didn't have a deliverable because she just found out her husband had cheated on her. I offered a moment of vulnerability letting her know I had been in her shoes in a former life. I'm glad she opened up, but how often do people keep it in?
The older I get the more I've learned to always think the best and try to be kind. People are going through more than you know, even if they look like they have it all together.

The Shortcut is To Do The Work

Everything in my life has taken the time and hard work. Every success I've had is because I took the time and did the work. That may mean earning the knowledge by getting the degree. That may mean the friendships I've built and the time it takes. This has definitely been true in my business and my career.
Do the work. Work hard. And the shortcut to success is just to actually do what needs to be done and keep working at it.

Life Will Go On

I've had moments in life when it felt like everything I knew was pulled out from under me. There was a time I lost everything I had aside from my education and testimony. If you're in one of those moments of despair, I just want to send you a digital hug. If 2008 Camille could see 2020 Camille's life she wouldn't believe it!
You'll overcome. You'll make it through. There's so much to live for and look forward too! I promise will go on!

Life Only Gets Better

Everyone who told me to live it up and enjoy the now I listened to. I have zero regrets eating that entire pan of brownie in my teen years with zero health consequences- HA! But I'm so grateful for aging- life only gets better! I feel like Jacob and I have a deeper love every year we are together. My children have added more joy to my life even with the crazy stress they contribute. Friendships change but your people grow deeper and more loyal with time. You will grow in a career or have the courage to change to one you'll like even more. Most people make more money and have more opportunities the older they get. And I'd even add, you may get one year older and wiser too.
So a little different post today. But hey, it's my birthday, so please humor me! Life is a beautiful ride, and I'm sure glad that I've the experiences I've had to gain a little more perspective and wisdom. Here's hoping in a few years I have gained even more insight and can confidently say I'm older and wiser too!
Like this one year older and wiser too post? You may like these posts too:
20 Things You Might Not Know About Me on My Birthday
Parenting Goals: My Simple Mom Resolution That Changed My Relationship With My Kids
Children Are Not a Distraction From More Important Work: My Mom Realization
Get 365 Date Ideas!
We want to help you have the best date nights ever! Grab this FREE printable with 365 date ideas, a date for every day of the year so you never run out of ideas!