Castles and Coasters Family Date

Castles and Coasters Phoenix
Date Info:
Castles and Coasters Phoenix, AZ
Castles and Coasters Price: $31-$41 per ticket (depending on type of ticket). You can also call ahead for group rates and any special promos.
Location: Castles and Coasters Phoenix (near the West Valley) but any local amusement park would work for this type of date night
Website
: Details and tickets are on their
Website
I have to start this one keeping it real and letting you know that we strive to showcase the best date ideas and family date ideas with the best pictures. But every now and then a camera battery or memory card is forgotten, and cell phone pics have to suffice. This was one of those times. But hopefully, you'll still be able to see why we'd add Castles and Coasters to your next family date plans!
What is Castles and Coasters Arizona?
Castles and Coasters Arizona is an amusement park full of roller coasters, thrill rides, rides for kids, miniature golf, and an arcade.
The arcade is inside and air-conditioned, but rest is outside. It's a stationary amusement park, so it's open year-round and always ready for fun!
Is Castles and Coasters Appropriate for Kids?
We found a few rides that most kids can go on. There is also a handful you need to be 38″ or 40″ and taller to ride. So yes, there's something for everyone, but here is my thoughts on if your kids will love it.
The rides for kids are GREAT for little kids. They weren't crowded, there's a nice shaded area for adults, and they lines move fast.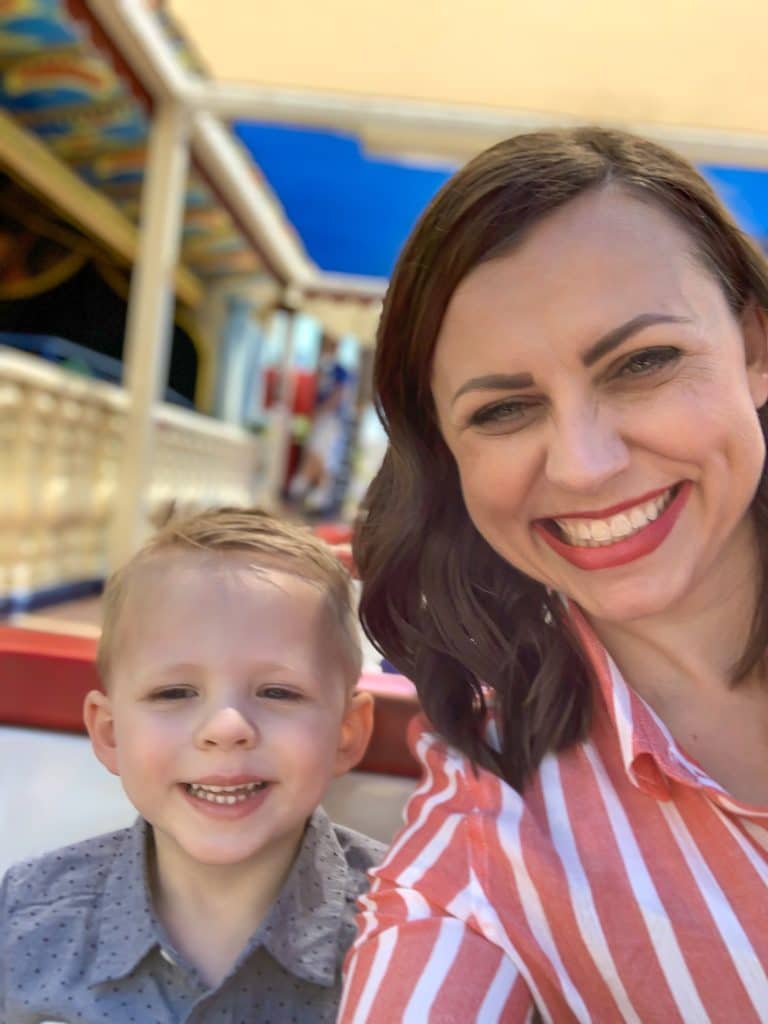 If you have a taller kid (40″ or taller) who really love rides, they will love this! If they are a little afraid of rides you may want to wait a few years.
My 3.5-year-old loves every roller coaster and ride he can go on at Disneyland, but several of these were too scary. We got him on the roller coaster twice, and then he proclaimed it was a little scary for him. I think in another year he'll appreciate the log ride and roller coaster more. But this year it was a bit much for him.

Are the Castles and Coasters Rides fun for Adults?
Absolutely! There are plenty of great rides i think we'd really enjoy this as a date night for two! The main roller coaster is surprisingly big. There are thrill rides everywhere.
The arcade area is also a fun spot with plenty of games to keep you busy for an entire night. The Castles and Coasters mini golf course if also a fun date all by itself. Plus, you can pay $11 per ticket if you opt ot only do the arcade.
While we're totally coaster-heads and Disneyland fans through and through, I'd say Castles and Coasters is still a fun experience for the price. If you're in Phoenix or visiting and want something fun to do, Castles and Coasters is an affordable amusement park option to look into!
Like this Castles and Coasters for Families Post? You May Like These Posts Too:
Enchanted Island At Encanto Park Family Date
Watching Airplanes Family Date
25 Beat-the-Heat Summer Activities to Do With Your Kids
Get 365 Date Ideas!
We want to help you have the best date nights ever! Grab this FREE printable with 365 date ideas, a date for every day of the year so you never run out of ideas!