My Trick for Getting Designer Jeans at Target Prices


I am so excited to share my trick for getting designer jeans at Target prices and where I do it, but first, let me tell you the back story and why this is so cool!
I am at that point in life where I shop a lot more strategically than I used to. I want pieces that last a long time, work well with my body type, accent the good and help conceal the bad. I'll throw in the fun/cheap/trendy items now and then, but there are certain pieces of my wardrobe that need to work overtime and prove they are worth their high salary.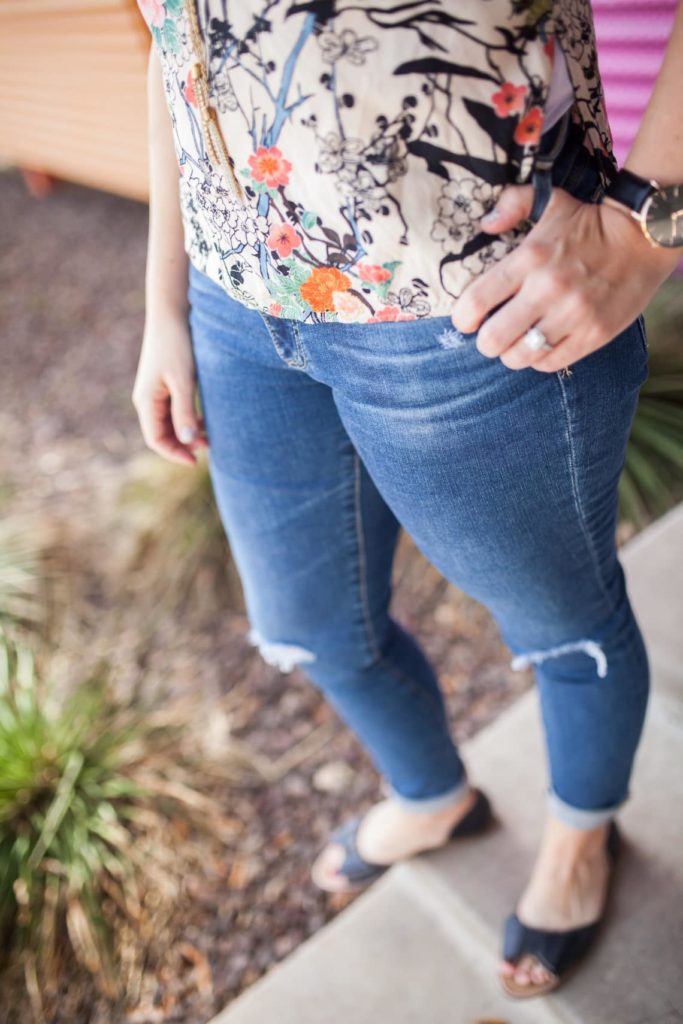 After having a baby and feeling like jeans would never be a happy part of my life again with my postpartum body woes and fluctuating sizes, the Jiminy Cricket of fashion, Reachel of Cardigan Empire herself offered to take a friend shopping and teach me the ways of how to find the right pair of jeans, and which work best for moms.
She went to Nordstrom Rack with me and watched me try on over 20 pairs of jeans explaining the features I'd want and the price points of each. Namely higher quality fabric (which means a higher price-tag), mid-rise to high-rise to help with the postpartum pooch, darker wash to work with my curves, and pocket placement to hit my full rear just right.
If you need to feel good in jeans or anything clothing item for that matter, I'd so recommend hiring Reachel for a quick consult. She does it digitally too, so you're still in luck if you're not in Phoenix.
After splurging on a pair of AG denim during a large sale, I've been a convert! I decided owning one perfect pair was better than owning five meh pairs of jeans. I feel amazing, I look amazing, and I can't believe I didn't make the plunge sooner. Fast-forward to my birthday last month when I realized I I've lost enough weight that I'm 2-3 sizes smaller and my magic jeans are falling off of me. I went back to Nordstrom Rack and got lucky enough to find a pair of Paige jeans that are working like charm for half their original price tag.
This was my strategy for jean shopping- until now! I've found a secret weapon that's too good not to share! I decided to try ThredUp, the best cultivated online thrift store.
Well, my honest thoughts are all going to surround jeans because that's what I fell in love with most! I decided to try to find a complete outfit for under $100, and guess what friends, I found almost three including several high-end jeans I'd wait for sales to afford, and I found them at Target prices! I mean we're talking $14-$30 a pair depending on brand, cut, size, etc. But I was thrilled! And if you're thinking, that's great but I'd never buy something second-hand with no clue how it fits me. You're also in luck, they have a 100% guarantee and anything can be returned for not fitting. There's promos for free shipping so I'd say grab all 3-5 pairs you're looking at and plan on returning the ones that don't fit. It's such a win-win situation. And you can take $40 off your first order if you sign up through my referral code, which makes things an even better deal! I'm loving this whole outfit!
There's more than jeans, you can find any clothing item for the whole family, a huge maternity section, there are toys, there's shoes, and baby gear too! All in great condition and they ship super fast! I'm pretty in love and may have just placed another order for a bunch of jeans, goodbye all my saggy pairs and cheap ones that don't look amazing, thanks to ThredUp I'm swapping up for the great fitting, high-end, and designer jeans! And you guys, you should too!
*I receive referral credit with you sign up through my referral link. It doesn't cost you anything else, it just gives me a few dollars towards my next pair of jeans!
Pictures by: Chrissy Blake
Get 365 Date Ideas!
We want to help you have the best date nights ever! Grab this FREE printable with 365 date ideas, a date for every day of the year so you never run out of ideas!