In the Heights Date Night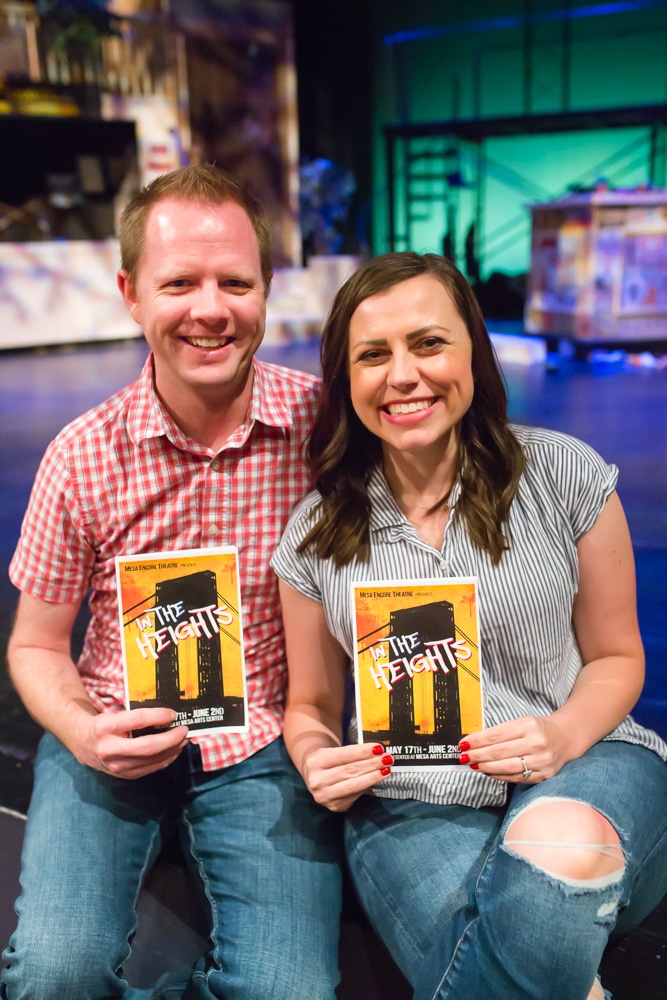 Date Info:
In the Heights Musical
Castles and Coasters Price: $28-$34 per ticket (depending on the type of ticket). You can also call ahead for group rates and any special promos.
Location: Mesa Arts Centre in Mesa, AZ
Website
: Details and tickets are on their
Website
We love gifting each other A Year of Dates Gift every Christmas, or at least some version of it with several dates to look forward to. When Jacob gave me In the Heights tickets I was just thrilled!
For those who don't know, In the Heights was created by a guy I think everyone now knows. Lin Manual Miranda who wrote
Hamilton the Musical
and co-wrote music for Disney's Moana is the genius behind this play. And truly, it is genius!
In the Heights Plot Summary
In the Heights Musical is the story of a barrio (neighborhood) in New York full of everyday people with individual hopes and dreams. The story is told musically like Hamilton; through a rap and Broadway musical mix. The Washington Heights neighborhood explores what family and home mean, through a Latin-American lens.
Each character has their own story with hopes and dreams. Each is a product of their neighborhood and a backstory that has left them living the life the may embrace or may feel stuck in. But most of all, it make everyday people feel like these protagonists you care about and want to see succeed.
As someone who emphasized in multicultural literature in my undergraduate degree, I just couldn't get enough of the stories and the well-written plot and characters. The music is fun, entertaining, and hilarious. And best of all, you'll see a cast of primarily Lantinx origin. It truly is a refreshing change in theater production!
How close is it to Hamilton? Well, there's a completely different plot and set of characters. However, musically you may smile hearing a few riffs that are the same. It's very much the fast-paced, smart lyrics and music we all known Lin-Manual Miranda for. And when you consider he wrote a good chunk of it as a sophomore in college, it's even more impressive!
In the Height Play At a Local Theatre
Our local theatres are pretty great in the Phoenix area, due to a large population, but I was still a little worried about what we'd think. I have to say the Mesa Encore Theatre did such an amazing job!
We even turned to the couple sitting next to us (who kindly took our pictures!) to discuss the play. The wife had seen the original on Broadway. She said for a smaller production in a local theater she was equally impressed. That made me feel even better as we pretend to be theater critics for date nights.
We've seen quite a few plays, and I just couldn't believe how much we enjoyed this one! It's perfect for those who aren't necessarily into the theater, and for anyone who appreciates clever stories with a lot of heart.
Like this In the Heights Date Night? You May Like These Posts Too:
When Your Husband Gets the Greatest Tickets in the World: Hamilton Chicago
The Play That Goes Wrong
Casual Date Outfits: Hack for Perfect Night Out Looks
Get 365 Date Ideas!
We want to help you have the best date nights ever! Grab this FREE printable with 365 date ideas, a date for every day of the year so you never run out of ideas!