5 Products That Improve Quality of Life
I had no idea when any of these items were purchased that they'd literally improve my life and help me feel healthier, more productive, and happier. These 5 products improve quality of life, and we highly recommend all of them!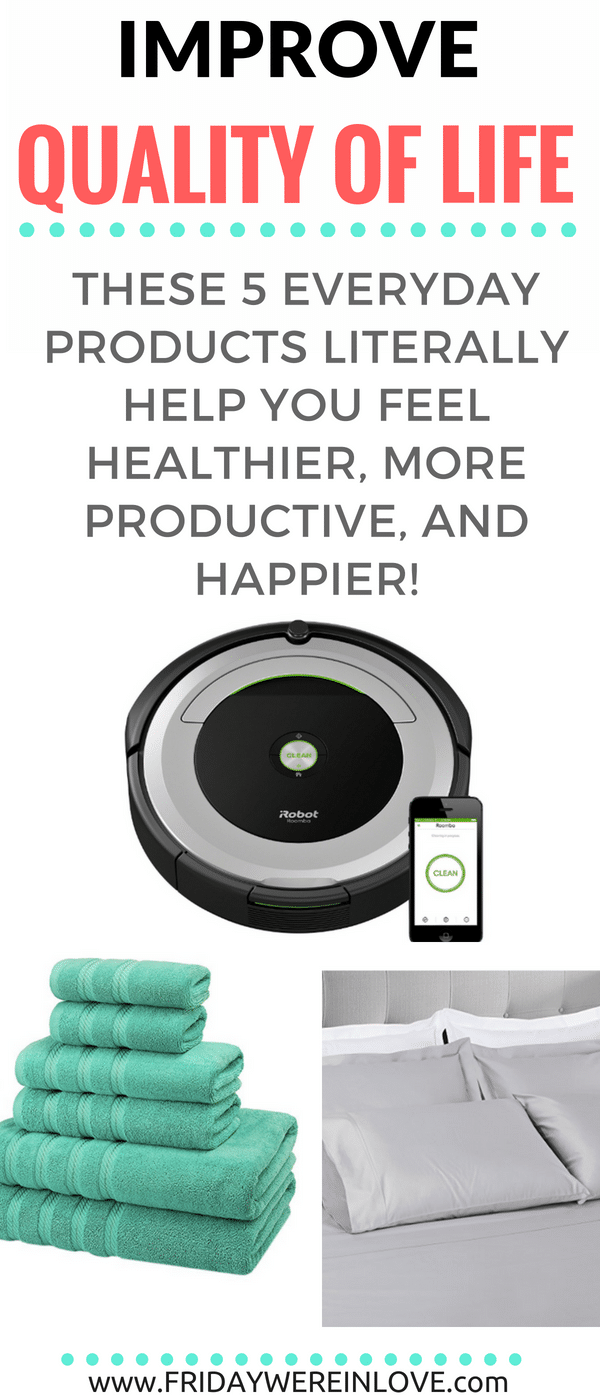 How to Improve Quality of Life with a Few Simple Purchases
Brace yourself for the most obvious post about living in the United States and having a high-quality privileged life post. I know, we're lucky, we have an amazing standard of living and quality of life. In Arizona, we're also lucky to have a geographical location that's always working to improve quality life with more affordable living situations.
Jacob and I both grew up in extremely frugal homes with large families, so we've definitely learned to save and spend wisely. And although we're not that big on owning stuff, there's been a few things we've invested in over the years that have been so worth it! These items we comment daily how they improve quality of life for us.
I wanted to share how to improve quality of life with only a few products, and what they've done for us. If you're looking to make your next wish list, I'd highly recommend investing in the following items because they are literally life changing!
*This post contains affiliate links
5 Products That Have Improved Quality of Life for Us

Roomba
We toyed with getting a Roomba robot vacuum with wedding gift cards but ultimately decided that a good traditional vacuum cleaner would better serve us. Ultimately, we decided on a Dyson and for the record, that's close to the top of the list. We still love it seven years later! But the Roomba happened on a Prime Days event sale and was planned for a Christmas present. When Jacob spent a few months working abroad and I was overwhelmed as a toddler mom. He decided to open it up months early and try it out. My life has never been the same! I wake up every morning to a perfectly vacuumed living room and kitchen. What toddler crumbs? I feel so much more on top of my life. And with the time I used to vacuum or sweep daily, I now dust and declutter. I mentally feel better waking up to a clean house. I feel like I can tackle a lot more from this boost, and I often do! Our whole lives are cleaner and more productive from this one purchase!

Best Purchases We've Made
So there you have it, out of all the products we've purchased, these are the ones we talk about the most. I'm sure we'll have a part II post coming with more of our favorites once we figure out the perfect pillow and invest in a few more high-quality items as we continue into adulthood.
But these five products we swear by, and they can all claim to improve quality of life, based on our experiences!
Like this tips and tricks post? You may like these too:
5 Easy Ways To Have More Quality Time With Your Spouse
7 Excellent, Affordable Alternatives to Lipsense Honest Review 9 Months Later
Strengthening Marriage Through Times of Loss and Grief
Get 365 Date Ideas!
We want to help you have the best date nights ever! Grab this FREE printable with 365 date ideas, a date for every day of the year so you never run out of ideas!