Life Without Kids: 15 Dates to Do Before You Become Parents
We love being parents, but life without kids was a pretty magical time too! For anyone planning to have kids, or who just has a weekend to enjoy life without kids, here are 15 date ideas to do before you become parents: or become parents again!

Life Without Kids
We spent years with infertility doctors hoping to become parents. But that doesn't mean we didn't also make the most of life without kids. With each failed infertility treatment, we decided to do something really fun that would be really difficult to do if we were parents. I'm grateful for that time, it was definitely therapeutic.
To anyone knowing kids are likely in their future, but they're in that magical time when it's just the two of you as a couple living life without kids, I highly encourage you to make the most of it!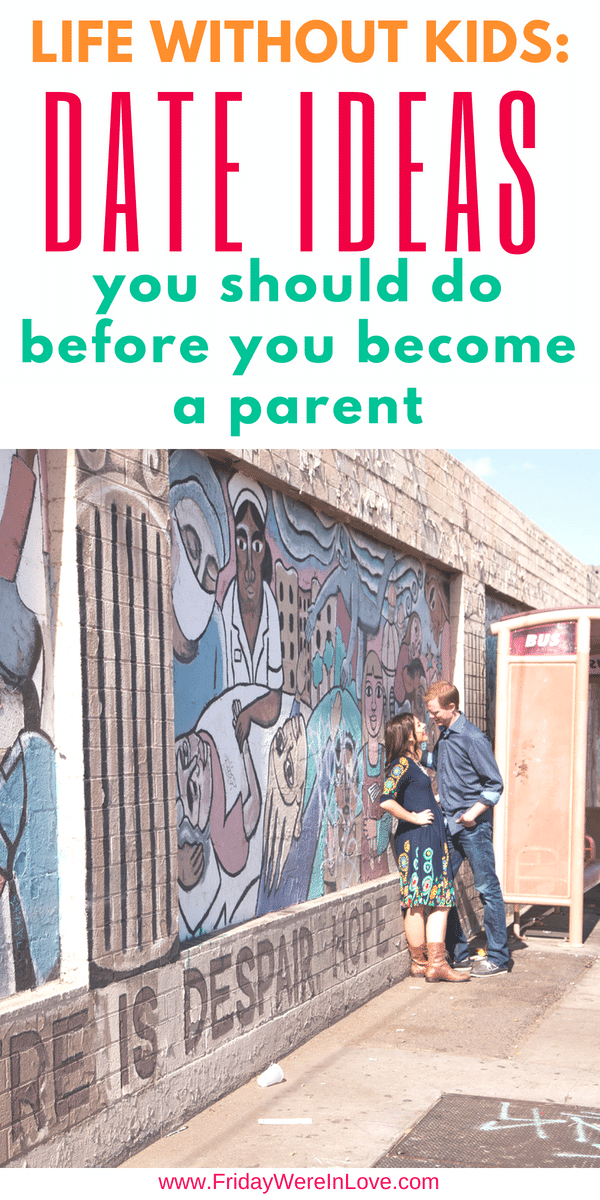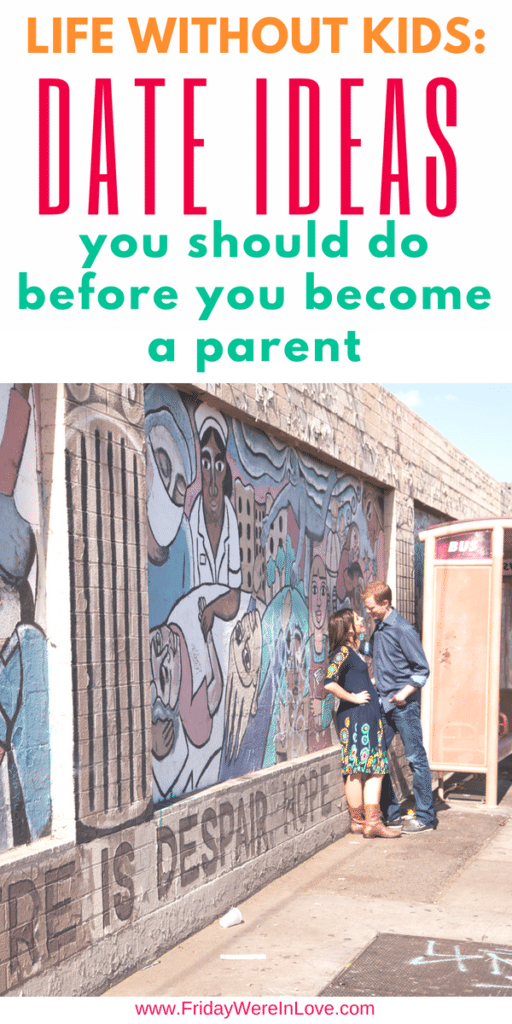 We have so many dates that were so much easier living life without kids. I wanted to share 20 dates to do before you become parents that you should live up and make the most of!
15 Dates to Do Before You Become Parents
Take a spontaneous day trip for the weekend. Is there a city in your state you've always wanted to see? Would a day trip be possible? It's a lot tougher to pack baby stuff or accommodate small children on these outings. If the two of you can up and drive and explore together, do it.
Go to the theater. It can be hard to justify the cost of a Broadway musical and a babysitter. It can also be a very long expensive babysitter night driving into a venue, having dinner, and watching a multiple hour play. If you can fit in a few of these before babies, do it now!
Vist an Amusement Park. It's pretty magical to just ride rides together without them being too scary or having to ride swap. Enjoy some roller coaster time. Go on every thrill ride you can. Bask in an adrenaline rush together. Things to Do Together Before You Have Children
Dress up and head to a fancy non-kid friendly restaurant. We love doing this one as parents too, but boy was it easy to put on a fancy dress without fear prior to our life as parents.
Find me in the club. It doesn't have to be a club but hit up some party/dance floor before little ones arrive. You can sleep in the next day and not have a toddler staring you down the second the sun rises.
See your favorite band in concert. Another date that typically takes early in the evening until well after midnight that can really rack up sitter costs. Not to mention this is another activity you'll likely want to sleep in the following day after doing. It's so much cheaper and easier to pull this one off when you're in the life without kids phase.


Date Night Ideas Before Having Kids

Lazy breakfast in bed morning. We don't know what sleeping in is anymore. We also don't know what it's like to get to lounge around and be lazy at home without a little person. It's hard to just focus on time together while we're at home when there are so many chores to do. Make a romantic morning together happen with nothing to do before you welcome little people to your life.
Hit up a double feature. These are such a great deal and a fun way to see two movies for the price of one. They also take a lot of time and there's a good chance you'll sleep through one if you're a parent.
Go camping. This is far more fun when you aren't trying to keep a little person from gravitating towards the fire. You also likely get to eat your own s'mores. It's a great activity for two that's quite a bit easier before you have kids.
Fit in a day hike. You'll move so much faster, further, and cover more ground with two. Plus it's romantic to hold hands and see nature together. It's a little more of a family workout with children.
Whitewater rafting. I'd classify this as something fun to do with older kids, but not really feasible with younger. You may want to enjoy this adventure for two alone before you have to pay for or worry about either.
Skydiving. The moment we became parents we talked a lot less about this item. What if something happens to us? We started feeling way more risk-averse and slightly less adventurous. That may change later in life. But for right now, we're a little sad we didn't go skydiving as newlyweds.


Making the Most of Life Without Kids

Jump Center. One day her pelvic floor may be a different experience with frequent bathroom trips, making trampoline jumping hard. I know its TMI, but wetting your pants may not feel like romance on a date. Jump out the endorphins and fun now!
Go anywhere for the weekend. Take an entire weekend away. It can be a staycation! But a babysitter overnight for a fun trip adds up. Young kids are really hard to leave. And even if they all do great, you miss those little people like crazy. Enjoy a long weekend anywhere away with marathon date experiences while you can.
Go to the spa together. You may need this after kids, it's always a good idea. But I've found we're both a lot more tired as parents with a baby and a toddler. This is something at least one of us would fall asleep doing. Those calm, quiet dates are perfect prior to kids!
Like these date ideas? You may like these date night ideas list too:
Fun Things to Do While Pregnant: Date Ideas While You're Expecting!
Simple Date Ideas with Lots of Last Minute Date Ideas!
Get 365 Date Ideas!
We want to help you have the best date nights ever! Grab this FREE printable with 365 date ideas, a date for every day of the year so you never run out of ideas!