New Year's Eve Family Date + Prepping For the New Year
Date Info:
New Year's Even Family Dinner and Date Planning
Price: Dinner was about $30 per adult at Culinary Dropout, date planning was totally free!
Location: The Yard for dinner, At-home for planning
Parenting is a funny thing that sometimes throws you for a loop. We thought we'd have a pretty exciting and romantic New Year's Eve date, but when our baby came down with his second round of croup in two weeks and was waking up wheezing at night, we knew we'd better not leave him with a sitter or let him be around other small children.
This killed our babysitter plans and our ability to go out ourselves. Ultimately, it was one of those moments of thinking, "Oh man, we have to cancel our exciting night to do the responsible thing and be there for our little guy"
Love him as I do, I was worried a New Year's Eve Family date with a sick baby wasn't going to make for a great night…at least at first.
Good thing we're flexible and always have a billion things we want to do and places we want to be!
New Year's Eve Family Date
We decided to shift gears and go out for a nice family dinner early. We love Culinary Dropout and it's one of the best group date spots in the valley! Their New Year's Eve menu was spot on.
If you ever go, ordering a pretzel fondue is a must no matter what your group size is. It's so good, and I love that it's a big hit with children too! I've watched a few friends order it for their children at parties and group dates and it's a hit with everyone!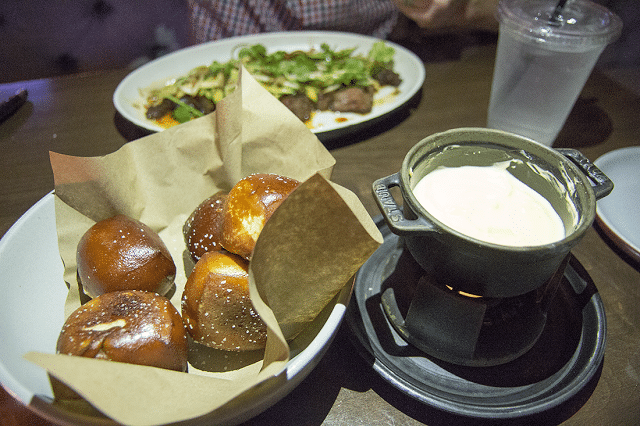 We headed home early to get our baby his medicine. And also, to send him to bed and away from the crowds. But first, we made sure to make a stop by our local firework stand to grab a few sparklers for midnight. We love them for our favorite NYE picture.
When we heard Jacob's brother was in town with his cute girlfriend, and they were going to stop by for a quick visit, we decided sparklers were a must.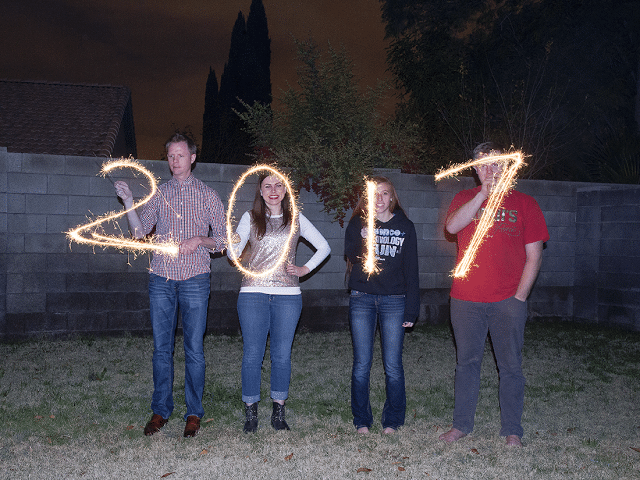 Making the Most of New Year's Eve As Parents
Our evening in was actually a refreshing change from past years. We opened up our calendars and spend the night planning the new year. This meant goals, but this also meant fun too! We gave each other some dates for Christmas. Those went on our shared date night calendar immediately. Also, we talked about repeat dates we just can't miss and scheduled those dates.
We talked about our big international trip of 2017 and a few countries we're eying as possibilities, with our calendar blocked out for some quality travel time. Essentially the things in life we intend to do but may not get to without some planning and consideration were taken care of for New Year's Eve.
New Year's Eve Celebrations At Home
There was still watching the ball drop on TV, sparkling cider, and an excellent midnight kiss. It was a really fun night! I needed the reminder that it doesn't always have to be picture perfect to be an amazing date!
Perhaps the best part of this date was spending it together and reminding ourselves of all the wonderful things we have to look forward to in 2017, and that we're going to make them happen!
But also, I'd say the downpour and subsequent smoke while playing with fireworks and shutter speeds is a close second!
Be Sure to Check Out These New Year's Eve Posts too:
A New Year's Eve Mocktail Party- How to Host the Perfect New Year's Eve Party
New Year's Resolutions 2019: A Different Approach
New Year's Resolutions for Kids
Get 365 Date Ideas!
We want to help you have the best date nights ever! Grab this FREE printable with 365 date ideas, a date for every day of the year so you never run out of ideas!