Newsies Musical: what to expect when you go see the Broadway version of Newsies the Musical and how it compares to the beloved Disney Newsies movie.
You know it's a good date when you can't stop singing, "Now is the time to seize the day!"
Gifting Newsies Musical Tickets
We like to give each other dates for Christmas! They are perfect for a
year of dates gift
! Sometimes that means a more expensive set of tickets to a concert, sporting event, or play.
Last Christmas I gifted Jacob tickets to see one of our favorite musicals- Newsies! At the time I was very pregnant, I had no idea what our budget would look like eight months into having a child (I thought we may be doing free dates only), and I knew it may be a stretch to go on a date for that long away from a nursing baby. Luckily, I decided then and there no matter where we were in life, this date would be good for us.
This was our first date night after having a baby and we were away for longer than four hours. Excited was an understatement! I was downright giddy for the special time like the good-old-days of dating when we could have an entire evening.
Dinner Before the Play
We went out for a fancy meal together before the play.
I'd also like to mention I purposefully found the item in my closet that was the least nursing-friendly item I own and I intentionally wore it. It was fantastic!
Disney Newsies
And then we headed out to fulfill childhood dreams of seeing the Broadway version of Disney Newsies. I actually didn't see the movie until a year ago, but still grew up listening to the songs. I guess I felt like I owed it to my former teen self, I cheated her out of so many teen heart-throbs that she never knew existed. She deserved to go see it live and wonder how much more exciting Batman with Christian Bale may have seemed when it was first announced. My guess? Pretty excited.
How close is the Newsies Musical to the Disney Newsies movie?
It was almost identical! Obviously, different actors will add their own spin to each play. But we enjoyed the same music, the same songs, and the same plot. Every moment of the popular movie was recreated on the stage. I guess when it's really not broken, you don't fix it!
Newsies Musical Cast
The cast was phenomenal! And I'm just so grateful that pregnant Camille had the foresight to think so far ahead and plan this date night! She knew that an upscale date that would push how long we could stay out was just the thing we would need after eight months of parenthood!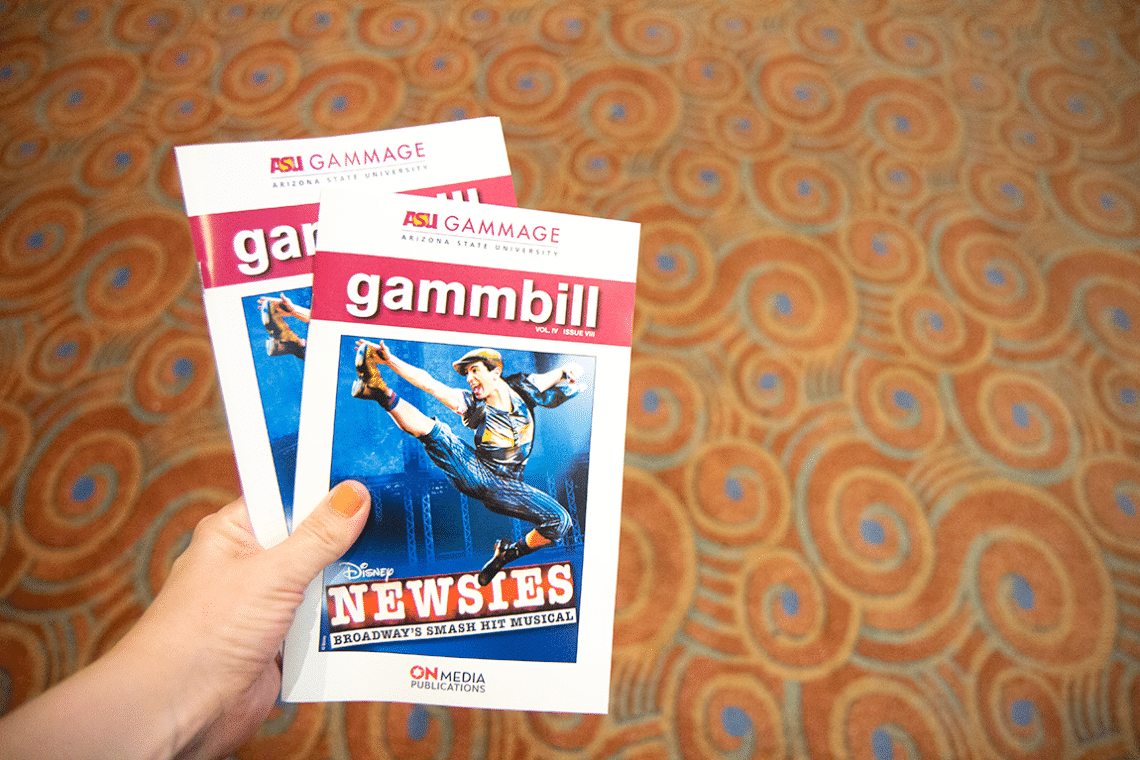 Like this date idea? You may like these posts too:
Gifting Experiences Instead of Just Things: Experience Gifts Ideas They Will Love!
Matilda the Musical: Year of Dates February
Get 365 Date Ideas!
We want to help you have the best date nights ever! Grab this FREE printable with 365 date ideas, a date for every day of the year so you never run out of ideas!