Downtown Date Night in Downtown Gilbert AZ

Downtown Date Night
Date Idea: Downtown Date Night Walk
Location: Any busy downtown area is perfect for this date night. We're in Downtown Gilbert AZ
Price: Free! You may have the cost of parking or want to add dinner or dessert to the mix. But the actual date is totally free.
Time: 2-4 hours.
Tip: 6:30-10:30 are prime people watching and entertainment hours. I'd plan this date at night to really enjoy the nightlife. If you're going to do a lot of walking opt for comfy shoes.
Free Downtown Date Night
This is a date we do frequently and have wanted to share often. It's also one that's really hard to photograph on your own due to safety and crowds. Since we do most of our own date night photography, it's just never been one we've captured or shared outside of date ideas lists.
So, when the incredibly talented Andrew Millet reached out asking if we'd like to collaborate with him I was as giddy as could be! He asked if he could follow us around on a date and I smiled knowing just what I hoped he'd capture. I couldn't be more thrilled with his amazing pictures! If you host events, love night shots, or do corporate photography, hit Andrew up because he's seriously amazing!

Free Downtown Date Idea
I grew up in a small city that turned into a fairly large city by the time I graduated high school. I always loved going into the biggest city in the state and watching the hustle and bustle of everyone dressed up and on the go. I've learned that people watching can be the best date, and it's one that's totally free.
When you turn it into a downtown date night, it becomes so much more magical and romantic. City lights, people dressed to the nines, and tons of couples out to dinner makes for a romantic evening you can dress up and enjoy (or stay casual and enjoy). Plus, it's totally free!
We do this downtown date night whenever we're feeling broke, we've used the date night budget, or other plans fall through. I love to still dress up a little and look like we fit in with the crowd going to a nice dinner or play. It makes me feel like a had a fancy night out and we didn't spend a dime.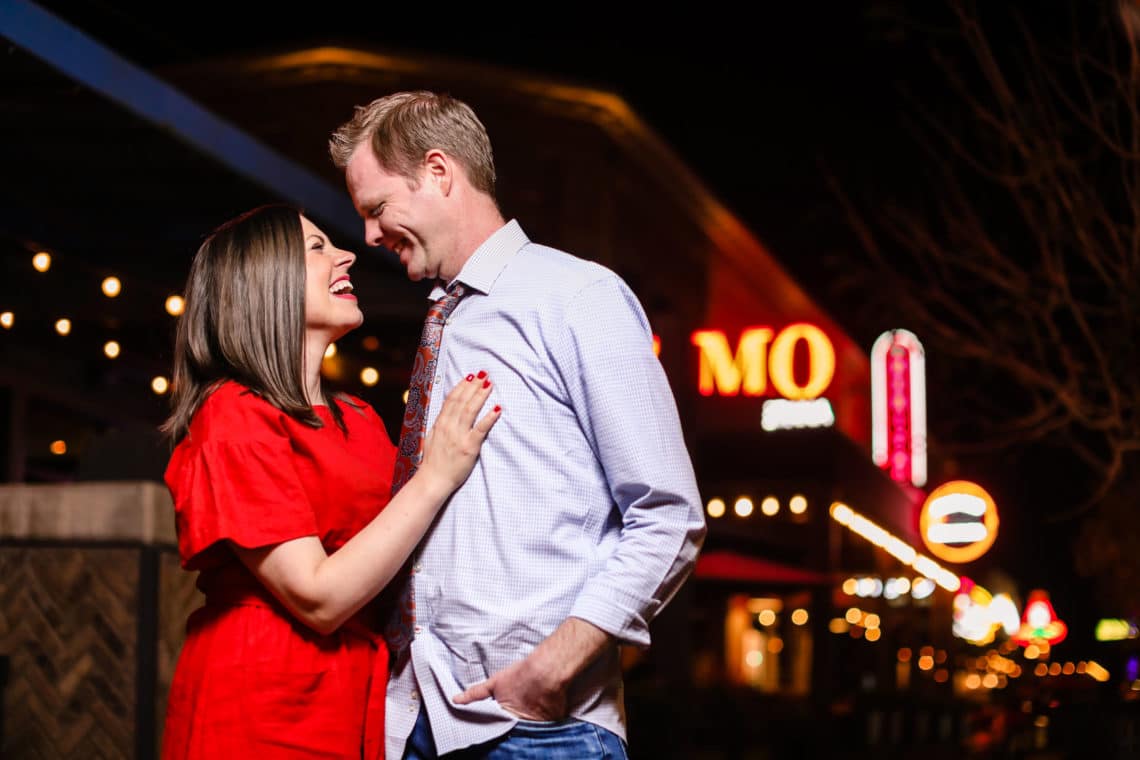 Gilbert AZ Downtown Area
There are so many fun downtown areas in the Phoenix metro. Almost every city in the East Valley and major Phoenix areas have spent a large amount of effort into transforming their downtown areas into these amazing date locations. For this date, we headed to Downtown Gilbert AZ to enjoy an area that is just booming and is constantly growing. It's one of the best dinner date night areas in Arizona.
But it also makes a downtown date night so doable! All it takes it dressing up for a night out and joining the bustle of people to walk the area and people watch. You can hold hands, sit on benches, get food, or walk around enjoying everything going on around you.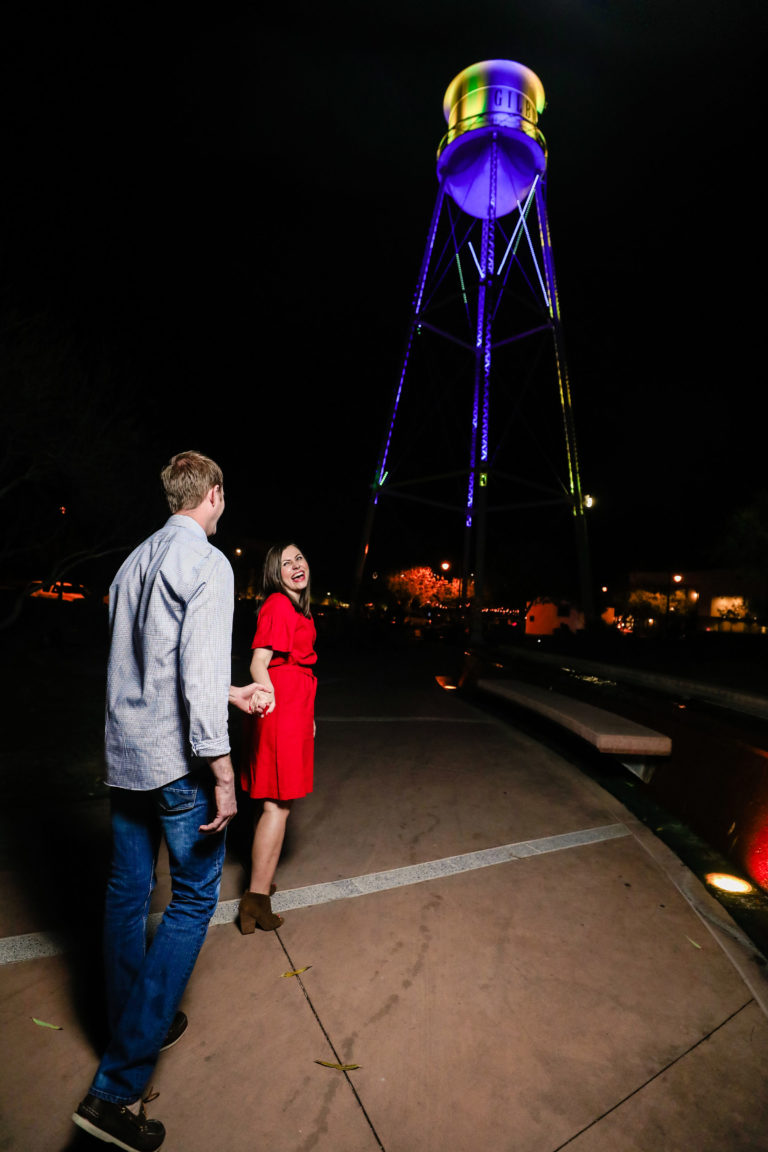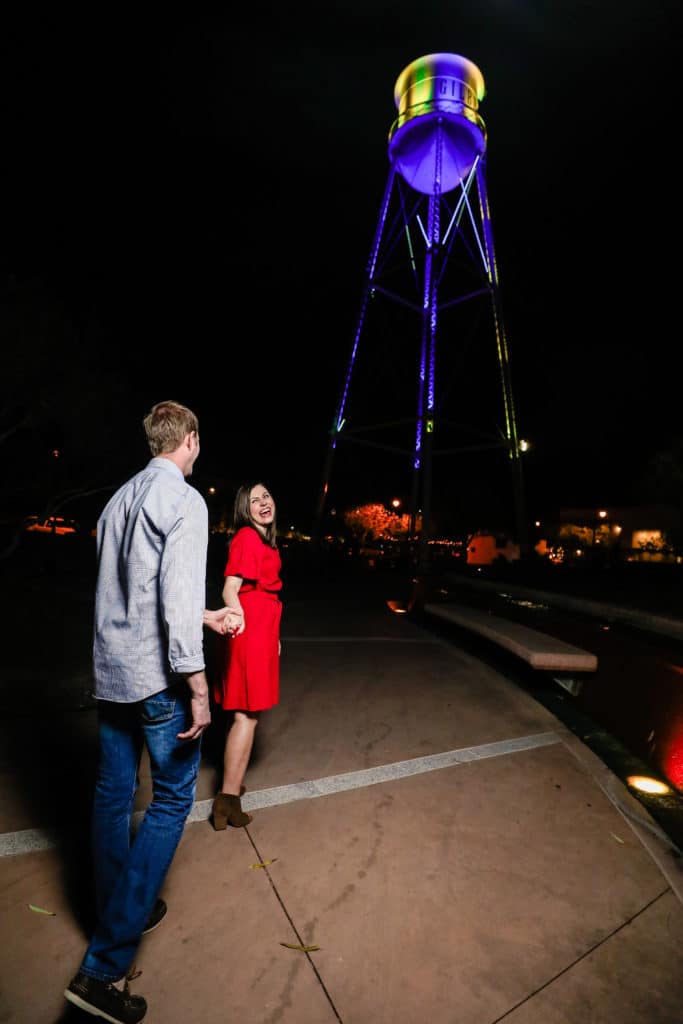 Downtown Gilbert AZ: What to Expect
Here are a few fun things you can expect if you go people watching and evening exploring in Downtown Gilbert AZ:
Amazing restaurants. I have a whole other post about this coming soon, so stay tuned! But honestly, some of the best places to eat in all of Phoenix all on one strip. You can go fancier, more casual, get dessert, or get amazing drinks.
People watching to your heart's content! I keep thinking with every new restaurant the crowds will disperse better, but the only see to grow. It's kind of incredible! But people watching is at its finest and you can have you heart warmed how many people are out having a great time and enjoying a date night. It always makes me believe in love all over again. 
A splash pad that turns into romantic fountains at night. We love chasing each other through trying not to get wet. There's a ton of seating in this area (next to the water tower) for a romantic setting too.
One of our favorite local playhouses is in Downtown Gilbert AZ. Not only do we love Hale Center Theater, but we also love watching people exit plays. It's so entertaining and so fun to see so many families and couples smiling.
Glowing lights that rival off-the-strip Las Vegas. With so many restaurants and signs, it's a really fun lit-up area. 
A strip you can walk up and down if you're more into walking than strolling. Consequently, you'll enjoy a solid walk in both directions while you look at restaurants, shops, and people.
Romantic spots to sit and steal a kiss. There are benches, grassy areas, tables, and fence posts galore to stop and people watch. But more importantly, you can make out if you really want your date to go in that direction. Downtown Gilbert is a giver like that. 


Downtown Gilbert Perks

Free parking! There's a parking garage, there are parking lots, and there are a few spots next to most restaurants. All currently free.
Modern and old west coexistance. I love that there are so many modern places to visit. Also, there is plenty of old west feel with some classic restaurants, Whisky Row, the water tower. etc. It's a great mix of the history and growth of the area.

It's a place we can just hold hands and explore. If we go to dinner, it's always fun. If there's ice cream, fantastic. But if we decide to just dress up a bit and walk around for a downtown date night, we always have just as much fun.
Photos by: Andrew Millet
Like this Arizona Date Idea? You may like these too:
Downtown Gilbert Food Truck Friday
Sweet Tooth Fairy Opens in Gilbert, AZ!
Get 365 Date Ideas!
We want to help you have the best date nights ever! Grab this FREE printable with 365 date ideas, a date for every day of the year so you never run out of ideas!