Looking for fun Halloween activities for preschoolers and toddlers? Create a Halloween sensory bin! Here's how!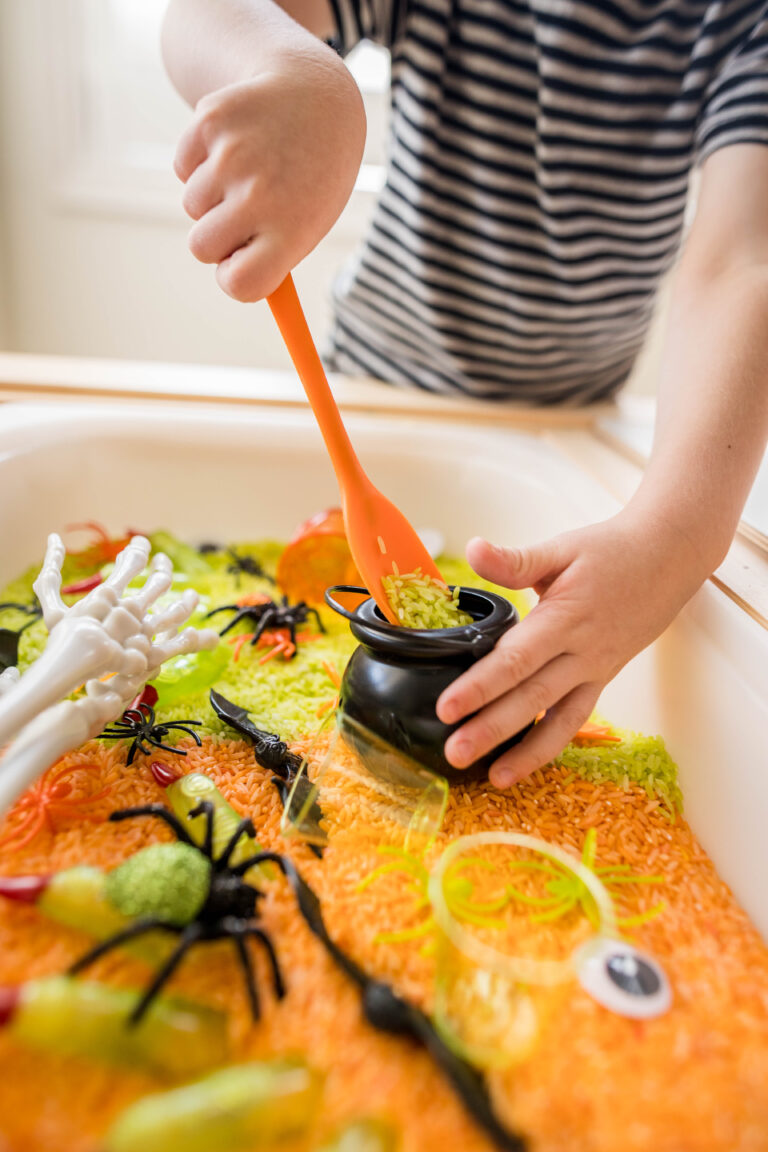 Admittedly, I was reluctant to jump on the sensory bin movement. It seems most toddler and preschooler parents are diving into this movement! Every single parent I know who decided to start creating sensory bins has raved about it. It has evolved to include a lot of themes and creative play. As someone who loves Halloween, I knew it was time to join and create a Halloween sensory bin.
What is a sensory bin?
A sensory bin (also known as a sensory tray) is a dedicated space for preschooler and toddler play. It typically includes a filler they can move around and explore, and several items to play with, work on, and experiment with. A geat sensory bin usually includes: filler, tools, and items to play with.
What Age Group Enjoys Sensory Bins?
This is the beauty of them, I've seen adults stop to calmly move around sensory play items! They are ideal for toddlers with items that are taste-safe and not choke-able. Preschoolers adore them and really get into the play. But my kindergartner can't resist some time to play with them too! They're just great hands-on learning through play item for younger kids of all ages!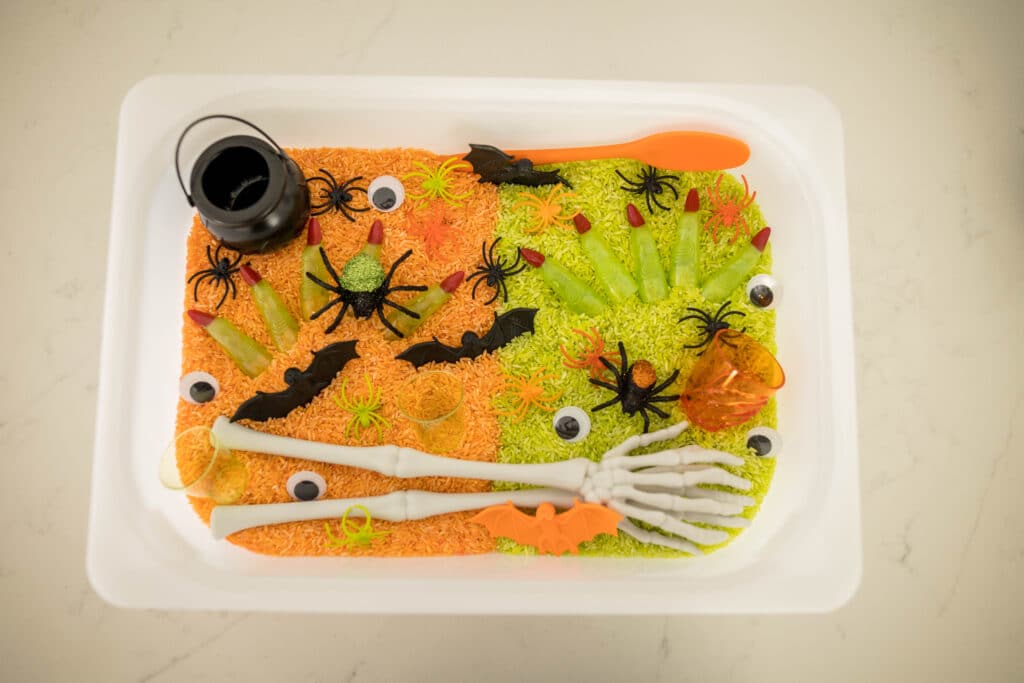 Halloween Sensory Bin Ideas
Filler:
We went with dyed rice. This used to intimidate me greatly. Then I realized it's just rice with a few drops of food coloring and hand sanitized mixed in a gallon freezer bag. It dries in about an hour (at least in warm AZ). From there it's a cheap, and easy filler. Try Halloween colors like orange, black, green, and purple.
Other filler ideas:
Black Beans
Shredded paper
Kinetic sand
Water beads
Water with food coloring (for outside play)
Tools:
My mom picked up these skeleton salad tongs years ago, and they have been our favorite thing!
We also added some small serving tongs, a small glass for scooping, and a small silicone spoon to scoop filler with.
Anything little hands can play with, dig with, scoop with, or explore with works well!
Halloween Items to Include:
There's no wrong choice here, grab some fun age-appropriate things to bury, dig up, and play with. We love the Target spot and Dollar Tree to find a few fun items. Here are a few of our favorites and some Halloween sensory bin ideas to complete your spooky sensory bin theme.
Plastic spider rings
Plastic or stretchy spiders
Goggly eyes
Plastic Bats
Tiny skulls
Plastic witch fingers
Small witches' caldron
Miniature plastic pumpkins
Small Halloween figurines
You can really get creative and do whatever you think your kids will enjoy! A little variety is always a good idea too! There's no right or wrong answer. The idea is to help them enjoy a spooky sensory bin and learn a lot of fine motor skills. We hope you and your kids feel empowered to make one, play with one, and enjoy the beauty of sensory play!
Photos by Chrissy Blake who also happens to be the sensory play queen and sells pre-made sensory bins at Out of the Box Play.
Like this Halloween Sensory Bin idea? You may like these fun activities too:
Q Tip Skeleton: An Easy Halloween Craft for Kids
50 Halloween Activities with Free Printable!
Get 365 Date Ideas!
We want to help you have the best date nights ever! Grab this FREE printable with 365 date ideas, a date for every day of the year so you never run out of ideas!