The Equestrian Trail: Horseback Riding Date Night
All the details of pulling off a horseback riding date + our hacks to make this date affordable or even free!
Horseback Rising Date Ideas
Date Info:
Horseback Riding Date Idea
Price: Anywhere from hundreds of dollars to Free. If you know someone with horses, don't hesitate to ask! We turned this into a free horse backing riding date night by borrow friend's horses
Horseback Riding Date
I love that my husband made this a surprise date night! He told me to wear jeans and closed-toed shoes, with no further instructions.
We drove to a neighborhood not far from our house and parked near a barn. The interesting thing about Phoenix is it's truly a metropolitan area meets the old west. It's not unusual for people to work in a high-rise and own horse property in their suburban homes.
I was so excited when he told me we would be doing a horseback riding date. I was even more impressed when he told me it would be a free date night!
Horseback riding dates are super romantic, and booking excursions and guided tours can be really expensive. It's a date many book to impress and shell out some serious cash: but it really doesn't have to be!
Ways to Save Money
First of all, there are always Groupons for horseback trips. Also, you can call and ask ranches for a two for the price of one special: many do them! But if you want to make this date free, you can do what Jacob did and just find someone you know who owns horses and ask.
Our friends claim their horses get very little exercise because they don't have time to ride them as they should. They were more than happy to loan us theirs for the evening. These are trained horses, ready to ride. Also, we already had a basic knowledge of how to ride a horse, and it was an easy yes for them!
Seriously, don't be shy, ask that neighbor/uncle/family friend- most people are more than happy to let you have a romantic ride off into the sunset together.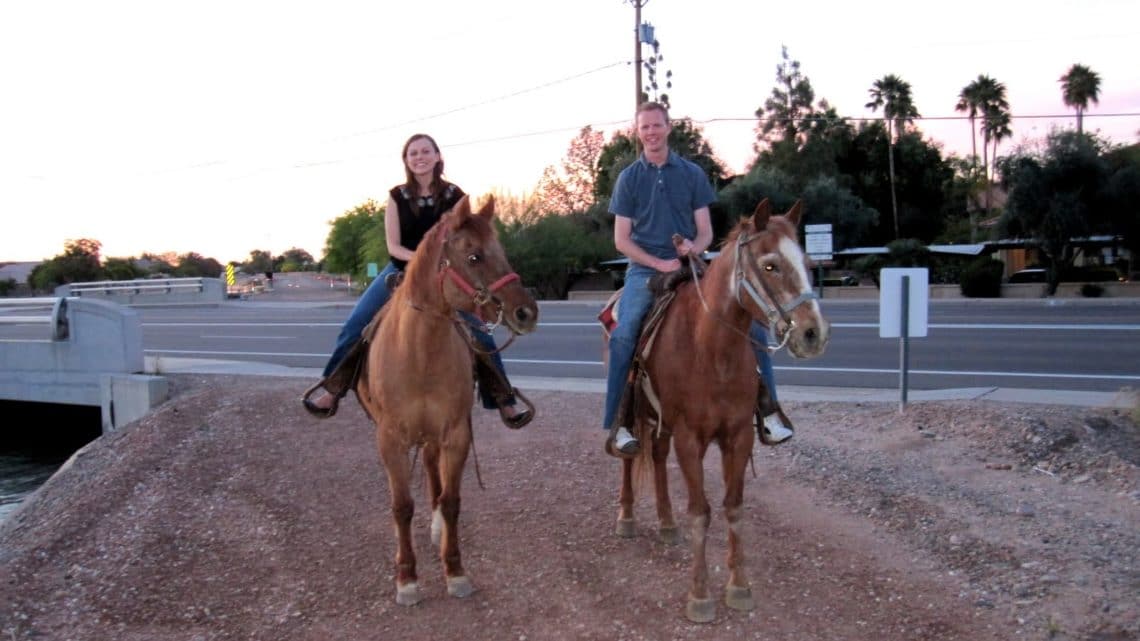 The weather was perfect, the trail was a lot of fun, and we really enjoyed just being together outside for the hour stroll we took.
We ended the date with some frozen yogurt, and a lot of smiles knowing we found a great way to make a typically expensive date night happen for free.
Like this horseback riding date idea? You may like these posts too:
Date Night Box Roundup, Reviews, and Promo Codes
Get 365 Date Ideas!
We want to help you have the best date nights ever! Grab this FREE printable with 365 date ideas, a date for every day of the year so you never run out of ideas!