Van Gogh Immersive Experience
All the details on the Van Gogh Immersive Experience: what it is, what to expect, and tons of details about the Immersive Van Gogh Experience.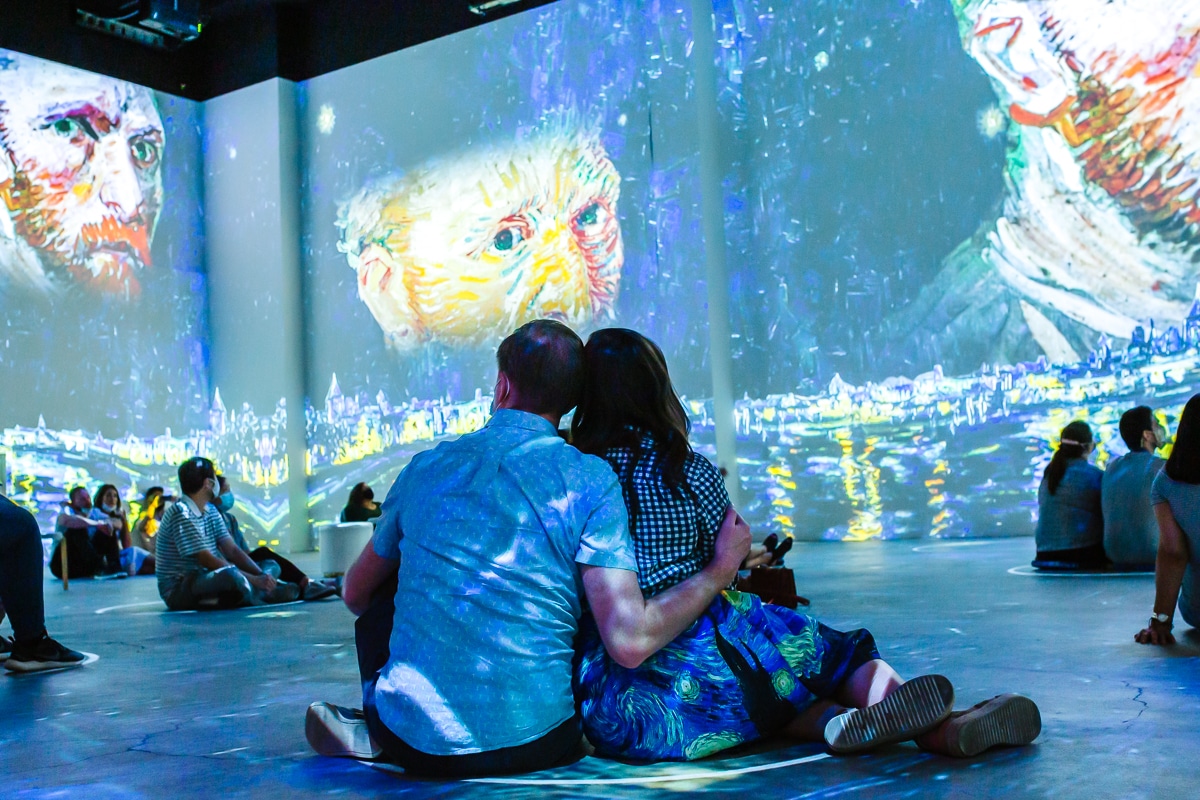 Van Gogh Immersive Experience Date Info:
Date Info: Attend the Van Gogh Immersive Experience
Price: $30-$60 per person- depending on the date, type, and time booked. I would plan about $100 for this experience.
Location:
It's a traveling exhibit! Check when it's coming in your area on
their website
Time: Plan at least one hour, more like two to really enjoy it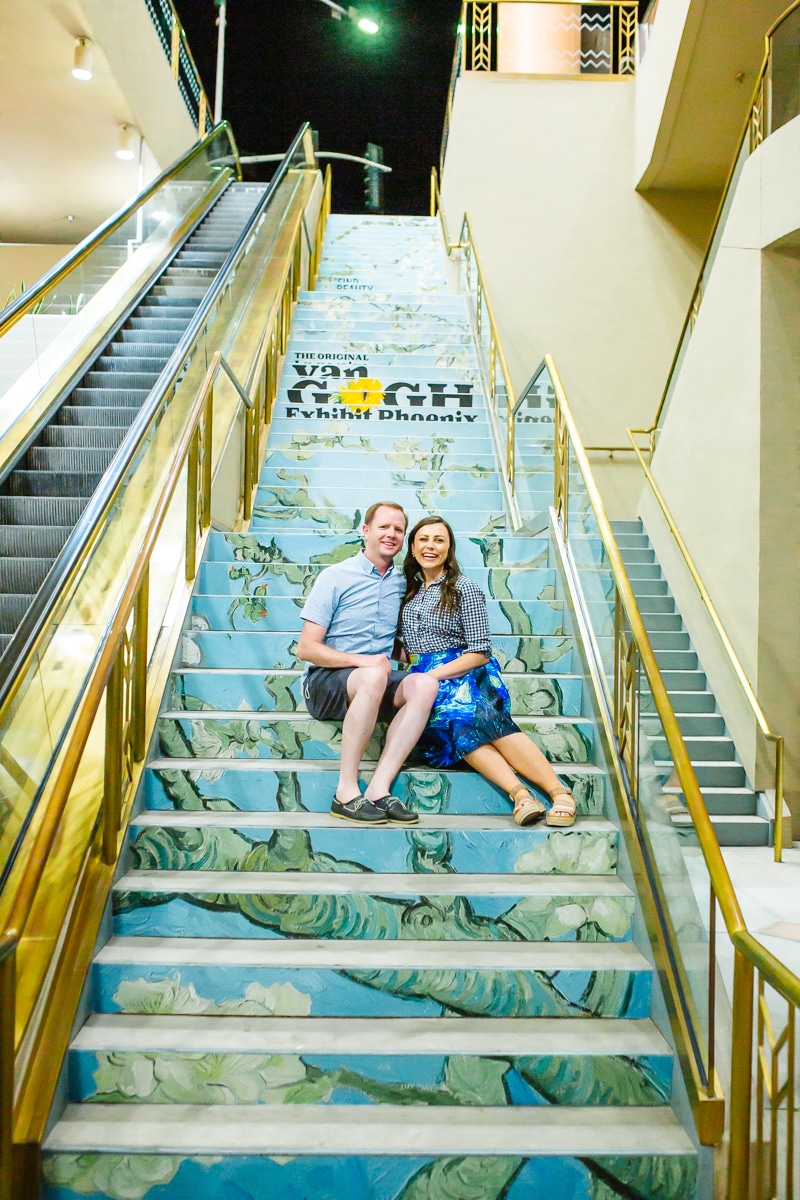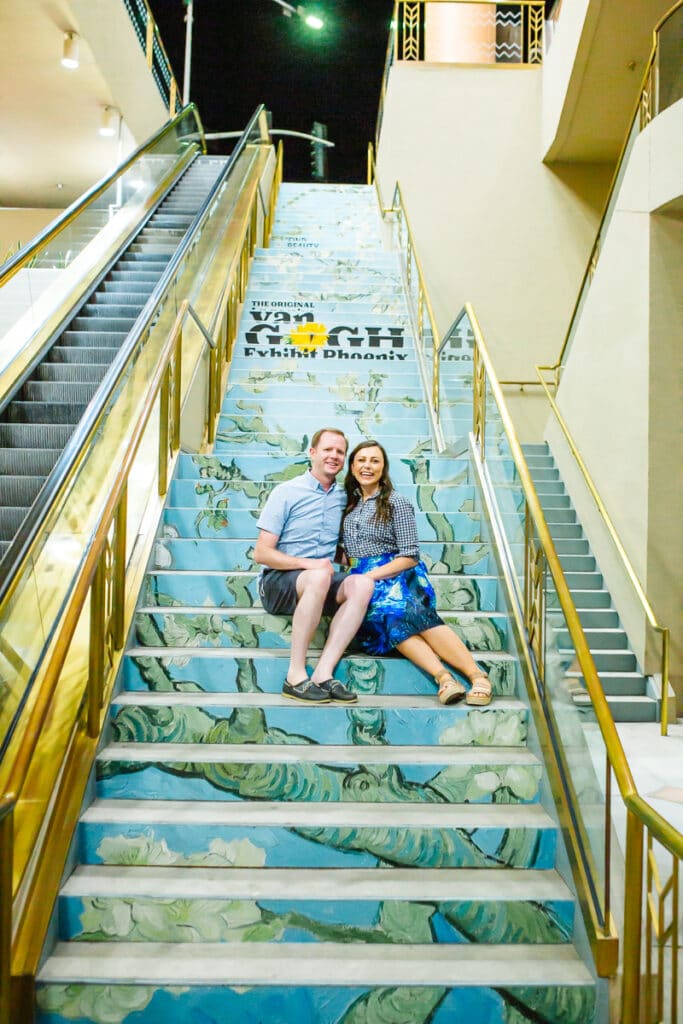 If you've been part of the Friday We're in Love community for years, you're probably not the least bit surprised we purchased tickets to the Van Gogh Experience the moment we heard it was coming in our area! I have a Van Gogh obsession, and that's not a term I use lightly!
I taught a humanities unit on Van Gogh when I was an English teacher, and researching his life and background just made him all the more fascinating to me. Truly, I love his art, and the pain turned into creativity and innovation will never cease to amaze me.
When we find a great date idea activity, we normally send it to each other and ask the other person if they're interested. We're usually up for a lot but just make sure we both agree. This was one date I sent that Instagram ad to Jacob and said, "So we will be going to this!" Luckily he laughed and purchased tickets the day they were available! He is a winner!

Van Gogh Immersive Experience Review
I clearly had big expectations for something amazing, and simultanesouly wasn't sure what to expect with the Van Gogh Experience.
To my surprise, the exhibit starts as you walk in the doors! There are cutouts and setups from Van Gogh paintings. Clearly, they want you to have photo opportunities before you enter the actual exhibit. It was fun and clever and set the tone so well!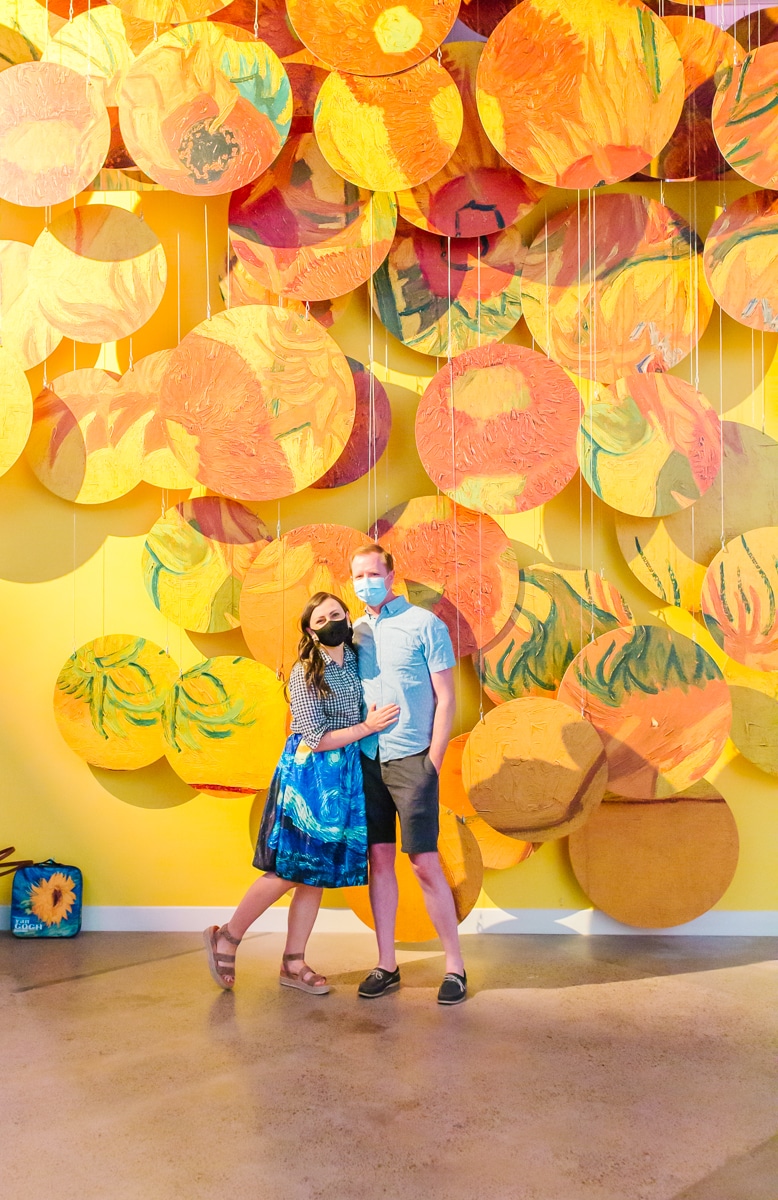 There's a room full of Van Gogh's letters set to mirrors and lights. It's a beautiful reminder of his poetry, thoughts, and a small peak into the way he sees the world.
From there you'll walk through a immersive tunnel into the main Van Gogh 360 experience.
I thought we'd walk through different rooms, but everything takes place in one room. They did a great job making you feel a part of the paintings while projecting lights and movement of various paintings and elements throughout the experience.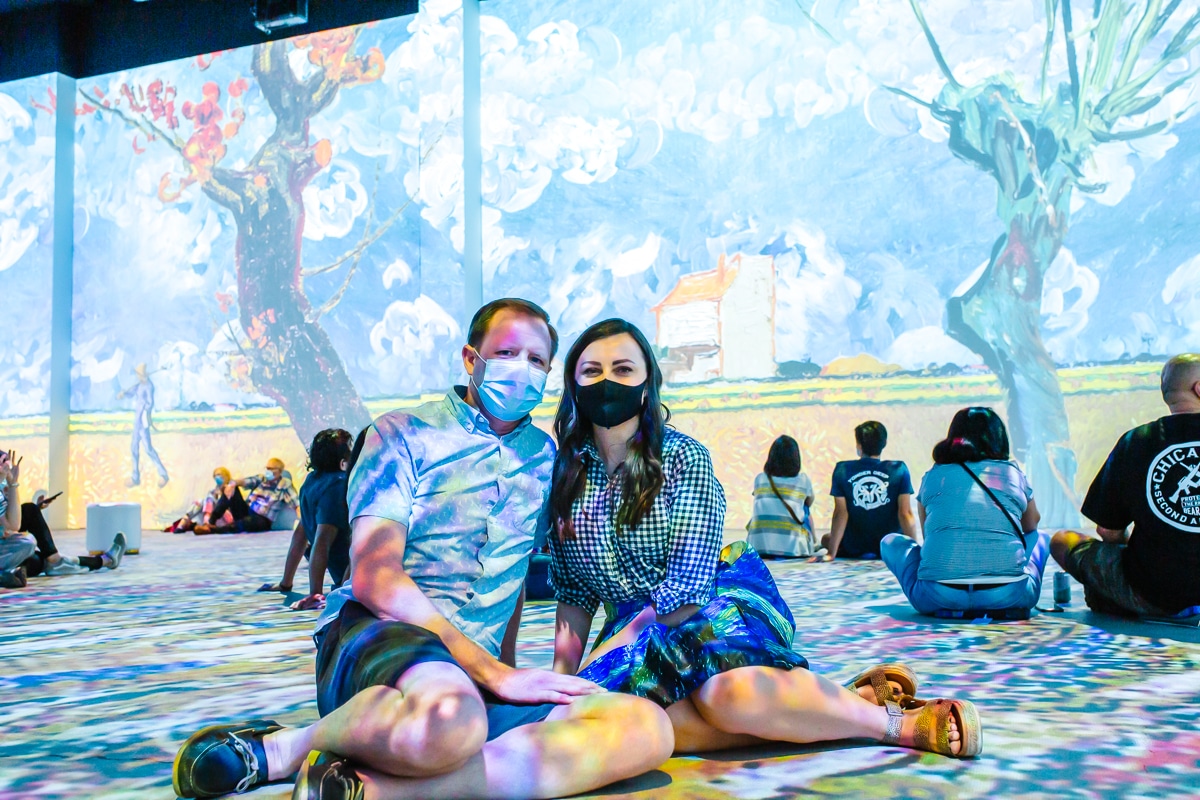 My only compalint was the show was a lot shorter than I expected. Maybe 20-30 minutes. For the cost of a ticket, I would have loved it to have been longer.
With that said, it's excellent! They did a fantastic job creating the music and movement of images appearing truly make you feel something beautiful. It's something we watched several times! Most couples cozied up in their own circle of light on the floor, and enjoyed several rounds of the Van Gogh Immersive Experience projections.
Van Gogh date Night Outfit
One more tip, if you want to receive more outfit compliments than you did on your wedding day, wear a
Starry Night skirt
to a Van Gogh exhibit. Almost everyone stopped me to talk about it. It was kind of amazing to me how many Van Gogh lovers there can be in one space at one time!
We have a fantastic date night, and I'm forever grateful for amazing experiences like this to help us see art in new and exciting ways.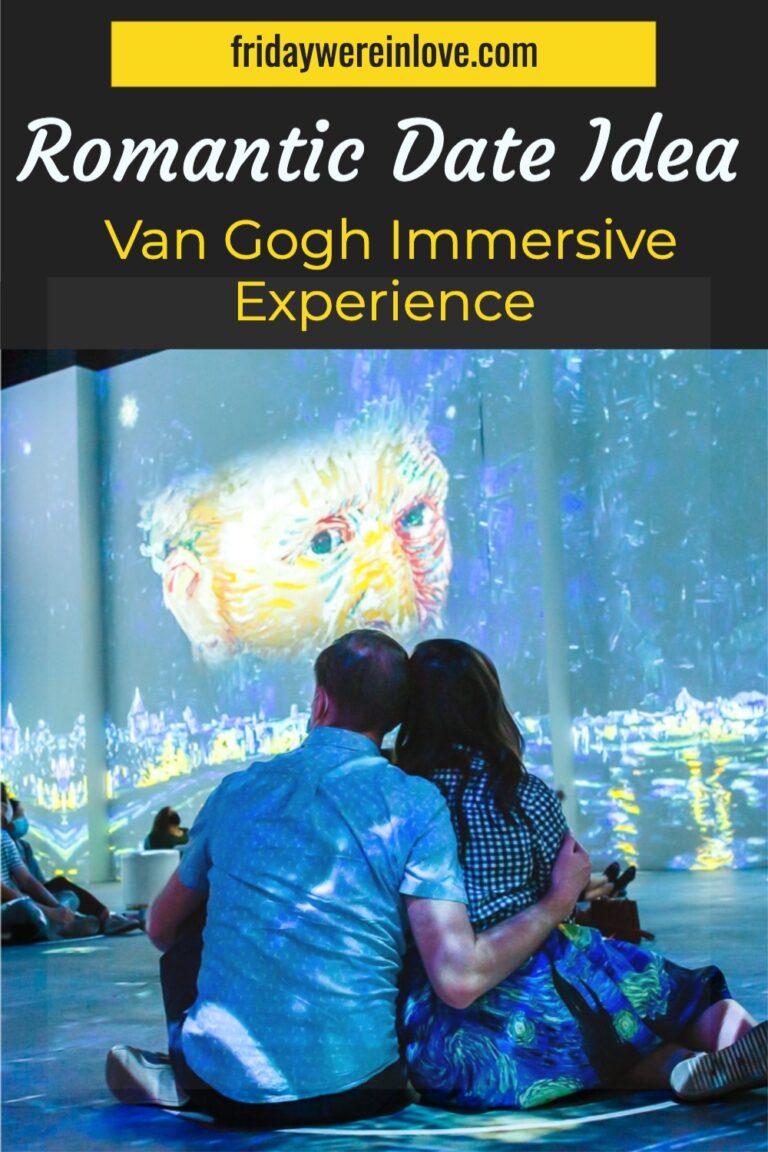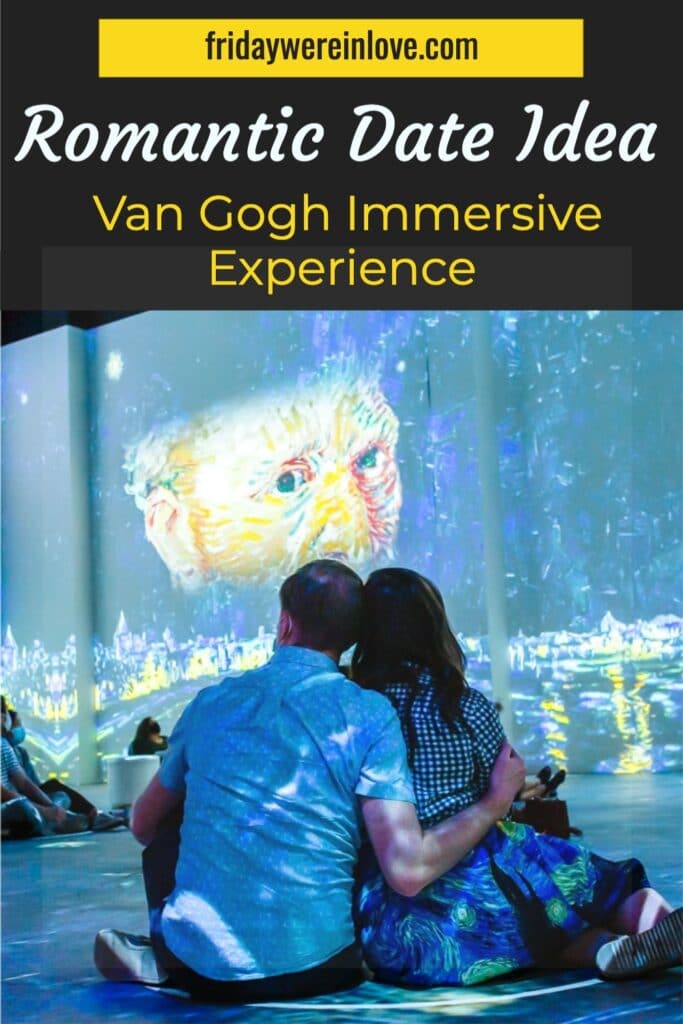 Like this date night idea? You may like these posts too:
Paint Your Own Van Gogh: Part 3: Starry Night Over the Rhone
Get 365 Date Ideas!
We want to help you have the best date nights ever! Grab this FREE printable with 365 date ideas, a date for every day of the year so you never run out of ideas!