These pumpkin overnight oats come together in minutes and marinade in the refrigerator overnight. We're talking one easy fall breakfast that will leave the taste of pumpkin pie in your mouth and keep you feeling fall all morning!
Easy Fall Breakfast
When September hits I start singing "It's the Most Wonderful Time of the Year!" I love it all, the weather finally cooling down, Halloween, and pumpkin season is in full bloom!
I've had both my babies at the end of summer, which means during the ever-hungry-nursing mom phase of life I'm all about the fall recipes, and I can't get enough oats! I then hold onto a pumpkin for dear life through December and even into January. It's such a great way to use up all the extra pumpkin from Thanksgiving and Christmas. It's also a great excuse to open a can in September. Clearly, I'm always a fan!
I know, I'm all the pumpkin loving stereotypes there are in the world. But with oats that come in a clean eat form that tastes like a dessert, I hold on as long as I can. Consequently, pumpkin oat recipes are the bee's knees right now. Having little time to eat and prepare anything in the morning with a preschooler has made pumpkin overnight oats my new BFF.
Easy Overnight Oats
So here's the deal with pumpkin overnight oats. First, you get a few glass jars, assemble ingredients, and in minutes you have overnight oats in a jar. When you're thinking, it's fall, I want pumpkin pie for breakfast. But you also remember you're an adult who can't consume sugar for every meal, you opt for pumpkin pie in breakfast form. AKA, pumpkin pie overnight oats.
They are as easy as dumping, stirring, setting in the fridge, and enjoying an easy overnight oatmeal breakfast in the morning.
Pumpkin Overnight Oats

Ingredients
(Enough for one pint-sized jar of overnight oat goodness!)
1/8 teaspoon cloves (optional)
How to Make Pumpkin Overnight Oats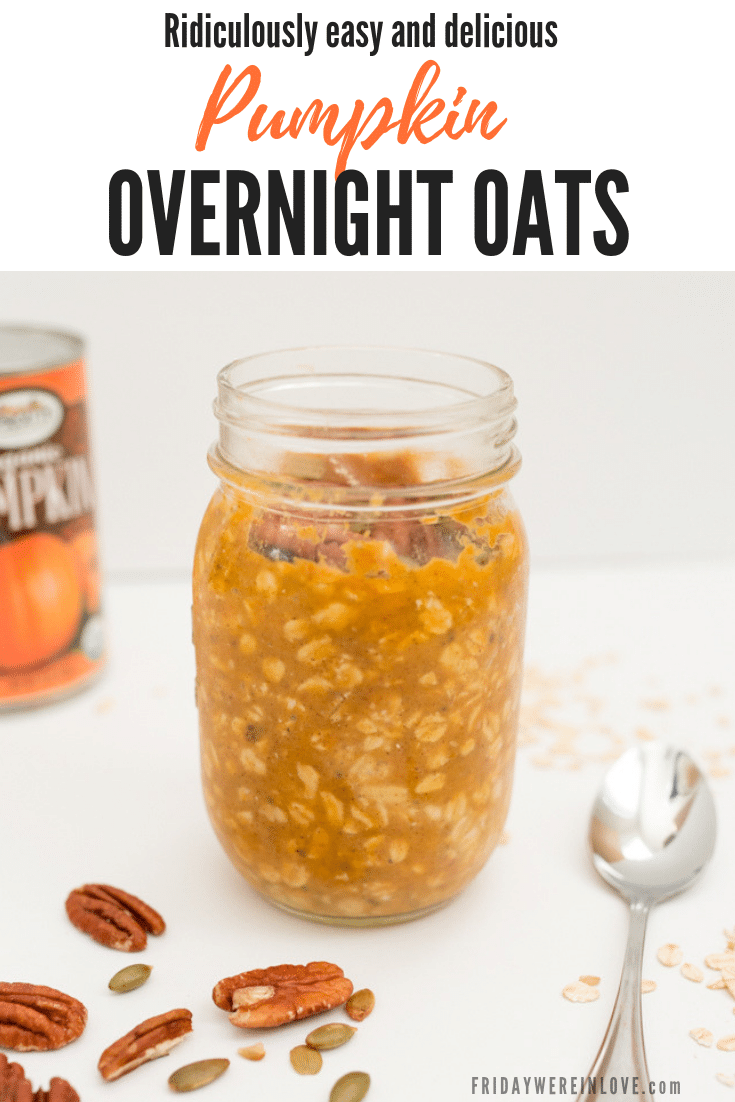 Directions for Overnight Pumpkin Oats
Start by grabbing a pint-sized jar or container with a lid you can secure tightly. You may want to double or triple this recipe for multiple overnight pumpkin oats to enjoy. First off, you can either assemble all ingredients in a large bowl and then distribute to jars. Alternatively, you just make one jar at a time. It's okay if it isn't perfect, this is one of those forgiving recipes you can eye.
Next, let them sit overnight so the oats and chia soak up the liquid and the pumpkin magic happens. You'll wake up feeling like you had a Cinderella experience when you see this goodness!
You can eat them as is but they taste even more magical when they are overnight pumpkin pie oats. I like to add just a little more liquid in the morning to give a creamier texture. If you want to get really fancy you can use pumpkin pie coffee creamer.
To keep it on the healthy side (and dairy-free side) I like to use a little more almond milk. Also, the toppings are all optional, but each is delicious and up the pumpkin pie game quite a bit.

The Perfect Toppings
Finally, enjoy your oatmeal in a jar (or container of your choice) and soak up fall without any stress on that next brisk morning!
Like this recipe? You may like these recipes too:
Protein-Packed Sweet and Savory Breakfast Bowl