A 1920s themed party is the perfect party theme of the decade! Bring the 20's back with a roaring 20's party! Tips to make this party (or date night) a complete success!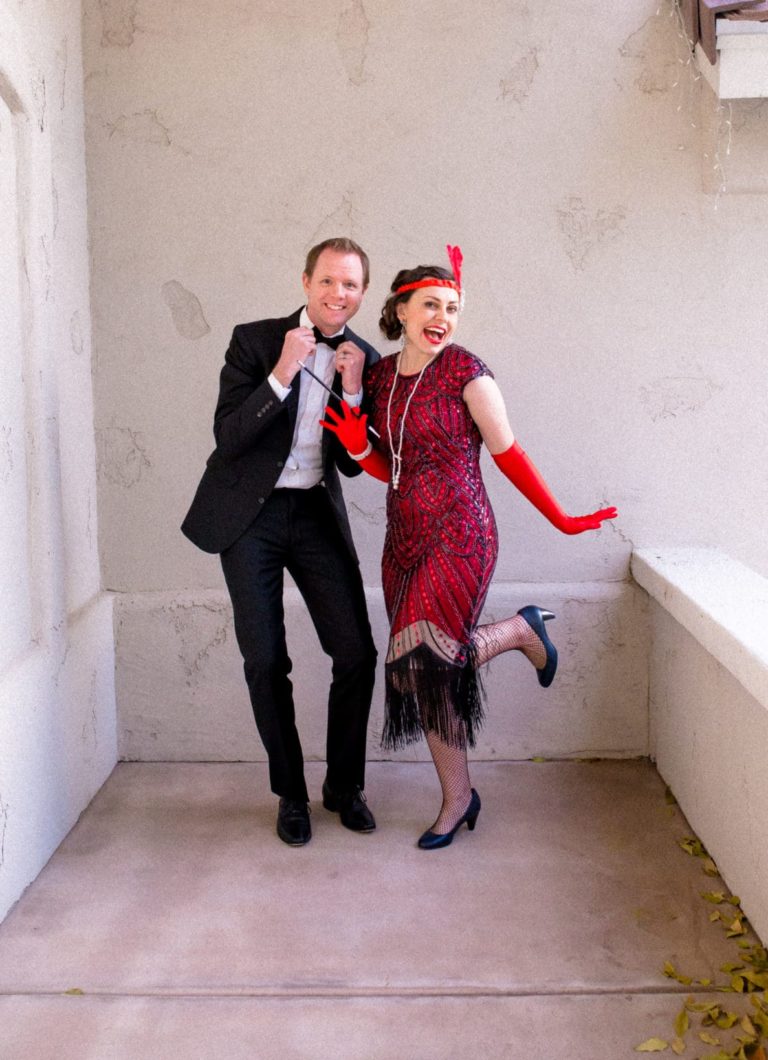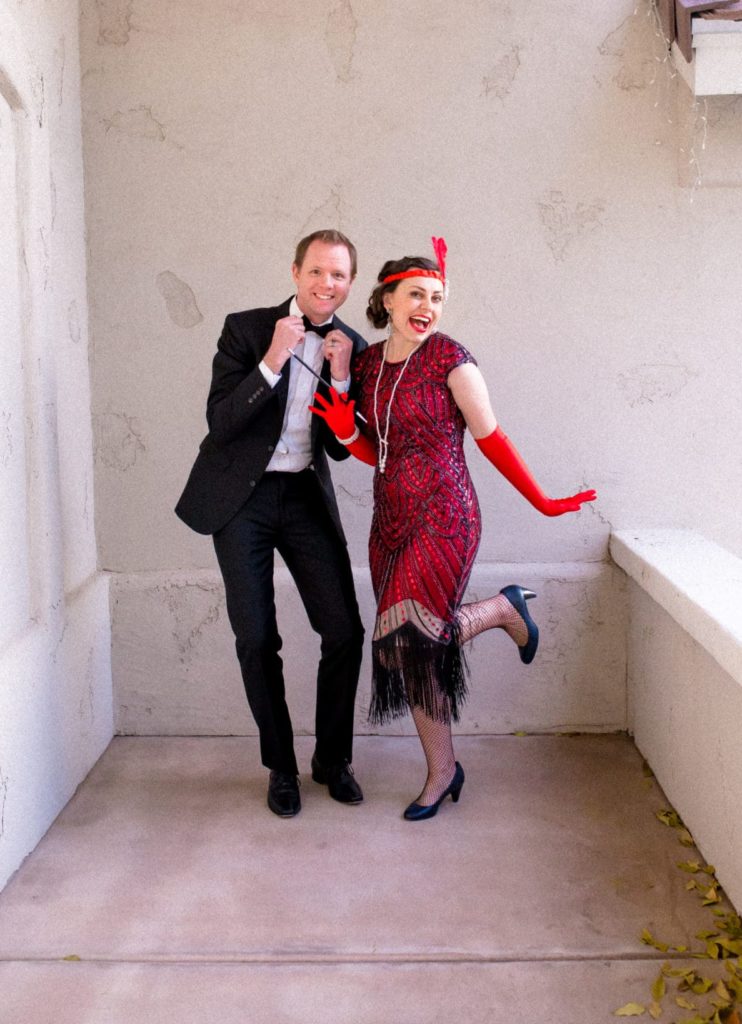 1920s Themed Party
Date Info: 1920s Themed Party

Price: Varies! You may be invited to a free party, it may be the cost of hosting, or look for community events that are throwing 1920s themed parties this decade.
Location: We attended a city event. If you can't find one I'd highly recommend hosting your own! They are worth it!
Time: The entire evening
Tip: Make 1920s costumes mandatory. It's so much more fun to have everyone dress up and it completes the theme.
I'm a firm believer everyone should splurge on a big fancy party for a date night at least once in their life! When we found out about a New Year's Eve party welcoming in 2020 we were all in! A 1920's themed party to dress up and enjoy a date sounded perfect! And guess what friends, it was!
Five Must Have 1920s Themed Party Ideas
Make dressing up mandatory or a huge part of the party
I couldn't believe how much fun I had finding my 1920's dress! But perhaps even more, I couldn't believe how fun it was to see couples dress up for this Gatsby party! Women's dresses were incredible! The men looked so dapper in bow ties and suspenders. It seriously added to the fun of the party!

Play 1920s Music with a Modern Twist
I was in love with the band who played at this event! There's something special about a live band at a party, but when they nail the theme in music it's incredible! I went up to fan-girl the lead singer at the end of the night and she told me they covered a bunch of Scott Bradlee's Post Modern Jukebox hits. I looked it up on Spotify, and have spent weeks listening to these amazing tunes!

Hello, modern songs in 1920s styles. I was so impressed I'm scheming on a date night to see them live the first chance I get! They are fun, they are familiar, and they are really easy to dance the Fox Trot of the Charleston to.
And speaking of the Charleston…
Include Dance Lessons
These don't have to be anything fancy, but I'd help people learn a few basic Charleston moves for the party. Our party had timestamps for classes with an instructor.

But a Youtube video or a designated attendee to teach everyone else will go a long way!
We aren't dancers and had so much fun learning some 1920s dance moves. It helped us enjoy the 1920s themed party and dance floor so much more!

1920's Party Decorations

Photo Ops
Everyone loves a good party that's well documented. I was so thrilled to see a photographer on-site to get some images. But having a backdrop makes it even more fun!If you aren't at a vintage feeling venue like we were, try our Easy Elegant Photo Backdrop DIY Tutorial. It fits a glamours Gatsby themed party perfectly! Also, you can make this 1920's party decor photo backdrop for under $20.
Also, you can easily create black and white or sepia themed images to give to guests as a fun favor.
Food
I shouldn't have to add to the list, but I will! I love that we had fancy hors d'oeuvres. While we'd gone all out with our costumes for the party, it was a nice touch to add a few fancy appetizers. Plus we had great drinks with vintage style bartenders! Our party was alcohol-free, but a few mocktails made the party fun! How fun is a bootlegging theme to theme your drinks around?
A little creativity naming your drinks and some 1920's popular foods go a long way!
It's worth a little pomp and circumstance to pull off the perfect roaring 20's party! And I promise it's a theme everyone will talk about for months!
Like this 1920s Pary Theme Date Night? You May Like These Posts Too:
Cute Love Songs You Can Slow Dance To
How to Host the Perfect New Year's Eve Party: Mocktail Party Night
Splurge Date Night: Perfect Date Ideas Worth Every Penny
Get 365 Date Ideas!
We want to help you have the best date nights ever! Grab this FREE printable with 365 date ideas, a date for every day of the year so you never run out of ideas!