Looking for your next date night? Here are 101 date ideas organized by category including several free date ideas, romantic date ideas, fun date ideas, and easy date ideas to make date night a breeze!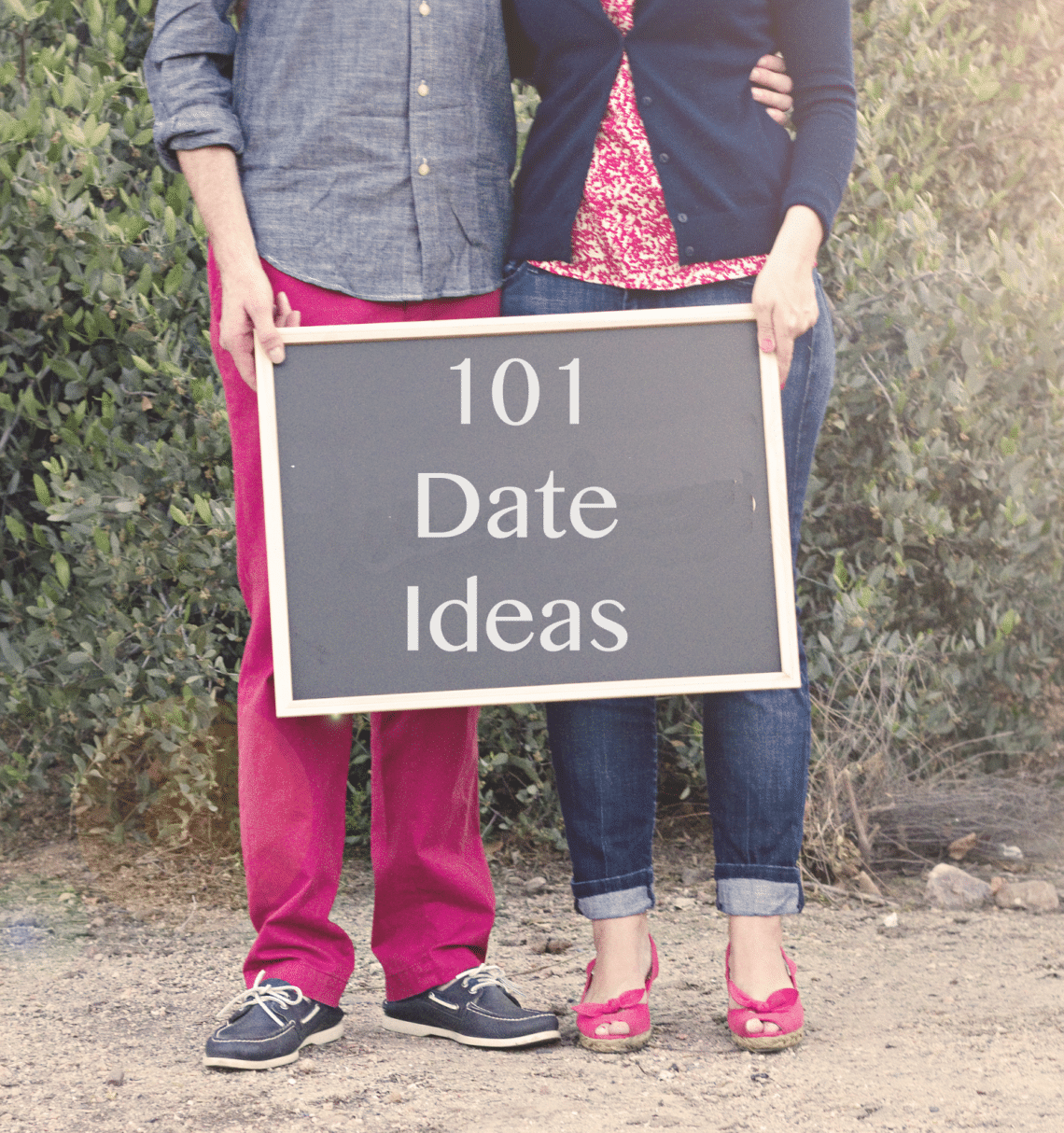 101 Creative Date Ideas
Here's the only list of date ideas you'll ever need to make a great date night happen! 101 tried and true date night ideas including only the best fun date ideas couples love!
Are you ready for a great date night? Ditch the routine and give dinner and a movie a few nights off. We've gone on a date every week for over a decade, and done thousands of dates. Here are 101 fun date ideas perfect for your next date night!
(Those with a * indicate free date ideas or cheap date ideas that prove date night doesn't have to cost a lot of money!)

Active/Outdoors Date Ideas
Go rock climbing.

Most rock gyms have everything you need and are happy to offer a lesson and instruction before your climb.

Paddle Boat Date Night

There's nothing quite like a romantic paddle boat date while the sun sets!

Have an aquatic date night.

Go for a swim, just the two of you, or grab tubes and float a local river or lake.

Go hiking*

Here's how to pull off a great hiking date with details to help you find trails in your area.

Go on a camping date (just the two of you).

This may mean a mini road trip and it definitely means s'mores. But a night under the stars and time in nature makes a camping date a truly memorable date night!

Rent or borrow a jet ski.

This is the ultimate in summer date ideas! Plus, you can take a playbook from the movie Hitch with this date idea!

Set up a tent in the living room or backyard and order takeout*

We love a fun camping in the living room date. It's even more fun with takeout! If you need some inspiration or ideas to take it up a notch, check out our camping in the living room date night.

Electric Scooter Date

Do an electric scooter rental to explore a major city landmark near you

Batting Cages

Take a swing and get to know your date better!

Go Roller-skating.

There's nothing lacing up some skates and visiting a roller rink to bring back some childhood nostalgia and encourage a little flirty hand-holding. It's one of those great first dates that seasoned couples also enjoy!

Bonfire Night

Roast some s'mores and snuggle up in a designated bonfire or fire pit location.

Places to Go on a Date

Brunch

Head to a popular brunch spot and enjoy a slow morning together.

Ride bikes

Ice skating is perfect for holding hands, sipping hot chocolate, and really connecting. It's a great winter date idea, but we think it's even more fun when you're ready to cool down in the summer months.

Go to an amusement park.

There's nothing like riding a roller coaster for some thrills, cuddling up with a sky view, or winning a stuffed animal with carnival-style games. It's the ultimate in fun date ideas!

Have a bowling date night.

Book a lane at the bowling alley for two, or turn it into a group date.

Put on some boots and go country line dancing

You can do this date at most country-themed bars or dance venues. They'll typically offer dance lessons with an hour of dance class to learn some of the basics and line dances. After, you'll spend hours of fun practicing your new skills to country hits or even with live music!

Pick fruit together at a local farm

This is one you have to do at the right time of year: typically spring or fall. Check with local farms and orchards and see if you can book a u-pick fruit slot for a fun outdoor date.

Coffee Shop Date

Visit a coffee shop and bring our would you rather dating questions for couples printable.

Drive-in Movie Date

Mix up movie night: try a drive-in movie date or "dive" in movie

Learn to skateboard or longboard together*

Kick it old-school with a skateboard or longboard. Try to borrow these from a friend so it's a free date, but you can also rent them from board shops. Head to a local park and watch a few Youtube video instruction movies. If you're great at it, it's a good time! And if you're terrible at it, it's a guaranteed laugh and a great memory-building date!

Romantic Date Ideas

Have a 5 Love Languages Date Night

Read The 5 Love Languages and discuss what you can do better to help your spouse feel loved. We have a free printable activity to help walk you through this date!*

Make Fondue Together

A fondue date night at home is so much easier than you'd think and so romantic!

Go Stargazing

A stargazing date night is a perfect free romantic date! Find a meteor shower, a night with a clear sky, or a night you can get out of the city and enjoy the stars.

Watch the sunset*

This free romantic date pairs perfectly with a picnic or cheese board. You could also grab take-out dessert to enjoy while the sun sets.

Watch the sunrise*

Get up early and find a scenic location

Plan a Picnic Date

Pack a picnic basket and go to a unique location for a romantic picnic*

Make a nice dinner together

We love using the Adventure Challenge Dinner Dates Book with a scratch-off date night challenge included. Between the activity, the good food, and maybe dinner with some romantic candles, it's the perfect romantic date night!

Try a New Restaurant

Look on Yelp, find a highly rated restaurant and recommended meal for a type of food you've never tried before. Share dishes for a new culinary experience

Take a Cooking Class at Home

There's nothing like trying a new recipe together! And it's even better when you have a guide to teach you how to prepare ingredients and master the dish! Have your own cooking class at home with YouTube or Food Network video demonstrations so the cooking class is free!

Have dinner with a view!

Book a rooftop dinner with romantic city views. This is popular for first date ideas, but it's also one seasoned couples love!
If you need a budget version, try a rooftop picnic at home or a building you have access to*

Give each other massages at home*

Search for some massage techniques and grab some massage oil and get ready for some romantic vibes.

View the City Lights

Find a hill or mountain in your area and go to the top at night to look at the city lights. Enjoy a "dessert picnic" while you look at the lights. *

Have a Concert Date Night

You could grab your favorite artist's tickets, attend a music festival, hit up a jazz bar, or go see a local and! There are so many options for a great date to see a concert of any type *Many are free


Intellectually/Culturally Enlightening Date Ideas

Go big with a Broadway show, or find a local theater production

It is romantic, classy, and usually a cultural experience.


See a concert of any type (favorite band, school, etc) *Many are free

Enjoy a TEDTalk together

Watch TED lectures on your computer and discuss your thoughts on what you learn (I love this one and this one)*

Learn Something New Together

Take a city class together; most city websites list offerings (photography, dance, etc.)

Couple's Bucketlist Date

Make a bucket list of things you want to do together, with kids, independently, and share*

Attend a Lecture

Find a lecture at a local university or community college and attend*

Watch a foreign film together

These are easy to rent from the library for free*

Scary Story Date

Download a vintage radio program podcast, go listen to it in a unique location (think horror story in the woods at dusk)*

Rent a documentary

Try Fast Food Nation, Waiting for Superman, or Grizzly Man for a lot of interesting conversations*

Book Club Date

Read a novel/short story/play together*

Learn to Play an Instrument

Borrow a guitar or other instrument, watch YouTube videos teaching you how to play, take turns and be sure to perform a song for each other.*

At-Home Date Ideas

Play board games for two.

Here's a huge list of couples games to get you started!*

Blindfold Baking Date Night

Create something together with a twist! Check out our blindfold baking date night for all the details!

Binge Watch a TV Series

If you have a night with plenty of time to kill, pop some popcorn and a blanket and enjoy a tv show marathon. If you need some inspiration, check out these 10 Binge-Worthy Shows You'll Both Enjoy Watching Together (And 10 Honorable Mentions!)

Grab some canvas and a paint night date night tutorial and enjoy painting together!

Roll Sushi

Get a sushi rolling kit and learn to roll your own sushi together.

It's a complete date night with several fun activities, menu suggestions, and a playlist delivered to your door! We have a thorough post rating and give all the details about the top date night subscription boxes to help you find one.
We've personally used the Happily Date Box this year, they're our current favorite! You can get half off your first box to try it out with our Happily Date Boxpromo code: FRIDAYWEREINLOVE to get 50%

Make popsicle stick creations.

Buy a bunch of popsicle sticks at a craft store, have a competition who can build the best structure out of the popsicle sticks, and glue*

Gingerbread Creations

Build "gingerbread houses" out of graham crackers and frosting (be creative)*

Cookie Date Night

Bake sugar cookies and decorate them to look like people you know (deliver them after)*

Romantic Fort Date

Have a romantic fort date night in your living room. Grab your favorite blanket, and some sheets, and set up a movie night viewing space that gets you off the couch. For an extra romantic touch, add some twinkle lights. You can check out our romantic fort date night for some inspiration!

Channel Your Inner Child

Draw a cartoon of how you met in sidewalk chalk on your driveway*

Enjoy Some Gaming

You can use any game system you like, but there's something about old school games that make a date feel extra fun and approachable. I'd highly recommend trying to rent or borrow a Wii and play games together*

Themed Dinner and a Movie

Do "Dinner and a Movie" with a theme (like watching Harry Potter and making Butterbeer and feast)*

Paper Airplane Competition

Build paper airplanes, make sure to get fancy and look up several different types, then have a flying competition*

Make a Meaningful Playlist

Create a Spotify playlist of your favorite songs from high school. Take a trip down memory lane and share your favorite songs while telling a memory attached to each one. *

Group Date Ideas

A dinner party is one of the best double date ideas out there! Feel free to make it themed, formal, or casual. You can always go potluck to keep costs low.

Do an Escape Room.

An escape room group date is a fun way to compete against the clock and solve clues to unlock the next clue to help you get out before time runs out. It's a fun adrenaline rush that's a perfect group date!

Complete an Amazing Race City Solve

The Amazing Race tv show has inspired many city solve races that create riddles and tasks for the couple to complete at various locations. Once you solve one clue, you learn your next destination. It feels a bit like being tourists in your own city- with a timed game involved.

Host a Murder Mystery Party

Choose a theme, find a great murder mystery game, and host your own murder mystery party.

Have a Couples Game Night

Couples game night (charades, catchphrase, whatever group couple games you enjoy)*

Tune Up the Friendly Competition.

Grab some Nerf guns, have a fight

Play "Bigger or Better"

If you don't know what this is, there are entire TikTok channels about it! Start with something small and head to ask for bigger or better trades. It's wild to see where you start and where you end. Separate into small groups and compete which team returns with the best item*

Karaoke

This is a fun group date to do out on the town at a local bar that hosts a karaoke night, or for free at home*

Plan a Car Date

Take date night to your car! We have a ton of car date ideas to help you plan some fun!

Do a Picture Scavenger Hunt

Have a scavenger hunt taking pictures in front of items from a list of objects or ideas. See who can complete the list first!*

White Elephant with a Twist

Have a white elephant gift exchange (no need to wait for the holidays)*

Art galleries are a fantastic place to hold hands and stroll through. Also, there's often free one day of the month*

Art Walk

Art walks are usually held as summer festivals in college towns or state capitals. They are unique and interesting experience, and often free!*

Axe-Throwing Date

Book an axe-throwing date night space for your group. You'll be surprised by how much fun all parties of all skill levels have!

Musical Instrument Museum

A Musical Instrument Museum is a unique experience with a ton of culture!

NHL game

An NHL hockey game date night provides the perfect mix of entertainment and time to chat.

Support Your Local Team

Attend a local high school sporting event. They're usually cheap or free!*

Attend a Rodeo

Visit the nearest small-town rodeo and enjoy the unique cultural experience!

Go to a Cirque de Solei Show

Next time a Cirque de Solei show is in town, enjoy a one-of-a-kind date night!

Go-Cart Racing Date

Fulfill the need for speed and ride go-carts at a raceway.

Plan a Dream Space

Visit a home décor store (like Pier 1 or Crate and Barrel) and takes a turns designing a dream room in your house or apartment separately. Make sure to pretend money is no object. Meet up and give each other a "tour" of the items in your room.*

Pottery Painting Date

Paint pottery at a paint your own pottery shop (like Color Me Mine or As You Wish)

Miniature golfing date night

This classic standby date is always a winner! A miniature golf date makes a great first date idea or second date. But after over a decade of marriage, I still love this date!

Car Show

Visit a car show (like Barrett Jackson) when they are in town (score points with your husband)

IKEA Date

Walkthrough IKEA, it's an experience all its own! But also, there are cheap Swedish meatballs that make a great dinner of lunch to fit the theme*

Bookstore Date

Go to a bookstore and share your favorite books with each other. You can even read your favorite children's books to each other, and some excerpts from your favorite novels*

Travel Planning Date

Go to a bookstore and look at the travel section. Plan your dream vacation on your own and then present yours to your spouse and listen to their ideas too.*

Volunteer for Date Night

Volunteer at a soup kitchen, nursing home, or women's shelter.*

Movies in the Park

Visit your local "Movies in the Park" during spring or summer. These are usually free!*

Planetarium Date

Visit a planetarium and learn about the solar system

Attend a Baseball Game

Grab a hotdog and have lots of great time talking while you enjoy a baseball game.

Visit An Open House

Go look at model homes or open house home shows and pretend you're in the market*

See a 3D Movie at a Movie Theater

There are movies, and then there are 3D movies.It's a completely different experience and a lot of fun to laugh about for a date night

Christmas Lights

Go see lights at Christmas, just the two of you*

See a Concert in the Park

Watch a local band's show at a concert in the park (often free)*

Have a Dave and Buster's Date

We love some good arcade games, and Dave and Buster's Date is one of the best places to play old-school arcade games for date night!

First Date Redo

Relive your first date together with the same activities

Ice Cream Date

Go out for ice cream at the cutest, most picturesque ice cream shop in your area

Dessert Taste Test

Order one of every flavor of dessert at a local bakery and have a taste-testing night complete with rating cards
Hopefully, these creative date ideas help you plan your next date night with ease- happy dating!
Like these 101 Date Ideas? You may like these date nights too:
52 Completely Free Date Ideas to Do this Year
Year of Dates Gift: A Folder of 12 Dates to Enjoy All Year
Get 365 Date Ideas!
We want to help you have the best date nights ever! Grab this FREE printable with 365 date ideas, a date for every day of the year so you never run out of ideas!